1. Avril-Bleh & Sons meat Market & Deli
33 E Court St., downtown (513) 241-2433, avril-blehmeats.com
Len Bleh has started a mini industrial revolution at his 122-year-old downtown institution. "We have spent probably $170,000 in the last year-and-a-half on new equipment," he says. Now, jobs that used to take an hour with two employees (such as stuffing and linking the 300 pounds of hot dogs that Bleh makes for Senate each week) can be completed in a lightning-fast 18 minutes.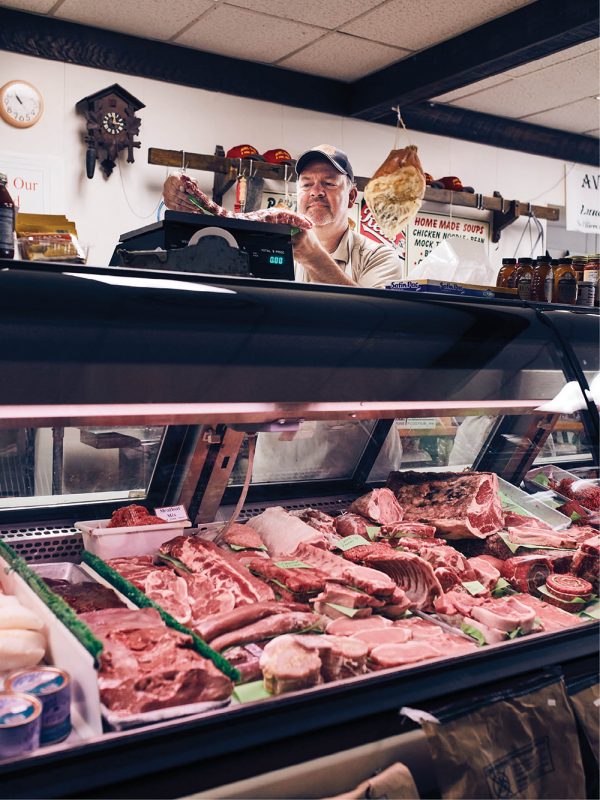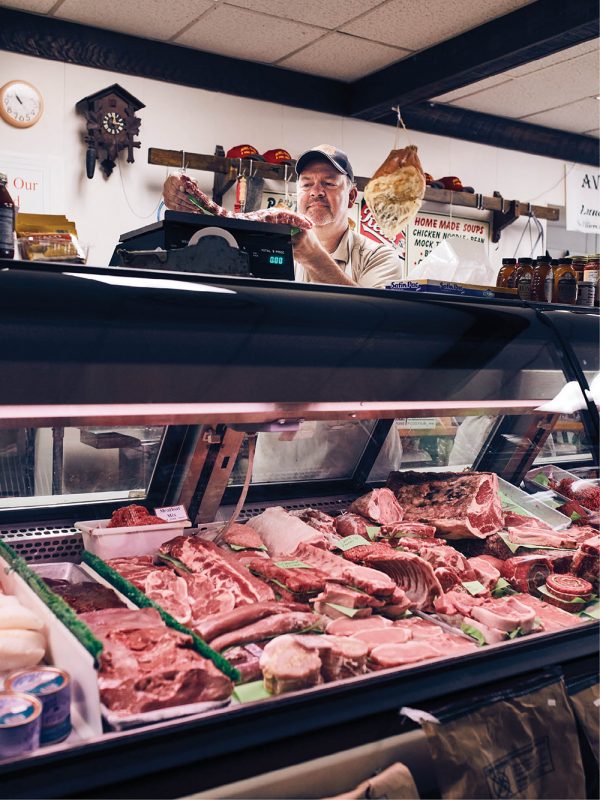 What's the takeaway for retail customers? The panoply of sausages the Court Street shop is known for: brats, hot and cheddar metts, beerwurst, kielbasa, chorizo, and monthly specials such as currywurst and a garlicky Catalan variety called Botifarra. The technological upgrade hints that Avril-Bleh's has no intention of resting on its laurels, having gracefully scaled up its operation. Nor does newfound efficiency indicate the business has lost its trademark personal touch. As Bleh says: "What we do here, this is our life."
2. Bridgetown Finer Meats
6135 Bridgetown Rd., Green Township, (513) 574-3100, bridgetownfinermeats.com
This shop is proof that good things can be hidden in west-side strip malls. Consider the three sections: butcher and deli, produce (with fresh fruits and vegetables), and a wine shop, the last of which hosts a gourmet dinner once a month with an entire menu created in-house.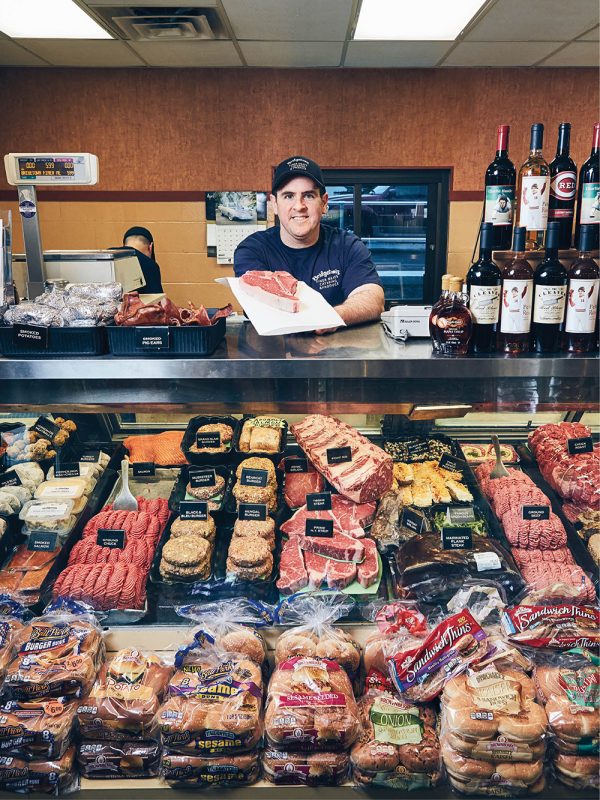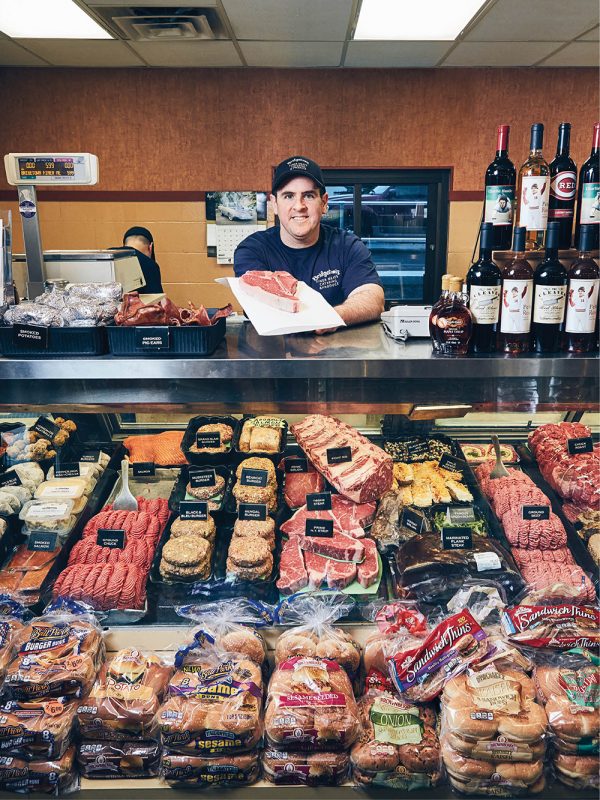 Bridgetown Finer Meats also cranks out a slew of ready-made meals and side items, including on average 2,500 twice-baked potatoes a week. But after 37 years, the meat still gets top billing—steak, chicken, pork chops, as well as housemade roast beef (to the tune of about 200 pounds a week), and a rotation of gourmet burgers, made from steak trimmings and stuffed with cheese, peppers, onions, bacon, or whatever combination they're feeling at the moment. Serious meat eaters can even purchase a whole side of beef in late summer, which these fine folks will process to your specifications. Now that's what we call customer service.
3. Dutch's
3378 Erie Ave., East Hyde Park, (513) 871-1446, dutchscincinnati.com
Dutch's co-owner Jim Cornwell has assembled a team of specialists who butcher with precision. Chef de cuisine Patrick Hague is the swine master, breaking down Berkshire pigs from a farm in Connersville, Indiana; Zack Louis cures meats for Dutch's highly addictive charcuterie boards; and Mike Kasak mans the smoker. It's a well-oiled machine that emphasizes taste over volume.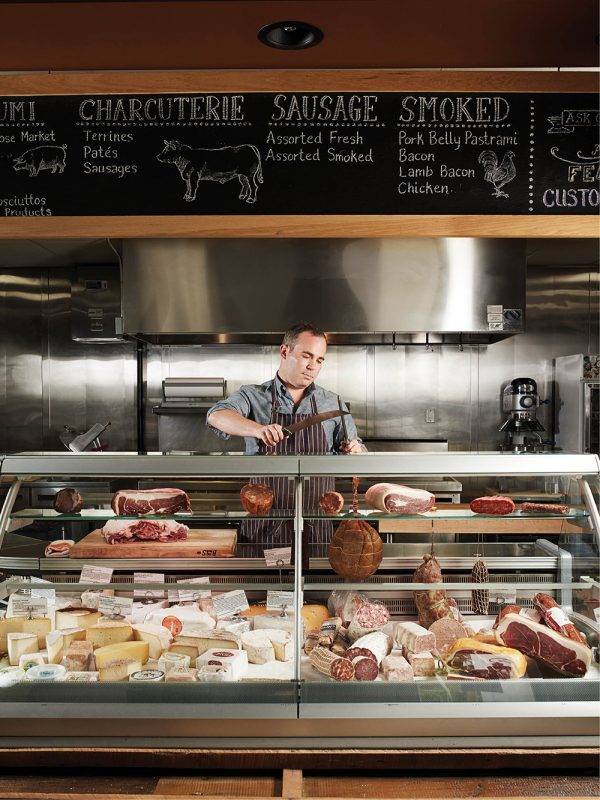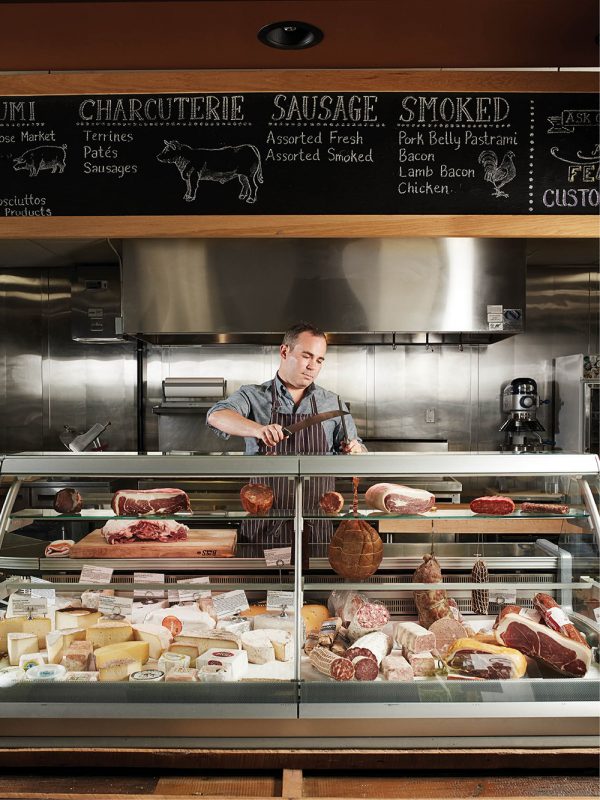 Cornwell's catch phrase is "flavor first." That means working with vendors to bring in meats from nearby farms and others across the Midwest. The result is a small counter packed with staples, such as Gerber's Amish chickens, 30-day dry-aged Prime rib eyes, and a rotating selection of housemade sausages. Customers can stop in to reserve off-menu game like rabbit and duck, eat at the restaurant, or grab a bottle from their well-curated wines and beers. "It isn't like a normal butcher shop," says Cornwell. And we're fine with that. Editor's Note: Dutch's closed January 2, 2020.
4. Eckerlin Meats
116 W. Elder St., Findlay Market, Over-the-Rhine (513) 721-5743, eckerlinmeats.com
This Findlay Market shop has given goetta a major upgrade. The local delicacy, being the Teutonic peasant dish that it is, used to be synonymous with ground pork and beef trimmings, which were combined with pin-head oats to stretch the family meat supply. Not so at Eckerlin's. They took the opposite approach: combining leaner pork shoulder and beef chuck with traditional ingredients. "We sell the heck out of goetta," says Josh Lillis, part of the sixth generation to run the shop. It's a brave new world, goetta lovers. Of course, you can get a lot more than goetta at Eckerlin's, from USDA Prime rib eyes to city chicken to trendier cuts like teres major, hanger, and culotte steaks. After all, the family has been down at Findlay since the market opened in 1855. "We always tell people on the tours that we were here before Abraham Lincoln was president," Lillis says.
5. Halal Market
7755 Tylers Place Blvd., West Chester, (513) 777-2555
Walk past the hookah supplies, maftoul couscous, and dried fava beans. Resist checking out coolers stocked with tangy labneh and ostentatiously creamy Valbreso sheep's milk feta. Head directly to the surgically clean butcher counter at the rear of the shop. On any given day, meat cases are filled with lamb quarters and grinds—from fine to coarse—for everything from kefte to kibbe, as well as chicken quarters and assembled kebabs. Samer Ramlawi opened Halal Market in 2001 to serve the Tylersville area Muslim community, specifically offering a source for meats butchered according to halal tradition. "We say the name of God when slaughtering so that the animal will not resist," Ramlawi explains. We couldn't resist either, and loaded our basket with lamb chops for dinner.
6. Holzman Meats
10815 Montgomery Rd., Montgomery, (513) 489-1411
For 44 years, the Holzman family has been making sure that a trip to their shop is worth your time. They do their best to carry products you won't find at Kroger or most other grocery stores: Owl Creek bison, Brickman's corned beef, Chicago Meat Authority ribs, Terrapin Ridge Farms seasonings and dressings, and Em's Sourdough Bread. It's all there, right next to the homemade chicken and beef pot pies that repeat customers rave about. (Meat manager Greg Manson will even sharpen your knives, if you ask nicely.)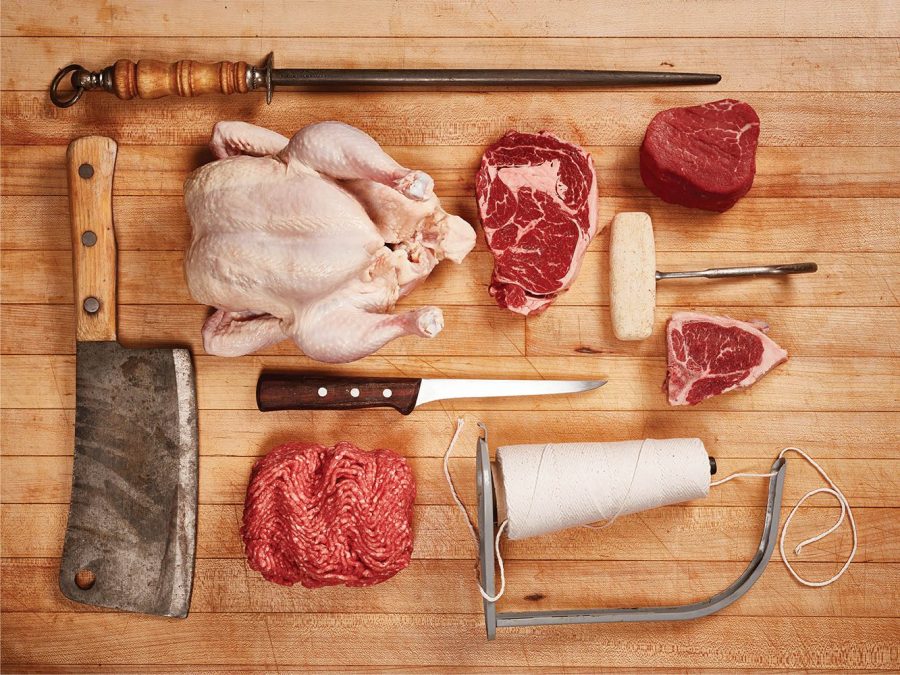 But be sure to swing by at lunch for the deli menu; Holzman's expanded their kitchen space more than a decade ago "and it's been kickin' butt ever since," says Manson. Grab a sandwich (try their signature chicken salad BLT), jumbo panini, or classic Holzman burger (only $3.50!), alongside fries, onion rings, or any of their homemade pasta and potato salads.
7. Hyde Park Fine Meats
3645 Paxton Ave., Hyde Park, (513) 321-4328
Inside a blink-and-you'll-miss-it yellow brick building is what owner John Ness likes to call "a tiny grocery store with great meat." Ness bought Hyde Park Fine Meats in 2013, giving up a 20-plus year, globe-spanning career in restaurants for the quieter life of the cleaver. These days, Hyde Park Fine Meats sells roughly 1,000 pounds of meat and fish per week, from beef (90 percent of which is Prime) to Verlasso salmon and Gerber's Amish chicken. But Ness's past life as a chef is also evident in the ready-to-eat meals that diverge from butcher stop standards. (Do yourself a favor and bring home some of his double meat lasagna.) There's also fresh produce from regional farms, homemade brownies, and products from local entrepreneurs. "I'm a little guy, so I support the little guy," Ness says. With regulars stopping by daily, the support is clearly mutual.
8. Kosher Counter at Blue Ash Kroger
4100 Hunt Rd., Blue Ash, (513) 792-1500, kroger.com
Positioned conveniently close to Blue Ash, Deer Park, Indian Hill, and Amberley Village, the Blue Ash Kroger caters to its clientele, Jew and Gentile alike, with aisle after aisle of Dr. Brown's Cel-Ray soda, jars of gefilte fish, matzo crackers, tahini, and Shabbat candles. And while their kosher deli stocks all manner of appetizing foods—their beef liver spread, noodle kugel, and Israeli salad are popular—it's their meat selection that's key for area shoppers. With the absence of a freestanding kosher butcher shop in Cincinnati or Northern Kentucky, mashgiach (kosher inspector/supervisor) Elizar Gonzalez oversees Kroger's meat selection and procedures under the watchful eye of the Vaad Hoeir (the kosher certifying agency). Next time you plan to make a batch of matzo ball soup, pick up one of their chickens. We have it on authority that any soup worth slurping starts with one of their blessed birds.
9. La Mexicana Cantina & Tienda
642 Monmouth St., Newport, (859) 261-6112
"Mexican food so authentic Donald Trump would build a wall around it," reads the blackboard by the cash register at Newport's La Mexicana restaurant. Walk past that, straight through the dining area, and you'll encounter something rarer than a great huitlacoche taco: a genuine Mexican grocery and butcher counter. "Our butcher has a lot of meats that you won't find at Kroger," says co-owner Brant Sulek. "For instance, a number of tripe options, goat, and veal brains. There are a lot of meats on the restaurant menu, and we feature them all at the counter as well." Indeed they do. Try their pastor (seasoned sweet pork) and the thinner skirt steak often featured in Mexican kitchens. La Mexicana is making America great again.
10. Lehr's Prime Market
740 Main St., Milford, (513) 831-3411, lehrsprime.com
This Milford institution has been beefed up by new owners Allison Homan and Kate and Tim Ackermann (who took over in January 2014) into a true one-stop shop, from the abundant meat counter to the 20-tap growler bar (there's even root beer on draft for the kids), with more than 1,000 wines, produce, and a solid snack and grocery selection to boot. But at its heart is the butcher shop.
Most of the meat is sourced from Ohio and Indiana, and the chicken and pork are cage-free. All beef is "grass-fed with a grain finish," according to Homan. "We no longer hang cows in the back, but everything comes in [as] sides or primal cuts, then we cut it down. We can cut any meat to order." Alongside a variety of cuts in the meat case are prepared options (including chicken stuffed with asparagus, roasted red pepper, and provolone). Stop in on a Friday for brisket, half chickens, and slabs of ribs from the smoker out back. Oh, and the "prime" in their name? Lehr's selection of Prime beef comes from the same purveyor that supplies Jeff Ruby.
11. Stehlin's Meat Market
10134 Colerain Ave., Colerain Twp., (513) 385-6164,  stehlinsmeatmarket.com
There's a lot of history on the bone at Stehlin's on Colerain Avenue. Throughout its 103 years, the Stehlin family has always slaughtered their own meat, a point of pride that used to be a lot more common than it is today. "I don't think you'll find anybody doing it this way too close to Cincinnati anymore.
You have to go up mid-to-north Ohio to find anybody like us," says John Stehlin. They bring the poultry in, but beef and pork is an in-house operation. "We make an awful lot of our own sausages," says Stehlin. "Our bacon is still cured and smoked the old-fashioned way—not with liquid cure or liquid smoke. We still dry cure and use a wood fire." They make their own brats, metts, goetta, and even more exotic regional fare, such as "Johnny in the Bag": a blood sausage made with beef, pork, rye meal, and beef blood. The delicacy was once formed in a cloth bag, which accounts for part of the name. As for the other part, Stehlin says he has no idea who Johnny was.
12. Wassler Meats
4300 Harrison Ave., Bridgetown, (513) 574-9033, wasslermeats.com
It's a feat when buildings from 1894 are still in good shape. Try making a family business last that long. Eugene "Pop" Wassler opened his meat shop to an almost entirely German-speaking clientele in the West End. His son Fred took the helm in 1930, opening a second stand at Findlay Market before moving to Bridgetown in 1970. Brothers Ken and Dave Wassler—the fourth generation—run the shop these days. "I worked with my grandfather, I worked with my father and his brother," says Ken. And the tradition continues: his sons, Mike and Chris, work behind the counter too. They sell Black Angus beef from Hillsboro, chicken, lamb, veal, pork, brats, metts, sausage, and seafood. (Wassler is also a USDA-certified meat processor and does a decent wholesale business; Hofbräuhaus is a client.) They're regulars on the summer church festival circuit, so keep an eye out for their refrigerated trailers— order a white brat, and toast Pop Wassler's memory.
Facebook Comments