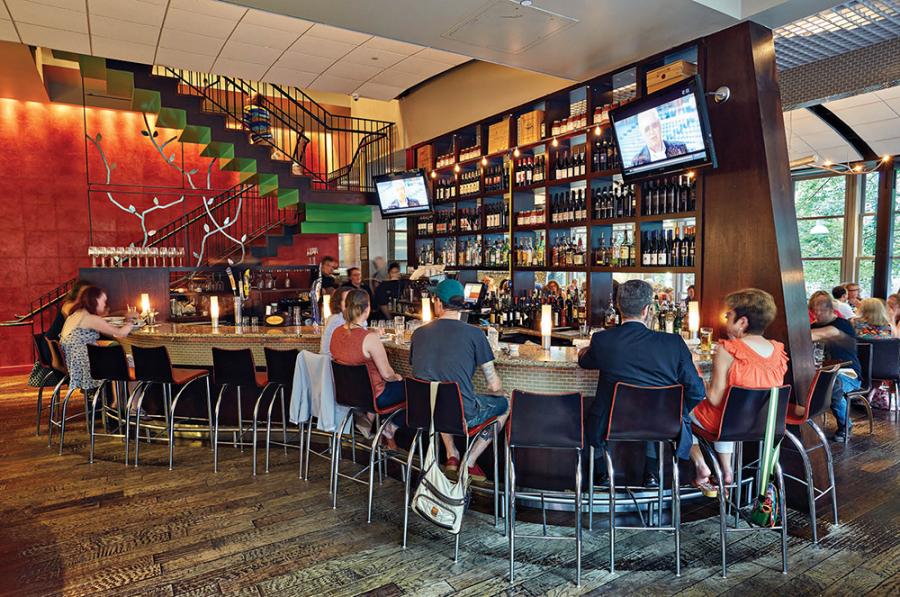 The Italians call it sprezzatura. It's a studied nonchalance that can inspire envy in the most compassionate individual. I recognized it seconds after I tucked into Via Vite's curved granite bar, which separates the kitchen from the dining room. I couldn't help but marvel at bartender Mark Urbaniak's cocktail flair as he dropped scoops of Madisono's ruby red grapefruit sorbetto into a blender, then eyeballed pours of grapefruit vodka before blitzing it all up with a little prosecco. Despite the hullaballoo, Urbaniak kept his professional game face, filling two champagne flutes in one fluid motion, spilling nary a drop.
Restaurateur Cristian Pietoso exudes that same confidence. He's tripled the size of his restaurant empire in the last year, with Forno Osteria & Bar opening in East Hyde Park and Americano Burger Bar a mere block away from his flagship. But despite the pull from multiple directions, Pietoso still speaks with gracious, yet intense focus. He's clearly someone who cooks out of love, but cares deeply about details. "It's a constant push," he says, confessing that he's taking a cue from New York restaurateur Danny Meyer. "Constant training, constant meeting, constant quizzing. Just that gentle, persistent pressure makes a huge difference."
His vigilance pays off. As I nursed my own carefully blended Sgroppino, I noticed layers of subtlety. Even the virgin iteration, with just the sorbetto and a shot of San Pellegrino grapefruit soda, is worth a sip. It only takes a bite or two to sense the same level of attentiveness coming from the kitchen. Tiny slivers of caramelized onion mingle with braised red and yellow peppers, giving the peperonata—Pietoso's grandmother's recipe—just a suggestion of sweetness. Aside from being a perfect pizza garnish, you'll also find it atop crusty Blue Oven bread with a schmear of goat cheese for an ideal bruschetta.
And that Blue Oven bread? The fennel seed heavy Bad Boy loaf is just heavenly when dipped into Pietoso's cioppino, the seeds adding zip to the rich seafood-and-tomato stew. But the panzanella salad stole the show—plenty of crisp house-made croutons tossed with fresh onions, cucumbers, heirloom tomato, basil, and a simple Tuscan vinaigrette of olive oil and red wine vinegar.
Via Vite's crowd-pleasing entrées include the Pietoso family Bolognese, but unlike his father's version at Nicola's, which rests on a mound of tagliatelle, Cristian serves the hearty sauce over penne. Add in a golf-ball-sized veal meatball heavy with lemon zest, and it's an over-the-top comforting main dish. The same logic applies to the risotto, where a few small touches add sophistication. Utilizing carnaroli rice, a bit harder to find (not to mention cook) than the typical arborio, results in a glossier, starchier dish. A puree of asparagus turns the risotto an eye-popping green, and the poached lobster garnish creates a nice back-and-forth between vegetal and briny flavors.
While a braised lamb shank wouldn't be my initial go-to dish for a sweltering late summer dinner, the restrained prep—herbs and jus over polenta—makes the dish a comforting workhorse whatever the weather. It wasn't the most tender, but subtle rosemary notes saved the day. The beef eye of rib proved equally flavorful, cooked to medium-rare and served sliced atop an umami bomb of porcini-marsala gravy. The caloric splurge was worth it for the chance to sample an unusual garnish—an unfathomably rich corn flan with a sweetness just shy of the dessert menu.
Both big meats demand wines with muscle. Glass pours here run the gamut from Old World to New, chosen primarily for their food friendliness factor. We weren't disappointed with the Le Farnete super-Tuscan, and the Santa Barbara pinot noir from Smith & Son did the trick as well.
Like the corn flan, Via Vite's smaller dishes slide, shimmy, and otherwise tarantella straight into your soul. That one friend who still hates Brussels sprouts? This lightly caramelized, grassy version will help you win him over. And yes, Pietoso's highly popular white corn polenta is still a study in humble perfection after all these years. My only side dish quibble was the blandness of the patate al forno. Even with minced chives, this gratin was noticeably underwhelming.
While ending with house-made gelati (get the caramel sea salt!), or another scoop of that ruby red grapefruit sorbetto wouldn't lead you amiss, head off the beaten track and sample Pietoso's bianco mangiari. A supple Sicilian almond-milk pudding, it's served with toasted almonds and a warm bourbon maple syrup. And don't miss the ample list of dessert drinks, including cardoon-and-thistle-infused Cardamaro, or Cynar, an artichoke-flavored amaro. Not feeling so adventurous? Order a knockout affogato made with espresso, Grand Marnier, and dark-chocolate orange gelato.
On my Uber ride to Fountain Square earlier that evening, my driver had asked me if I'd ever been to "that Italian place." When I played coy, he confided that he and his wife had visited when downtown for the Christmas tree lighting last winter. While he couldn't remember a thing he ate, he told me they walked down the steps on Vine Street afterwards feeling like it was the meal of the year. I can't say that I blame them. It's amazing what a healthy dose of attentiveness—even the seemingly nonchalant sort—and plenty of earthy, familiar food can do to lift one's mood and enliven the spirit.
---
fyi
Via Vite, 520 Vine St., downtown (513) 721-8483, viaviterestaurant.com
Prices: $5 (white corn polenta)–$36 (beef eye of rib)
Hours: Lunch and dinner Mon–Thurs 11 am–10 pm, Fri 11–11; brunch Sat & Sun 10 am–3 pm, Dinner Sat 4–11,  Sun 4–10
Credit Cards: All major
---
The Takeaway
Refined Italian cuisine, based on trattoria standards, is served by a friendly, detail-driven wait staff in prime piazza real estate, looking out over (you guessed it) a fountain.
Facebook Comments