No food writing clichés were harmed during the following review of Madeira's La Petite Pierre. But the quiet Camargo Road outpost does boast a rich history, and its pedigree does stretch back toward Cincinnati's culinary mother ship, Maisonette, and La Petite Pierre's kitchen does boast an affable journeyman finally coming into his own.
One gets the sense that La Petite Pierre has not survived due to any canned storyline, but rather through sheer persistence. Named for Pierre Adrian, who steered Maisonette to a Mobil five-star rating in the mid-1960s, the restaurant initially opened in 1989 as both a catering company and a sit-down eatery by two of Adrian's daughters, Michele Vollman and Suzy DeYoung. The small space often forced compromises: the restaurant would close and re-open at the whim of the catering business. Two years ago, after DeYoung's departure to open La Soupe, Vollman assumed sole ownership of the business.
In executive chef Nathan Jolley, Vollman has found a scrappy, pragmatic chef with plenty of hands-on experience. Many of Vollman's iterations of French classics still anchor the menu, but Jolley brings fresh flair (miso glazed duck breast and Cuban braised pork, just to name two) to entrées and specials. Together, they're a strong duo, pragmatically balancing accessible creativity with the kind of kitchen economy that only a business owner truly understands. Jolley operated the small yet startlingly ambitious Burnell's out of the location that now houses French Crust at Ninth and Vine until it closed in 2013.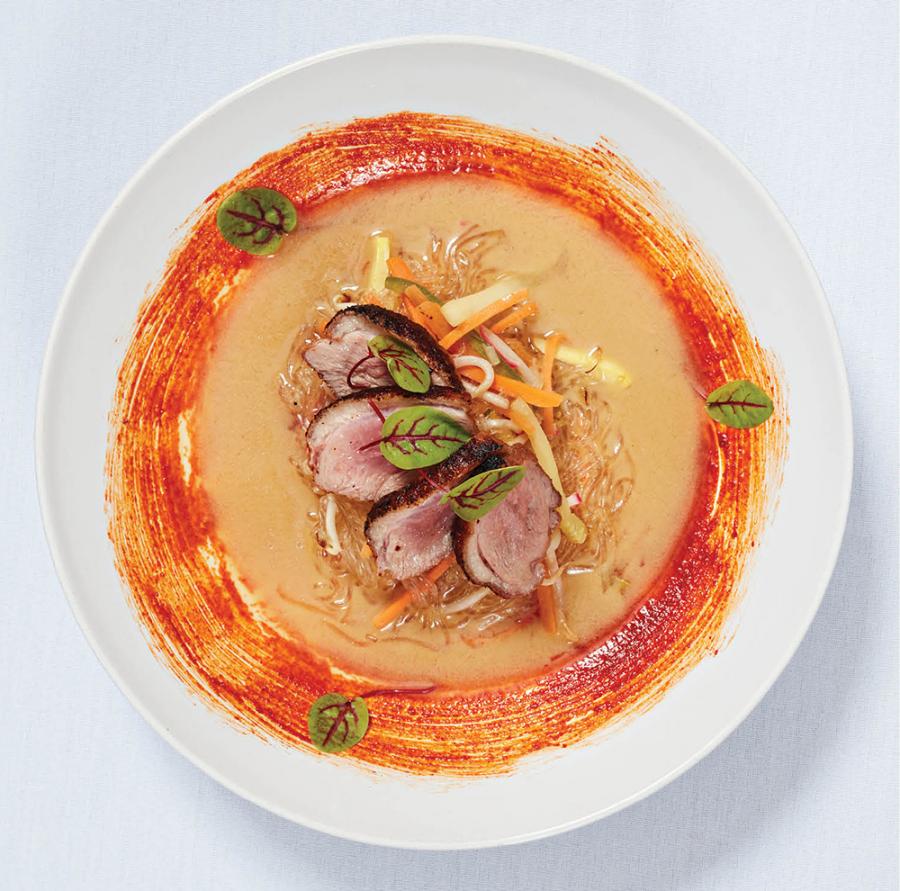 Fast forward three years and Jolley has landed in a slightly larger spot, though one that still feels intimate. As my friend opted for a bright-tasting cucumber Moscow Mule, I picked my way through the small, careful wine list. When I pled anxiety, our server playfully blind tasted a few whites for us, with the La Croix Canat Sancerre a hands-down winner. The wine's minerality has a nice balance and was ideal for slow sipping. I always enjoy menus that suggest pairings. The Domaine Dupeuble Beaujolais, whose spicy finish worked well with Jolley's pork belly, was another strong choice.
Salads were served with lean precision, doing more with nothing less than needed. Grilled asparagus thrived with a hit of lemon and black pepper atop a bed of watercress. The Lyonnaise salad consisted of feather-light mixed greens, crispy lardons, and a still-molten poached egg, while the classic Caesar was generous with boquerones (Spanish white anchovies) and judicious with the delightfully briny dressing.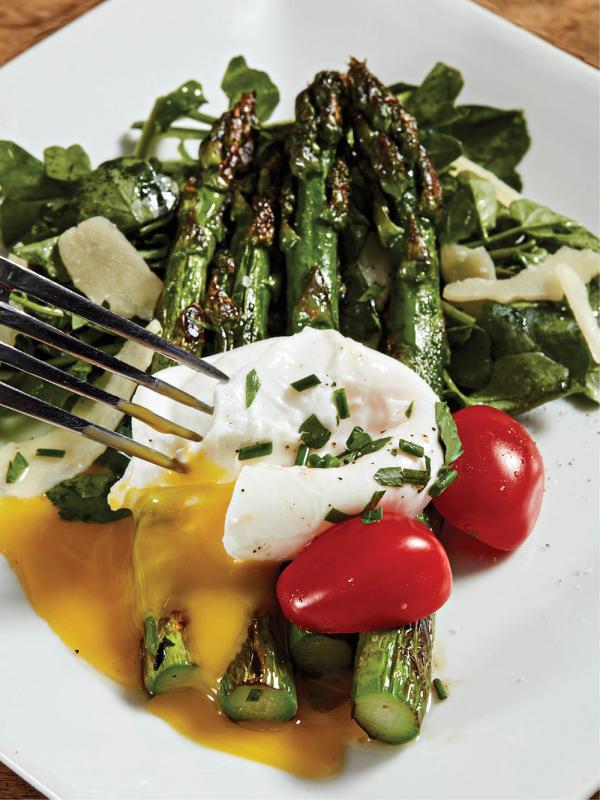 Such attention to detail in the salads seemed incongruous when compared with the French onion soup. The broth itself was notably light on onion flavor, and spoiled by a cloying sweetness. But the real crime was that it was topped with mediocre croutons and a layer of rubbery provolone. Where, oh where, has all the good Gruyere gone? Yes, the broiled-on cheese is the bane of every French dishwasher since George Orwell was Down and Out in Paris and London, but some traditions exist for a reason.
Fortunately, Jolley redeems himself with mussels. While you can't go wrong with the classic marinière, with its zing of lemon and parsley, his Provençal rendition is unbeatable, packed with San Marzano tomatoes, plenty of garlic, white wine, and a handful of herbs. But then Jolley takes it up a notch by reducing the broth and finishing it beurre monté—whipping in a few little knobs of cold butter. The silky finish is decidedly decadent, so much so that you might be tempted to rush through the shellfish to slowly soak pieces of Sixteen Bricks baguette in the lingering sauce. Solve said problem by ordering the all-you-can-eat option and revel in your own culinary Groundhog Day.
Despite the restaurant's Gallic roots, Jolley's entrées sometimes pivot away from the classics. Case in point, a filet of sea bass with an Italian accent: light tomato jus and citrus aioli dressing, served over fresh greens and herbed breadcrumbs. And while his seared pork belly dish may seem like a throwback, the richness of the belly, not to mention the pickled onions and the Aleppo pepper and cheddar grits, keep it current.
Although our generous order of tournedos chasseur arrived a bit over medium-rare, the red wine and mushroom sauce kept the beef plenty tender. Only the Cuban pork shoulder was a legitimate disappointment. The meat itself had the requisite tenderness, but as plated, it felt like flavor overload between the cumin on the meat, the assertive cheddar in the amorphous hominy cake, and the heavy spice of the salsa verde.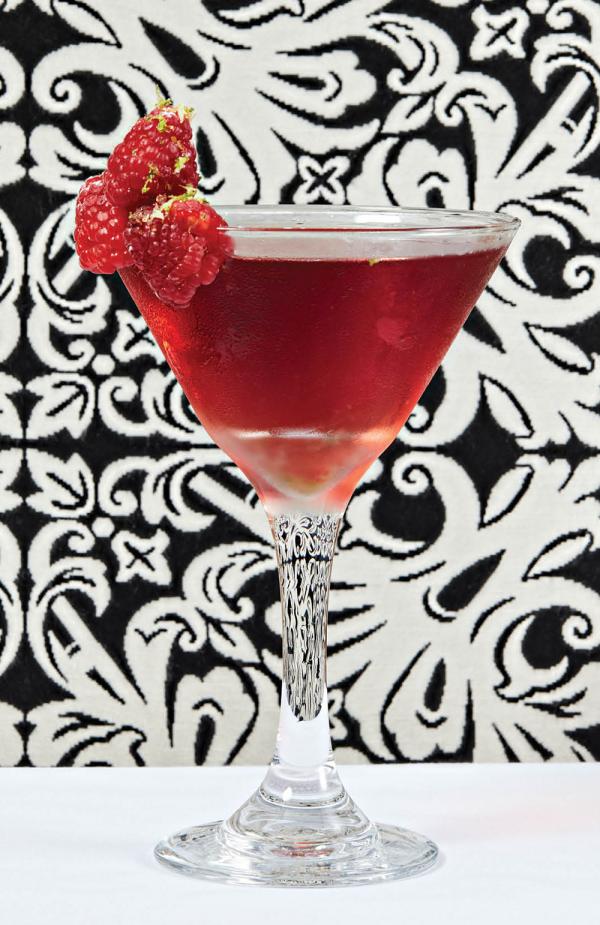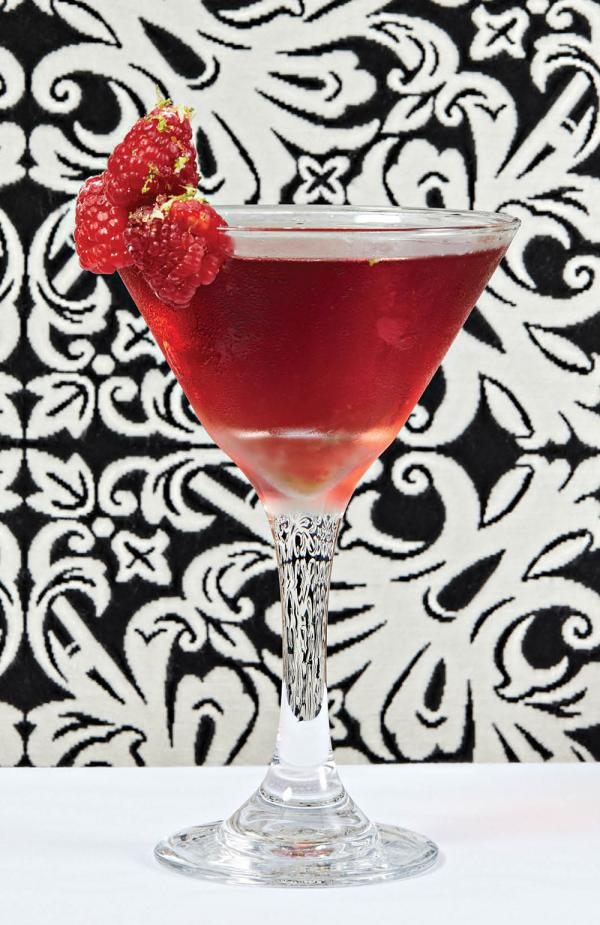 The restaurant's ever-changing dessert list features seasonal fruit tarts and a sharp yet flawlessly smooth key lime pie with a sweet cracker crust that stayed in my head for days. The chocolate pot de crème arrived straight out of an exacting pastry textbook. With a fruity chocolate flavor and a texture that hovers between ganache and custard, this dish could only result in a clean ramekin.
La Petite Pierre's positives are obvious. Servers make a crowded room feel like a convivial dinner party, and despite some timing issues on the second visit, the staff made it abundantly clear they were happy to see us. With price points this gentle, and a cozy dining room decorated with vintage French cookbooks and plenty of copper pots, I'll be back when I get a hankering for the classics. While some clichés might look to be in place, Jolley cooks with enough heart to keep La Petite Pierre from becoming one.
---
FYI
La Petite Pierre, 7800 Camargo Rd., Madeira, (513) 527-4909, lapetitepierre.com
Prices: $6 (French onion soup)–$24 (tournedos chasseur)
Hours: Lunch Tues-Fri 11:30–2, Dinner Thurs–Sat 5–9 pm, Brunch Sun 10–2
Credit Cards: All major
---
THE TAKEAWAY
A cozy neighborhood bistro serving up chef-driven entrées alongside French bistro standards. Wine is skillfully paired, staff is genuinely friendly, and (weather permitting) the patio is the best seat in the house.
Originally published in the August 2016 issue.
Facebook Comments