With OTR reaching peak salmon shorts threshold, and Northside fueled by tacos and marching endlessly to a hipper-than-thou drummer, it shouldn't come as a surprise to learn that at least one Cincinnati neighborhood is steadily resharpening its dine edge despite the retirement of a respected and well-loved restaurateur. But it might surprise you to hear that it's Hyde Park.
There have always been comestibles in the 45208, but until the past year or so, these were mostly venerable lunch counters and safe, marginally palatable fare for the polo-shirt-and-ponytail set. Alex Mchaikhi was the notable exception, holding down the epicurean fort at Cumin (rechristened briefly as Ash) and M, a pair of restaurants along the eastern stretch of Erie Avenue. Mchaikhi shuttered his restaurants this year, trading in his wood fired oven for a date farm in Tunis, and in the process offered his friend Cristian Pietoso (owner of Via Vite)  an opportunity too perfect to pass up.
Enter Forno Osteria & Bar. Pietoso and Chef de Cuisine Stefano Carne have kept the wood fires burning at the former M space with little change in the decor, aside from repainting the copper-colored exterior a calmer and more modern light greenish-gray. You'll see the usual suspects packed into the densely arranged hardwood two-tops—neighborhood regulars, sheepish young couples on second dates, and curious foodies long-enchanted by Pietoso's fidelity to high-octane Italian ingredients. But if you look closely, what's striking is how many times people push away from their stools to greet a fellow guest. This may be a degree of neighborhood insularity, or the power of a couple glasses of wine, but I've never seen a restaurant so convivial.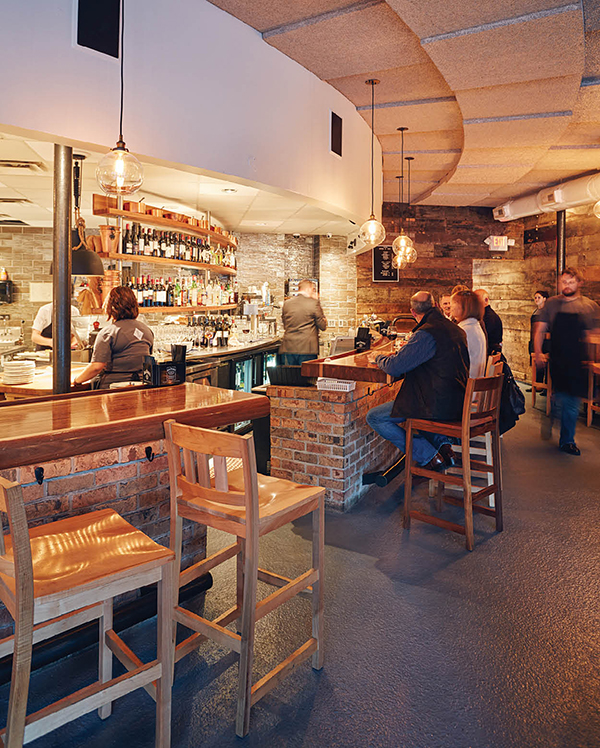 Speaking of wine, Pietoso has likely forgotten more Italian grapes than you can name, and it took all of his superpowers to shoehorn that knowledge into a smart yet price-conscious list. "I had two rules," he says, describing the initial conversation with his wine vendors. "First, this is, and always will be, a neighborhood restaurant. Second, we will serve nothing that we serve at Via Vite."
It took some vigorous sampling—more than 200 wines within two weeks. (Life is indeed difficult sometimes.) The result is an eye-opening deep dive into Italian varietals with a few nods to the Pacific Northwest. We paired appetizers with glasses of citrusy 2013 Sella & Mosca La Cala Vermentino, and I enjoyed the bold yet balanced tannic swagger of the 2010 Fidelis Aglianico del Taburno, which proved more than a match for the lamb.
As for munchies, the antipasto Italiano is a worthy starting point, featuring slices of imported bresaola and an almost-too-mild finocciona. A fritto misto showcased the gently floral flavor of zucchini blossoms, but the sogginess of the interior rendered the bites too dense. You're better off with the tripe, believe it or not, which comes with handwritten reassurance on the menu. The offal itself is braised in tomatoes and red wine and appears as a creamy ragu. You'll want to sop up every last drop with a slice of bread. Another sure bet is the octopus salad. A lemon parsley gremolata just barely tickles the milky legs, its vegetal flavors buttressed by coins of soft fingerling potato. It's flavorful and surprisingly filling for such a tiny plate.
Pietoso puts his wood-fired oven through the paces, producing a soft, generously blistered pizza with plenty of tang resulting from two long rises and the all-important imported Italian type 00 flour. Grace notes are everywhere: basil applied to the margherita after the pie is taken off the heat; a judicious hand with the toppings (no overwhelmed crust here). My only quibble is perhaps with the laws of physics. Pietoso insists upon a very specific series of tai chi-like hand motions while shaping dough, but the final product had a soggy, one-inch dead zone in the center.
Pietoso makes his own pasta, too—soft, a little eggy, and ideal for spreading bold flavors across the tongue. A slightly modified version of his father Nicola Pietoso's signature bolognese makes an appearance,  but my personal favorite is the whole wheat pappardelle cinghiale, a ragu of wild boar served on a bed of thickly cut ribbons of whole wheat pasta. The meat itself gets a welcome autumnal lift from clove and cinnamon (no allspice!), which has a nice way of punctuating the richness. Two lamb chops get a big flavor boost from the rapini pesto, but I found the accompanying braised cannellini beans a bit too salty. Only a chaste short rib proved disappointing: The floral parsnip puree was silky smooth—its creaminess a perfect foil for the pan juice reduction—and the beef itself was textbook tender, but there was no sensual richness to the boneless rib.
Dessert Chef Adelaide Colombano shows skill with two strikingly different offerings. A highly refined lemon tart featured delicately folded meringue and a silky curd, drizzled wantonly with a cherry coulis. The more rustic "Pope's Chocolate Salami" was a childhood favorite of Colombano's. British digestive cookies are enrobed in melted chocolate and then sliced crosswise, as if they were flecks of fat lining a salami. Top this with a white chocolate crémant, and a childhood snack becomes a refined adult indulgence.
Forno can occasionally stutter—a combination of new restaurant growing pains and the occasional flavor that simply registers when you expect it to pop. But what I enjoyed most is Pietoso's skilled "emotional craftsmanship." He shows the same care in shaping pizza as he does nurturing a cozy neighborhood vibe, ultimately creating the Wednesday night spot that this strip doesn't just need, but wants.
---
FYI
Forno Osteria & Bar
3514 Erie Ave., East Hyde Park (513) 818-8720, fornoosteriabar.com
Prices
$2.50 (cherry peppers)–$29 (braised beef short rib)
Hours
Dinner Tues–Thurs 5–10, Fri 5–11, Sat 4–11, Sun brunch 9-2, dinner 4–9
Credit Cards
All major
The Takeaway
Wood-fired pizza, homemade pasta, and refined Italian classics served in a convivial neighborhood setting, with a skillfully composed wine list full of surprising glass pours and inexpensive bottles. Also: Don't be afraid of the tripe.
Facebook Comments