Walking into Hotel Covington is akin to walking into an enormous wave of swank. Gleaming floors, a rack full of furs, chic modern furniture, and a display of bourbon barrels overlaid with a quote that reads, "If these United States are to be considered a body then Ohio would be its heart and Kentucky its soul." (I guess poor Indiana must be the kidneys.) Off to the left is the hotel's bustling bar; behind it, in a large glass enclosure that juts out into the courtyard, is Coppin's.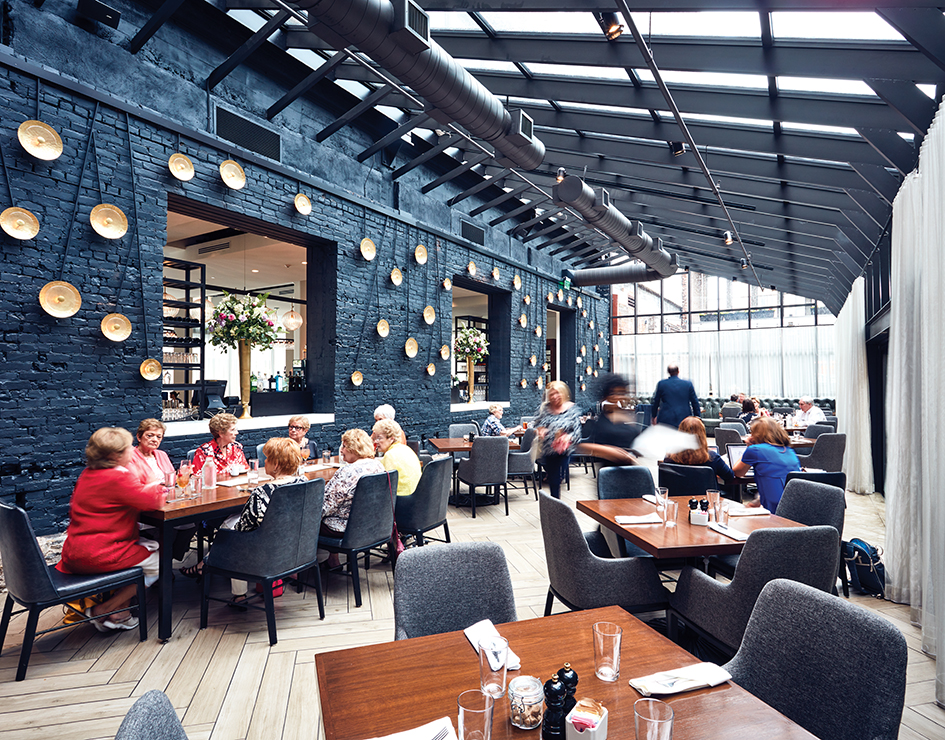 ---
The hotel and restaurant opened in September 2016 after almost four years of planning and renovation work on the old building. Some updates erase the past; a few preserve it. Overall the owners were aiming for a more modern feel. The weathered brick from the old Coppin's Department Store building is still visible, but painted a flat black. Brass plates bring a subtle shine to the dining room, which manages to be both cozy and elegant.
---
The Aparium Group, which partnered with a local developer on the project, specializes in what they call "translocal hospitality," indicating that they draw "inspiration from the deeply engrained historic local culture." Evidence of this includes specially made Rookwood plates and wine glasses etched with the Roebling Bridge.
On our first visit, our wonderful server ably rattled off every ingredient in every cocktail and gave us the history behind the Liquid Knowledge. Knowledge was the name of the horse that John Coppin put his last few dollars on at the Latonia Race Course, which enabled him to open his department store in 1907. The cocktail is as good as its backstory, a kind of magical Dark and Stormy, with ginger, allspice, clove, and lavender mixed with Old Forester bourbon. Their Old Fashioned, made with Four Roses bourbon, was also first-rate. With wine on tap and an extensive local beer list, Coppin's is an ideal place to meet for drinks.
But for a fully realized locavore dining experience, Coppin's needs to move beyond basic amenities. In addition to plenty of Kentucky bourbon, much of the produce, meat, and cheese comes from local growers and producers. I was particularly impressed with the house-cured meat and cheese from Kenny's Farmhouse on the "Grand Mother Board," which dresses up the main attractions with apple butter, pickles, fig jam, and mustard. Like the cocktails and the charcuterie, many of my other favorite items were from the periphery of the menu. The butternut squash bisque with pistachio, pomegranate, and Moroccan spices was a nice juxtaposition of crunchy and smooth and spicy with a dash of tart and sweet. And the sweet corn fritters with buttermilk remoulade were an elegant take on a Southern classic—not too heavy or greasy. The mussels—made with Storm golden cream ale from the Braxton Brewing Company and chorizo from Napoleon Ridge Farms in Gallatin County—were served with a peppery tomato sauce, perfect for sopping up with bread.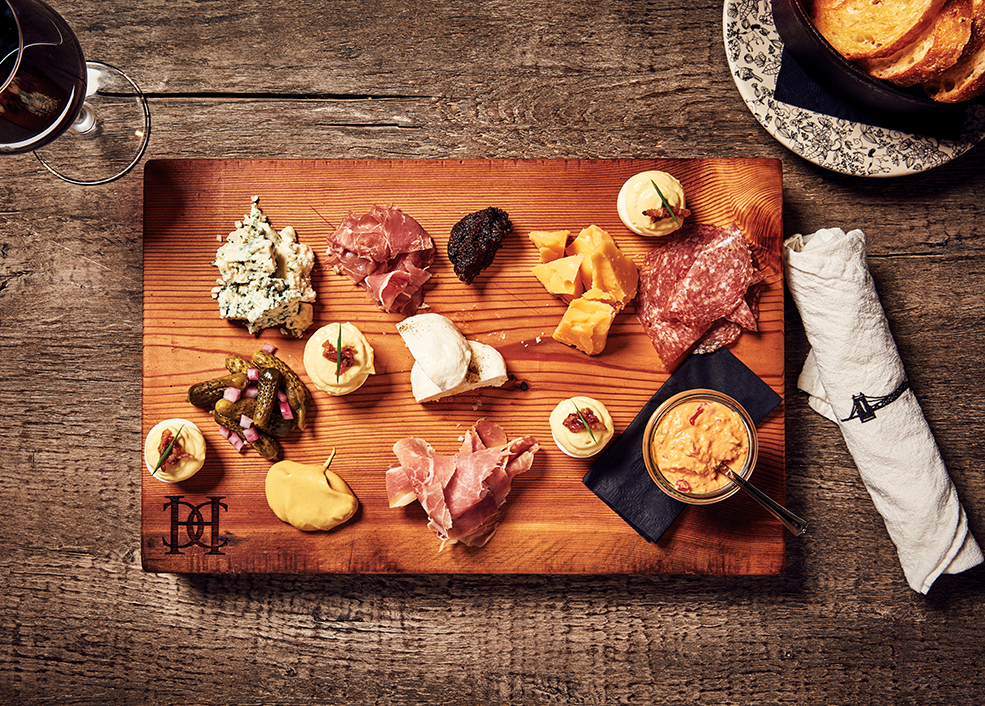 ---
Unfortunately, other items on the menu were less than fully realized. In the oxtail cannellini, the pasta was well made, the meat perfectly tender, but the ragu was overwhelmed by the metallic tang of canned tomatoes. There are also a few instances of pseudo-regionalism. Duke's mayonnaise is indeed a regional favorite, but it doesn't add any authenticity to pimentadew cheese dip—which tastes exactly like you would expect a slightly spicy cheese dip to taste anywhere. I also wondered why we were eating crab cakes with Old Bay, or smelt with (again) an Old Bay dip. The crab cakes were fine—reasonably moist and well-seasoned—but not authentic to Kentucky.
It's clear that Chef Brendan Haren's heart beats for red meat. Most of the carnivorous entrées are dishes you've probably eaten before, but they are all tasty. A couple next to me loudly praised the burger with bacon marmalade as one of the best in the area.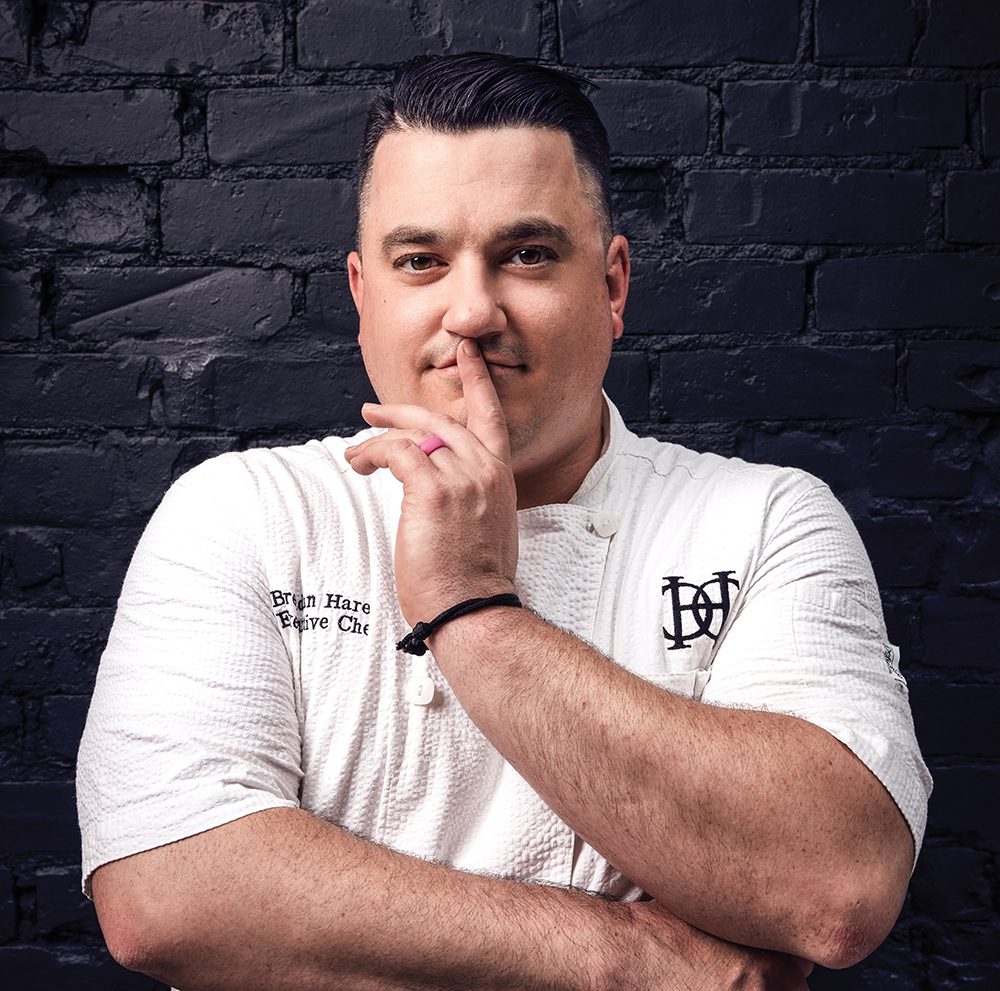 ---
The braised short rib with smoked Gouda grits was fall-apart good, with roasted vegetables and a nice bright bite of horseradish. The strip steak with béarnaise, truffled potatoes, and green beans is a well-executed take on a classic. Yet the entrées in general lack the flashes of inspiration found elsewhere on the menu—they seem to cater to travelers, who want the same comforting items regardless of where they happen to be. The roasted chicken turned out to be a particular disappointment: contorted into a ring and elegantly sliced, but flavorless despite the advertised mustard sauce.
After our wonderful server on the first evening, our second visit left us with a newbie who couldn't tell us much about the wine or the drinks, and forgot to clear away appetizer plates. There's a corporate attempt at adroitness here, indicative of nicer hotels, but the service at Coppin's was uneven. I used to travel regularly for work and often stayed at places like the Hotel Covington. They generally deliver what they promise: basic comfort. The experience at Coppin's felt comfortable, even if I would have appreciated something genuinely distinct. But as every frequent traveler learns, for that you have to leave the hotel district.
---
FYI
Coppin's Bar and Restaurant, Hotel Covington, 683 Madison Ave., Covington. (859) 905-6600, hotelcovington.com/dining/coppins
Hours: Breakfast, lunch, and dinner 6:30 am to 10 pm seven days.
Prices: $3 (Sixteen Bricks bread with whipped sorghum)–$27 (strip steak with truffled potatoes and béarnaise sauce)
Credit Cards: All major
---
The Takeaway
Not doing anything too original, but doing it fairly well nonetheless.
Facebook Comments
---