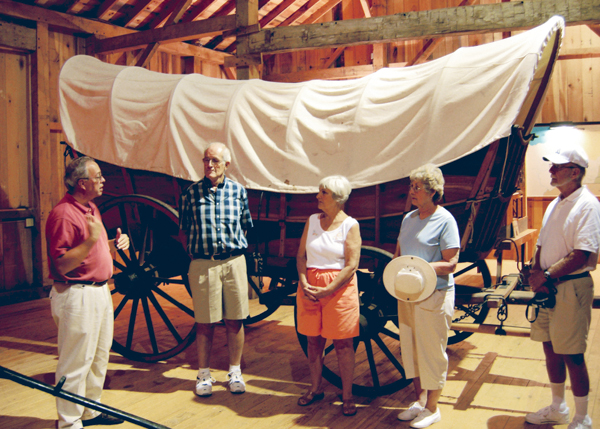 Photo courtesy of the Amish and Mennonite Heritage Center
To the typical tourist, "Amish" means horse-drawn buggies, bonnets, and…not much else. Yet while Amish life is simple by design, it's definitely not simplistic. The modern-day Amish continue a legacy of perseverance, community, and faith, and many have made a living by sharing their old-country skills (read: cheese-making) with the outside world. A visit to Holmes County, Ohio—home to the world's largest Amish population—and nearby Adams County provides a glimpse of life according to the Old Order.
Amish and Mennonite Heritage Center
If your Amish I.Q. begins and ends with Weird Al or that Harrison Ford movie, then you might consider starting with a visit to the Amish and Mennonite Heritage Center, just outside of Berlin, Ohio. The center was established in 1981 in response to Holmes County's rising sightseeing stock; its marquee attraction is the Behalt Cyclorama, an astounding 265-foot-long mural-in-the-round—one of only four such murals in the country. The painting, created by German-born artist Heinz Gaugel, has been dubbed "The Sistine Chapel of the Amish and Mennonites," and depicts the sects' origins and history (Behalt is a German word meaning "to keep" or "to remember"). This, along with tours and travel information, helps the center fulfill its mission of hospitality: "We provide a setting for the visiting public to learn about our heritage in a way that can help them understand what they're experiencing throughout the community," says executive director Paul J. Miller (a middle initial is often necessary because, as Miller explains, "there are about 20 Paul Millers" living nearby). Indeed, throughout the towns of Millersburg, Walnut Creek, and Berlin, you'll see many examples of Amish sensibility. For starters, you won't find interstates in Holmes County. So plan for some back-road rambling through the area's farm-studded hills.
Yoder's Amish Home
The Amish have long been pegged as industrious folk, with most families operating farms for a living, though many have added woodworking and baking to their repertoire, much to the delight of tourists. Yoder's Amish Home is a 116-acre working farm opened in 1983 by Eli and Gloria Yoder to give curious visitors a peek into the sometimes-mysterious Old Order Amish life. The home is open to the public for tours of the barn (built in 1885) and schoolhouse, and even for rides in an authentic Amish buggy. The Yoders also show off the property's 1860s-era home, which has been outfitted to depict Amish life at that time. Just down the road in Bunker Hill is Heini's Cheese Chalet, a local spectacle of all things cheese. The cheese shop and fudge factory should be obvious stops on your visit, but the real attraction is the cheese production itself, or as the good folks at Heini's call it, "The Art of Cheese Making."
Historic Downtown Millersburg
History buffs in your group will relish a trip through Millersburg, situated at the intersection of West Jackson and North Clay Streets in central Holmes County. This popular stretch of shops and restaurants is down-home's downtown, and its assortment of late-Victorian-style buildings landed the district on the National Register of Historic Places—along with the 164-year-old Hotel Millersburg, whose antique-furnished suites are a steal starting at $60 per night, and the elaborate Holmes County Courthouse and Jail. Hop from one antique store to the next, then visit 3 Feathers Pewter on East Jackson Street to view a pewter-spinning demonstration and shop their handmade collection. Millersburg knows where its tourism bread is buttered, and so treats its loyal antique fiends to an annual two-day bender, otherwise known as the Holmes County Antique Festival. Now in its 49th year, the festival (which runs October 8 & 9), features outdoor markets, old-timey arts and crafts, and the obligatory classic car parade.
Miller's Amish Furniture, Bakery, and Bulk Foods
The best way to get acquainted with the Amish is via their hallmark handicrafts. If you like rocking chairs (and quilts and pies and quaintness in huge quantities), then you'll be among friends at Miller's Amish Furniture, Bakery, and Bulk Foods. As its long-winded name suggests, this sprawling emporium is like an Amish outlet mall. You and your brood can wade through rows of Amish-made furniture (the solid, handcrafted kind that puts a certain Swedish outfit to shame), then shop for homemade breads, cakes, butter, candy, and just about anything that can fit into a Mason jar. Miller's is located just 60 miles or so east of Cincinnati in Adams County, one of the state's newer Amish settlements. Original owners Harry and Lydia Miller settled in West Union in the late 1970s and the business grew from a modest home kitchen bakery to a multi-building family affair. Its size and location make it a perfect day trip from Cincinnati—and the special fresh-glazed donuts on Saturdays make for a perfect start to the weekend.
» Amish and Mennonite Heritage Center, 5798 County Road 77, Berlin, (877) 858-4634, behalt.com
» Yoder's Amish Home, 6050 SR 515, Millersburg, (330) 893-2541, yodersamishhome.com
» Historic Downtown Millersburg, (330) 674-3955, historicdowntownmillersburg.com
» Miller's Amish Furniture, Bakery, and Bulk Foods, 960 Wheat Ridge Rd., West Union, (937) 544-8524
Originally published in the July 2011 issue.
Facebook Comments