I first experienced Mardi Gras in college, in the midst of a snowy Midwestern winter. I saw a newspaper photo of a parade passing a row of palm trees; the caption said the festival wrapped up the next day, Fat Tuesday. I convinced three friends we could drive through the night and be in warm, sunny New Orleans for the final day of Mardi Gras—which we did.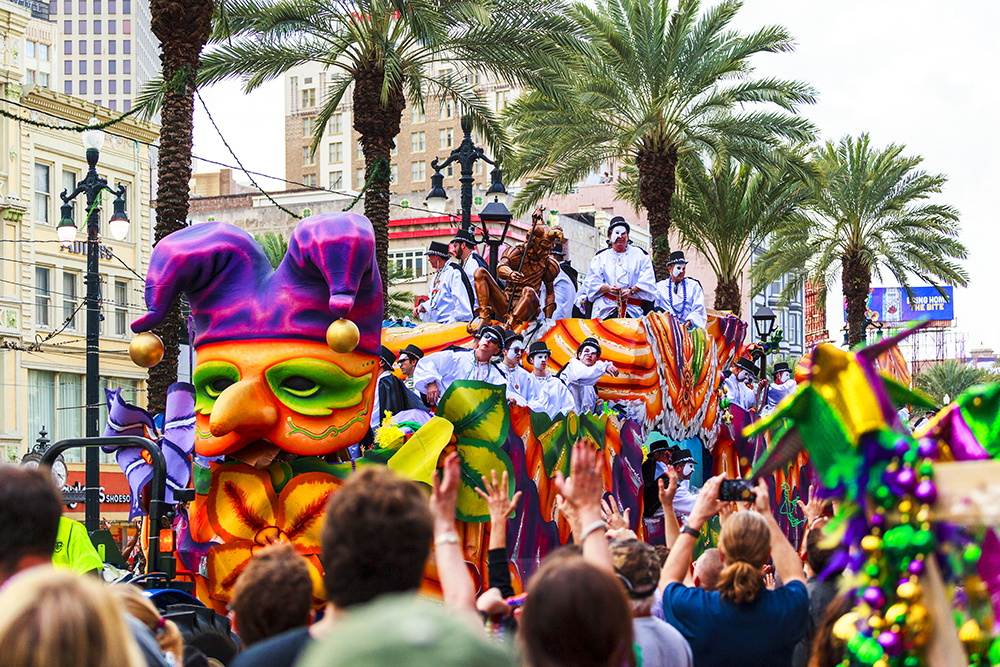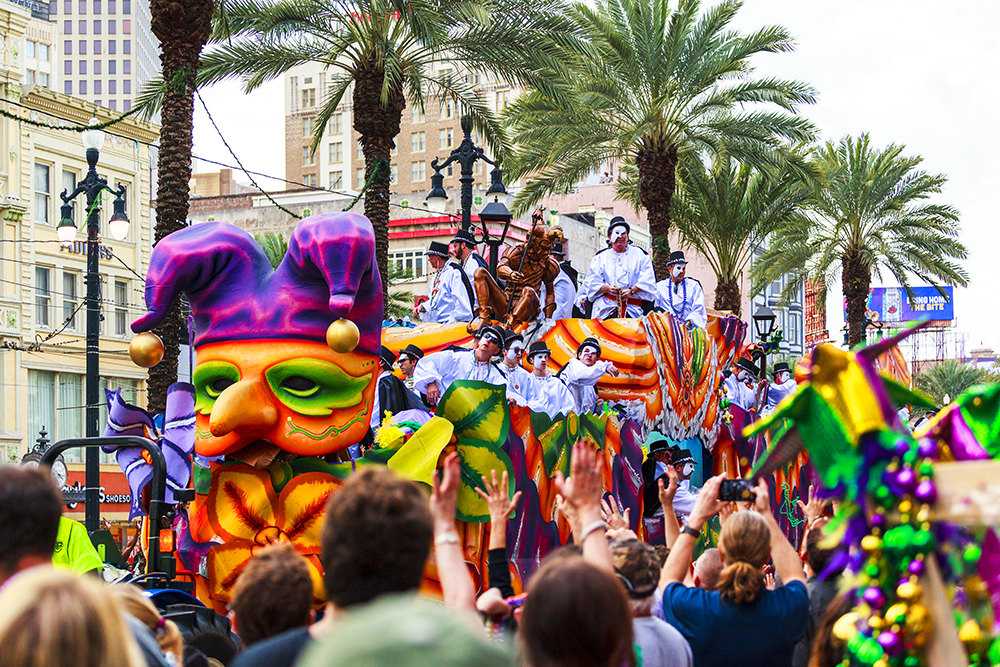 ---
I've returned for Mardi Gras many times over the years, becoming more immersed in the history and culture of New Orleans each time. What fascinated me that very first visit is what still excites me about Mardi Gras: how everyone there, from local families to confused tourists, is a participant instead of an observer. Once you catch beads at a parade or wear a costume in the French Quarter or dance in a "second line" behind a brass band, you join that year's Mardi Gras story. The city of New Orleans does not own or control Mardi Gras—everyone does.
The dates of Mardi Gras change each year as Easter dates change; the next Fat Tuesday, always the day before Ash Wednesday, is February 13. Join me, won't you?

---
The Maddening Crowd
The first thing to understand about Mardi Gras is it's crowded. Flights, hotel rooms, and parking spaces are hard to find and expensive; Bourbon Street becomes impassible; night parades draw crowds 20 rows deep; and you can't get into the nice restaurants. It's a deal-breaker for many.
But it isn't difficult to avoid the largest headaches. Once in New Orleans, walk, take taxis, or public transit (ride the historic streetcar out to Tulane University and Audubon Park). Use Royal or Chartres streets, which run parallel to Bourbon, to traverse the French Quarter. Eat at any small café on those streets, most of which offer decent versions of New Orleans staples like gumbo, jambalaya, red beans and rice, and po' boys. Get off Canal Street when the parades start and walk a few blocks down St. Charles Avenue for better bead-catching opportunities.
It's fun to get out of the French Quarter and experience Mardi Gras as locals do. The best "insider" party spot these days is Frenchmen Street, a few blocks east of the Quarter, lined with live music clubs, street performers, and pop-up art shows. It's also worth exploring Magazine Street in Uptown, out toward Tulane, for small restaurants and boutiques and to catch parades where they start, surrounded by float riders' families and friends.
---
Parades and Beads
Catching beads, strange as it seems, consumes everyone at Mardi Gras. Every float in every parade—35 parades will pass through downtown in the 10 days leading up to Fat Tuesday—tosses something to spectators, from plastic beads to light-up medallion necklaces to hand-crafted specialty items. Your role is to catch the "throws," wear as many as you can stand, and then trade with strangers throughout the rest of your stay.
Each parade is staged by a "krewe," a nonprofit organization that exists solely to host a Mardi Gras parade and related parties. The lineup has evolved over time; my favorites are Muses on Thursday night (February 8), an irreverent, hilarious all-female krewe; Endymion on Saturday night, the largest parade with more than 30 LED-bedazzled floats and two dozen marching bands; and Zulu and Rex on Fat Tuesday—Zulu is the traditional African-American krewe that hands out real coconuts painted decorated by members, and Rex is the all-male blue-blood outfit that's been parading since 1872.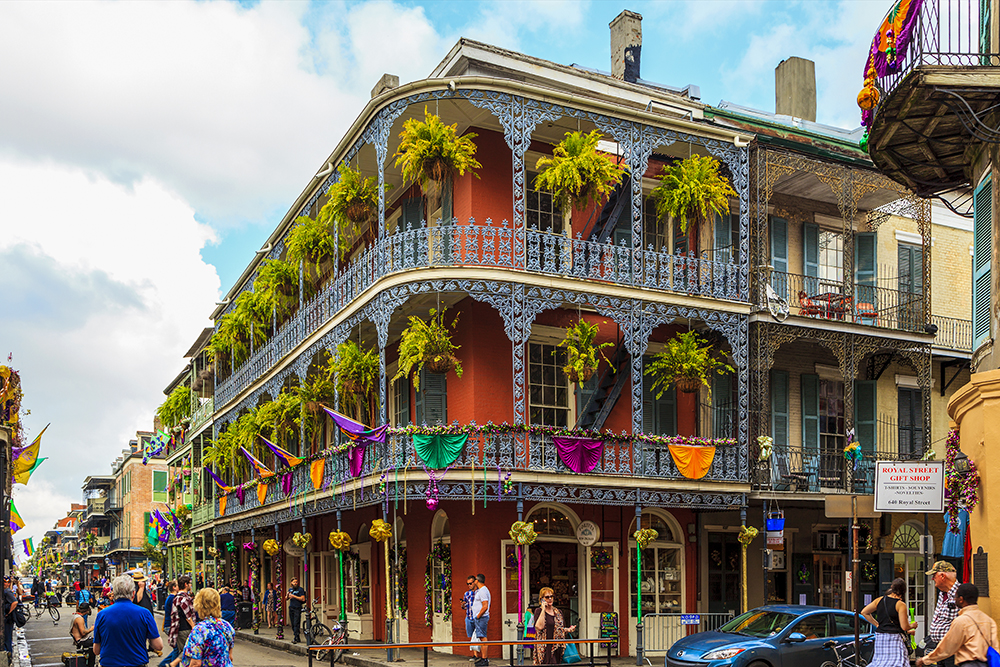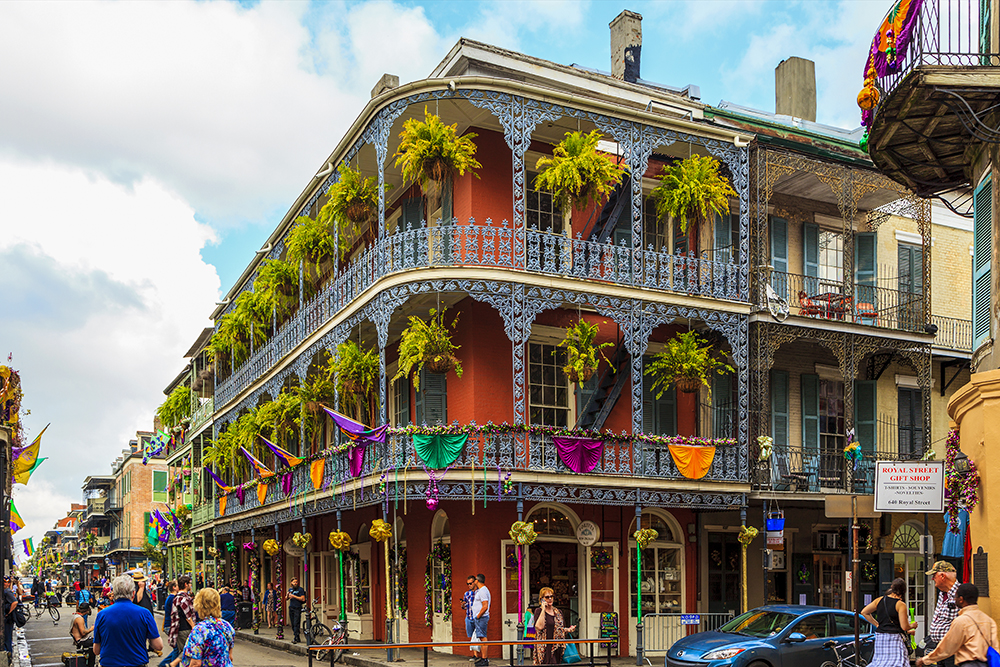 ---
tourist traps: There's a reason these places are popular
There are a handful of famous French Quarter haunts I always stop into because they're really fun, happy places, even if filled mostly with tourists: Pat O'Brien's is a must-see, especially the outdoor patio on a sunny day. Try the signature Hurricane, but move onto other drink options while you have your wits about you. Hit Acme Oyster House for raw oysters and a Dixie beer. Before you know it, you'll be sharing dishes with adjacent tables. Café du Monde is the home of chicory coffee and beignets, small puffed doughnuts caked with powdered sugar. They're totally worth the long line. Central Grocery serves the best muffuletta in town, an Italian meat sandwich topped with olive spread. They come in handy when you get the midnight munchies.
Facebook Comments