It only takes so many wolves howling into the star-filled sky to make you realize you're in the wild. That night sky in the Kickapoo River Valley beams with layers of the cosmos we often forget exist, overspread as they are by blasts of city light. Up here, the sun rises like a yawn, light catching the morning frost as it stretches its way over the seemingly endless hills packed together like file tabs.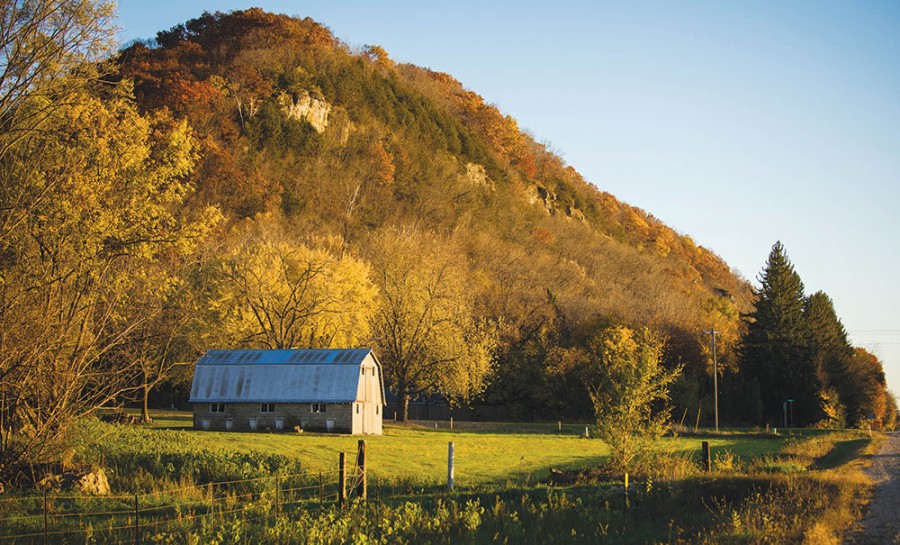 Glaciers steamrolled their way across the continent during the Ice Age, leveling out the land as they went. But they bypassed the 24,000 square miles where Wisconsin, Minnesota, Iowa, and Illinois meet, leaving it a topographical oddity, an island of pointed hills and deep valleys in the midst of flattened prairies, giving the region its name—drift is the sediment left behind by glaciers—as well as its soul. Hemmed in on the west by the Mississippi River, Wisconsin's Driftless Area is a collection of small towns that punctuate rolling acreage and forested hills formed over time by relentlessly winding—and fickle—rivers, like the Kickapoo, which in the native Algonquian language means "one who goes there, then here" (apt, as its 125 river miles cover just 65 miles on land). Even the county roads, dotted in parts with furniture makers, fur traders, and canoe rentals, obey the geography; there's not a straight-shot freeway in sight.
Walk through the trees to Wildcat Mountain State Park's observation point and you enter a portal overlooking the valley: thin tracts of green farmland twisting between rolling tree-covered hills cut by the occasional glimpse of that crooked river. The park is best explored via hiking trails and canoe landings. Just south of Wildcat, the Kickapoo Valley Reserve—an area saved in 1975 from a proposed dam and development—is 8,589 acres of trails, bluffs, sandstone cliffs, and rare flora and fauna. The only remnant of the engineering project that wasn't: the abandoned white stone dam tower. In the southern reaches of the state, Wyalusing State Park claims the banks of the Wisconsin River at its point of confluence with the Mississippi, and the park's vantage of their meeting—ideally with some fog in the air—is downright mystical.
The trees may have it, but so do the towns. Viroqua, big digs with a population of 4,362, puts every ounce of its size to good use. The small stone-clad storefront of The Driftless Café on Court Street, with floor-to-ceiling tree trunks standing in for columns, serves a menu of local farm-to-table food that changes daily and could hold its own in any foodie city—like lamb ragout with deep-rooted tomatoes, horseradish gnocchi, and a salad of microgreens. Being in a small town doesn't mean being without small-batch, fair-trade coffee, either; Kickapoo Coffee Roasters takes care of that.
To feed your mind, walk the half mile to Driftless Books and Music: 25,000 square feet of new, used, and rare stacks, eclectically (but navigably) arranged and interspersed with art and miscellaneous seating in a former leaf tobacco warehouse. Seven miles up the road is Westby, a Norwegian town, which is made clear not just by Norskadalen (a natural/cultural heritage center with trails and a homestead composed of some of the valley's oldest buildings and settlers' artifacts), but by all the Vilkommen signs, Norwegian murals, and weekend festivals celebrating holidays like Syttende Mai. It's also where "championship cheese" is a thing, which you can learn more about at Westby Coooperative Creamery. (Pro tip: Try the yogurt, too.)
Before departing, drive west toward the Mississippi and turn south on Highway 35—The Great River Road—to Prairie du Chien. The second-oldest city in Wisconsin, it's a river town whose small, pleasant center is stocked with a coffeehouse, bakery, and a few restaurants and bars. But getting there, sandwiched between riverbanks and towering bluffs, wispy fog peeking past humpbacked hills, you'll feel stung by the energy and tension of the river. The only true flatness for miles around, it looks calm, even creek-like in places—but that belies its power. It's the same energy of the Driftless region: peaceful but not lethargic, suffused by a quiet, persistent buzz. Restless yet rooted, just like its name.
---
FYI
Fall hits early around southern Wisconsin, reliably peaking in mid-October.
Stay
Kickapoo Valley Ranch: Into the wild, in comfort and solitude. kvranch.com
Westby House Inn: Historical high-style and gracious hospitality. westbyhouse.com
Inn at Lonesome Hollow: Home away in someone else's home in the hills. lonesomehollow.com
Eat
The Driftless Café: All local farmers/producers and a menu that changes daily will make you want to come back for every meal. driftlesscafe.com
Sunrise Orchards: Donuts and cider and bushels of apples galore. sunriseapples.com
Kickapoo Coffee Roasters: Beans from small farms roasted with care in small batches means one hella good cuppa—no matter what size. kickapoocoffee.com
Drive
You'll want a car. If love of the open road is not your personal mantra, fly into Madison and rent one. If you drive from Cincy, be warned: The topography between here and there is dead boring.
Facebook Comments