On a sunny Saturday morning, Penny Borgman tells a group of 14 people the story behind the Fernald Preserve, the 1,050-acre nature area north of Cincinnati that was once the site of a uranium ore processing facility, part of the U.S. Department of Energy's (DOE) nuclear weapons program during the Cold War. "Long ago," she begins, "before European settlers converted this land to agricultural use, eastern deciduous forest covered all of this area."
Today, though, if you fly over the preserve—the way a red-tailed hawk or a northern harrier might see it—it would look more like a vast prairie decked out in an assortment of greens or yellows depending on the season. The acreage sprawls out in meadow-like serenity, with pockets of trees peppered around its perimeter and an assortment of oddly shaped ponds and wetlands that look like punctuation marks—bulgy commas and distorted semicolons—dotting the interior landscape. It might have been a forest long ago, but today it feels all field.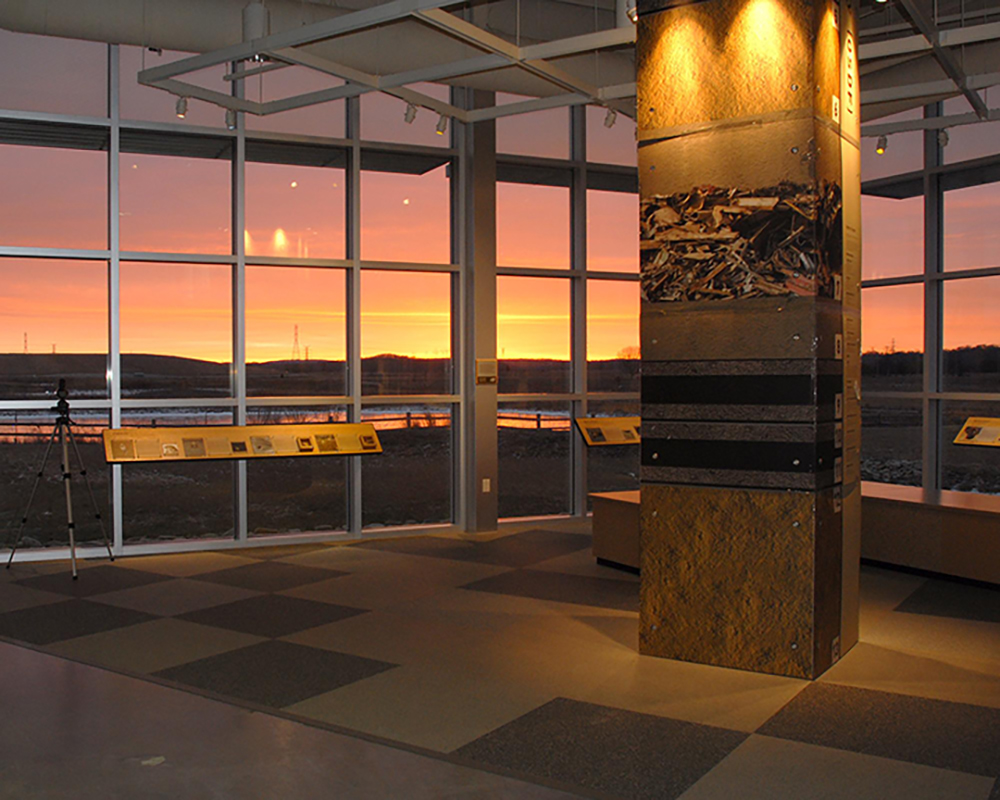 Borgman gathers the tour group in the brightly lit community room in the preserve's visitors' center, a $6.6 million renovation of a former warehouse, one of only two buildings not demolished in the industrial site's remediation in the early 2000s. To this day, Fernald remains one of the largest and most comprehensive environmental cleanups in U.S. history, but you wouldn't know it as you gaze out from the floor-to-ceiling glass-windowed visitors' lobby.
An array of beautiful photographs on the wall show the native wildlife we might see as we explore the preserve, or as we hike its seven miles of trails: rabbit, beaver, hawk, bobcat, white-tailed deer, and the kingfisher that also serves as the Fernald Preserve logo on a large stone at the entrance. A giant aerial-view photo map shows a somewhat square-shaped, wobbly-edged sea of greenspace—the preserve property as it exists today—haunted by an overlay of ghostly white rectangles representing the industrial buildings that once stood here when the plant was operating.
Fernald's then red-and-white-checkered water towers, reminiscent of the Purina logo, along with its innocent-sounding "Feed Materials Production Center" moniker, might have lulled locals into mistakenly thinking it was a pet-food factory or something far less worrisome than a uranium refinery. When the Fernald plant was built in 1951, people knew, from local news coverage at the time, that it was somehow connected to atomic energy and the Cold War, but what did that really mean? For nearly four decades, no one probed very deeply into what was going on there, and no one pondered the possible environmental or public health implications.
From the visitors' center you can see a 65-foot-high natural-looking mound that serves as the permanent storage site of nearly 3 million cubic yards of low-level radioactive waste—about 85 percent soil and 15 percent debris excavated during the cleanup. "The materials that were the most hazardous were containerized and moved out west, and they'll be kept forever in nuclear storage sites in states where the geography and climate are better for permanent storage," Borgman explains. "Some of the less hazardous waste is buried here."
A large column-shaped display helps us understand, in compelling visual detail, how the highly engineered layers of material in the mound will permanently preserve the compacted debris from the site, trapped within a protective liner and topped off with a natural, vegetative cap. But when we later stand on top of the mound, among knee-high grassy stems and buzzing insects, gazing out to the west across the preserve's picturesque prairie and ponds, it's easy to forget, just for a minute, the ugly past of this place and what lies beneath.
---
The Fernald Feed Materials Production Center sat just north of the small town of Fernald in a rural residential and farming area straddling Crosby and Ross townships, about 18 miles northwest of downtown Cincinnati. Roughly 14,600 people reside within five miles of the site, and many of them can still remember the not-so-pretty details of the Fernald story.
"In 1951, the Atomic Energy Commission used eminent domain to push out local farmers in an urgent takeover of the land, giving them 30 days to get out," says Borgman, whose role as the Fernald Preserve community relations lead for Navarro Research and Engineering, Inc.—a contractor working with the DOE Office of Legacy Management, which now manages the Fernald site—has made her an encyclopedic expert on Fernald's history. She leads the preserve's public education programs, school tours, and community outreach efforts.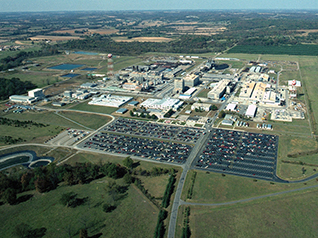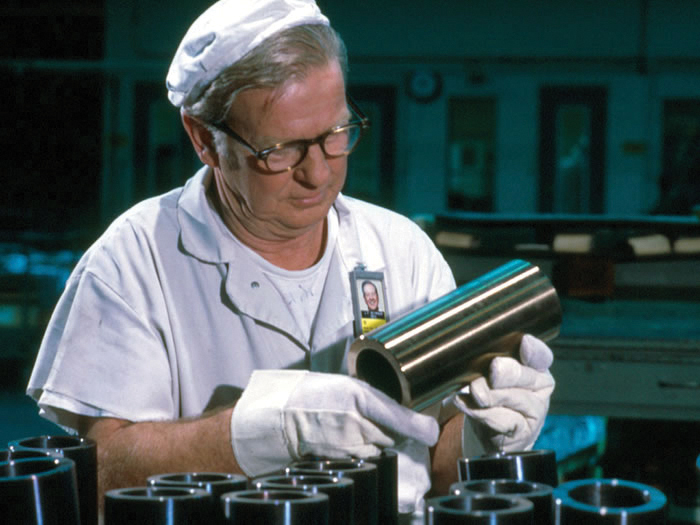 There were hundreds of similar weapons complex sites like Fernald—each with a specific production role in the atomic (now nuclear) weapons production process—sprinkled around the U.S. during the feverish period of weapons stockpiling during the Cold War, Borgman explains. "Employees here couldn't talk about the work they did. There was a high level of secrecy around the site." To demonstrate what the Fernald facility manufactured, she holds up a sample fuel core—a silver, cylinder-shaped object about the size of a baton used in track events but thicker and heavier, which constitutes the first step in the creation of a nuclear weapon. She quickly assures us that this one isn't uranium, so it's completely safe to hold and examine. It's a deceivingly innocent-looking object when you contemplate the immense cost the community paid to make them between 1951 and 1989.
"This site was the poster child of environmental contamination, on a national level," Borgman says. She tells us, in remarkably forthcoming detail, about the site's contaminated waste pits, the silos filled with radioactive waste transported here from the Manhattan Project, and the massive, years-long cleanup process. She shows us a layered map identifying the radius of contaminated groundwater near the site, and flips through the transparent layers to demonstrate how that contamination has slowly been mitigated over time. Another map shows the Great Miami Buried Valley Aquifer that lies beneath our entire region, and Borgman—a naturalist by training—explains the relationship between groundwater and surface water, referencing Paddy's Run creek along the west side of the Fernald site, a "losing" stream, she explains, that percolates into the groundwater table. She describes how the uranium waste from the Fernald site—spewed into the air, soaked into the soil, and running in the water—absorbed into the groundwater that circulates through the entire ecosystem.
Although the cleanup—in environmental-speak, it's called remediation—officially ended at Fernald in 2006, long-term groundwater testing will continue at this site "probably into the late 2030s," Borgman says, adding "there might always be some level of water treatment at this site." The "plume"—the area of affected groundwater, or the sphere of contamination—is down to about 100 acres now, she explains. It's hard to know how large that plume might have been in the years when Fernald was actively processing the uranium, before environmental regulations were in place to protect people and habitats, long before community members brought a class-action lawsuit against the DOE.
The last maps Borgman shows us tell a much happier story. They reveal the gradual restoration of native prairie grasses and other plant species as well as the preserve's wetlands and ponds, many of which have filled the excavated pits where the long-demolished buildings from the industrial complex once stood and have become a big draw for wildlife. Thousands of ducks, geese, and wading birds migrate through the preserve every year; it's also home to an array of year-long resident birds, even breeding pairs.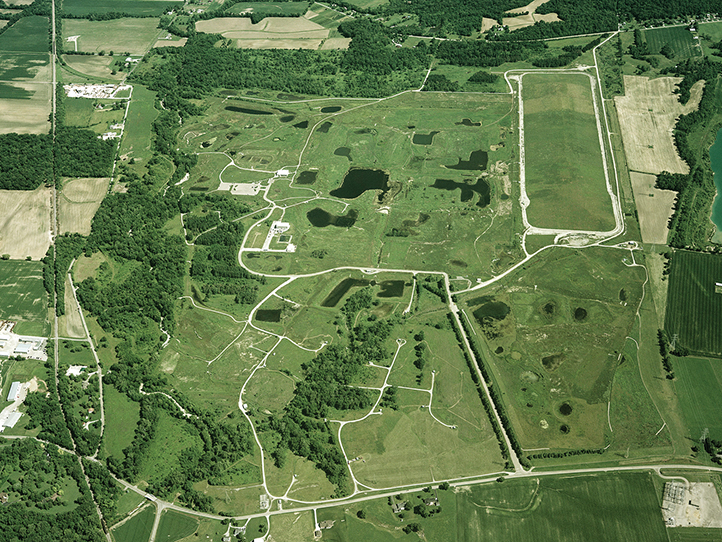 It's a scene that never would have happened without Lisa Crawford's years of advocacy. She still remembers the day in January 1985 when she and her husband, Ken, learned from their landlord that their backyard well was one of three near the Fernald plant found to be contaminated with uranium. After almost four decades of a relatively quiet existence, with employees going in and out of the Fernald plant every day—folks now fondly remembered as our nation's patriotic "Cold War warriors"—the Fernald plant was suddenly front-page news. Bad news.
That began a long, arduous journey for the Crawfords and hundreds of their neighbors, who, in the years to come, would find themselves shouting angry questions and accusations at officials running community meetings that seemed to resolve nothing. They'd have to educate themselves about environmental contamination and desperately reach out to local politicians, the media, and representatives of the national government for help.
"I was just this nice, quiet housewife who minded her own business and went to work every day and raised her family and did what she was supposed to do. Until they turned me into a wild person," Lisa Crawford said in a recorded 1999 interview, one of more than 130 such interviews preserved by the Fernald Living History Project (FLHP). Started in 1997, the FLHP aimed to chronicle the story of what happened at Fernald from the viewpoints of community residents, former plant employees, government officials and regulators, local researchers, and others. The interviews are preserved online through a site maintained by the Fernald Community Alliance, a nonprofit group that evolved from various other citizen-driven advocacy groups and task forces that existed over the years during the Fernald remediation.
Crawford served as president of one of the most prominent and long-lasting of those grass-roots advocacy groups, F.R.E.S.H. (Fernald Residents for Environmental Safety and Health), and says she still gets together with a handful of its members even though active numbers have dwindled over the years. "We're all gray-haired now, but we're still the seven F.R.E.S.H. ladies," she says. They still work collaboratively with the DOE Legacy Management team in its long-term management of the site. The day after I met with Crawford, in fact, she planned to drive to the Fernald Preserve to witness a prescribed burn of the waste mound, a routine environmental management practice that helps deter the growth of invasive plant species that crop up among the native grasses planted there.
"Even now, all these years later, we still keep an eye on what goes on over there at Fernald," says Crawford. "And if they do something stupid, which I don't think they will now, you can bet we'll be back up their butts again in a minute, raising holy hell."
---
Graham Mitchell is a former Ohio EPA official whose own career changed dramatically in 1984 when troubling data started appearing in routine tests of groundwater around the Fernald site. He was the one who'd sampled the Crawfords's well water in early 1985 and found it to be contaminated. "Lisa [Crawford] was a fierce advocate for the community," says Mitchell. "It was because of people like her, pounding at the door, that things started to change."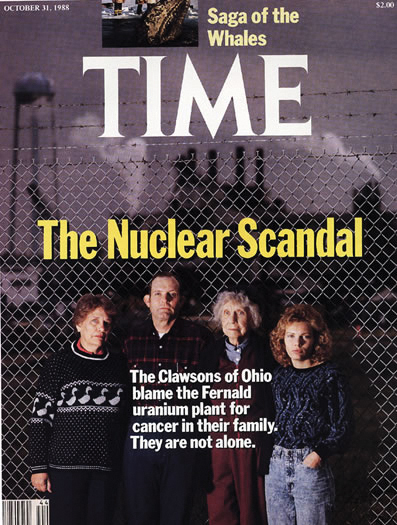 The Crawfords led a handful of Fernald area residents in a $300 million class-action lawsuit against the DOE in 1985. The suit was settled four years later for $78 million: $73 million for emotional distress, medical monitoring, residential property diminution, and legal and administrative costs, plus an additional $5 million for commercial and industrial property claims within a five-mile radius of the Fernald site. All production at Fernald officially stopped. By the end of the Cold War in 1991—four years after President Reagan famously declared in Berlin, "Mr. Gorbachev, tear down this wall"—the mission at the Fernald site changed to remediation, a process that would last until 2006.
Those early years of the cleanup were "quite tumultuous," says Gary Stegner, a now-retired public affairs officer who worked for the DOE at the Fernald site from 1992 to 2006 and continued there until 2012 in a naturalist/community relations role, like the one held now by Borgman. "It was really intense at first, and things were not going well with the community. Initially, it was all about establishing trust. The turnaround came when we started involving the community more in the decision-making process. What do they consider to be clean? What is their vision of Fernald post-cleanup?"
A Citizens Advisory Board of local residents, UC professors, and Ohio and U.S. EPA representatives was formed to provide guidance through the cleanup process. The public demanded a health monitoring program, which is how the Fernald Medical Monitoring Program (FMMP) came into existence in 1990. (A separate monitoring program was set up for former Fernald employees, the result of their own lawsuit filed against the DOE.) The FMMP program enrolled and has continued to track a cohort of 9,782 people who lived within a five-mile radius of the plant while it was operational, explains Susan Pinney, a professor in the UC College of Medicine's Department of Environmental Health and director of UC's Center for Environmental Genetics.
The lawsuit settlement covered the costs of medical monitoring for the period between 1990 and 2008, but "we are still continuing to collect data about diagnoses," Pinney says, thanks to subsequent grants and other funding sources—and a few lean periods when it was an all-volunteer operation. Pinney and the program's researchers spend most of their efforts these days tracking down death certificates and getting access to area residents' medical records to validate the diagnoses. "Now we're looking at the transgenerational effects," she says, explaining how sons and daughters of the original study participants are helping her investigate long-term health implications of the uranium exposure. There is some evidence of disease related to exposure at the site, she says, identifying cases of lupus, renal disease, and kidney and urinary cancers among the study group.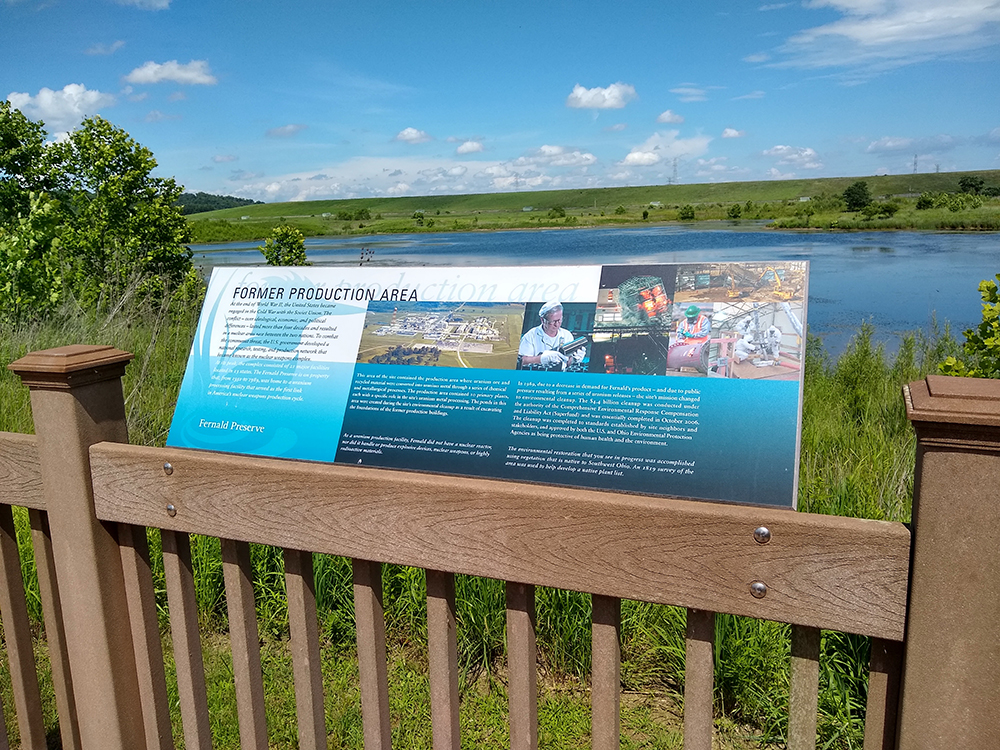 Ironically, Pinney says that people in the Fernald cohort have benefitted from the monitoring program in unexpected ways. "One of the things we've seen is that various screening tests have found cancers earlier, so we have a better survival rate with people in the study when compared to the general population," she says, adding that this is particularly true with breast cancer, for which early screening makes a big difference.
"What if none of this ever happened?" Lisa Crawford says, reflecting on the long journey she and other area residents endured. She's 62 now, retired, and spends more time reading. She even joined a social club, the Quilting Goddesses, which provides a measure of calm after stormy decades spent demanding resolution for the Fernald mess. "I look around at all of the people in my life who I would never have met," she says. "I think of my wonderful friends I have across this country, people near other sites like Fernald, people as far as Russia. I have a friend in Russia!"
Crawford says some people still ask her why the community was willing to store some of the waste at the big mound at Fernald. "I tell them about NIMBY," she says, referring to the "not in my backyard" realization she came to at one point during the cleanup years. "We weren't just going to dump it all in somebody else's backyard if we didn't have to. I mean, I have friends out there in Nevada now. We had to get rid of the really, really bad stuff. But the onsite storage facility is our legacy. It's government property forever. There won't be a baseball field built there, or a hot dog stand. A hundred years from now, I don't want people to build a farm or a house there. And they won't. That's our legacy. And it's buried there."
---
The environmental mess at Fernald took 15 years and $4.4 billion to clean up. That's a whole story in itself, says Mitchell, the former Ohio EPA official who now serves as president of the Fernald Community Alliance. "Fernald is a great example of the community and the regulators working together," he says. "It was a success because everyone got educated. Everyone involved can see their fingerprints on the solution out there now—the citizens, the government, everyone."
What the local citizens said they wanted was an undeveloped place for wildlife, says Sue Smiley, the DOE's Office of Legacy Management site manager at the Fernald Preserve. "The stakeholders here didn't just want a natural area, but also the educational part ensuring that future generations would know the story of what happened at Fernald, and that's what the visitors center does."
Last year, around 15,000 people came to the visitors' center and museum or took part in its educational outreach programs, Smiley says. That doesn't include folks who might just visit the preserve and hike its seven miles of trails without stopping in the building. The educational programs are a big draw, covering all kinds of wildlife found at the preserve: bats, beavers, beetles, birds, bobcats, butterflies, deer, fireflies, flying squirrels, salamanders, and many more.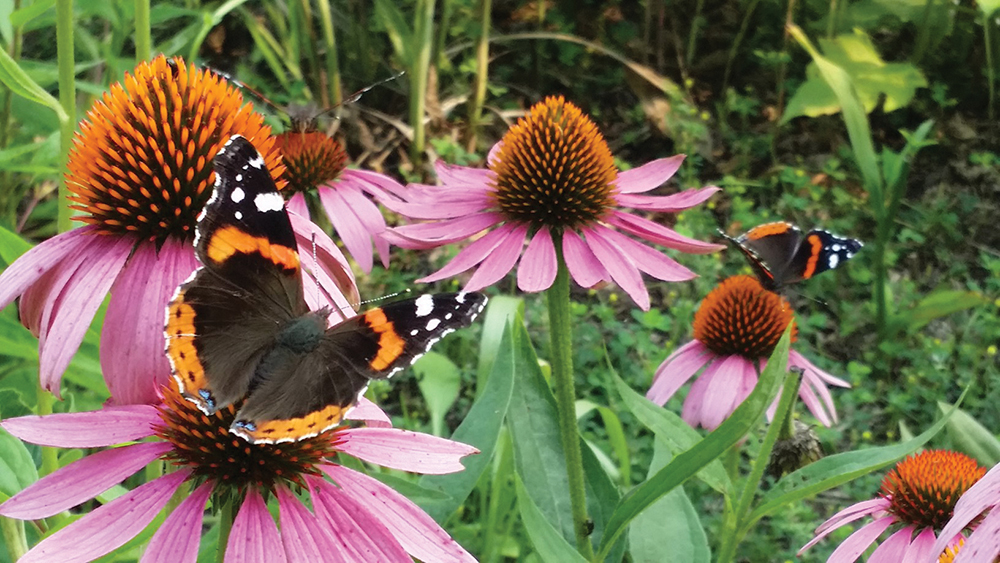 These programs attract locals like Don Nagel, 82, who lives in White Oak, and his granddaughter, Allison Anderson, 18. I met them last July at a Fernald program about fireflies, where we learned how to identify different species by their flash patterns. "The preserve has seven species of fireflies," naturalist Karen Cody told us that evening. "Generally, the ones you see flying are the males, while the females are the ones you might find on the ground or a grass stem, sending codes to the males." On our hike that night, Anderson caught one in her hands.
I saw Nagel and Anderson again at a Fernald program about coyotes in February. "I love learning about nature," she told me that night, before we all bundled up for a hike to go listen for coyote howls. "And I like spending time with my grandpa. He loves animals, just like me."
Nagel, a certified nature lover who volunteers with Hamilton County Parks, says the older he gets the more he appreciates nature. "I'm making up for lost time," he says. "We need wild spaces like this for our children and grandchildren, for their future. We've got to preserve as much as we can while we still can."
When I ask him if he's ever been worried about exploring the Fernald Preserve because of its dark history as a uranium processing plant, he shrugs it off—just like everyone else I asked over months of reporting on this story. "Some people are still afraid of it, but the government spent billions of dollars cleaning it up," he says. "It's such a shame people still worry. They should come out here and see for themselves and learn about the history of this place from the museum."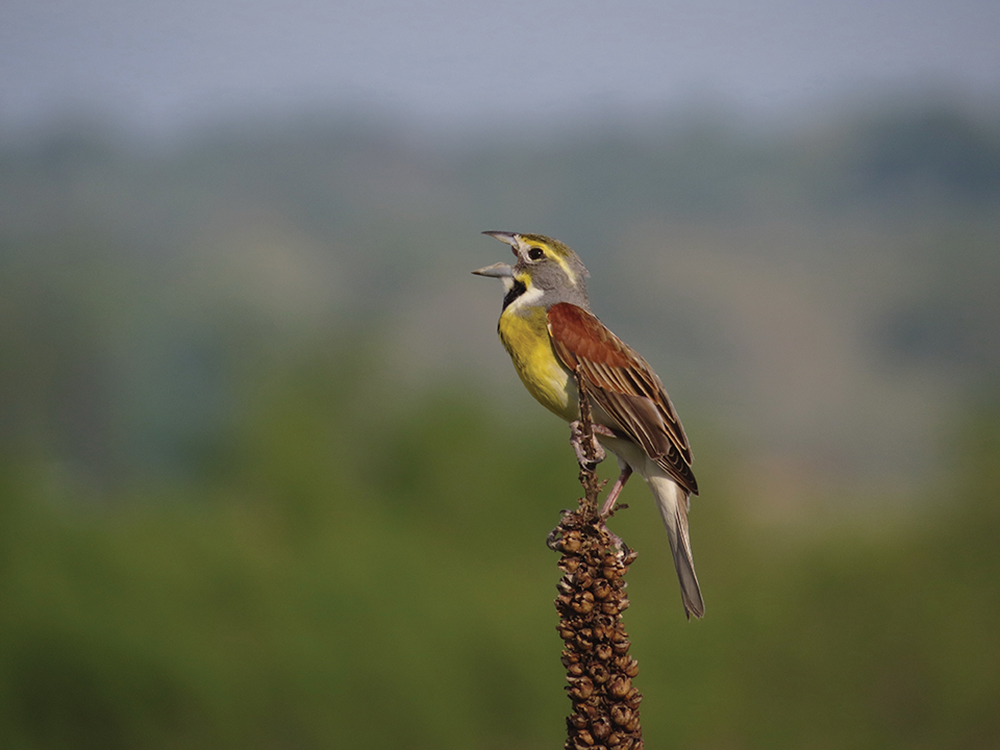 Birds, wildlife, and even a few endangered species are thriving at the preserve. Fernald's bird list includes 249 species, says ecological team leader John Homer, who has worked at Fernald in one capacity or another for 28 years, starting as an intern when the cleanup began. "Grasslands are a big draw for birds, especially considering that prairies are a vanishing habitat a little farther out west," he says. The preserve is also now home to the endangered American burying beetle, focus of a six-year recovery program with the Cincinnati Zoo.
Although coyotes are far from an endangered species, that's what a group of visitors are outdoors listening for at Fernald on that cold February night. John Klein, a retired wildlife management officer with Hamilton County Parks, leads Nagel, Anderson, and the rest of us along the site's three-mile Hickory Trail into a patch of woods just north of the visitors' center. We stop frequently to listen for American woodcocks, and both Cody and Klein mimic the calls of the barred owl while we all listen for the owl's tell-tale "who cooks for you" reply.
But we're really hoping to hear coyotes. We give it an earnest try. We stop two or three times, and Klein orchestrates a group howl, all of us doing our best to sound like coyotes calling to one another in the night. We hear nothing in response, just the quiet rustling of our weather-proof winter coats. Knowing that sirens often cause coyotes to howl, Klein tries a handheld blow horn. Its sonic blast nearly splits the quiet night in two. But the coyotes are having none of it.
The night isn't a total loss. As we walk along the trail, the pinkish-orange hue of a winter sunset ebbs along the horizon, fanning out in subtle rays of softly radiated light through dark clouds reflected on the still surface of a small pond. To our east, a line of small lights marks the base of the mound of buried debris that hides Fernald's complicated past. The lights are from eight small shed-like structures called valve houses, which collect water that continues to drain, trickle-style, from the industrial waste stored deep inside the mound. Pipes carry it to an onsite wastewater treatment facility, where it will be tested for uranium contamination for years to come.
Facebook Comments