It all started nearly 10 years ago with a case of beer, a sack of White Castle sliders, and seven eager Westwood neighbors sitting around a kitchen table. The conversation focused on one topic: change.
The group wanted to find a way to inject energy into their community of charming brick houses, which many of them had called home for years, if not decades. They decided to start by reconstructing the neighborhood's perception, which they considered stagnant at best, and agreed to seek a high-profile project to build some momentum. Fortunately, that wouldn't take long to find.
One of the seven, Amanda Carlisle, a former special projects director for ArtWorks and now a local shop owner, laid out a proposal: She'd work to bring an ArtWorks mural to Westwood. To do so, she'd need a community organization sponsor, so Carlisle pitched the idea to the community council. She was met with resistance. She pitched it again. And again. Long story short: Westwood leaders at the time weren't fond of the idea.
The group of neighbors went back to the drawing board and decided to take matters into their own hands. "We all gathered together and said, 'Hey, the seven of us can be an organization and we can support this mural,'" says Leslie Rich, who now serves as board chair of Westwood Works, the nonprofit they ended up launching. The self-described "asset-based community development organization" sponsored the mural project, and paint soon splashed across a side wall of the neighborhood's landmark Henke Winery.
The mural's appearance might have signaled a turning point for the city's largest neighborhood, but perhaps even more significant was the inception of Westwood Works. For too long, community members say, many of its go-to voices wanted to avoid change rather than embrace it. "This was really the kickoff point with people believing they could be involved in doing more in Westwood," says Westwood Works founding member John Eby, an electrical engineer who's lived and raised his two daughters in the neighborhood since 1988.
And so Westwood Works members organized a slew of new community endeavors: art fairs, community festivals, public-private partnerships, and other seemingly big and innovative ideas. Those, in combination with some strategic changes in community leadership, led to improvements in the outside perception of Westwood. Cincinnati government officials who'd been offering development funds and support to the neighborhood finally heard "yes," Eby says. "Up until then, Westwood was famous for saying no."
Over the past decade, the prevalence of "yes" has resulted in renewed activity throughout the main business district, including Westwood Town Hall Park, Madcap Education Center, West Side Brewery, and Muse Café, with other new businesses and a new public school in the works. And the energy doesn't look to be slowing down any time soon.
Westwood isn't the first neighborhood or town to jump-start a renaissance by bringing its dormant business district back to life. Local success stories abound in places like Over-the-Rhine, Walnut Hills, College Hill, Hamilton, and Covington. What they all have, or had, in common is a galvanizing idea and residents willing to pitch in.
With Westwood Works proactively engaging City Hall, Eby says, "The first thing they said to us was, 'Dream big.'" And the residents did, proposing the creation of Westwood Town Square in 2012. "The Square was the big idea that got everyone excited about the possibilities in Westwood," Eby says. "That became the conversation starter for everything being developed now."
The Town Square talk led to two years of community meetings with more than 200 people in attendance—roughly 10 times the average meeting attendance. Questions were raised: What specifically should go in the so-called Town Square? What kind of shops or restaurants would everyone like to see? Concerns and pessimism were also floated. Is the Town Square model even feasible? Is this really what we want? But a vast consensus—of about 85 percent—ultimately decided that an evolved and somewhat refined Town Square concept was indeed what the neighborhood needed.
The plan would be to redevelop the historic business district core—bounded roughly by the triangle of Harrison, Montana, and Epworth avenues—as a way to lift up the community as a whole. The focal point would be greenspace expanding outward from Westwood Town Hall, the majestic community recreation center, with room for restaurants, cafés, community meeting spaces, an arts education facility, and more. Meanwhile, community organizations would host events to draw people to the area to demonstrate firsthand the community's new energy.
Westwood Works started an Amazing Race–type annual event called Treasure QWest in 2010. Westwood Historical Society hosted home tours. The overarching idea? To build momentum through a series of physical improvements that would excite both outsiders and people from the neighborhood. It's the kind of "creative placemaking" activity championed by Yard and Company, an urban growth firm responsible in part for the revitalization of Walnut Hills that's been advising Westwood leaders for the past few years.
As with many neighborhoods, the arts have helped attract attention, investment, and creative thinking to Westwood. On a cool, overcast November day, a group of city and county leaders gathered to celebrate the grand opening of the Madcap Education Center in a former Cincinnati Bell telephone exchange station. Gargoyles with telephone receivers held to their ears perch above the doorway of the renovated three-story, 18,000-square-foot brick building that now houses a state-of-the-art community arts center—including a 124-seat theater, yoga and dance studios, a distance learning lab, and a puppet workshop.
The idea is for this to help make Westwood a destination," says Tim Perrino,executive artistic director of Cincinnati Landmark Productions. "Perception is what makes people invest in a neighborhood.
Tim Perrino, executive artistic director of Cincinnati Landmark Productions, worked with countless area leaders to see the building's transformation through from an essentially rundown shell to a modernized, open-concept community gathering space. Madcap Puppets, the children's theatrical and educational organization, had operated out of the neighborhood for roughly two decades and was eyeing a move to Mason before the city of Cincinnati offered $240,000 to allow Westwood's Community Urban Redevelopment Corporation (WestCURC) to purchase the building for Madcap in 2016. Madcap merged with Cincinnati Landmark Productions in 2017, and, after nine months and $3.4 million in renovations, the center serves as a regional attraction and business district anchor. Classes, ranging from children's theater to puppet making, start this month.
Perrino knew the power of arts development in changing people's attitudes as well as traffic patterns. His company opened the Incline Theatre in 2015 to bring life to a small section of Price Hill, and apartment renovations and new businesses have followed. "The idea is for this to help make Westwood a destination," Perrino says. "Wouldn't it be good if we could get a couple hundred other Zip codes here to see how great it is? Perception is what makes people invest in a neighborhood."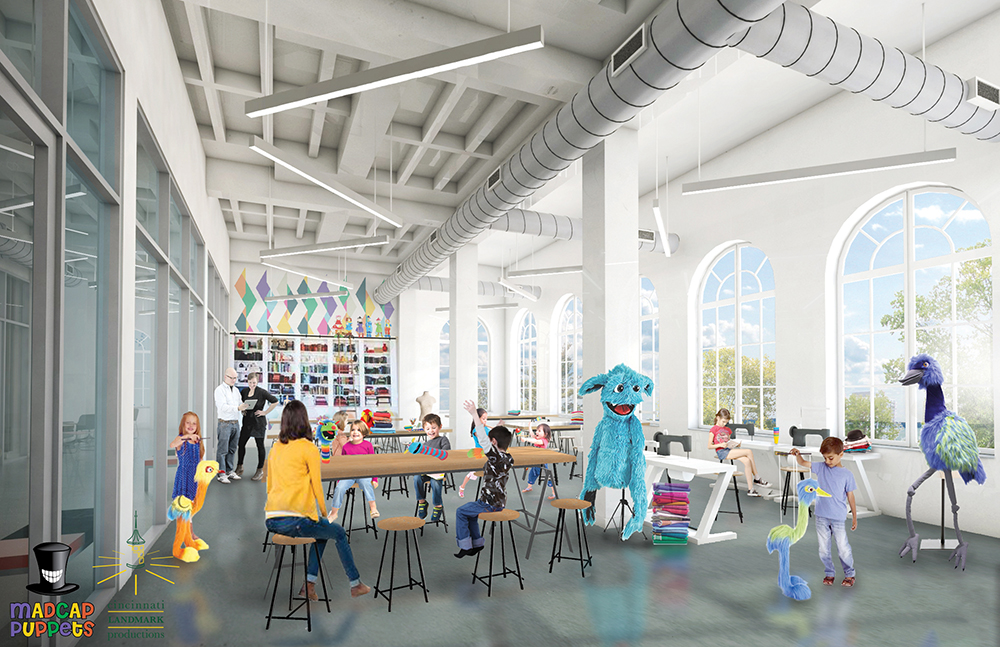 Madcap isn't the only new addition being celebrated these days in Westwood. A new owner took over the Ruehlmann building on Harrison Avenue, which led to the opening of several locally owned and operated storefronts, including Fuzzybutts Dry Goods and Wooden Hill crafts store. West Side Brewing debuted in June 2017 just down the street as the West Side's first craft brewery. Muse Café opened the same summer, serving up coffee, wine, and light food options while emerging as an artistic and intimate community gathering space.
"Surrounding us is a transformation," Cincinnati Mayor John Cranley said at the Madcap Center opening. "There is what we call art-enomics—that art drives activity, life, vibrancy, and is sort of why we work hard, so we can think about higher things." Hamilton County Commissioner Denise Driehaus echoed that thought. "The investments, one to the next to the next, have helped to build this great energy that is now Westwood. You hear young families are moving here, that people who know it well have stayed here, and it is a renewed vibrancy not only for this business district but for the entire neighborhood."
Two things strike you when encountering the positive energy bursting from these Westwood advocates. First, they're all native west-siders—Cranley, Driehaus, Perrino, Eby, Rich. They're proud of their roots, and protective of the west side getting its fair share of development and investment dollars. Each is also white.
One out of every 10 Cincinnatians calls Westwood home. It is the city's largest neighborhood, both in terms of population (just over 30,000) and geography (5.7 square miles). It's also one of the city's most diverse neighborhoods, with 49 percent black and 47 percent white residents as of the 2010 census.
Formerly its own village, Westwood was annexed by the city in 1896 and quickly became known as one of Cincinnati's more desirable suburban enclaves, populated by wealthy families who moved out of the downtown basin and up the surrounding hills to gain access to large expanses of land, fresh air, and new high quality housing. It was eventually home to notable Cincinnatians like James N. Gamble, Procter & Gamble cofounder and the inventor of Ivory Soap.
After World War II, a more diverse population—both in terms of race and class—expanded out of downtown to nearby neighborhoods, including Westwood, forever altering its demographics. That, in combination with a new economy and the exodus of predominantly white families to outer suburbs, meant a changed Westwood. The central business district lost many of its locally owned shops and restaurants to strip mall chains. The number of lower-income households skyrocketed as landlords transformed large single-family homes into multifamily rental housing. The perception of crime—due in part to unfamiliarity with neighbors—was on the rise, too.
Westwood's demographics continue to present challenges today. It has nearly twice as many renters as property owners. And though there's a wide range, median household income is low compared to its early days as a wealthy oasis on the hill. To complicate matters, much of the neighborhood's diversity isn't as intermixed as one might conclude, with a majority of people of color, for example, living south of Montana Avenue, closer to downtown and away from Westwood's business district. That segregation is something community leaders seem determined to keep in mind with every step of their plan.
"The biggest hurdle we need to get over is some of the longer term residents feeling more connected to our new neighbors and our new neighbors feeling welcomed," says Rich, the Westwood Works board chair. In the past, she admits, neighborhood leaders left many factions of the community feeling unwelcome. Now, she says, leaders are actively addressing race and representational issues as they move forward.
Westwood Works has introduced the Street-to-Street initiative to identify someone living on each street who can become a so-called street champion. "Those street champions will serve as mentors for each street," Rich says, "to help build connections throughout the entire neighborhood."
Westwood is Cincinnati's largest neighborhood, but we've never embraced that power," says Leslie Rich, Westwood resident and Westwood Works board chair. "If we embrace as many neighbors as possible, we can leverage that with city leadership.
And if everyone can come together as hoped, the diverse and powerful collective voice will be difficult for City Hall and Cincinnati's other neighborhoods to ignore. "Westwood is Cincinnati's largest neighborhood, but we've never embraced that power," Rich says. "If we embrace as many neighbors as possible, we can leverage that with city leadership."
But there is a flip side to Westwood's enormous size: It can be a difficult place to manage, with a dizzying array of organizations vying to provide direction. There is the Westwood Civic Association, which serves as the governing community council. There's WestCURC, the neighborhood urban redevelopment corporation. The Westwood Historical Society promotes the community's past, present, and future. Westwood Works serves as the community development body. And there are lots of individual business leaders and active residents. But most have heeded the importance of coalescing around a singular mission to improve the neighborhood by starting with its business district. An umbrella organization, the Westwood Coalition, now serves as the neighborhood's U.N. of sorts, with representatives from each of the other groups.
Mary Jenkins played a key role in forming the Westwood Coalition in addition to organizing, advertising, and facilitating community meetings around the neighborhood's future. "Westwood's revitalization is grounded in dreams, gumption, dialogue, networking, and planning, all very community-driven," says Jenkins, who previously served as Westwood Civic Association president. "We worked on it in a multi-faceted way, addressing community engagement, event planning, zoning, higher crime intersections, business development, and more…. This is all happening because a combination of deeply talented people with vision all rolled up their sleeves and asked neighbors what the best future for Westwood would look like. At its core, that vision of the neighborhood's future was a more friendly, more connected place where we would live, work, play, shop, dine, and worship together."
By mid-year, a walk through the neighborhood's business district will look much different from today. Lush greenspace will encircle Westwood Town Hall, stretching across surrounding streets to forge an interconnected Town Square. It's part of a $4 million plan for a new Town Hall Park that will include a dog park, playground, and amphitheater, resulting in what community leaders are already calling "the Washington Park of the West."
The greenspace will practically serve as an extension of Michael and Claire Besl's yard. The couple lives in a corner-lot house just across the street from the park. Michael, who was born in Westwood, returned in 2015 after some years spent away in college, Spain, and the more urbane Clifton Gaslight District. He was drawn back to Westwood for myriad reasons: the character of the houses, the walkability, the familiarity. "Being a west-sider," he says, "I know someone almost every time I go into the brewery or the Y[MCA]. At least one person."
Housing prices in Westwood didn't hurt matters either, with most historic two- to three-bedroom homes going for just over $100,000 plus a bit of elbow grease. Besl admits he wasn't aware upon purchasing the house of the extent of the plans for the immediate area, but the newly married couple welcomes the change. "I love Washington Park," Besl says. "I hope this one has an ounce of the similarities of being a pretty park that you can amble through and feel safe in."
Andrew Salzbrun, part of the Hickory Wald group that owns Nation Kitchen + Bar, announced that by summer a second Nation location will serve up burgers and beers across the street from Town Hall Park out of the historic firehouse on the corner of Epworth and Junietta avenues. That could mean big changes for Westwood, as Nation helped create a surge of energy in Pendleton after opening its original location in 2015—when it was the first retailer to open in the small OTR-adjacent neighborhood in more than a decade. Salzbrun is hoping to have a similar effect in Westwood. "From a mission standpoint, for Hickory Wald and specifically Nation, our goal is to transform neighborhoods through hospitality," he says. "We look strategically for locations where we can have an immediate impact. We tend to be first or second movers to a new, rising area. But we also like to be a part of a bigger plan set for that neighborhood."
Salzbrun says Hickory Wald "fell for Westwood" because of its incredibly active community. In many ways, though, the neighborhood also chose Nation. Westwood selected the Nation concept out of a group of entries after putting out a request for proposals last spring for a family-friendly restaurant to fill the decommissioned Engine 33 fire station. Salzbrun and other Hickory Wald partners went out and knocked on doors in Westwood "to get a gist of what people wanted to see in the firehouse, to reaffirm what we wanted to do there," he says. "They were super stoked about the idea of an approachable menu, elevated ambience, and food offering for the local community."
Nation intends to bring more to the neighborhood than a renovated open-floor-plan space with pressed tin ceilingsand snazzy subway tiles. Hickory Wald likes to hire people and create jobs from within the immediate area of its businesses, to raise money for local charities, and to create new community programming—as the Pendleton location did with its annual day-long Danger Wheel event that attracted more than 9,000 people last year. "While we won't be recreating Danger Wheel in Westwood," Salzbrun says, "we'll be looking for opportunities to create some sort of signature event as well as tie into the already existing programming."
There are more local efforts being made from within Westwood, too. Leslie Rich and her husband William plan to open a retro arcade, Wondercade, later this year in a vacant storefront along Harrison Avenue, hoping to draw in young and mature gamers alike. Cincinnati Public Schools announced plans to create a new, innovative educational campus for the 2019–2020 academic year in the Westwood facility that formerly housed Mother of Mercy High School before it merged with McAuley High School in College Hill.
All of the changes are sure to have current—and future—residents taking more pride in the neighborhood than ever before. That's evident on a random November weeknight at West Side Brewing, when a steady stream of people file into the large open taproom and shout first-name greetings to nearly everyone there. The brewery and its coffee and wine bar compadre Muse Café have become the de facto Cheers outposts in a neighborhood where just 10 years ago a group of motived community leaders met in a kitchen due to a lack of available public gathering spaces.
Leslie Rich tips back her glass with a smile, recalling an e-mail shared during that time listing what neighbors wanted to see in Westwood while she looks around the taproom to see how the list came to life. "Almost all of those things have happened," she says. "We wanted a place to get a beer, we got a place to get a beer. We wanted a place to get coffee, we got a place to get a coffee." They wanted change, and they became the change they hoped to see.
Facebook Comments