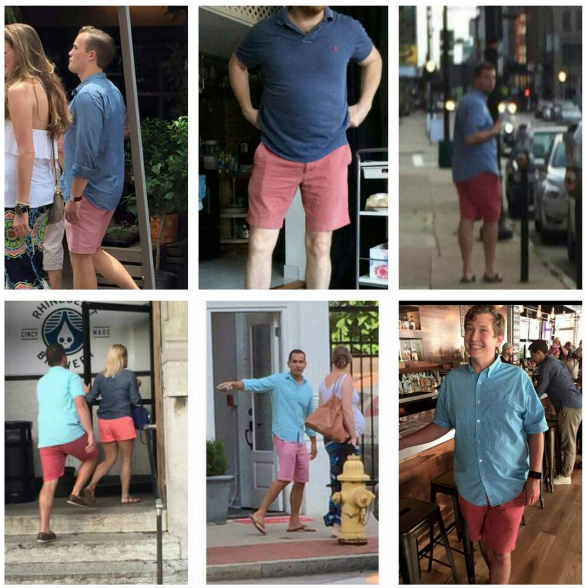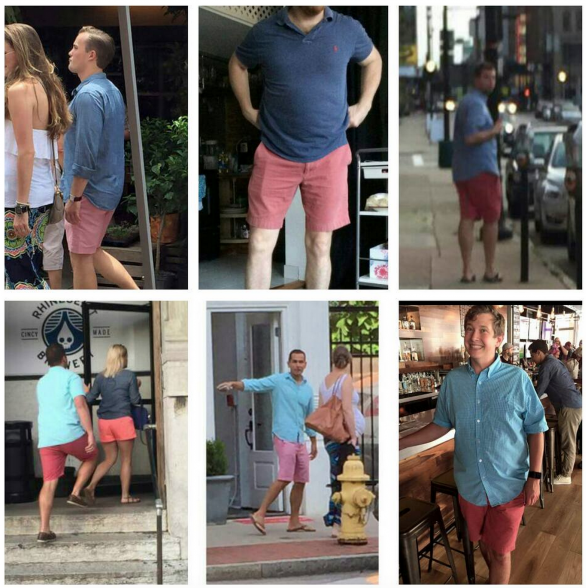 Why did you start the page?
Well first of all, I have a pair of salmon shorts, and I wore them last year and my buddy kept making fun of me. Well right before [this] summer there was the Baker Bash, which is held by Bakersfield in their parking lot right next door, and my buddy was like, 'Oh my gosh, look around, how many guys are wearing salmon shorts right now?' And I thought it was so hilarious. It was like a one-to-five ratio of guys wearing salmon shorts.
How did people react to it?
Some people didn't understand it, like they thought I was selling salmon shorts, but then some people completely understood what was going on. And so the page kinda just started organically. Like it had no direction. It's half bro-shaming and half selfies of people being proud of salmon shorts. And it's kind of a tongue-in-cheek page that's really caught on. In the first month I had a thousand likes.
Describe your relationship with salmon shorts.
I have a pair. I do like them. I don't love them. I think it's a funny fad that I became a part of that I was unaware that it was gonna become a fad. And it's almost now like a fashion faux pas within a fad… And I'm not gonna lie, they look good. I mean they're a great color, they go with everything, and they stick out. And that's what's so funny: You can spot a pair of salmon shorts because they're so bright.
Is the page a statement about OTR (and maybe other neighborhoods, like Hyde Park) being kind of preppy, yuppie, and bougie?
I think you hit it right on the head. And that's one of the things that I saw, as the page was progressing, I was like What is really going on here? I've lived in OTR since 2003. So I've seen this neighborhood come a far and long way. And involved in that has been people that feel safe and secure in coming downtown and taking in everything… and they're coming from all over the place. And the pictures, if you look behind the salmon shorts, you're gonna see our neighborhood, which is going to be marketed to thousands and thousands of people a day.
Why did you organize the Salmon Swim bar crawl and raise money for the Greater Cincinnati Coalition for the Homeless?
I saw that there was a change in the neighborhood. And that was a positive change, and to see where we've come in the last 14 years, I looked at it and I was like, Wow. Every day I walk around the neighborhood and I still see poverty. I still see homelessness. And I still see that there is a whole sector of the neighborhood that is not benefiting from the gentrification of the neighborhood, and these are our neighbors too. So I feel terrible for not only the people on the street having to be hungry, and have to try to feed families and beg for money, but they also have to see dudes wear tons of salmon shorts, and they're probably just as confused as most of the neighborhood. At that time I had more than 3,000 people that liked the page and they were all asking for a pub crawl, and I said, 'Let's do a pub crawl and let's do it for the homeless coalition of Cincinnati,' which is headquartered right in our neighborhood. And let's see if we can pull our resources together and have fun in the meantime and we all get together and show that we care about the other side of our community.' And we raised $1,000. And they wanna do it again.
That's awesome. You're trying to create more than just a funny Facebook page.
The suburbs, they have the Elks Lodge, they have the Moose Lodge. Why can't we have the Salmon Lodge? That's our little get-together and community of people. We all wear salmon shorts and we do good for the neighborhood.
What's next for SSOTR?
I've been in talks with Northside, with Urban Artifact; they're looking to do an end-of-the-summer party with us and so maybe Salmon Shorts goes over to Northside. They're looking to do a beer brew with us, so a specialty beer that will be a Salmon Shorts beer. I'm also trying to find a publisher that would do a coffee table book with the best pictures from the website. So maybe we see if we can market that to Urban Outfitters or any of the local shops in Over-the-Rhine and sell it for the Christmas season. Moving forward, I own the rights now to Salmon Shorts San Francisco; Portland, Oregon; Chicago, Illinois; New York; Brooklyn; Austin, Texas, so I'm trying to go outside that brand of OTR and trying to link everybody in and see if we can open some more chapters of Salmon Shorts organizations.
Facebook Comments