At 5:30 in the morning, when it feels a bit too cold and certainly too early to do anything but hit the snooze button, the Champ's son rolls his 160-pound, 6'4" frame out of bed and puts on his work clothes: red sweatpants, green long-sleeved shirt, gray hooded sweatshirt, and black winter hat. If there's a choice in being up at this hour, he isn't aware of it. He's 27, with a wide smile and thin beard, and as he'll be happy to tell you, what he does for a living is in his blood. His name? There's a "Junior" at the end of it, but most people zero in on what comes before: Aaron Pryor. It's a name that carries both expectations and opportunities. He knows he's expected to talk about his father, a former junior welterweight champion and perhaps the greatest fighter of his day. He even knows there are some out there who want to see him get knocked out for the simple reason that nobody ever did that kind of thing to the Champ. And of course there's the occasional reporter who has the gall to ask him during a workout if he hopes he can match the Champ's career. To which he nonchalantly shrugs his shoulders and says, "All I can do is be Aaron Pryor Jr.," before returning to the bags.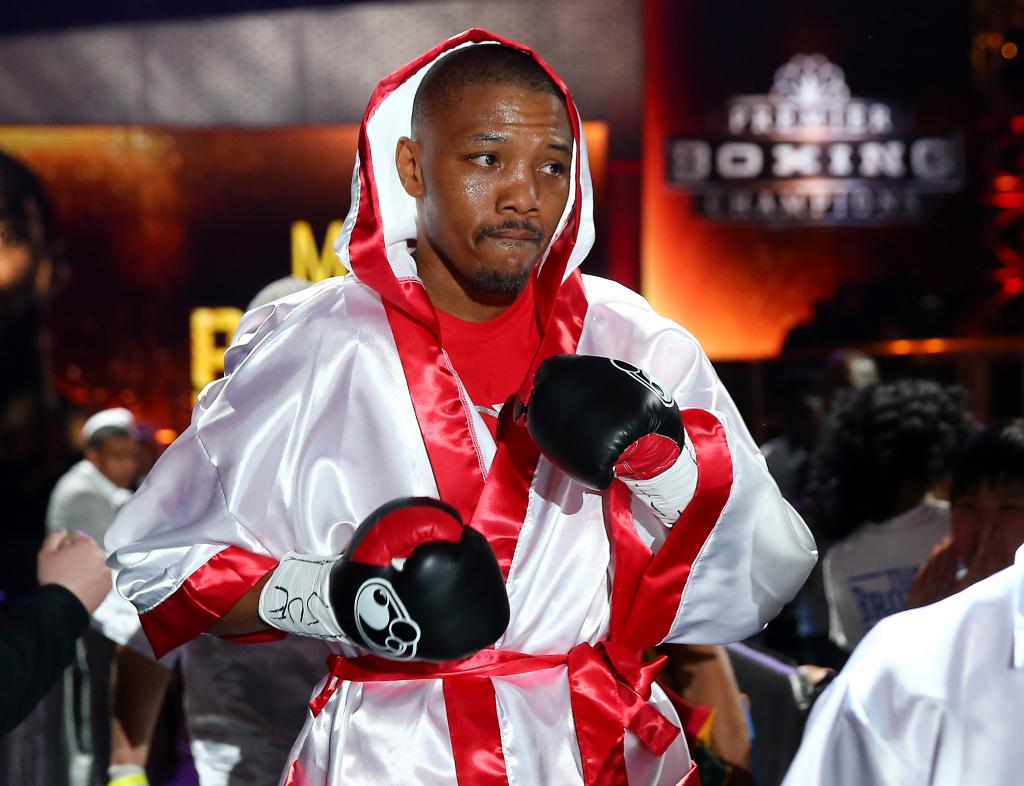 ---
He also knows the Champ never slept in. You got to run, his father will say, repeating himself two, sometimes three times. Champions run. Which is why Aaron Jr., a middleweight, is making the 10-minute drive to his grandmother's house in Bond Hill this particular morning, where he sprawls out on the living room floor and gets to work: 100 pushups, 100 sit-ups, and a few arm exercises. At 6:30, he's back in his car, a green 1994 Pontiac Bonneville with an odometer that reads 197,000 miles and a "Check Gauges" light that flickers on and off. Both rearview mirrors are held together by duct tape. "I apologize for the car," he says sheepishly, directing his eyes toward the back where a baby seat, some old sneakers (size 13), and a few magazines lie. "I'm not the only one who uses it. My girlfriend and my mom drive it and I've kind of just given up on it."
It's a smooth ride though, certainly comfortable enough to keep Aaron Jr.'s mind on other matters as he follows the potholed roads to Eden Park. In particular, there's last night's sparring session at the Mt. Auburn Community Center to think about, where he went three rounds against Ravea Springs, a 34-year-old Cincinnati fighter who once fought for the world cruiserweight title (200 lbs.). "That's what I need, man," Aaron Jr. says. "Somebody who can put pressure on me. You got to find the work. That's what my dad tells me."
Aaron Jr. parks his car near the Krohn Conservatory and goes through a series of stretches before embarking on a two-mile loop that features a menacing incline up to the center of Mt. Adams. He'll do it twice. "Let's get this out of the way," he says, wrapping earphones around his head and turning up the volume on a mix tape of hip-hop (mainly Jay Z and 50 Cent) before taking off down Eden Park Drive, occasionally throwing a quick set of jabs to an imaginary opponent. He ends the run back at the car with a 30-second shadowboxing session, a set of 100 crunches, and some stretching before heading back to his grandmother's house for more sit-ups and more arm exercises. Then a little breakfast, some TV, and plenty of rest, just as the Champ instructs, so that he'll be refreshed and ready for his evening workout at the gym. He can't afford to skimp on any part of the routine. He's already two years older than his father was when he won his first belt.
"I got a late start," Aaron Jr. says. "I don't have a lot of time. There are a bunch of guys who are getting the job done. I have to do it now. I want to do something big."
---
Aaron Jr. is tall, and his lanky body is in direct contrast to his father's famously short, lean, boxy frame. But that's where the main physical differences end. Their connection is especially evident in the face, which packages a combination of the family's African, American Indian, and Japanese heritage. Like his dad, Aaron Jr.'s high cheekbones pop out from under a pair of brown almond-shaped eyes that nearly close when he smiles, which is often.
Aaron Jr. was born in June 1978, just as his father was ramping up to make a run at the title; that run ended successfully on August 2, 1980, when he dispatched Antonio Cervantes in four rounds at Riverfront Coliseum to capture the World Boxing Association's (WBA) junior welterweight crown. The win set in motion a six-year stretch that gave Aaron Jr. a ringside seat to the Champ's career. (His father and mother, Carol Clark, were high school sweethearts, and when they divorced after Aaron Jr. was born, Pryor gained custody of his 2-year-old son.) He remembers bouncing back and forth between Miami and Cincinnati, where his father had homes, going to bouts and training sessions. And he remembers the big fights, in particular the Champ's title defense against Alexis Arguello in 1982 at the Orange Bowl, a 14-round slugfest that ended with Aaron Jr. being hoisted on the Champ's friends' shoulders. After the celebration, father and son took a victory lap on the stadium track en route to the post-bout press conference.
He remembers some of the bad stuff, too. Not a lot of it, because even as the Champ's life outside the ring quickly descended into drug addiction following his first retirement in 1983, he had enough smarts to put Aaron Jr. on a plane in Miami and send him back to Cincinnati, to live with his mother and her parents in Bond Hill. After that, what he remembers are the long stretches that would pass between visits. The Champ would show up, sometimes unannounced, and sit with his son on the front porch of his grandparents' home and they'd talk. Then, just as quickly, he would have to go. Sometimes it was Florida, other times it was downtown. Too often it was no place good. A crack house. The streets. Wherever. At his lowest ebb, the Champ wandered the streets of Cincinnati, homeless, offering to shadowbox for strangers for a few bucks.
"I know deep down he was trying to get his life together and get back into my life," says Aaron Jr. "I hoped he'd straighten out, but I wasn't sure. But when he came around, I was just so happy to see him I didn't think about that stuff. I didn't hold it against him."
With the Champ battling addiction, fatherly duties fell to Aaron Jr.'s grandfather, John Clark Jr., a hard-working family man who drew a paycheck as a linesman from Cincinnati Bell. He was tall, too, a great storyteller and a big sports fan. It was Clark who gave Aaron Jr. Christmas presents, set up his first basketball hoop, and bought him his first dog. But Clark, who passed away in 1998, didn't care all that much for boxing, so Aaron Jr. kept his distance from the sport, even when his father approached him early in his teen years about trying to get into the ring. "I don't think he wanted anything to do with boxing or with me," says the Champ.
Instead, Aaron Jr. retreated to the basketball court, where he played forward, first for Withrow High School, then at Wilmington High his senior year. After he graduated in 1996, he went to play at Edison Community College in Piqua, where he eventually earned a full athletic scholarship. "Not having my dad around, basketball just took me away from all of that," he says. "It took me to another place, another family."
He wasn't an offensive force, but he worked hard, loved defense, and wasn't afraid to throw his skinny body around for rebounds and blocked shots. Louis Green, a friend who played basketball and lived with Aaron Jr. for two years at Edison, doesn't remember him talking much about boxing—until one day out of the blue, Pryor turned to him and said: "You know Louis, if basketball doesn't work out, I'm gonna try boxing."
---
There are two kinds of fighters: brawlers and boxers. The main objective of a brawler is to whale away at his opponent. A boxer is a mover, someone who carefully dodges punches while strategically firing off his own. Aaron Pryor Sr. was a rare breed; he could do both very well.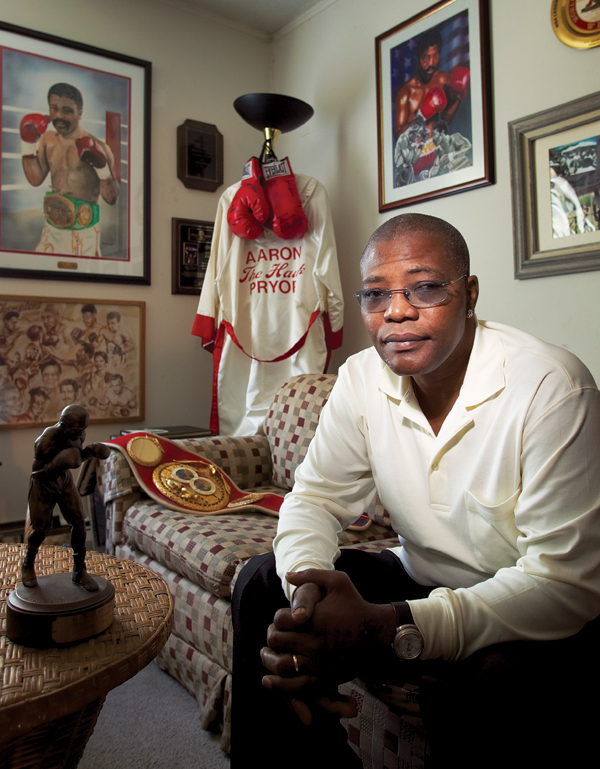 ---
From the moment he stumbled into the Emanuel Center on Race Street in 1968 at 13, ordering the skeptical manager to find an opponent for him, it was evident he was a natural. He took the hits then gave them back, only harder, and his short 5'6″ body was sculpted for the sport: strong, thin legs like a runner with a trim upper body, wide shoulders, and the arms of a much bigger fighter. Pryor's lack of a home life became an asset. He was one of seven children born to Sara Shelery, a striking woman who wasn't afraid to come to blows with the many men in her life. Coming from this turbulent environment, the Champ welcomed the disciplined, structured, goal-oriented universe boxing provided and quickly made the gym his real home. "It's a very clean sport," he says, looking back. "Clean living. No drinking. It was what I was all about. My family would drink and have parties. Alcohol. Marijuana. I would always go to the gym because I hated that."
In 1971, he took home the Cincinnati Golden Gloves title, then the tournament's national crown two years later. By 1976, he'd won 204 of his 220 amateur fights, including the silver medal at the 1975 Pan Am Games, and was considered a lock to qualify for the U.S. Olympic team. But a controversial decision in the final round of the qualifiers gave the spot to Howard Davis Jr., who took top honors at the Olympics and cashed in on a $250,000 pro debut purse. Pryor returned home, dejected and depressed, forced to take a job selling men's clothes at Dino's For Men on Race Street and accept $400 for his first pro fight. "My self-esteem was very low," he says, "but I loved boxing."
So did Buddy LaRosa. A one-time amateur featherweight, LaRosa had made his fortune in the pizza business and wanted to get in on the fight game. As it happened, the Champ needed a manager. LaRosa set to work scheduling eight fights for Pryor in 1977, another five in 1978, and six more the following year. The Champ steamrolled through the competition, winning all but two by knockout, and ending five before the start of the third round. Nicknamed the Hawk for his alertness, Pryor taunted his opponents, smiling back at them when they hit him hard and then unleashing a flurry of fierce combinations. One sportswriter called him "a time bomb in Brooks Brothers wrapping."
He soon became the boxer fight fans loved to hate. A self-described "wild man," he traveled with an ever-expanding posse of bodyguards known as The Hawk Troopers, who wore Civil War-era caps with a hawk insignia. The fans' disdain for him reached so deep that one promoter tried to draw a bigger crowd by trumpeting that Pryor was going to lose. "See Aaron Pryor Knocked Out by Peppermint Frazer" read the ads. For Pryor-hating spectators, it was a disappointment; the Champ won in five rounds.
"He was in perpetual motion," says boxing historian and author Bert Sugar. "He looked like a ferret on 10 cups of cappuccino, for Christ's sake. He overwhelmed everybody. It was unbelievable."
Pryor fought hard because he trained hard. "He  wore me out," says LaRosa. "I couldn't keep up with him. We'd have five, six sparring partners lined up and he'd box them in four-minute rounds, only resting for 30 seconds. He thrived on work."
That was especially true as he prepared for his title rematch against Arguello in Las Vegas in September 1983. Two weeks before the bout, Pryor, who was working without a bona fide head trainer, brought in Emanuel Steward. Steward, a seasoned trainer who had been prepping Thomas "The Hitman" Hearns to box on the same card before a hand injury forced Hearns to pull out, was certainly familiar with Pryor, having watched three of his fighters lose to him in recent years. But it wasn't until Las Vegas that he saw firsthand how hard he worked, especially when the music blared.
"He'd come in to the gym having us play 'She Works Hard for the Money' by Donna Summer," Steward recalls. "He'd be bobbing and weaving and punching. We'd say 'Time,' and he'd just keep goin'. Then we'd get on the speed bags and put on McFadden & Whitehead's 'Ain't No Stopping Us Now,' and he'd have tears coming down his face he'd get so emotional."
Steward played on this the night of the rematch. As he and the Champ walked toward the ring, he told him: "Aaron, this man is coming to take your title. You lose this and you're nothing but a poor street kid from Cincinnati. You've got nothing else going for you."
The words whipped Pryor into such a frenzy that by the time they reached the ring, he was in tears. "He just exploded when that bell rang," Steward recalls. Arguello never stood a chance; Pryor won the fight in 10 rounds.
---
The victory put the Champ in an enviable position. He was 27, a star fighter, and several million dollars removed from his former life on the streets. It was everything he'd ever wanted.
Sort of.
For Pryor, often the only part of his life that made sense was when he stood on that 16′ x 24′ piece of canvas. There, he understood the objective; the rules were easy to comprehend, the goals were clear-cut. "When he climbed into that ring he was a different guy," says LaRosa. "Nothing was on his mind except that fight. I always compared him to the way Pete Rose was on the field. He knew what was going on all the time. And he was out there to win."
Outside the ring, it was a different story. His success brought more confusion, more complexity, and more people with hands in his pocket. He had trouble saying no to those around him. Business associates plunged him into bad investments; friends took advantage of his generosity; and his romantic life bounced in and out of chaos. In January 1981, his girlfriend Theresa Adams accused him of seeing other women and shot him in the forearm in a fit of jealousy. The couple soon reconciled and later married, paving the way for Theresa to insert herself into the Champ's business dealings and drive a legal wedge between the fighter and LaRosa.
"I wasn't quite where I wanted to be," he says now. "Everything had changed. Buddy and I were in court. My wife [Theresa] and I were going through a divorce. My bodyguard had been killed."
And nobody wanted to fight him. Not Sugar Ray Leonard. Not Ray "Boom-Boom" Mancini. Not even Thomas Hearns. So he did the only thing that made sense to him: He retired. "After Arguello there weren't any more challenges," he says now. "Retiring was the only thing I had left."
That's one way of looking at it. Another is to say he gave up his belt and the prospect of making millions more as a nationally known champion for a ferocious crack habit and financial ruin. In the end, Steward was wrong: Retaining the belt didn't mean a damn thing. For the next 10 years, the Champ went back to being little more than a street kid from Cincinnati.
Aaron Jr. knows this part of the Champ's story better than anybody. He's picked up on a few things from watching his dad's career ("I know how to say no to people," he says). Still, he wants to let the past be the past—something, he says, many can't seem to do when the subject of his father comes up. Embarking on a pro fighting career at the same age his dad was when he retired (the first time) has forced him to focus on what his father achieved, such as winning 39 out of his 40 pro fights. To Aaron Jr., that's far more impressive than what his father lost.
"It's amazing," he says. "People want to remember all the bad stuff, but not the things he did in the ring. Nobody's perfect. But they want to hold that against him. Cincinnati is known for its boxing and Aaron Pryor is from Cincinnati. Everybody all over the world knows that. He should have a street named after him, or give him his own day. Aaron Pryor Day."
---
Boxing is a strange fit for Aaron Jr. In casual circumstances he comes across as almost shy, hardly someone who dreams of being in the limelight. Even his height isn't all that intimidating; he often bends forward slightly, as though he's apologizing for being so tall. "You think of fighters as having a deep-seated anger or something," says Vickie Patton, a longtime family friend. "And he's just not an angry person. He's a nice guy."
Asked why he decided to start boxing at the age of 20, he shrugs and says he just wanted to stay in shape and a boxing gym seemed as good a place as any to do it. But if he wanted to remain fit, why not a YMCA or a Gold's? He laughs.
"Maybe it just called to me," he says. "Maybe it was my destiny." He thinks about it a little more. "I also think I matured. With boxing you've got to love working hard and pushing yourself. And the discipline is crazy. You got to go a certain amount of time without sex. You've got to watch what you eat. A lot of people can't do that."
His first serious foray in the ring came at a small gym in the Millvale Community Center, soon after returning home from Edison in 1999, where he put his first opponent down just 30 seconds after the sound of the opening bell. From there, his life maintained a steady pace; training in the evening and working as an orderly during the day at a nursing home. The Champ kept his distance; he wasn't convinced of his son's commitment to the sport. "He didn't think I'd stick it out," Aaron Jr. says.
For a while he didn't, choosing instead to do "the love-dovey thing" by moving in with a girlfriend in Middletown. That lasted for a year, then he came back home, got a job busing tables, and started training harder than before, taking on more experienced opponents. He fought a lot locally, and boxed as far north as Canada. By early 2003, the Champ suggested he train under an old friend, Terry O'Brien, the owner of the Shamrock Boxing Club in Covington. Under O'Brien, Aaron Jr. revamped his style, stiffening his jab and putting more power behind his punches, work that paid off that spring when he took home the Cincinnati Golden Gloves middleweight title.
The win was a defining moment for both father and son. It not only put Aaron Jr. on the boxing map in a city that regularly churns out Olympic hopefuls, but also awakened the Champ to his son's talents. "He had everyone on their toes," he says. "He was fighting one guy who had muscles like Hercules, but Aaron did what he needed to do."
By the summer of 2004, Aaron Jr. had amassed an amateur record of 40–7. He sat his dad down and asked for his help in turning pro. "It's time," he told him. "If I'm going to do it, I'm going to do it now." The Champ agreed—and called his old friend Emanuel Steward, who over the course of a 33-year career has worked with 30 world champions. He asked Steward to invite his son up to his famous Kronk Boxing Gym in Detroit and do for Aaron Jr. what he'd done for him 21 years ago.
It was a curious decision for the Champ to have someone else guide his son's pro career. After all, he'd trained Olympians and title contenders himself. But there was something more than simply a boxer's development at play. After being out of his son's life for so long, he didn't want to run the risk of jeopardizing their relationship again. "If you look at the big boxers of today who have had their dads involved with their careers," says Pryor's wife, Frankie, "there's always the breakup. It always happens. Aaron [Sr.] made the decision that he wasn't going to do that."
Now, Aaron Jr. ping-pongs between Detroit and Cincinnati, often traveling up to Steward's gym a few weeks before a fight to fine tune his footwork and punches, and get the kind of sparring partners he can't get locally. When he's home, he lives in Mt. Healthy with his fiancée, Tyronica Satterwhite, a medical assistant and the mother of his son, 2-year-old Aaron Pryor III, and works on his conditioning with Cornelius Nuchols, a family friend and trainer.
All together, it's the task of Aaron Jr.'s team to build him up from a four-round fighter, which he currently is, to a 10-round boxer, a process that could take a year. Just how good his son can be, the Champ is hesitant to say until he starts fighting in those later rounds, but Steward already likens his right hand to Hearns's in terms of power and precision. "And like his dad he's the epitome of discipline," he says.
---
It's late July, a Thursday, and the sweltering humidity that's gripped Cincinnati during much of the summer has temporarily broken. That's a good thing for the regulars who come down to the Shamrock Boxing Club each evening, where central air comes in the form of large, open street-side windows. The gym, an L-shaped space packed with weights, bags, and a ring, is straight from the set of Million Dollar Baby. People of all abilities and ages pay whatever monthly membership dues they can afford to Terry O'Brien to hit the speed bags, spar, lift, or just talk shop. It's a clean place with the unmistakable scent of hard work and a constant soundtrack of gloves hitting bags, hip-hop, and the ring of a sparring bell.
But tonight it's quiet. Only 10 people are training as Aaron Jr., who's three weeks away from his pro debut in Auburn Hills, Michigan, starts to work on a heavy bag. About five minutes into his workout, the Champ shows up, moving slowly toward his son and nodding his head in approval. He's wearing rectangular glasses that hang on the edge of his nose and a much too large white T-shirt that says "Joe Louis Training Camp." As his son works, he shuffles around, bobbing his head to the music. It looks like he's not paying close attention. Then, without warning, he jumps forward, halting Aaron Jr.'s work. The Champ skips around the red bag, slapping it with an open right hand.
"Now turn, turn, turn," he says. "Turn that guy around." Aaron Jr. follows suit almost perfectly. "Yeah," says the Champ, smiling. "I want you to do that even more."
From there, it's onto the speed bags, where Aaron Jr. keeps a steady rhythm, rolling one hand over the other as he connects with his target. He's silent as the Champ coaches him, simply nodding his head to indicate he understands what he's being told. At various times, other fighters approach Pryor and give him a hug. You were the best, they say. It's great to meet you. The Champ smiles, then returns to watching his son. "That's where your combinations are going to come together," he says. "You're doing great. You ain't missing."
When Aaron Jr. finally finishes, his father draws his attention to the wall behind the speed bags, toward a collection of black and white photos of boxers from the 1930s and '40s, posing stiffly in their trunks. "I knew him," the Champ says, pointing to the picture of Sandy Saddler, a scrawny boxer with a sad face.
His son looks surprised. "Really?"
"He was a great fighter," the Champ says quietly. "Good guy. He fought everyone."
The two stand silently for a moment, studying the photo, before Aaron Jr. moves across the room for jumping jacks, jump rope, some shadowboxing, and finally sit-ups, which the Champ helps him with by holding his feet on the ground.
"Whatever you put in, you get out, baby!" he yells. "Put in!"
After his last sit-up, Aaron Jr. rests, letting his feet hang over the side of the ring. The Champ takes a seat beside him. "You've been training hard," he says to his son, extending his arm out to shake his hand. "The heat and the snow. I'm proud of you, A.P. I'm telling you, I'm impressed."
---
The central hub of the Pryor family is a cozy one-bedroom apartment on the third floor of a housing complex in Mt. Airy where the 50-year-old Champ and his wife Frankie have lived since 1998. It's homey and bright, and Frankie, who's 52 and hails from North Carolina, can often be found in the kitchen making meals for her daughter Elizabeth and the Champ's sons, Aaron Jr. and his two older stepbrothers, Stephan and Antwan. "That's part of the Southern thing," she says.
Frankie and the Champ have been together for 15 years. She's his fourth wife; he's her second husband. On the face of it, the two seem like an odd pairing. Frankie's white and a retired TV executive who grew up in the upper-middle class bastion of West Chester. But her own battles with cocaine eventually landed her in a drug rehab program at Bethesda North Hospital in 1991. One day, this short black guy shuffled over to her and said sort of arrogantly, "Hi, my name is Aaron Pryor. I used to be world champion." She knew nothing of boxing, much less the Champ. "Yeah?" she said sarcastically. "You might know me, I'm Frankie Wagner."
The two have been an item ever since, first conquering addiction together and then fighting to reclaim their lives. One of the first things Frankie did after they were clean was pry the Champ from the clutches of the posse of "friends" that had sapped him of his wealth and helped fuel his drug addiction. Today, the Champ's once extensive social network has been downsized to his family and a few trustworthy buddies. "It was something he always wanted to do, but didn't know how," she says.
Not too surprisingly, Frankie did. A self-described "control freak," she started a new career: managing Aaron Jr.'s career and directing the Champ's work, which these days consists of traveling around the world to make appearances with other fighters (sometimes even Alexis Arguello) and speaking about his battles with drugs. Working from a crowded desk near the kitchen, she arranges the Champ's schedule, updates his Web site (www.hawktime.com), fills order requests for DVD copies of his fights, and keeps a careful eye over newspaper and magazine stories about her clients. She's both the Pryor family historian and its most ardent protector.
"She has the Google alert," the Champ says, alluding to a Web service that automatically updates her on stories written about father or son. "She's on us like white on rice. She can find out anything." He looks at her computer screen for a couple of seconds, then turns back. "I don't know anything about it."
In other words, the Champ is willfully oblivious to the details of her work. He does what he's told, goes where he's directed. And that's OK with him. "I could not be in a better situation in life," he says. "I got peace of mind."
That's visibly apparent. The Champ's face is softer now than it was when he boxed. Part of that is due to the fact that he's put on a few pounds since his fighting days ("I'm 168," he says, patting his stomach. "I want to be 160"). But he's also learned to let go. He's no longer fighting for his place in history (he was inducted into the International Boxing Hall of Fame in 1996) or the recognition and respect from his peers and his hometown. And if he needs a refresher on a body of work that saw him capture both the WBA and International Boxing Federation titles before retiring in 1990, he can step inside the small den Frankie has set up that neatly displays the mementos from his career: magazine covers, promotional posters, photographs, and his two championship belts. It's the Champ's own personal museum.
Yet Pryor isn't locked into his past, either. When he got clean, he found God and became a deacon at the New Friendship Baptist Church in Avondale, where last June he was elevated to Reverend. And early last year, he started taking classes on the New Testament at the Temple Bible College. He's hoping to take on an expanded role in his son's boxing career and then be there to steer his grandson in the ring one day.
But that's a few years down the road, because while the Champ's through with fighting, his fighting days aren't through with him. He's still dealing with the aftereffects from a detached retina in his left eye; he's suffering from a mild form of dementia; and for the last several years he's dealt with numbness and tingling on the left side of his body, the result of a slow degeneration of four disks near the upper section of his spine. In October, his neurosurgeon at Christ Hospital told him that if he didn't have surgery to remove the disks to alleviate the pressure on his spinal cord, paralysis would begin to set in within a year.
"I'm a boxer," he says. "I've been fightin' all my life. But now the doctor says I can't fight this no more. I'm blessed. God has really been good to me. I fought a good fight and it ain't over yet, but it's a real bad situation right now."
---
Several hours after he arrives at the Palace at Auburn Hills, outside Detroit, the Champ's son emerges from the dressing room wearing a red hooded robe with his name stitched on the back. It's mid-August and close to 12,000 spectators have filed into the stadium for a four-fight pro card. The Champ is there, sporting a blue suit, shaved head, a diamond earring in his left ear, and his Hall of Fame ring on his right hand. Frankie's there too, her digital camera pressed up against her face, snapping picture after picture of her stepson.
Aaron Jr.'s face is hardened, and he looks almost mean as he bounces up and down, throwing punches into the air. It's his professional debut, a night he's been working toward for more than a year. So has the Champ. "It's A.P. time, baby," he tells his son.
As Aaron Jr. emerges from the tunnel and onto the stadium floor, a portion of the crowd rises up to catch a glimpse. The Champ is with him and a number of fans notice him, too, sticking out a hand for a high-five or a slap on the back. Others want a quick picture. He's a star again, and handles the role beautifully.
The fight itself is almost a nonevent. Aaron Jr.'s opponent, an Arkansas middleweight named Dominique Azeeze, comes out flailing, throwing a collection of wild punches that rarely connect. "Stick to the jab, A.P.!" the Champ yells from his ringside seat. At first, Aaron Jr. is caught off guard by the approach, but then he collects himself and starts his attack. He puts Azeeze down with just over a minute left in the first round, and then again with a devastating right 40 seconds later to end the bout. When the referee calls it, Aaron Jr. jumps on the ropes and raises his fists in the air. He looks both triumphant and relieved.
"It just feels so good to get that first one out of the way," he says later in the training room. He's shirtless and still in his white trunks, casually leaning against a table while writers pepper him with questions. They talk about training with Steward and the knockout before the topic turns to following in the Champ's footsteps.
"I'm just going to be me," Aaron Jr. says. "I'm never going to be The Hawk."
Another reporter, who has his eye on Aaron Jr.'s right hand, asks if he can have the boxing wrap that's still wound around it. When the fighter doesn't respond either way, the reporter glances around the room to see a perturbed Frankie eyeing him. "Do you want it?" he says to her, somewhat startled.
"Uh, yeah," she tells him. "I'm the step-mom."
The mini press conference comes to an end when Aaron Jr. is told he still needs to supply a post-fight urine sample. The fighter straightens up and apologizes for having to cut the session short. "I'm going to get three cups of water in me, gentlemen," he says, and exits for the dressing room, where the Champ soon joins his son to offer his own congratulations. He stays just a few minutes and as he leaves the room to head back to the ring to see the remaining fights, throws a series of soft, slow jabs into the air.
"That's all I wanted," he says to nobody in particular. "I just wanted my boy to turn pro."
Originally published in the January 2006 issue.
Photograph by Dan Graschuck.
Facebook Comments