Frank's On Pike
Abraham Frank opened Covington Cap Company in 1918 to sell caps that matched men's suits. His son Sidney later expanded the business into Frank's Men's Shop to include men's casual wear.
Now Sidney's son Edward Frank runs Frank's On Pike, which offers men's and women's clothes. Edward says the store has had a front row seat to the city's growth, and even a century into business, Frank's is still a favorite among residents looking for the latest trends in streetwear. 32 W. Pike St., (859) 431-0667, franksonpike.com
Sole by Style
You don't need to go to New York City or Los Angeles to find the limited edition streetwear brands endorsed by countless celebrities.
Jacob Caine's Sole by Style specializes in high-end names like Supreme and Yeezy, taking pride in rare products that can't be found online. The shoe shop, on the corner of West Pike Street and Madison Avenue, also offers a unique retail experience. "You can come in and have good conversations," Caine says. "It's a social thing as well as a shopping thing." 617 Madison Ave., (859) 468-1486, solebystyle.com
Handzy Shop + Studio
Two years ago, college friends Brittney Braemer and Suzy Strachan opened Handzy Shop + Studio, specializing in custom stationery. The shop has evolved into an eclectic mix of paper products, women's clothing, accessories, and more. Strachan attributes the shop's success to Covington's up and coming atmosphere.
"We were trying to get into Covington before it totally blew up," she says. Handzy has become so popular that it plans to move into a larger space next door this spring. 15 W. Pike St., (859) 261-0493, handzyshopstudio.com
Grainwell Market
The walls of Grainwell Market are covered ceiling-to-floor with handcrafted wood signs. Sisters Michele, Melyssa, and Christine Kirn started Grainwell as a woodworking shop in their parents' garage in 2014.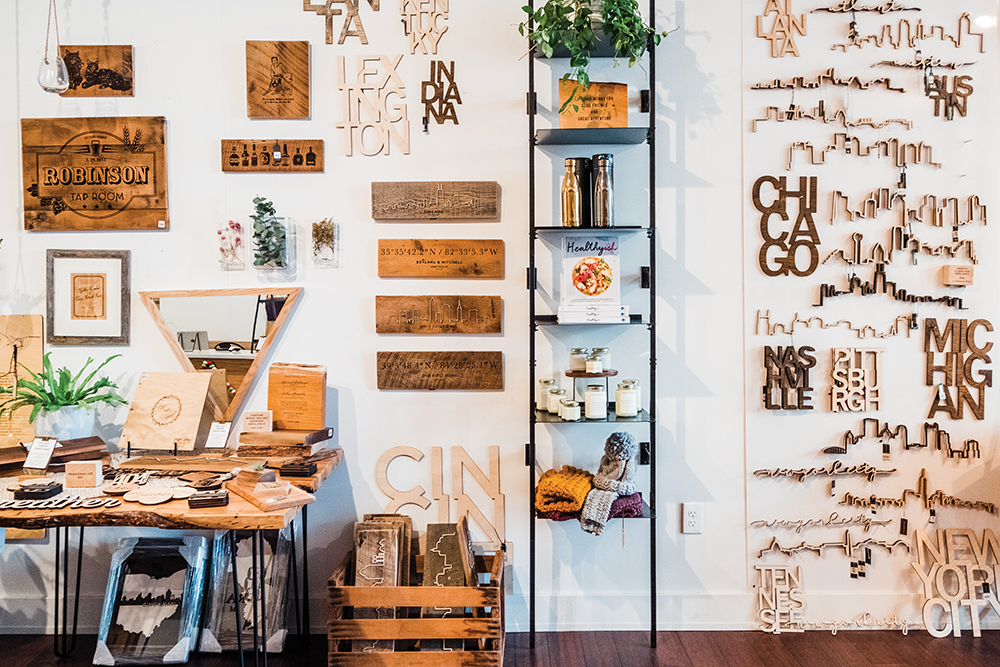 A year later, they opened their boutique. From personalized wood-centric decor to wedding, baby, and housewarming gifts, Grainwell's products "are so unique, you can't find them online," Michele says. 33 W. Pike St., (859) 261-6600, grainwell.com
Peppe Cucina
They say it's important to pause and appreciate the little things. For Nathan Chambers, this meant opening Peppe Cucina, a deli that's passionate about homemade, slow-baked bread. "We do an awesome job taking a slow food and incorporating it into a fast-paced New York–style deli," says Bakery Manager Charles Hansen. With its deep blue walls, antique furniture, and baskets of fresh ciabatta, the four-month-old deli is like a time capsule of Paris in the '60s. And lucky for us, the owners plan to eventually expand into a small grocery store. 39 W. Pike St., (859) 360-0045
---
Pit Stop: Point Perk Coffee Shop is the perfect post-shopping caffeine fix. Employees with intellectual and developmental disabilities serve every customer with a cheerful smile. Pair your coffee with a pastry or buy a "suspended coffee" for a future customer's enjoyment. 43 W. Pike St., (859) 292-7375, thepointarc.org/point-perk-coffee-shop/
Street Smarts: If there's one thing that never fails to attract people to a new city, it's a local brewery. For Covington, that's Braxton Brewing Company on West Seventh Street. Just a block from Pike Street, the three-and-a-half-year-old brewery boasts 30 different beers and a cozy, casual taproom. 27 W. Seventh St., (859) 261-5600, braxtonbrewing.com
Facebook Comments