We were pretty pumped when we heard this Florida company name-drop Cincinnati in their now-widely-shared video, which shows them demonstrating candy-making on their refurbished candy machine.
We wanted to know more about the Cincinnati company who commissioned and used this machine way back when, so we asked local historian (and frequent City Wise contributor) Greg Hand to run down some details. In classic Cincinnati Curiosities form, he did not disappoint:
---
St. Francis de Sales Church in Walnut Hills was resplendent in 1910 for the funeral of candy maker John Mullane. Flowers from far and near graced the church and even Mullane's coffin was draped with a floral blanket. During a moment of silence, eight little children, four girls and four boys, walked slowly up the center aisle and each placed a small bouquet atop the casket. They were wards of the St. Joseph Orphan Asylum, beneficiaries of Mullane's charity. "The incident moved many of those present to tears," the Enquirer reported.
John Mullane was just 56 years old when he succumbed to a heart attack at his home in Walnut Hills. His confectionery at 4 West Fourth Street highlighted the city's most fashionable block, according to the Cincinnati Post [26 June 1894]:
"One enters between columns sheathed in brass, based upon cubes of brown marble and topped with gilded Corinthian capitals. Underfoot is the most dainty tinted mosaic in Cincinnati. At each side is a display window of curved glass, gracefully proportioned and filled with a tasty and dazzling show. The windows have tops of crinkled cathedral glass, in which odd designs-starred, flowered, and geometric-appear. Overhead is a truly artistic triumph-a stained-glass ideal of round-limbed cherubs frolicking with glasses of soda water and gluttoning upon boxes of sweets."
By the time this emporium opened in 1894, the Mullane family had marked almost a half century in the candy business. Irish immigrants William Mullane and his wife, Mary Fitzgerald Mullane, located to Cincinnati's West End in 1848 and opened a small variety store from which they sold Mary's home-made molasses candy. The store generated enough income to support son John's education at a Dayton boarding school. William died in 1862, but widowed Mary kept the little store running, eventually moving to a larger storefront at the corner of Court and Baymiller. Upon outgrowing that location, John and his mother decided to focus entirely on candies and sweets at a new location at Eighth and Central. This is the location Cincinnati Mayor Murray Seasongood remembered in a 1970 lecture to the Literary Club:
"Taking a girl to Mullane's on Central Avenue for its renowned nectar soda was another joy."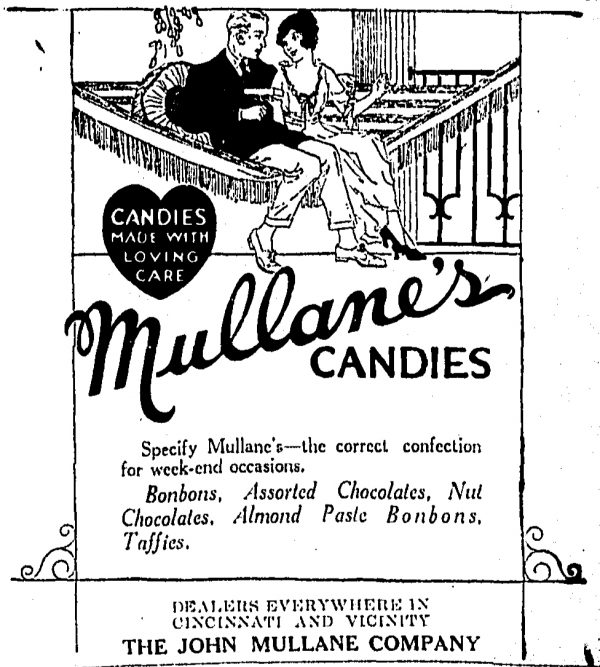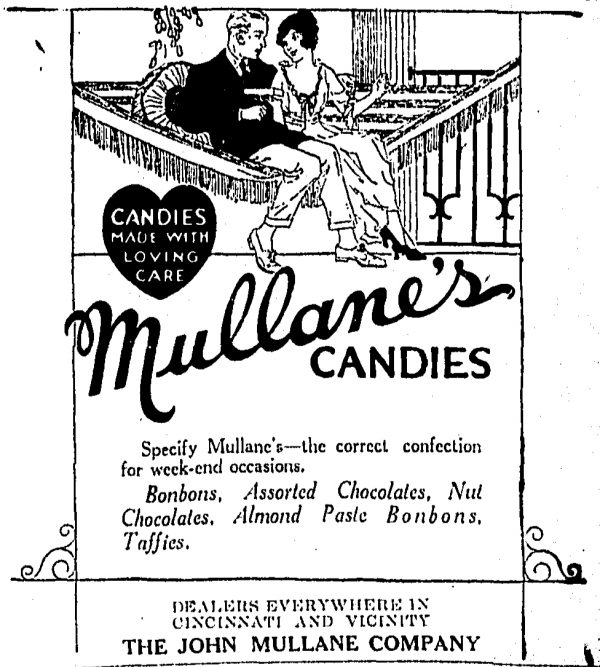 On John Mullane's death in 1910, his sons took over the business and maintained the "Candy Palace" on Fourth Street into the 1930s. The soda fountain was legendary and Mullane's ice cream was often acknowledged as the city's best. From display cases, customers individually selected candies to fill a box, choosing from bon-bons, nut chocolates, taffies and more. Mullane's manufactured its products on the five upper stories and shipped candies to fifty retailers in 26 states.
When the Carew Tower opened in 1933, Mullane's moved into Cincinnati's newest landmark. The shop at 429 Vine Street was retail only, candy and ice cream production now taking place in the grittier environs of Hammond Street, near Third.
Mullane's marked its centennial in 1948. By the 1970s, The candy store had moved out to Garfield Park at 723 Race Street. Cincinnati Magazine [June 1971] described it as:
"A delightful restaurant and candy store that dates, in Cincinnati, from 1848. It's the home of the original nectar soda."
Mullane Candies went out of business in the 1980s and some of the company's hard-candy machinery ended up at Tallahassee Florida's Lofty Pursuit confectioners. Lofty Pursuit, which promotes "Public Displays of Confection," continues to offer Mullane's nectar-flavored drops.
Kim Cole purchased Mullane's Race Street restaurant and reopened it as Mullane's Parkside Café in 1986. On her death in 1990, Cole's friend David Tape took over the vegetarian-friendly and arts-supporting café. Ruth Cummings balanced the books for Mullane's, which closed in 2004. When Ruth Cummings died in 2007, she left a bequest to David Tape who invested it in opening Ruth's Parkside Café in Northside, in partnership with Mary Kroner, a former Mullane's manager.
[h/t This Is Colossal]
Facebook Comments