If you read enough vintage Cincinnati newspapers, you're forgiven if you suspect that buried treasure lurks beneath any vacant lot or inside any creaky old house. To recall just a few examples:
Workmen excavating the new YMCA building on Central Parkway in 1917 found a pottery crock spilling $2000 in gold coins when shattered by a pick.
A smaller stash—only $90 in gold pieces—was discovered in 1905 by workmen excavating for the Cincinnati Southern Railway below Third Street in the West End. [Cincinnati Post 22 June 1905]
Workers digging up a foundation next-door to the Betz Hotel on Monmouth Street in Newport discovered of "a box of old coin and shinplasters that bore dates of 1812 to 1830." [Post 10 August 1908]
A young man in Industry, Ohio (now a part of Sayler Park), was building a fire when he poked a stick into a hollow log and a gold coin rolled out. He poked some more and found $1,200 in five-, ten-, and twenty-dollar coins. [Commercial Gazette 23 January 1884]
Paul Sampson, who owned a farm near Cheviot, tore down an old barn in 1916. While he cleared away the rubble, he found an old iron kettle and it rattled when he pulled it out of the dirt. The kettle was filled with coins, all dating to about 1840, according to the Cincinnati Enquirer [7 November 1916]: "There was a total of $1,500 in United States money. Among the coins were 400 large pennies, 200 white pennies, and gold and silver coins of various denominations. Besides the United States money, there were several Mexican, Canadian, and French coins."
A good many of these buried hoards came about because people did not trust the banks operating in the days before federal deposit insurance.
Among the skeptical was the reclusive Louise Laralde. When she died, Probate Judge William Luedders, accompanied by attorneys Milton Sayler and Frank Suire, searched her "squalid" house and found $500 in gold pieces along with gold watches, jewelry, ivory carvings, and other valuables hidden in wall panels and under floorboards. [Post 23 November 1914]
And there was Ferdinand Schertz, who ran a barrelhouse on Court Street back in 1885, selling whisky by the drink, by the gallon, or in bulk. Success seemed to elude him. But just before he died he slipped an envelope to his brother, Louis, containing instructions on where to find his estate. Between the privy, fake bedroom molding, and a third-floor brick moonshine still, Louis found more than $65,000. Although Louis may have missed a few coins, there is no record of any treasure being discovered when the building was demolished. (It's now a parking lot.) [Post 20 June 1885]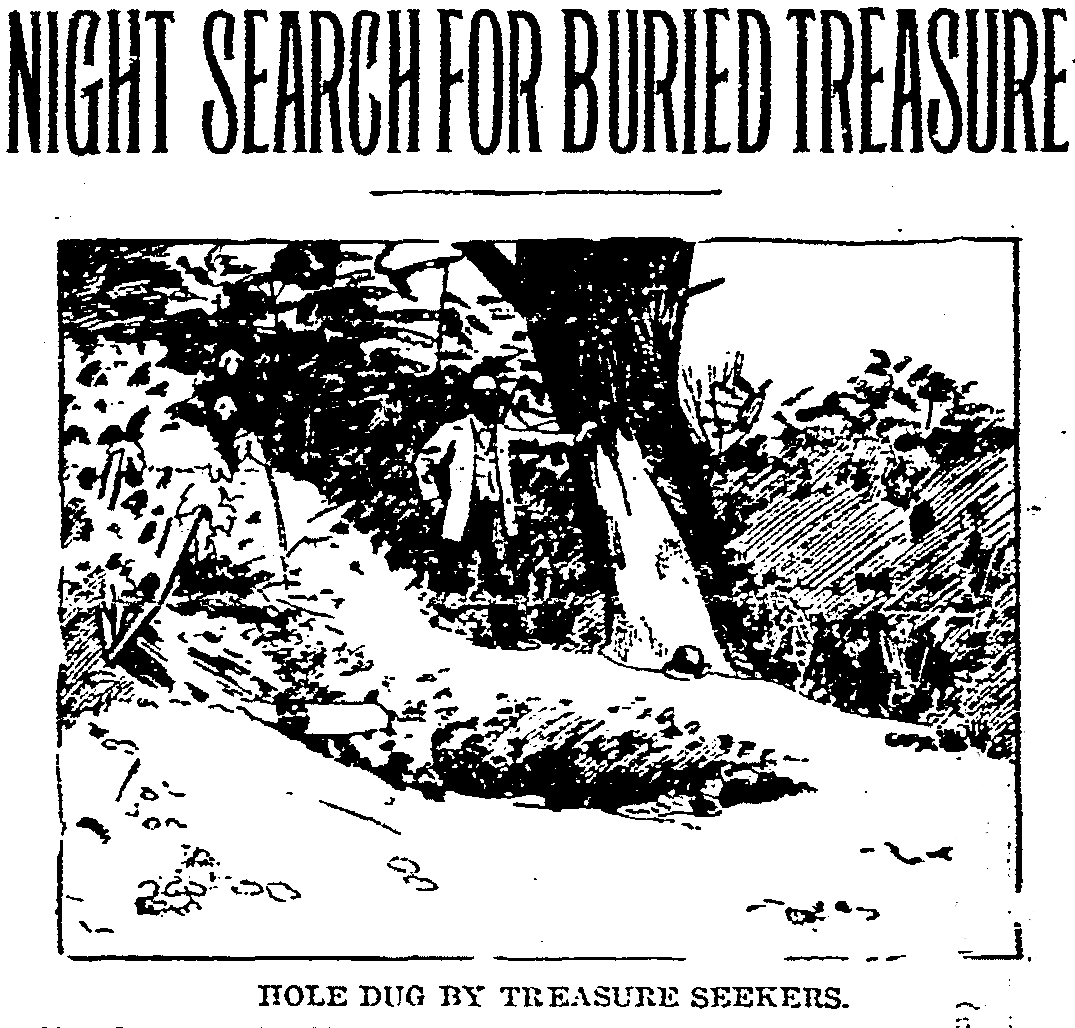 ---
All of this good fortune inspired a lot of rumors about treasure buried all over this area. In West Covington, City Marshal Herman Barkhau complained that prospectors had dug hundreds of holes all over his town for 30 years or more. An old rumor claimed that robbers had stolen $50,000 from a Cincinnati bank during the Civil War and hid it—just before they were captured—on the Kentucky side of the river. On their release from prison they found that nature had erased all of their landmarks and they never recovered the loot. [Post 5 October 1899]
A man on Poplar Street dreamed that a buried treasure lay under the stump of a tree at the western end of his street near the Millcreek. With a friend, he went looking and found a stump much like the one in his dream. The two dug all night, but found nothing, according to the Enquirer [17 Aug 1870], and were still digging without any luck weeks later.
Sometimes the rumors were documented. A workman named John Devine was digging a trench near the Elsinore water tower on Gilbert Avenue when he found a tin box filled with mildewed papers that, according to the Commercial Gazette [8 June 1889] laid out directions, in code, to a treasure buried just 10 feet away in Eden Park. Maybe he misread the code, for Mr. Devine never found the gold.
And there is some buried treasure you would not want to dig up. The Cincinnati Enquirer [21 December 1877] describes how two police detectives chased two known crooks down an alley off Fifth Street. The cops caught the robbers, but their pockets were empty. The detectives deduced that the thieves had dumped their pelf into the vault of an outhouse. They took the suspects to jail and planned to examine the vault the next day. (Yuck!)
Of course, not all that glitters is golden. The Cincinnati Gazette reported [23 May 1877] the "treasure" found by a group of ball-playing boys under the Main Street canal bridge. The ball rolled under the bridge and one of the boys chased it down the embankment, where he found it nestled among hundreds of half-dollar coins. To the dismay of the boys, all the coins turned out to be counterfeit.
Today, there are still rumors of hidden treasures in the Cincinnati region.
Four different hoards are allegedly buried somewhere on the hill below Carmel Manor in Fort Thomas, Kentucky. One was left by the paymaster for Fort Washington when he was attacked by Indians in the early 1800s, the second by the crew of a burning riverboat in 1860, and the third by Eli Kinney, a rich banker whose mansion is now part of Carmel Manor. [Enquirer 27 January 1958]
The fourth cache purportedly hidden on the Carmel Manor property was buried there by Carl Henry Johnson, an embezzler who stole $614,851.50 from Chicago's Albany Park Bank. Johnson buried part of his ill-gotten funds in Chicago and San Diego, but he said $55,000 is buried somewhere in Cincinnati. [Enquirer 27 September 1985]
Although some think Johnson's $55,000 is in Fort Thomas, others think it might be buried in one of our local parks. Some people think it's buried in Price Hill, where he once rented an apartment.
We'll never know. Johnson, four FBI agents, and a retired Chicago police officer, died December 16, 1982 when their two-engine airplane crashed into a bookstore in Montgomery, Ohio.
This article was reposted with permission from Greg Hand, editor of Cincinnati Curiosities
Facebook Comments