While he was living in Cincinnati, Granville T. Woods, was proclaimed "the greatest electrician in the world."
The Queen City was proud of this prolific inventor, who earned more than 50 patents in his lifetime. The Cincinnati Commercial Gazette [27 February 1889] had this to say:
"The lecture room of the Young Men's Christian Association was filled last night with an audience which listened interestedly to a lecture on electricity and its modern applications by Mr. Granville T. Woods, the well known colored electrician of this city. Mr. Woods is one of the foremost electricians of the country and his many inventions have shown an amount of skill and dexterity in dealing with the most potent and mysterious of all forces, which places him in the front rank of inventors also."
Woods was born in Columbus, Ohio and moved to Cincinnati around 1880. Although initially employed by the Dayton and Southwestern Railroad, Woods set up his own engineering and electrical company, with offices on Lodge Street, near Fountain Square.
His patents are quite varied, from industrial steam boilers to a new design for electric batteries to an "Amusement Apparatus" that anticipates the slot car racetrack sets that were popular in the 1960s. Woods explained in his 1899 patent application that his "Amusement Apparatus" could be built as a toy, or at full scale:
"The apparatus may be constructed on a large or a small scale, as desired, and the moving cars or device may be capable of carrying persons or objects or not, as desired and according to the space to be occupied."
The invention that really secured Woods' fame was his system of induction telegraphy for railroads. Woods explained the invention to a reporter for the Cincinnati Commercial Gazette [10 October 1886]:
"By its means, a train dispatcher can tell at once the location of every train on his roads and engineers can learn exactly where all other trains are, thereby greatly reducing the liability to collisions. Each train will be called by its number just as easily as I am talking to you now. Commercial messages may also be sent. A man need not get off the train to send a message, and between Cincinnati and New York he can hear, if he wishes, from his friends every hour."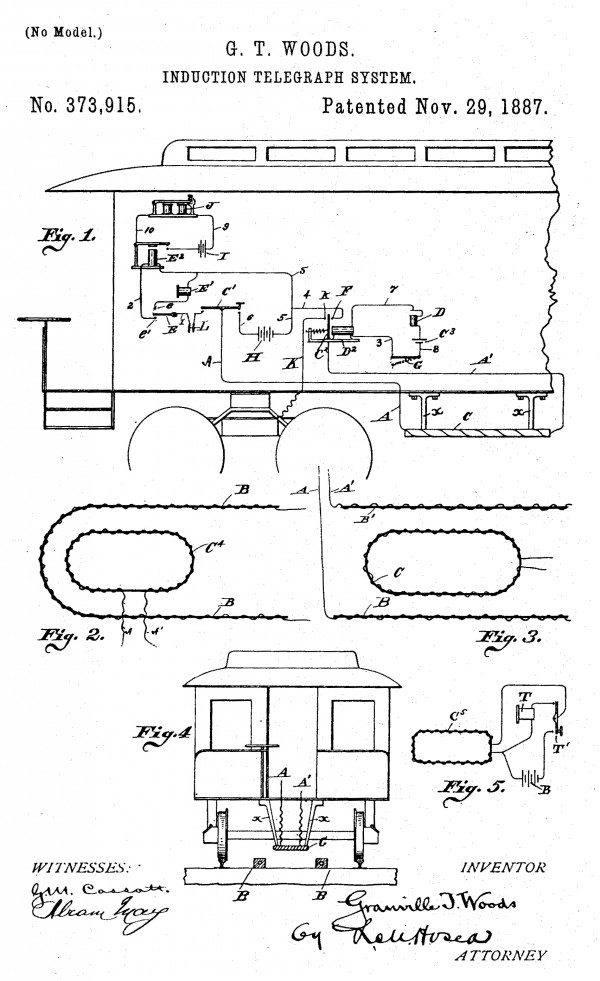 As soon as Woods filed the patent, he was challenged by two other inventors, Lucien J. Phelps and Thomas A. Edison. Yes, that Edison. The U.S. Patent Office dismissed Phelps' challenge in short order. Edison was not so easily dismissed.
There is no question about Thomas Edison's brilliance, but there's little doubt that he was something of a bully. Edison stole ideas, hounded competitors in court and floated hostile rumors about inventions better than his own.
Edison battled Woods over this patent not once, but twice. Woods won both challenges and the patent was awarded to him. Defeated, Edison offered Woods a job. Woods turned down the job offer, but later sold some of his patents to Edison and other white industrialists. It was a pattern Woods adopted throughout his career, recognizing the difficulty of marketing African American inventions to a largely white audience. As Michael C. Christopher  noted in his paper "Granville T. Woods: The Plight of a Black Inventor" [Journal of Black Studies, March 1981:
"Like most other black inventors of the era, Woods had to concede that the race of the inventor did affect the market value of the invention. Unfortunately while selling to the larger corporations often reaped small profits for the black inventors, an invention sometimes exceeded all expectations in consumer popularity. In these instances, the company owning the patent received the profits. After selling his invention, the inventor lost all claims to it, receiving no profits and no public recognition for its conception."
Part of the problem is that businessmen must often travel to meet customers, and Woods knew first-hand the dangers of travel for a black man in the 1880s. The Cincinnati Enquirer [26 June 1888] reported on one such incident:
"Granville T. Woods yesterday sued the Louisville and Nashville Railroad Company for $10,000 damages. He alleges that he was a passenger on the company's train, with a ticket from Cincinnati to Nashville, Tennessee. While the train was in the depot in Louisville, he was without cause assaulted by servants of the company and beaten and subjected to great indignities."
Woods left Cincinnati in the early 1890s and moved to New York, where he died in 1910.
This article was reposted with permission from Greg Hand, editor of Cincinnati Curiosities
Facebook Comments