Any self-respecting Cincinnati history buff knows the basics: Central Parkway used to be the Miami-Erie Canal, remnants of a never-finished subway lie in wait underground, something about former mayor Jerry Springer's, uh, "resilient" checks. But the folks at ArtWorks have found a compelling way to combine local history with public art: ArtWorks Mural Tours.
In case you're not already familiar, the ArtWorks mural program started in 2007 with the intent of commissioning young artists and paying them to make art. More than 2,700 young people have helped paint 90 murals since the program's inception, and the goal is to have a mural in every neighborhood.
On a recent Saturday afternoon I had the opportunity to join the OTR tour, which I chose both for its noon start time (I like to sleep in on Saturdays, sue me) and to test my own knowledge. As an OTR-adjacent resident who spends a lot of time in that particular 'hood, I wanted to see if there was more to learn. No need to wonder—there was!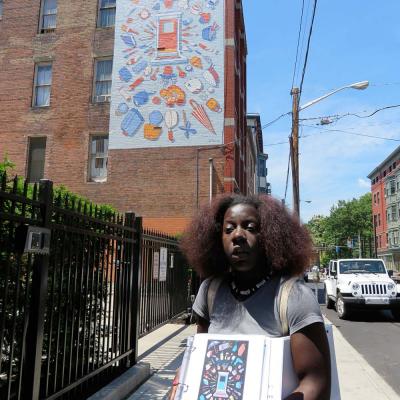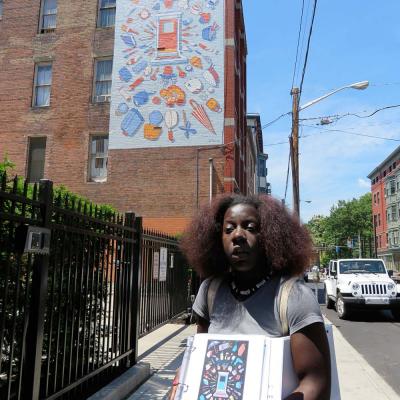 Tour guide Mary and student artist guide Kyra met our group at Coffee Emporium, and the eight of us set off on foot down Central Parkway. We headed west, taking time to stop and discuss the art along the way: The Cincinnatus mural painted in honor of Kroger's anniversary in 1983 (currently being restored with the help of ArtWorks); the larger-than-life Jim Tarbell welcoming visitors to what was then called the Gateway Quarter (that design was a compromise between Tarbell's familiar face and Cincinnati legend "Peanut Jim" Shelton); the sepia-toned historical painting of workers on the Miami Erie Canal, which was created by "pouncing"—the same method that was used to paint the Sistine Chapel.
We rounded a corner and discussed the mural at Tender Mercies, meant to serve as a reminder of all the everyday things people take for granted; the Lisa Frank-inspired Ice Cream Daydream, where many of the characters were designed by apprentices; the somewhat controversial abstract Energy and Grace, which represents the way the different parts of OTR connect gracefully.
Heading towards Washington Park, we stopped to admire The Cincinnati Strongman mural honoring Henry Holtgrewe (who, legend has it, would push the old streetcar back onto its tracks when it derailed), before moving on to the work depicting architect Samuel Hannaford's view of several city landmarks and the adjacent The Golden Muse, celebrating "Fanfare for the Common Man," a now-familiar tune written for the Cincinnati Symphony Orchestra in 1942.
After our last stop, we headed to Taft's Ale House for refreshments (the smoked chicken wings are a must), running into ArtWorks CEO Tamara Harkavy on the way. Our entire group raved about the experience, and if you too want to 1) learn stuff 2) impress friends with your in-depth knowledge (do this before you hit one of the bars lest you sound like a Drunk History storyteller), make an appointment with a mural tour.
ArtWorks Mural Tours take place on Saturdays from April–November. You can buy tickets online here.
Facebook Comments