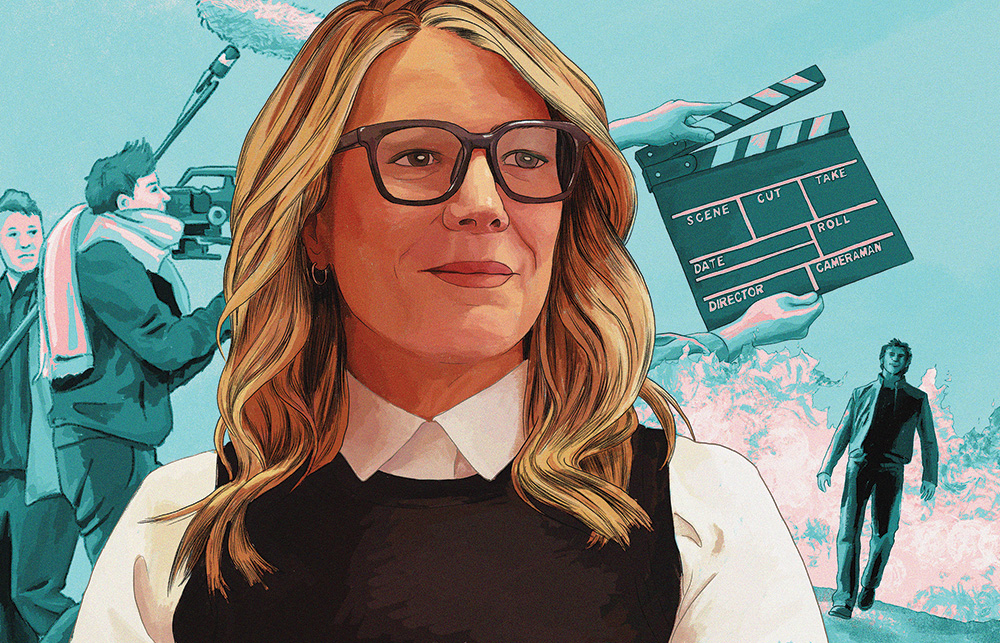 "Hey, can I get this call really quick?" It's a busy day for Kristen Schlotman, executive director of Film Cincinnati and point of contact for anyone who needs anything for all four major motion pictures currently filming in the Queen City. Of course she can interrupt the interview. Film Cincinnati has a hand in every aspect of every movie that comes out of the city, all in pursuit of its ultimate goal: to make Ohio the leading state for film production. "We are taking on the likes of Georgia, and everywhere else. Why can't we be number one?"
It was always movies for Schlotman. In her early years, she auditioned for a 1981 made-for-television film starring Johnny Cash called The Pride of Jesse Hallam, which was shot almost entirely in Cincinnati. But it wasn't the actors she was interested in. It was the crew. "I remember being on that set and not having any interest in the stars, but I was absolutely obsessed with everyone working on the project," Schlotman said. "And I said, 'I am going to work on a set. One way or another, I am going to do this.' I never felt more passionate about anything."
After graduating from Miami University, Schlotman initially worked as a radio DJ in North Carolina. ("I wanted to live at the beach a little," she says, laughing.) While returning to Cincinnati for the holidays, she pulled out the yellow pages, called the Greater Cincinnati Film Commission, and asked if she could volunteer while she was home for the month. She never left. In 2002, she was named executive director, and has been in the role since. Almost immediately, she felt like she'd made it. "The first call I got [as executive director], back when you had answering machines on your desk, I had a voice message from Emilio Estevez. Emilio Estevez!" Schlotman says. "I must have called, like, five people to play them the message before I ever called him back. Like, this is my job now? This is so cool!"
What really kicked off Cincinnati's movie boom was the Ohio Motion Picture Tax Credit, introduced in 2009 after lobbying from Schlotman and others, which refunds 30 percent of cast and crew wages for films made in the Buckeye State. The first local film to take advantage was the 2011 political thriller The Ides of March, which originally planned to shoot fully in Detroit. A decade later, three films shot in or near Cincinnati are competing for the top prize at the 2022 Venice International Film Festival—one of the cinema world's most prestigious events, and often an indicator of future Oscar winners—and Film Cincinnati is turning down projects because there's not enough tax dollars to go around.
One of the more interesting aspects of Cincinnati's burgeoning film scene isn't the level of talent it has attracted—though, with names like George Clooney, Robert De Niro, and more coming to town, the star power certainly isn't going unnoticed—it's the quality of local talent, both in front of and behind the camera, that filmmakers are utilizing. "They're like 'Wow, there are people here that really know the business.' It might not be their first thought that Cincinnati can make a movie, but when you get them here on that [scouting trip], and you introduce them to people and locations…they see the depth of possibilities here," Schlotman says. And they like what they see. Many filmmakers who shoot in Cincinnati are repeat customers, returning for second, third, or even (in the case of Killer Films) fifth films.
There's no one-size-fits-all approach for convincing potential productions of Cincinnati's merits. For example, with period-piece films, Schlotman makes sure to take clients out for dinner and drinks at the Hilton Cincinnati Netherland Plaza to show off Carew Tower's famed Art Deco interior. She also makes sure to complement those excellent meals with excellent introductions to industry professionals—she shouts out D. Lynn Meyers of Ensemble Theatre as one go-to pick, who Schlotman says is "one of the greatest casting directors in the world, and she's right here in Cincinnati."
Movies filming, wrapping, or prepping in Cincinnati at time of this writing are: The Bikeriders, a drama about a '60s motorcycle gang starring Tom Hardy and Austin Butler; Wise Guys, a gangster drama starring Robert De Niro playing two different Italian crime bosses; Dandelion, a romance about two musicians starring Cincinnati native KiKi Layne; and Bang Bang, a boxing flick starring Tim Blake Nelson. There's plenty more in the works too—although Schlotman is tight-lipped about future projects, only saying there are a few unannounced projects she's very excited about. She had just returned from the American Film Market the week before our interview, marketing the region to studios for what's to come in 2023.
As far as immediate goals, Schlotman has a few. First off, she wants to bring even more bigger budget films to the area. She wants to bring "tremendous economic impact" to the city. She wants to anchor a television series here—maybe even "have eight seasons of it"—so that people have stable jobs for even longer periods of time. But most of all, she wants to help people in Cincinnati achieve their dreams without having to leave. "One of the biggest rewards I have is when I see kids studying film in college, and they reach out and want to stay here and work in this community," Schlotman says. "Knowing that you're part of changing their careers and their lives…it's been really, really exciting."
With some of the past decade's biggest and most critically acclaimed films coming out of the Queen City, it's getting harder and harder to say that our growing film industry is a well-kept secret. "People want to come to Ohio. And people are creating incredible content out of Ohio!" Schlotman says. "It hasn't always been this way. It's exciting. But I know we can do more. And we will."
Facebook Comments