Photograph by Kortnee Kate Photography
When Tricia Chou (née Wilks) was a little girl, she and her older sister would visit their great uncle Harry's house to have picnics, play in the creek, and spend whole days surrounded by family and friends. As a child, it seemed normal for Tricia to visit Harry Wilks's home, on 320 acres dotted with 78 monumental outdoor sculptures. She only fully appreciated the magnitude of her uncle's property, the Pyramid Hill Sculpture Park & Museum, and extensive collection of art works as she grew older.
When Tricia and her husband Michael got engaged, an outdoor venue was nonnegotiable. Pyramid Hill seemed a perfect fit because of its beautiful meadows, forests, and gardens, as well as the amazing sculptures and Tricia's many special memories. Sadly, Harry Wilks passed away in the spring before Tricia's and Michael's June wedding. The couple created a bar around one of the sculptures for the event, and golf carts were available throughout the day so wedding guests could tour the park at their leisure and enjoy Wilks's legacy.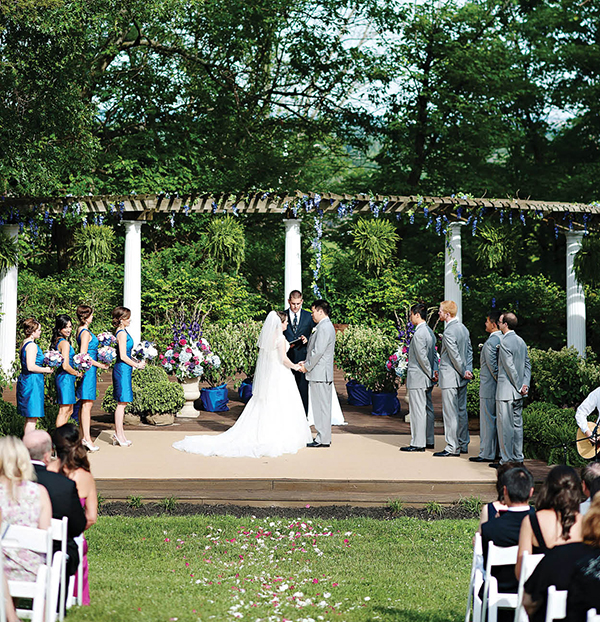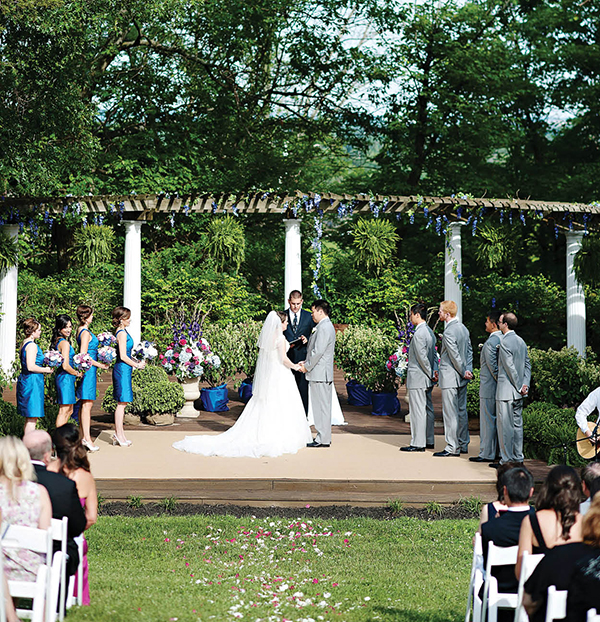 The couple had another priority—to incorporate live music in as many ways as possible. A string quartet and vocalist performed during the ceremony, and Memphis Soul Revue, a band that came from (you guessed it) Memphis, rocked the reception. Michael, a music lover, searched online for a wedding band, reached out to Memphis Soul Revue, and the couple took a leap of faith—the two didn't see the band perform live until their wedding reception. Tricia and Michael have enjoyed learning to ballroom dance together and because they love dancing so much, it was important that the reception music be accessible to all guests. Michael worked with the band to carefully curate a set-list. They danced for the first time as husband and wife to "Love Is Not a Fight" by Warren Barfield.
Tall flower arrangements, chandeliers, and draped fabric in shades of blue complemented varied landscapes and unique art and cultural elements, all contributing to the overall elegance of Tricia's and Michael's event. The weather was beautiful, guests feasted on filets, scallops, and vegetarian dishes, and danced the night away under the stars.
---
vendors
Venue Pyramid Hill Sculpture Park Flowers Ford-Ellington Floral & Wedding Design Cake A Spoon Fulla Sugar Gown Pronovias, The White Room, Lebanon, Tennessee Invitations/Favors Poeme Bride's Makeup Cinci Makeup Bride's Hair Coco Creative Wellness Food Funky's Catering Rentals All Occasions Event Rentals Day-of Coordinator Brigid Horne-Nestor, i-do Weddings & Events
Facebook Comments