I'm worried about Geno Atkins. Last week we talked about how Geno was a superhero forced to tackle the inner demons that lie in the dark recesses of his being, the same being that powers through 350-pound men on the reg. I was prepared for his moment of glory, when he breaks away from the shackles of mortality and is once again able to savor the sweet taste of human domination.
This week, there was no taste to be had. Geno struggled in a very real way.
Something is off with Geno. A cynic would point to his recently penned $55 million contract extension as a reason for his slow start. But that would call in to question his drive and character, things that have never been in doubt during Atkins' collegiate or professional years. I think the more likely reason is that there is something physically wrong. Geno's game is reliant on two key components: quickness and power. The two are inextricably linked. The quickness allows him to get off the line quickly, establish leverage and use the momentum generated to power through the offensive lineman. Take away the quickness and suddenly the power is gone as well.
There are a few plays where the glimmer of that lethal combination is still there, where shades of the offensive lineman destruction machine can be seen. But for now it is only fleeting. A quick burst is followed by a stalemate, where Geno is being neutralized by offensive linemen that have no distinct connection to Mount Olympus (and thusly should not be able to contain him).
A few photos to illustrate my example.
Aaron Rodgers is about to catch the snap and both Carlos Dunlap and Michael Johnson have gotten off the ball well. Dunlap is almost three yards upfield and Johnson is beginning to make his move. Atkins, meanwhile, is barely getting out of his stance, making it nearly impossible for him to gain an advantage on the offensive lineman. Let's compare that to a year ago. (Week 13 against the Chargers, to be exact.)
Here you see Atkins level with or ahead of both defensive ends just as Rivers is receiving the ball. He is a step ahead of the blocker and able to knock him backwards en route to a sack.
While the first photo is probably the most egregious case of delayed anticipation, it was not the only problem Geno had. When engaged with a defender, Geno typically does an excellent job of shedding the blocker and moving toward the ball. But last week, he missed opportunities to shed blockers and make a play. They are the kind of plays that are excused for lesser talents, but Geno is held to a higher standard.
Let's take a look at another very un-Geno like play.
The play is a quick toss to speedy rookie Johnathan Franklin, who played well against the Bengals and made more than a few people miss tackles. Atkins is matched up against left guard Josh Sitton. Now Sitton is no slouch; he graded out as the seventh best guard in the NFL last year according to Pro Football Focus (PFF). But there is no way he is good enough to dominate Atkins like he does on this play.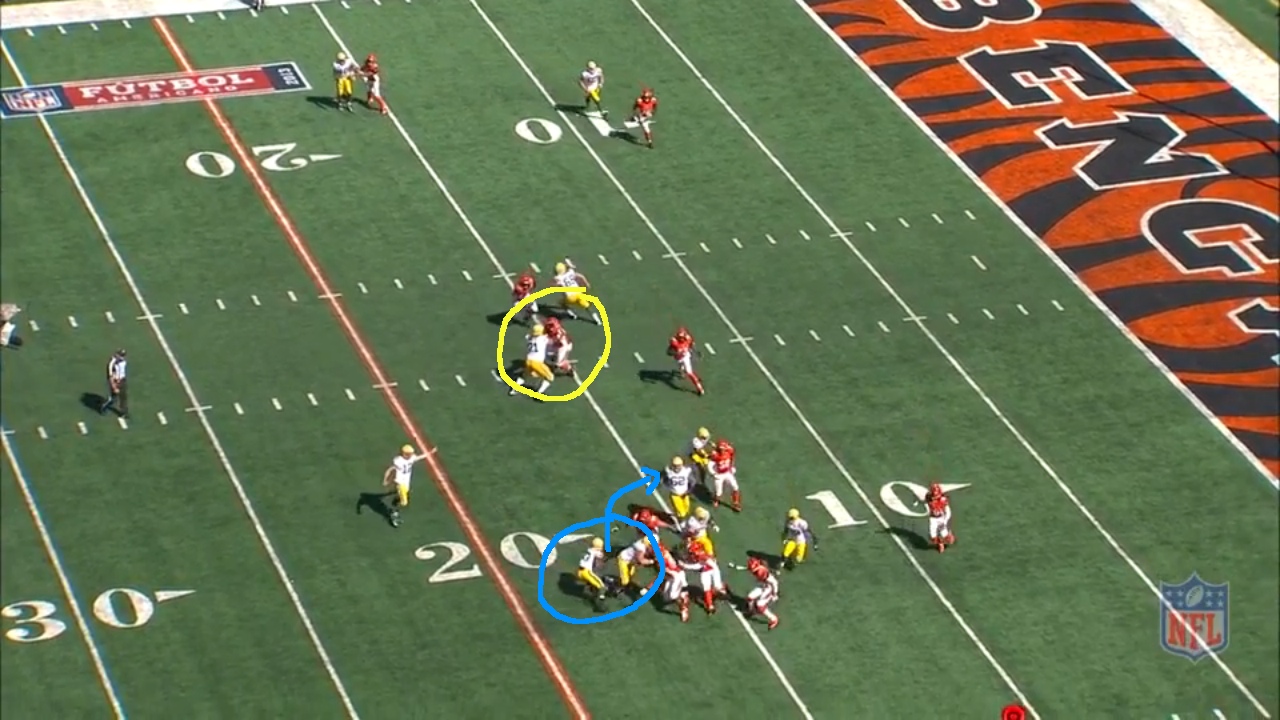 As Franklin begins to make a cutback move, look at where Geno is on the field. And just in case you can't tell how far away he is from anything resembling action in the play, here's another angle: 
Oh, it's ugly. Geno is hardly moving and is at least 10 yards away from Franklin. (Pro tip, NFL Game Rewind: let's try using a scale to see how far the actual distance is between players. I realize there are lines on the field to mark these sorts of things, but I need it much more easily laid out. Thanks.)
The real reason I bring up this play though is immediately what follows. It is a brief moment, and one that I am undoubtedly reading way more into than I should. But after the play, Michael Johnson approaches Geno and seems to be frustrated for some reason. Maybe it's with Geno, maybe it's with someone else. But then Geno comes back and looks frustrated himself, pointing at Johnson and holding out his arms incredulously. Here's the very poor photographic evidence.
The camera didn't stay on them past this point but I would have liked to have seen if anything else transpired. Again, it could have been nothing at all. But Geno is not the type of person to ever engage in confrontation with a teammate. He seems to be a soft-spoken, reserved guy. So for him to be that demonstrative on a field is disconcerting.
I like to think that this is Geno pulling the ol' bait and switch, getting people to think he's headed for a down year before blowing our minds once again. But the problem is that his play hasn't just been bad by his standards—it's been bad by any standard, last week's performance in particular. PFF has graded every one of Geno's snaps since he entered the league and last week was his worst grade ever: a -2.9. To give you some context, Minnesota defensive tackle Letroy Guion graded out as the worst defensive tackle in 2012 with an overall grade of -13.8. Guion only had one week where he posted a grade worse than -2.9. Geno, meanwhile, graded out as an 80.0 overall, nearly 50 points higher than the second best defensive tackle. And his worst week last year was +1.0.
The Packers knew something was up with him too. They eased up on the double teams after the first half and even ran some plays directly at Geno, something I didn't see much, if at all, last year.
Whether it's an injury or something else, there is something wrong with Geno right now. These kind of dropoffs don't happen for no reason. But for Cincinnati's sake, I hope they discover the reason soon.
Bonus Screengrabs!
To end on a positive note, here's a look at a few plays by Michael Johnson, who had a second terrific game in a row. He finished with 7 total tackles (5 solo), 1.5 sacks and made the two biggest plays of the game: forcing the fumble that was recovered by Terrence Newman for the go-ahead touchdown and batting down Rodgers' pass to end the game.
But there was another big play that doesn't appear in the stat sheet.
Here, Johnson lined up on the far side with Wallace Gilberry next to him. Mike Zimmer likes to run stunts with Gilberry and Johnson, which means that Gilberry would move upfield or outside in hopes of getting Johnson to move inside of Gilberry. (I diagrammed one of these plays last week.) But instead of using that deception, Johnson is able to beat Packers left tackle David Bakhtiari with a speed rush while Gilberry stays home to allow Johnson room to operate as well as containing a Rodgers' scramble.
Johnson does a nice job of extending his arms and using his hands to fend off the defender. Scouts always talk about defensive linemen knowing how to 'use their hands.' Well this is a great example of why that skill is so useful. Johnson uses his strength and long arms to set himself up for a hard move to the inside, giving Bakhtiari no choice but to hold him. (The pressure also forced Rodgers into an overthrown pass.) 
It's a 10-yard penalty, it takes the Packers out of field goal range and helps keep the Bengals' two-possession lead. It's a great play by Johnson and if Geno continues to struggle, he's going to be looked to for additional pass rushing responsibilities. Through three weeks, he looks up to the challenge.
Facebook Comments