For our April 2017 issue, we examine how creatives are remaking the Queen city.
Dan Reynolds remembers getting the phone call. He was driving north on I-75 in the spring of 2013 when Tim Maloney, president and CEO of the Haile Foundation, rang him with an idea. "He said, 'I heard you're the guy in town to call about projection mapping,' " says Reynolds. A few days later, he was sitting down with Maloney and Trey Devey, president of the Cincinnati Symphony Orchestra, to plan a special celebration welcoming conductor Louis Langrée as the new music director.
The result was Lumenocity: live orchestra music performed in time with projection-mapped graphic designs cast onto the front of Music Hall—a complex, highbrow laser show intended to elicit polite applause and blown minds from the Washington Park lawn.
"We were creating something new," says Steve McGowan, who co-owns the design firm Brave Berlin with Reynolds. "We did the brand identity for it, came up with the name, came up with the whole tone and feel and philosophy around it."
---
At the time, Reynolds and McGowan both worked for Landor, one of the world's top branding companies headquartered in Cincinnati. They had a vote of confidence from CSO. They had financial backing from the Haile Foundation. They had the park and edifice reserved for two nights in early August. There were only two problems: They weren't exactly sure how to create outdoor architectural animation for a 14-minute Tchaikovsky piece without doing a live rehearsal. And they weren't sure anyone would show up. "It was one of those jump-off-the-cliff-and-build-your-wings-on-the-way-down kind of things," says Reynolds.
He and McGowan figured they could bring in the standard symphony crowd with a black-tie affair—plastic cups of cabernet sauvignon, trays of tomato bruschetta—but that was safe and familiar. They had bigger aspirations. Instead of the symphony welcoming Langrée, they wanted the whole city to join in. "I don't think anyone thought Cincinnati could pull something like that off," says McGowan.
There was plenty of angst in the weeks leading up. It was a free event, no tickets—just show up and enjoy—so there was no real way to gauge the community's interest. The hope was to bring in about 10,000 over both nights.
On Saturday afternoon of the first show, as Reynolds and McGowan were setting up, people began filing into the park, putting down chairs and blankets to save their spots. "It was a weird phenomenon," says McGowan. The lawn slowly morphed into a college green—people taking naps, throwing Frisbee, sneaking beers. On Saturday alone, 15,000 showed up; 20,000 came the next night. There were people sitting in the bushes and standing along Race Street. The shops and restaurants were packed: Old people, young people, black and white, families and singles. East side, west side, suburbs, downtown. For many, it marked some type of first: First time in the newly renovated Washington Park, which had reopened the previous summer. First time seeing the symphony. First time visiting Over-the-Rhine. The Cincinnati Enquirer called it a "tipping point."
"There was every reason in the world to be pissed off—too crowded, muddy, no Port-O-Lets, nowhere to get a drink," says Reynolds. "And all the commentary [afterwards] was that nobody cared. The second the lights went up and the music started, everyone was transfixed in this shared moment of art."
---
The success of Lumenocity was a seminal point in a much bigger, broader shift that was taking place in the city—a ballooning social movement of people moving to and establishing a revitalized urban core; starting and supporting small, independent businesses; and enacting and embracing a more progressive cultural environment. Put another way, it signaled the true blossoming of a "creative class," a term coined in a distinctly big-tent American way to define participants in just about any profession or hobby, if one squints hard enough.
In today's Cincinnati, this includes traditional artists in a wide variety of mediums: musicians, fine artists, architects, designers, marketers, branders, makers, small business owners, tech startup-ers, and independent food-and-beverage-ers. Its impact is seen and felt most keenly in Over-the-Rhine, a neighborhood that not so long ago teetered between dangerous-and-dodgy and edgy-yet-promising. Now it's an urban playground of weekday happy hours overflowing with skinny jeans and dark liquor, two-hour restaurant waits on Friday nights, packed aisles at City Flea on Saturday afternoons, and a sold-out Blue Oven Bakery booth at Findlay Market on Sunday mornings. It's the hipsters, the young professionals, the Warby Parker crowd, artsy-fartsy folks, the civically engaged—"cool" people, more or less. But they aren't just renting minimalist loft spaces and opening pour-over coffee shops in OTR. They're in Clifton, Northside, Covington, Bellevue, and Oakley, and stretching out to the 'burbs in ever-inflating numbers. According to a December 2015 piece by Richard Florida on The Atlantic's CityLab.com examining the recent "brain gain" in Midwest and Rust Belt cities, Cincinnati experienced a 21 percent growth in its creative class from 2000 to 2014, the fifth-highest rate of increase in the country over that time.
---
Creative Class: Renee Kohl, Noble Denim and Victor Athletics

---
It wasn't always like this. Less than two decades ago, the city was at a creative crossroads. Downtown was still recovering from the riots and civil unrest of 2001, and "brain drain" was the hot buzzword. A number of the area's major companies—Procter & Gamble, Macy's, Fifth Third Bank—were starting to raise concerns about the region's inefficiency in attracting and retaining creative talent. "People would come to Cincinnati, but they'd never get engaged with the community, never plant roots," says Ryan Rybolt, who worked for both P&G and Fifth Third in the early 2000s and is now CEO of payment processing company Infintech. "They would just move on to their next gig."
In 2002, that very same Richard Florida who would later laud Cincinnati's innovation and growth, wrote his New York Times best-selling magnum opus The Rise of the Creative Class, in which he defined the parameters of this new class and affinity among its constituents to plant their artistic flags in the culture-rich communities of coastal metropolises or burgeoning cities like Austin, Texas, and Denver, Colorado. "Place has become the central organizing unit of our time, taking on many of the functions that used to be played by firms and other organizations," Florida wrote in the book's opening chapter. "Creative people, in turn, don't just cluster where the jobs are. They cluster in places that are centers of creativity and also where they like to live."
---
Creative Class: Natasia Malaihollo, Wyzerr

---
Cincinnati was not one of those places. "There was this pervasive attitude among Cincinnatians that their town was not deserving of anything cool," says Leah Spurrier, who moved here in 2000 and currently co-owns HighStreet, an upscale furniture shop and design studio on Reading Road. "It was a really sour atmosphere."
A brigade of civic activators took notice: Organizations with names like "Give Back Cincinnati" and "Cincinnati Tomorrow" began to pop up, focused on connecting creatives and young professionals ("YPs," as the trying-too-hard adults used to say) to the region and each other. The Greater Cincinnati Chamber of Commerce established a Regional Leadership Forum and a rash of YP-focused conferences. This magazine even ran an earnest cover story in May 2003 titled "Cool City: 75 young, passionate people shaping Cincinnati's future." The P&Gs and Krogers of the city solicited solutions and pledged to join forces to see them through.
And it worked. But how, exactly? Is Cincinnati's newfound artistic and craft revival a testament to the city's organic progression in our signature slow-but-sure style, or is it a product of the calculated and targeted investments of our most established power brokers? Can a city actually create a culture of creativity? And if so, how long can it last?
---
In 1978, Robert Probst left his cushy design career in Germany to teach at the University of Cincinnati's prestigious College of Design, Architecture, Art, and Planning (DAAP). He knew the program, long celebrated in the international design community, but little else about the city when he accepted a one-year gig as a visiting professor. "It's been a long year," he says with a smirk.
We're lounging on the black leather furniture filling his corner office in the DAAP building, the walls lined with colorful books, random sketches, and design pieces. Probst never left "Cin-Cin-Na-Ti"—as he pronounces it in his still-thick German accent, forcefully enunciating each syllable—and was eventually named dean of DAAP in 2008. "We were always very comfortable here," he says, referring to his family. "The size of the city was fantastic, the university was the ultimate playground, and there were so many other disciplines we could collaborate with."
---
Creative Class: Matt Tomamichel, Corporate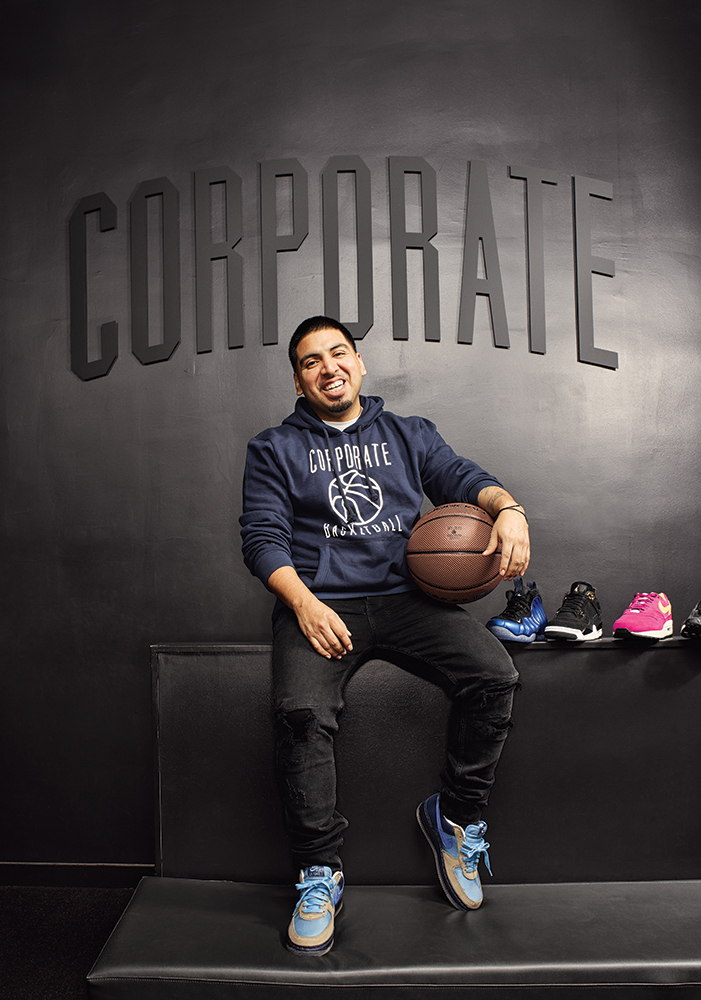 ---
Even before this recent business/cultural resurgence, Cincinnati had a strong foundation of creative companies and economic opportunities, particularly for a mid-sized Midwestern city. Any suit in line at Coffee Emporium can likely recite the Chamber's oft-quoted stat that "more Fortune 500 companies are headquartered in Greater Cincinnati, Northern Kentucky, and Southeastern Indiana per capita than New York, Chicago, or Los Angeles." That alone fosters a robust group of quality marketing, design, and branding firms in town. (Think Landor, LPK, Possible, and Empower.) UC's DAAP and College-Conservatory of Music are consistently heralded as two of the preeminent design and music schools in the world.
"The city should pride itself and blow our own horn much louder, but people here have so much humility and are a little shy and self-deprecating," says Probst. "On one hand that is charming, but on the other it's a little bit of a handicap. When you go to other cities, they blow their horn and their stuff is pffffft. Not nearly in the league of what we have to offer."
That chronic inferiority complex was arguably as much to blame for the city's deficiencies as anything. For many, there weren't enough reasons to hang around after college or put down roots while working for the major companies, and the general lack of excitement and civic pride permeated those who did settle here.
---
Creative Class: Steve McGowan and Dan Reynolds, Brave Berlin

---
In January 2002, a much-needed rebuild commenced. Less than a year removed from the racial- and socioeconomic-fueled turmoil in downtown and OTR, then-Mayor Charlie Luken declared Vine Street the most important corridor in the city and proposed a plan for redevelopment. The Chamber rededicated itself to replenishing the city's talent coffers. Most significant was the 2003 formation of the Cincinnati Center City Development Corporation (3CDC), a private nonprofit created to "increase the efficiency and effectiveness of development activities in the city." Its board of directors, made up of an all-star roster of CEOs and bigwigs from P&G, Western & Southern, Kroger, Fifth Third, and American Financial, buttressed their corporate dollars with a $100 million investment from the city over the first five years.
"Very clearly, a lot of the impetus for 3CDC's existence is around the corporations in town realizing they had to make improvements in order to attract and retain workers," says Adam Gelter, 3CDC's executive vice president of development, who started as an intern in 2005.
The plan was to transform the city's urban core into a place where people would not only want to work, but also live and spend their free time. 3CDC's first public project was renovating Fountain Square, but even before that, they were actively buying up vacant (or nearly vacant) buildings on Vine Street in OTR and strategizing how to develop them into mixed-use spaces: street-level restaurants, bars, and retail, with upscale condos and apartments above. Acquiring and rehabbing proved to be the easy part. The challenge was attracting folks to live and work in an area that multiple crime-data websites had dubbed the country's "most dangerous neighborhood" as late as 2009. "We had to beg, borrow, and steal to get people to move," says Gelter.
MiCA 12/v was one of the first. Mike and Carolyn Deininger's gift shop, which sells works by local artisans, was located in O'Bryonville when 3CDC approached them about moving to OTR. After some hemming and hawing, and discussions with other potential tenants, they signed a lease in 2007. There was some reluctance—"Women would come in [to the O'Bryonville store] and say, 'I will never shop down there,' " remembers Carolyn—but also an incipient enthusiasm. Slow but sure, the Cincinnati way, their customer base grew. As more and more places opened on the same stretch of Vine (Switch, Incredible Creations, Metronation, Lavomatic, and Senate were all early adopters), momentum and residential interest began to build. A key aspect was 3CDC's commitment to local, independent business, even if it didn't really have a choice early on. "There was no such thing as a highest bidder," says Gelter. But as OTR's trajectory continued to shoot upward, 3CDC avoided the familiar glow of national chains and brands. "What we didn't want to do," adds Gelter, "is create Anywhere, America."
---
Creative Class: Adam Shaw, Deeper Roots Coffee

---
Other industries caught the wave, particularly the tech/startup community. In 2011, The Brandery moved its accelerator offices to a 3CDC property at the intersection of 14th and Vine. They've since added 14 two-bedroom apartments on Walnut Street for out-of-town founders who take their accelerator course, and in 2015 moved a block south into the new (3CDC-subsidized) Union Hall that also houses CincyTech and Cintrifuse as part of the StartupCincy enterprise.
"I had never been to Cincinnati before, but I was really surprised by how much support they had for startups," says Natasia Malaihollo, founder of Wyzerr, a survey and data-collection outfit. The company graduated from The Brandery in 2015 and is now based in Covington. "Cincinnati treats startup founders like celebrities," she says. "It's really why we stayed."
It wasn't an overnight transformation. "We had a bullet come through the window our first month here [in 2011]," says Tony Alexander, The Brandery's general manager. But restaurateurs like Dan Wright, Jean-Robert de Cavel, and the Lanni brothers pushed the culinary scene into a more appealing, respected light, and new spots like 1215 Wine Bar & Coffee Lab and The Lackman boosted midday and happy hour foot traffic.
---
Creative Class: William Thomas, Derrick Braziel, and Allen Woods, MORTAR
---
The more traditional arts organizations managed to hitch their wagons to 3CDC's star, too. ArtWorks started its mural program in 2007, employing both teens and professional artists. In 2010, the Fine Arts Fund re-branded into ArtsWave and developed a new model for grantmaking. The Aronoff Center, Contemporary Arts Center, Ensemble Theatre, and the Art Academy all saw their blocks receive major facelifts and renewed attention. And as more and more citizens began to take notice and engage, the old inferiority issues began to fade.
"People perceived that downtown was not safe because there's graffiti, garbage, it's not well lit, there's no people," says Tamara Harkavy, CEO and artistic director of ArtWorks. "So if you remove the blight and add light and business and enterprise, then you have a community."
---
It's not as if Cincinnati's creative cupboard was completely bare pre-3CDC. The stories were just rarely as glamorous. "We bought a house early down here [on Florida Avenue], when no one gave a shit, 23 years ago," says Darren Blase, standing in Shake It Records in Northside. "Paid $39,000 for it. When we made our first payment down here at Northside Bank, my wife and I, we were all proud. And these two old ladies behind us were talking about two idiots who bought a place on Florida for $39,000."
It's a chuckle-worthy memory now. Blase and his brother Jim originally opened Shake It in 1999, just a few yards north of the current location on Hamilton Avenue (where they moved in 2001). They knew they wanted to open a record store, but never rushed it, eventually deciding on Northside because they lived in the neighborhood and landed a good deal. "Our landlord was willing to rent to us month-by-month for like $300," says Blase. "That made it doable, and that's been the thing here for a long time—it's been kind of easy to take a gamble. We had no business loans, just sold our record collections." They took a chance. At times it seemed like a stupid one. Eventually, it worked.
That was standard operating procedure in places like Northside and Clifton Gaslight before the Chamber and 3CDC activated their Wonder Twin powers. Though if there was any place that could even qualify as the city's cultural epicenter back then, it was, ironically, Main Street in OTR, just a few blocks east of Vine. In the 1990s and early 2000s, that street was the shiniest object in an urban dullscape, a mixture of starving artists living cheaply and pioneering independent business—Kaldi's, Neon's, Susana Terrell Gallery, Flowers & Beyond, Shadeau Breads. It had a palpable one-day-at-a-time vibe, particularly after the riots, but if you fancied yourself cultured or even a dilettante, you came out for the Final Friday gallery hops.
"It was a very cutting edge crowd," says Spurrier, who originally opened a shop just off the path on Jackson Street. "They'd dress up, look amazing, and show up on Final Friday. We had this really great support in this very small core."
For most of the traditional artists or small business owners in town, things were always catch-as-catch-can. Napoleon Maddox had a wake-up show on 88.3 FM where he'd spin Coltrane, Nas, Nina Simone, and Wu-Tang. In the evenings, he'd beatbox or perform spoken-word poetry at Kaldi's, or Ripley's in University Heights, or The Greenwich in Walnut Hills. He got involved at Elementz, and formed the jazz/hip-hop fusion band IsWhat, opening for bigger bands when they came to town and occasionally joining them for a few shows on the road.
---
Creative Class: Michelle and Leo D'Cruz, Reverb Art + Design

---
"I had no concept of doing this to make a living. I was doing it because it was my expression," says Maddox. "When times are hard, art doesn't stop. It gets more concentrated. A lot of art helped us make it through the more difficult times."
That attitude became ubiquitous after the recession hit in 2008. Just as the earliest seeds of downtown and OTR's revitalization were starting to sprout at Sixth and Walnut and farther up Vine, there was also a flock of artists and innovators whose hopes and dreams of jettisoning Cincinnati for big-city pastures were suddenly turned upside down.
"I actually have this theory," says Nick Dewald. He and his wife Lindsay are sitting across the table at 1215 Wine Bar & Coffee Lab. After bouncing around the country for a few years, the couple moved back to Cincinnati from Brooklyn in 2011 and founded The City Flea soon after. "The economy tanked. No one could afford those big cities. So they were stuck here and found themselves doing interesting things. And I think this city benefited from that—it ended up with a bunch of creative minds."
His theory is a popular refrain among the city's more enterprising millennials: They had nowhere to go. Cost of living was cheap. Any risk was mostly upside.
Steven Doehler picked up on this. He came to DAAP as an industrial design professor in 2006; by 2009, he noticed a shift in his students. With fewer jobs available at design firms in larger metro areas, many were energized by the idea of starting their own company, so Doehler started a design entrepreneurialism course. He would bring in professionals from the community as guest speakers, and students could opt to present a business plan as their capstone graduation project. By 2012, six companies developed out of the course, including The Launch Werks (which birthed Frameri and First Batch), Such & Such, and Smartfish; the majority snatched up dirt-cheap brick-and-mortar locations on Main Street. "I looked at it as a mini-DAAP," says Doehler. "That corridor between 12th and Liberty was littered with students doing their own thing."
It was definitely a slower, more organic approach than what was happening a few streets west, the Lilith Fair to 3CDC's Spice World. There were artists and musicians, graphic designers and retail. Kindred spirits staked similar claims in places like Northside and Clifton and Oakley and Northern Kentucky, and infiltrated the restaurant and bar scene thanks to people like Molly Wellmann (of Japp's Since 1879), Elias Leisring (of Eli's BBQ), and Scott LaFollette (of Blank Slate Brewing).
"Nobody could get a job, and no one wanted to give up on their childhood passions, so there was a handful of us who decided to do something," says Rosie Kovacs, another recession-era DAAPer who started Brush Factory, a wood furniture and home goods studio, with Hayes Shanesy in 2009. They now have a woodshop in Camp Washington and a 2,300-square-foot showroom on Main Street. "The only option was to make my own opportunity."
---
Eric Avner pauses and looks away, mumbling under his breath. "I don't know if I wanna say this or not."
We're on the second floor of the People's Liberty offices, the philanthropic offshoot of the Haile Foundation, across from Findlay Market. Avner, People's Liberty's CEO, is in his standard sport-coat-and-colorful-bow-tie uniform. I had asked when he felt Cincinnati's creative and cultural renaissance finally turned the corner from up-and-coming to arrived.
"I think it was the debate of the streetcar," he continues. "It sounds odd, but I think it became a referendum in a lot of creative people's minds. If it got stopped and reversed course, it would have been this belief that this is the same old Cincinnati. It was a measure of whether or not this community valued the voices of all these people making things."
This is not a surprising take from Avner, despite his initial hesitancy; the Haile Foundation was one of the biggest champions of the streetcar. But Avner isn't merely congratulating himself. A few of his creatively-inclined peers also mentioned the completion of the streetcar in 2016, after years of bickering and political grandstanding in City Hall, as a breakthrough. Others nodded to the re-opening of Washington Park in 2012, or Lumenocity the year after, or Todd Haynes filming Carol here in 2015. For some, the transformation simply dawned on them one day while walking around OTR or Walnut Hills or Covington.
Regardless of the exact Road-to-Damascus moment, the ruling is now virtually unanimous: Cincinnati's creative revolution has gone from hopeful ambition to full-blown reality. So was it the Chamber/3CDC performance enhancer that made things happen, or a homegrown awakening forged in the charred ash of the Great Recession?
"I knew the creative class was here, I just worried for them in that it felt like the needle was moving, but slowly," says Jordan Vogel, the Chamber's vice president of talent initiatives, who previously worked for Cintrifuse after moving from New York City eight years ago. "It took the leaders saying, OK, we let some bad shit go down, how do we fix it? Would the city have made it as a destination for entrepreneurship? Sure, in maybe 10 or 20 years. [But investment] has accelerated it. It's moving the needle."
It's a sound argument. Even if 3CDC won't take credit for directly funding the city's creative and cultural community, it still injected more than $1 billion (and counting) worth of redevelopment into the urban core. Chamber CEO Jill Meyer and her husband Awadagin Pratt, a concert pianist and artist-in-residence at UC's College-Conservatory of Music, chaired the 2016 ArtsWave campaign that raised $12.45 million. And the impact is constantly expanding. Strides made in neighborhoods like Westwood, Madisonville, and Walnut Hills aren't happening in a vacuum; growth downtown and in OTR afforded recession-sparked endeavors the necessary ecosystem to sprout new, viable businesses in other parts of town.
"We haven't really done anything on Main Street, and I think it continues to improve and see new development, and that's a pretty obvious impact," says 3CDC's Gelter. "And then you take neighborhoods, whether it's Pleasant Ridge or Mt. Auburn or Covington and Newport—3CDC doesn't want to take credit for all of those things by any stretch, but hopefully there's a synergy between that effort and some of the initial things we did."
---
This is not to suggest Everything worked. Some 3CDC-backed shops and restaurants have come and gone. Companies and creatives still move away. For every Chamber task force or campaign that is still around (REDI, HYPE), there was a mixer or conference that fizzled. Those intrinsic socioeconomic qualities that have made Cincinnati a refuge for artists and innovators still hold true as well: the cost of living, the growing but less-than-saturated market, the ability to get anywhere in the city in 20 minutes or less. If you're a musician, there are enough venues in town where you can get your reps, but the scene isn't so big that it will swallow you whole. If you want to settle down and start a family, there are still plenty of first-ring neighborhoods with affordable homes. If you have a skill or trade and want to rent a shared studio space at The Lodge in Dayton, Kentucky, or sell your wares at The City Flea, or open a pop-up shop, the barrier for entry isn't terribly high. Plus, it's increasingly easier to be "location independent" in today's high-speed internet, FaceTime-augmented, Slack-is-the-new-water-cooler digital landscape.
Which makes the answer to how and why the city's creative culture bounced back a symbiotic combination of civic investment and organic growth. One could easily make the case that investment deserves the flying pig's share of the credit, but a Cincinnati without Final Fridays on Main Street or Shake It Records in Northside or enterprising millennials making their own bail-out doesn't look quite the same. When pressed on what distinguishes Cincinnati's particular brand of creativity from Anywhere, America, the most common answer was how well the city collaborates. "It's a networking town," says Steve McGowan of Brave Berlin, which he started with Reynolds shortly after that first Lumenocity. "There are a few egos here, but for the most part, people want to help each other and collaborate in a way that is unique. We've always said that if you love the city, the city will love you back."
The origins of this collaborative spirit are largely vague and banal—Cincinnati's "small-town-in-a-big-city" mythology is often cited—but the examples of collaboration are telling. Take P&G: It's the region's second-largest company, one of the chief advocates for 3CDC, and has made a concerted effort to work with a number of local branding, marketing, and design firms, both big and small. To suggest that the city's branding industry would collapse in on itself if not for P&G is only a slight exaggeration. "I think we're highly aware [of our role in the local economy]," says Phil Duncan, P&G's global design officer. "Just start with our size alone. It provides both a responsibility and certain element of need to find ourselves in a leadership role."
And it goes in all directions. P&G's support of branding, marketing, and design shops has been one of the biggest assets for the tech community; each company that comes through The Brandery gets matched one-to-one with a local firm. "People kept telling us that we were in the market research capital of the world," says Natasia Malaihollo of Wyzerr. "That actually helped us when talking to potential clients."
It's become a self-fulfilling prophecy: Whenever another recession-hatched idea flourishes, or a DAAPer decides to hang around, or a tech founder falls in love with the city's architecture, or Todd Haynes shoots a movie here, or Jose Salazar opens another restaurant, it reaffirms just how far the city's creative culture has come. That draws added support from the community at-large, attracts more people to the urban core, encourages more budding entrepreneurs to take chances, fosters a deeper level of civic engagement with the city—and makes it that much easier for the creative economy to keep bubbling along.
---
---
Cincinnati has historically been typecast as a rather provincial city. "Sometimes I feel like you can't say you're from here unless you were conceived and born on the Elder football field," says Tony Alexander of The Brandery.
For a long time, this worked against attracting outside talent. But as opportunities and investment have reformed the city's creative farm system that stigma has diminished and a more socially progressive population has taken root. You can see it in the fervor for things like the streetcar opening, Black Lives Matter protests, and the local Women's March in January.
Leo and Michelle D'Cruz moved to Cincinnati in 2009 to escape the cutthroat lifestyle of Washington, D.C. They wanted to start a family and focus on their marriage, and Cincinnati offered a more conducive environment. Michelle's career as a graphic designer and Leo's as a political strategist both translated to their new city just fine, though for two children of immigrants accustomed to East Coast society, it was a significant culture shock. "But at the same time I really loved the city," says Leo, sitting next to his wife in Lydia's on Ludlow coffee shop. "I could see a lot of changes."
After a short spell in California, where Leo finished up his Ph.D., the couple settled back in Northside and began hashing out how to blend their social interests with their professional passions. "How can we take art and design and make it mesh with the issues of race, class, gender, and sexuality we both value?" says Leo. "We have to have the hard conversations. They exist. There should be a place for that to happen."
In 2015, they started Reverb Art + Design on Court Street downtown, a joint design firm and contemporary art gallery. They only work with clients they support and believe in—Price Hill Will, Cincinnati Nature Center, the Cincinnati Compass initiative—and focus on exhibiting female artists and artists of color with a progressive voice. "Creativity thrives from conflict," says Michelle. "There's a lot of conflict in our community—people are struggling with it. Art is this phenomenal thing where you can talk about issues that you can't say face-to-face."
One of those issues is diversity. Cincinnati still remains a painfully segregated city. This is the flipside to 3CDC's high-dollar investment, and one that has garnered the organization a healthy dose of criticism and resistance: In gentrifying large portions of a dilapidated and impoverished urban neighborhood, poor and minority residents were displaced and replaced by the top-end real estate, retail, and culinary crowd. And while 3CDC has worked on a number of projects aimed at benefitting OTR's homeless and low-income occupants, it too often seems coordinated in a way that does not rectify the problem. "Over time, we have paid less attention to how we're viewed than we should—we're most concerned with what the end result of [our] projects are," says Gelter. "And the reason I say that is because maybe if we'd paid more attention, it would have helped the end result of the project a little more, or helped the process go smoother."
It's the type of issue inherent in redevelopment that favors rapid, economic-focused results over the more organic development, such as in Northside, where change is slower and less substantial, but perhaps more comprehensive.
"A huge chunk of my customers are 65-year-old black ladies from down the street buying Teddy Pendergrass CDs," says Darren Blase. "I don't want to see people get left behind when things begin to 'get better.' Is that better for everybody? I think this kind of community sees those needs and will push for it."
There have been strides in OTR. William Thomas, Derrick Braziel, and Allen Woods opened MORTAR on Vine Street in January 2015 (with some help from 3CDC). It's an entrepreneurial incubator and education nonprofit targeting minority-owned and underprivileged business ideas. "Derrick lived on my couch for two months," says Thomas. "We'd go out almost every night in OTR, and we started realizing that none of the folks running the businesses we frequent look like us. We wanted to do something about that."
In addition to offering 9- and 12-week courses, they also operate a turnkey pop-up space next door that can be rented for a weekend, week, or month at a time. "At the end of the day, I want someone from Avondale to have the same opportunity as someone in OTR and Hyde Park," says Thomas.
Success breeds new challenges. MORTAR's mission overlaps with a handful of caucuses—activists, artists, philanthropists, capitalists—that the city's creative economy is increasingly forced to balance. As each voice gets louder, the task is to determine who gets heard, and how often. Can all of these constituencies co-exist? Is that uniquely collaborative spirit sustainable? Or will the city remain segregated in new and familiar ways?
Cincinnati's burgeoning creative community is approaching its cultural climax, fed by millennial energy and boosted by mature investors. But it still needs to figure out its third act.
---
"In hindsight, the flight of the creative class, it was the loss of energy," says Matt Knotts, who co-owns HighStreet with Spurrier. "Does everyone have to be in a creative job? No, but you need people who are able to put energy into the community and are invested. I saw a lot of standing on the sidelines, waiting for someone else to do it. I think that is what has changed the most."
A multitude of minds and hands have contributed to Cincinnati's creative rebirth, but each one was cultivated by a lack of complacency in one way or another. The Chamber going all in. The big companies joining forces. The resilient trove of existing artists. The pants-kicked millennials. Now that the city has achieved a relative level of success and stability, that initiative can't fade away.
"No one is taking chances," says B. Emmit Jones, a designer and partner at Cosette, a small design and branding firm based downtown. "Everyone is swimming up the same stream and doing the same thing. No one is leading. Be progressive, be relevant. I think that's something our city's creative community lacks at times."
Jones is speaking from an artistic point of view, but the sentiment extends to all facets. If Cincinnati wants to be ranked among the country's most talented and ambitious cities—and if you ask anyone in the creative community, they'll tell you that's the goal—it can't be satisfied with suburban families coming in for The City Flea, or a fawning profile in National Geographic Traveler, or a Guy Fieri visit for Diners, Drive-ins, and Dives. There has to be a continued eagerness to take risks, by all parties involved, including local government. There has to be an equitable dispersal of opportunities by 3CDC and ArtsWave and those holding the money. The city has to continue to punch above its weight class.
That's the goal with BLINK. This October, Brave Berlin, the Haile Foundation, AGAR marketing agency, and ArtWorks are teaming up for a four-day event that will transform 20 city blocks, from The Banks to Findlay Market, with installations involving projection mapping, light displays, and interactive art. A 360-degree walk-through exhibit at the Freedom Center, a colossal inflatable structure in Washington Park, 20 new murals in OTR—it'll be Lumenocity on steroids. If the experience pays off in the way they hope, it has the potential to put Cincinnati on the list of pioneering artistic cities around the globe.
"When we were planning BLINK, we went to six or seven other cities—Berlin, London, Sydney—and our biggest takeaway every time we left was that we have the bench strength from a creative standpoint," says Brave Berlin's Dan Reynolds. "We're counting on that, and we're investing in it."
It's slated to be a free event involving hundreds of local, national, and international artists, and 100 area schools and community art organizations. They're anticipating a half-million people—a diverse mix of young and old, urban and suburban, creative and creative-supporting folks alike—to come down and walk the city, ride the streetcar, interact with the exhibits, and invest their time and money in Cincinnati.
For a group of companies, organizations, and individuals who have bet big on the city and its creative stock before, this is without question the biggest. They are not throwing away their shot. Though this time around, they seem properly optimistic.
Originally published in the April 2017 issue
Facebook Comments