This is a story about weaving, which you've decided to read either because:
You're a weaver, or you grew up with one, or your best friend weaves,
or
2. You don't know a thing about weaving besides that old joke about everyone's favorite slacker college class, underwater basket weaving, and you're a little curious.
You might have a stereotype in mind of old ladies making doilies, or you might hear weaving and confuse it with knitting or crochet. It's all sort of the same, isn't it?
Melissa Lusk is going to set you straight. She's the president of the Weavers Guild of Greater Cincinnati, which has been around since 1948.
But before we get into that, let's make sure you're imagining the correct fiber art when you think of weaving. If you're wearing jeans, look closely at the denim. See how the threads create a hatched pattern, in two different directions—both up-and-down and side-to-side or, if you're math-minded, along an x-axis and a y-axis? That's a woven fabric. A rudimentary graphic of woven fabric might look like a huge tic-tac-toe board with much more than 3-by-3 squares.
Looms come in a range of sizes. You can find one on Amazon for $10.38 from a company called Cra-Z-Art, or a loom can be so large that it requires two weavers to operate.
Most weavers guilds meet in church basements, but Cincinnati's has had its own space since 1998. That's a big deal, Lusk says. Cincinnati's guild is one of only two or three in the country to have its own house.
Which is helpful for any number of reasons. Most guilds don't own their own equipment because they lack that home base, Lusk says. Their monthly meetings consist of discussing projects and showing finished pieces. Cincinnati's guild, however, has 15 looms and 12 spinning wheels, which it uses for workshops, study groups, and demos.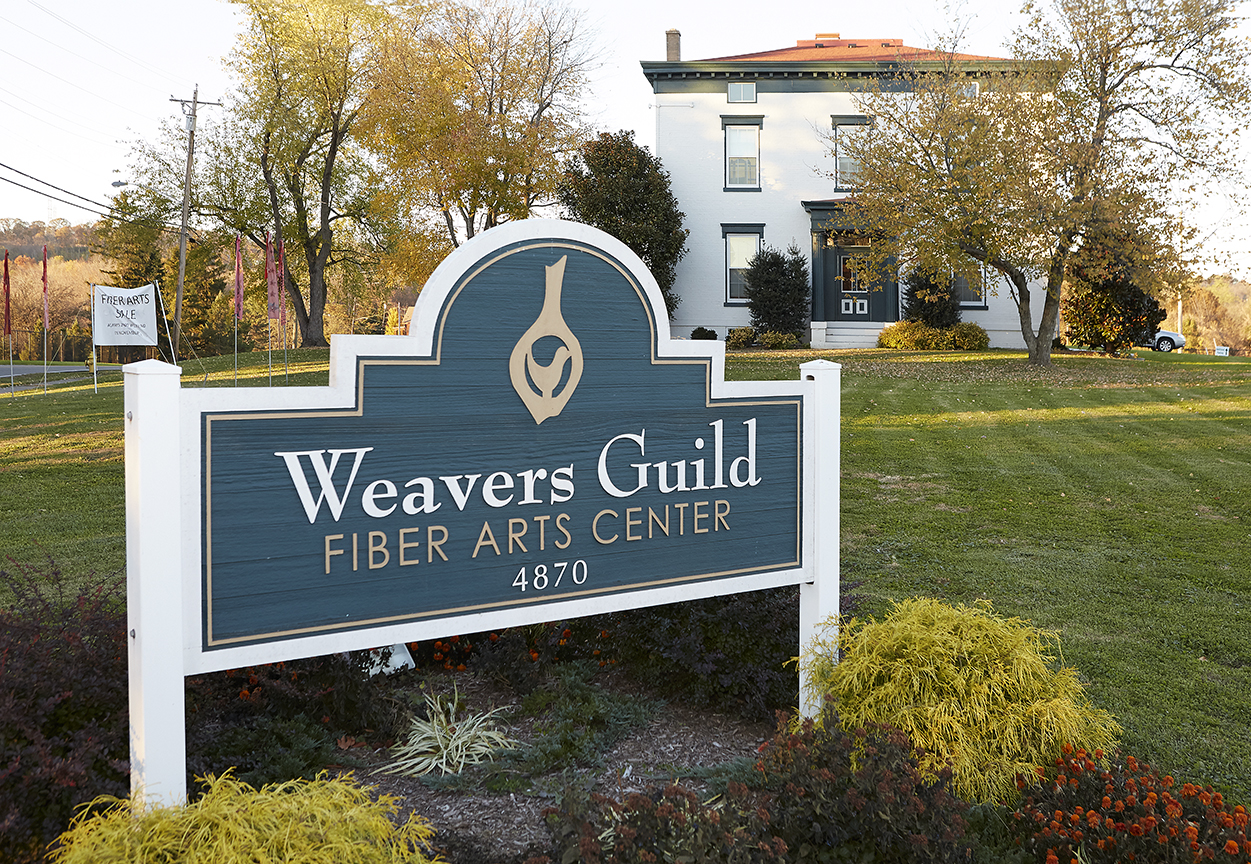 Having a home base also lets the guild focus on more than the act of weaving. The Weavers Guild of Greater Cincinnati, for example, has a dye garden. Before synthetic dyes hit the market in 1850, every color used—whether to dye fabrics or paint canvases—was made of natural dye products.
"There's a reason the flag is red, white, and blue," Lusk says. "That's what we could make. Now, we have a Pantone color (of the year) every year."
In the dye garden, the guild grows plants to make its own natural dyes: Weld, which has been a dye since Roman times, turns fabric yellow. Indigo's dye history has separate Indian, Chinese, Japanese, and African traditions and was used to dye the original blue in the American flag. Madder root dates back to the Middle Ages and was also used to turn the British redcoats' coats red. Marigold and coreopsis make yellow die. Black scabiosa, purple/black. Pokeberry, berry red.
The Cincinnati guild also has an on-site library, and Lusk knows precisely how many books comprise it.
"Some guilds carry their library around in a cardboard box to each meeting," Lusk writes in an email. "Because we own our building, we have an extensive library with 15,066 books. Some of them are quite rare. The library is my favorite guild resource."
Everything Lusk knows about weaving—from the history of dye and wool production to how to use looms you can lift with one hand to those that tower behind her in a Zoom call from home, a collection she calls her "herd of looms"—she learned in the last five years.
When I ask how she got into weaving, she pauses. "Do I want to be honest?" she wonders aloud. She has a little conversation with herself in her mind—I can see it. She wants to share something personal, and she's debating, yay or nay?
She goes with yay.
"So I was a traditional," she says. "I filled traditional female roles for a long time."
She was a full-time mom, a homeschooling mom who helped her husband with translation work. His father wrote a beginning violin method that is Europe's best-selling violin method, and she helped translate that method to English from the original German. Lusk, with her husband and son Christoph, co-wrote eight additional volumes of concert pieces for the violin, cello, and viola.
Then her children went off to college. She looked around, and she asked Now what?
She found a loom at Goodwill and purchased it on a whim before telling herself she'd never have time to weave, she won't be able to figure the thing out, and it'll just gather dust. So she stopped at the weavers guild to donate the piece. While meeting with a volunteer working in the garden, Lusk told him everything about the loom—because even though she hadn't used it, she found the machine fascinating.
"I'd love to have your loom," he said to her, "but I think you're a weaver. Would you like to come inside and see the guild house?"
He showed Lusk saw beautiful fashions made by members, as well as the weaving room, the spinning room, and a range of dyes.
The volunteer repeated, "I think you're a weaver," she said, "and I went out in my car and cried, and I said, 'I think I'm a weaver.'"
Now, Lusk is the one making beautiful art. She currently has pieces up at the Indian Hill Gallery and the Dairy Barn Arts Center in Athens. Recently, she has had work displayed in California and Connecticut. She had a show in Paris. She is partnered with McCrystle Wood, a former University of Cincinnati design professor. Wood designs, and Lusk weaves. According to their website, "Each piece explores new visual possibilities for traditional weaving and dyeing practices. The fuel of our collaboration is energy, optimism, and a genuine love for the work."
Casey Dressell is a local artist and the curator and exhibition coordinator at the Indian Hill gallery. She curated The River and the Thread, the Indian Hill exhibition that includes Lusk's and Wood's work. She was unsure what sort of reception the exhibition would receive, in large part because of the pandemic, but people showed up.
"Every show is kind of a risk," Dressell says, "but a show like this is something I've been wanting to do because of my interest in it personally."
Dressell has taken classes at the guild to learn the rigid heddle, a smaller, tabletop loom, and has a floor loom in her studio—but she hasn't used it yet.
"It's so challenging setting that up," she says. "In my own practice, I'm very fast. I use my whole body. With a loom, it's nice because it slows me down, but it's also hard for me to wrap my brain around setting it up."
Because setup takes a long time. Longer than you're thinking. Even longer than that.
Lusk recently finished a shawl, which she holds up to her computer camera. It's 72-by-25 inches and has a modern, black and white pattern with interlocking blocks striping the gauzy fabric. It took her five hours to measure the 364 strings she needed, assuring they're the same length and in the right pattern. It took three hours to wind the thread on a large beam at the back of the loom and another five to thread everything through the proper parts and pieces.
"And then I started weaving," she says, "and the weaving part is fun, so I stopped keeping track of time."
Facebook Comments