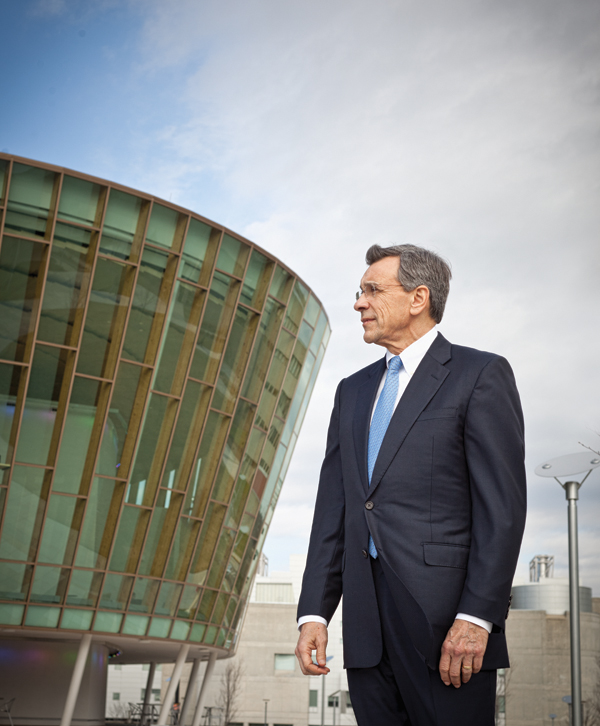 It's hard to find anybody in the education world who doesn't gush about James Votruba, the Northern Kentucky University president who will retire this summer after 15 years on the job. That's no surprise, given the school's steady rise during his tenure. Just look at the numbers.
Enrollment? Less than 12,000 when Votruba arrived in 1997, nearly 16,000 last fall. Endowment? About $12.3 million then, $68 million now. Academic offerings? Nineteen more bachelor's degrees, 42 more master's degrees (compared to seven when he started), and two doctoral programs compared to none. Campus expansion? Votruba has presided over the construction of the 10,000-seat Bank of Kentucky Center, a science building, a student union (funded by students who voted to increase their own tuition), and the Griffin Hall informatics center, full of state-of-the art technology—like Internet-connected walls that project multimedia presentations. And the icing on the cake? Votruba's successor will be the first NKU president to oversee Division 1 athletics when the school joins the Atlantic Sun Conference on July 1.
"This has been the most satisfying 15 years of my career," the 67-year-old Votruba says. He has a politician's gift for putting people at ease with an avuncular smile, and he listens with a rapt attention that makes whoever he's talking to feel important, warranted or not. "In 1997, the campus needed to embrace a vision for its future and get energized around some ambitions," he adds. "I'd like to think that's what happened."
While nobody claims Votruba did it alone, it's clear he catalyzed the expansion. "He has been the key," says Terry Mann, the board of regents chairman who has watched NKU evolve since its founding in 1968. "All of NKU's presidents have contributed in a positive way, but Jim has been the rocket."
Votruba came to NKU from Michigan State University, where he was a vice provost. At the time, NKU was still part university and part community college. "We were young. We were, in some respects, too focused on what we didn't have and not sufficiently focused on what we did have," he says, referring in part to NKU's chronic underfunding relative to other Kentucky state universities. "I said half-jokingly back in '97, let's declare the campus a no-whine zone. Let's get focused on the opportunities that we're presented rather than the problems we confront."
Embracing that no-whine dictum, he led an effort to make public engagement a core mission—encouraging every discipline to interact with the region and the world, from running diabetes clinics in Covington's public housing projects to helping sex trade victims in India. Now, university leaders from around the country come to NKU to study its success, codified in a book coauthored by Votruba called Becoming an Engaged Campus: A Practical Guide for Institutionalizing Public Engagement.
Votruba went on to burnish the university's reputation by taking on high-profile leadership roles, including chairing the board of the American Association of Colleges and Universities in 2010, serving as president of the Coalition of Urban and Metropolitan Universities from 2004 to 2006, and cochairing the Vision 2015 planning process for Northern Kentucky. Much of what he has accomplished had its seeds in the strategic planning process dubbed "Vision, Values, and Voices" that kicked off his presidency. The endeavor was so successful that Harvard University completed a case study about it, though its beginning wasn't nearly as auspicious.
"I probably spent 50 percent of my time in a van with other members of this strategic planning committee eating chicken off of Styrofoam, going to every corner of the region that we serve," Votruba says. Meeting with residents in groups of 30 or 40, the committee spent an hour listening to people's dreams and aspirations for their families and the community, then an hour mapping out the university's role in fostering those goals. "That institutionalized the voice of the public," Votruba says. "And that is so important for a university like NKU."
While it's hard for some professionals to leave while they're still at the top of their game, Votruba is mindful of outstaying his welcome. "I think that the longer one stays beyond 12 or 15 years, the more risk you take that your presidency gets tired," he says. "There is great strength in continuity, but I also think there's great opportunity for re-energizing with new leadership."
All of which makes sense for NKU, but where does that leave him? Votruba will take a year off before returning to the school to teach educational leadership to doctoral candidates, in keeping with his plan to end his career in the classroom. "My hope is that I can shift from institutional leadership to intellectual leadership on behalf of some things that I care deeply about—working with [university] presidents to strengthen their relationships with P–12 educators and working with new presidents to build strong relationships with their boards," he says.
With so many new programs, Votruba says NKU needs to bolster its faculty with more tenured and tenure-track professors. But his successor will be challenged to find the dollars to fund those new jobs. And all of it will be done under a microscope. "One of the sea changes in higher education is the increasing level of public accountability, and that is going to cause us to be scrutinized much more than we used to be," he says.
Votruba remains a champion of higher education despite headwinds from some prominent entrepreneurs who point to dropouts like Steve Jobs, Bill Gates, and Mark Zuckerberg as evidence that college degrees are no longer worth the money.
"The unemployment rate for college-educated people today is half of what it is for high school graduates," he notes. "If I were a young person betting on whether a college degree is going to be good for me, I wouldn't take the chance. I'd get the degree."
When he returns, he'll be working to prove his point under a new boss, one who Terry Mann hopes will possess a similar blend of visionary thinking and executive skills. But Mann cautions: "In terms of Jim Votruba, you talk about a successor, but not a replacement."
Raising the Bar
NKU received 3,000 applications and accepted 2,000 students four years ago. In 2011, there were 7,000 applications for 2,200 slots.
Chicken Scratch
NKU's success comes despite having the lowest funding per student among Kentucky's comprehensive universities. The school's annual state funding is $19 million below average.
Home Cooking
Numerous higher-profile schools have approached Votruba with job openings, but he has declined them all. "You can see incremental growth [at long-established universities], but not these enormous leaps forward at a place like this," he says. "That's what's been so much fun and so satisfying over the last 15 years."
American Dreamers
"Forty percent of our students are first-generation college students," Votruba says. "We'll have 10,000 people in the Bank of Kentucky Center in May, and nearly half of them will be celebrating family prog-ress, not just individual progress. That's America's story."
Facebook Comments