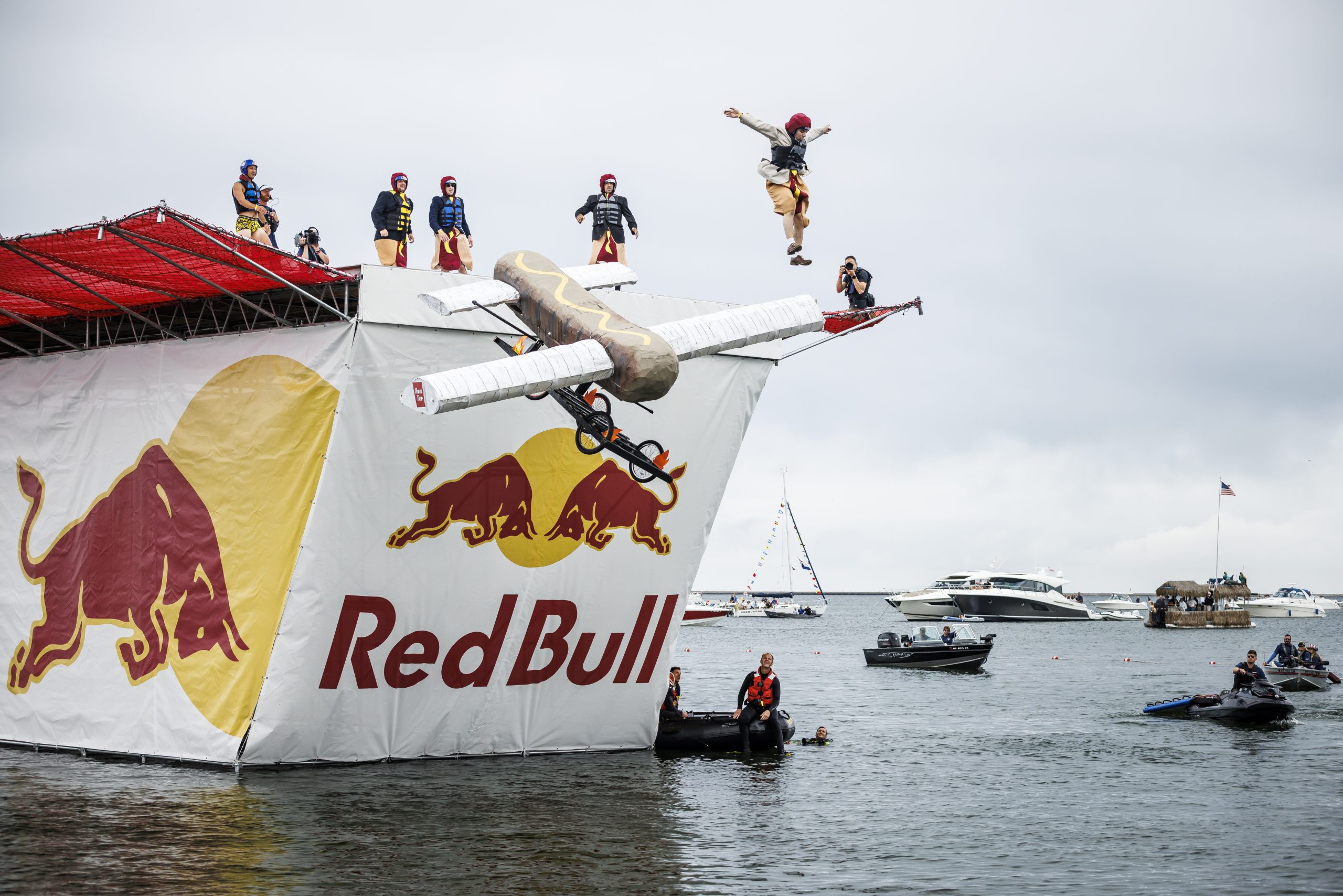 Flugtag means "flying day" in German, words that perfectly describe this peculiar event hosted by Red Bull. Created in 1991 by the company's founder, Dietrich Mateschitz, it's not a surprising feat for the Austrian energy drink brand. Known for more than just its caffeinated beverages, Red Bull is a major player in the sporting world, both owning and sponsoring teams in sports like Formula 1, soccer, BMX, and other extreme sports. Flugtag is one of many competitions that Red Bull hosts throughout the year, and this time—it's coming to Cincinnati.
Since the first Flugtag in 1991 in Vienna, there have been more than 100 Flugtags worldwide. The contest came to the United States in 2002, hosted in San Francisco. This year's Flugtag will be held at Sawyer Point Park & Yeatman's Cove on August 12, welcoming around 40 teams to compete.
In the competition, teams of five made up of a pilot and ground crew must design and construct an apparatus to be launched off of a 22-foot ramp into the Ohio River. The goal is to have the longest flight, powered solely by human power and physics. Every year, teams create unique designs for their aircraft and corresponding costumes. The teams are judged on flight distance, creativity, and showmanship. This year, judges include former Cincinnati Bengal Chad Johnson and Nick Goepper, a three-time Olympic medalist, along with other local celebrities.
The teams competing come from a variety of backgrounds. There are teams from companies like T-Mobile, Condado, and Rhinegeist, as well as nonprofits like PFLAG and May We Help, but a majority of contestants seem to be groups of friends seeing if they have what it takes to bring home the grand prize.
One contestant, Stefan Li, better known as TheSushiDragon to his nearly 300,000 Twitch subscribers, will be competing in the Flugtag as well. Li is the creator and host of Red Bull's gaming game show Red Bull New Game on YouTube and was approached by Red Bull to compete in the Flugtag.
Li will be live-streaming the entire event in the hopes of connecting esports with more mainstream media. "If you look me up on Twitch, you'll see some creative content and it's a lot different, which is why Red Bull has me as their new game show (host) because we want to do something different," he says. "That's how I came to be, I was more of a creative guy and they wanted to get a float for me and throw it off and I'm going to be live streaming and live producing the entire event on my channel."
As for the rest of the team, it's made up of Li's partner Meishelly, who will be co-hosting the live stream, and some of Li's hometown friends from Hawaii. Li looks forward to the event, and is excited to take flight. "Asking a gamer 'you want to go jump off a cliff with this cart?' I was like, yeah that sounds fun," he says. "It's just good entertainment because the fans will love it, the community will love it, and it's something different, we want to see something different out of our creators rather than the same thing over and over again."
The event is free to attend and will open to the public at noon. It can also be watched from boats on the river that arrive before noon, before that section of the river is closed for the flights. The first flight will take off at 1:10 p.m. after the opening ceremony, with the day being concluded with the awards ceremony at 4:15 p.m.
Facebook Comments