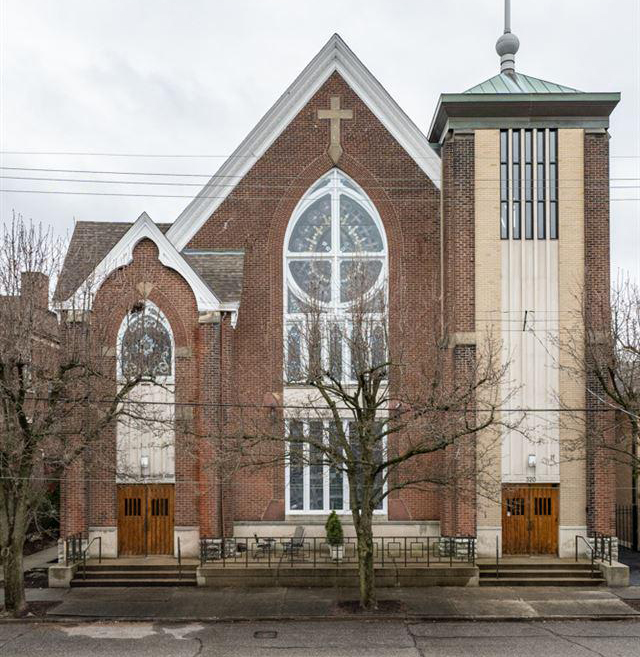 Bellevue is one of the hottest neighborhoods in Northern Kentucky, offering a walkable main drag (Fairfield Avenue) lined with plenty of shops and restaurants, proximity to downtown Cincinnati, and plenty of history. Including this church. St. Anthony of Padua was the second Catholic parish to form in Bellevue, established in 1887. The Poplar Street building opened in 1894 (and was significantly renovated in 1962), but the parish merged with Sacred Heart Church to become Divine Mercy Parish in 2009.
The building includes five condos, and from the street and you'd never know the church had been converted for residential use. The two-bedroom, two-bath home that lies behind the oversized double doors takes the best parts of the original architecture and adds a dose of cool. The foyer features a large graffiti-inspired mural and a set of terrazzo steps leading to a second set of double doors that would have led to the sanctuary. Once you enter, nearly the entire space is visible from the front door: kitchen to your left and living room-slash-dining room straight ahead with a lofted bedroom and office in sight.
You see the juxtaposition of modern and traditional right away. The original woodwork has been preserved, and a trio of two-story stained glass windows are just across from the kitchen, which features stainless-steel appliances, dark wood cabinets, granite countertops, and neutral walls. Around the corner, the living space is open with plenty of room for a sitting area and entertainment center. The first floor master is at the very back of the space, with its own stained glass window, a walk-in closet, and a separate bath with a double vanity.
The lofted second floor overlooking the living area gives you plenty of flexibility. As the current owner has it set up, the loft is a second bedroom with another mural above the bed, plus an office space. Another stained glass window and the wood ceiling are the star details here. The slatted ceiling also features skylights that offer natural light from above and pendant light fixtures that are reminiscent of Catholic church lighting. You also get an assigned garage and a patio out front. History, walkability, and a up-and-coming neighborhood. What more could you need?
Click through our gallery to view more photos of this home:
Facebook Comments