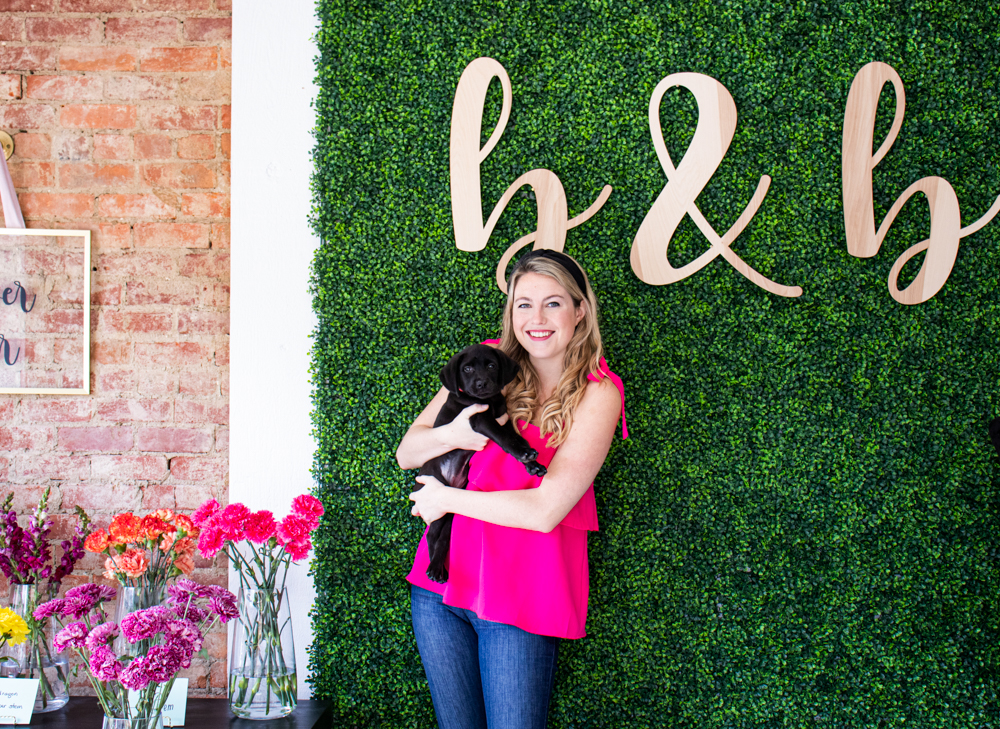 Walk into blush & bubbly on Madison Road in Oakley, and you wouldn't be able to tell that it was once a bank, a bar, a florist, and most recently, the former Shoppe Smitten space. Opened by 23-year-old Kate Stefani in September, the new boutique is stocked with chic women's clothing, jewelry by local artisans, and a flower bar featuring fresh stems from Cincinnati Wholesale Florist and Village General Farms.
Owning a storefront wasn't always a part of Stefani's grand plan, though. After earning a finance degree from Miami University in Oxford in May 2018, she worked as a project manager at an accounting software firm, a role that required her to travel frequently. During her travels, she'd spend her free time painting canvas art for sororities, which she'd then sell via her Etsy page also named blush & bubbly. "I would [pack] my canvases and paint in my suitcase and [paint] in the hotel room," she says. As her Etsy page grew in popularity, it became harder for Stefani to sustain it on top of her full-time job. So in February, she shut down her Etsy page, and six months later, she quit her job to focus on launching her boutique, which she opened just three weeks later.
Ironically, the Cincinnati native hails from a long line of retail tycoons. Her great-grandfather was Samuel Pogue of the famed Cincinnati department store, the H. & S. Pogue Company, which opened its doors in 1863. For 125 years, H. & S. Pogue supplied downtown Cincinnati and its surrounding suburbs with home goods, jewelry, men's and women's clothing, and more. Although Stefani's trendy inventory is more suited for twenty-something sorority girls than her great-grandfather's, she says her end goal is to provide "accessible and affordable boutique clothing" and to promote local artists. One way she's already fulfilling her goal to support local artists is by selling earrings made by local special education teacher Molly Doyle, who uses the proceeds to buy computers for her students.
When Stefani transitioned from an online platform to a physical storefront, she decided to literally incorporate "blush & bubbly" into her store. The shop's aesthetic features pink accents, and there's bar cart with bubbly on display for private events. Eventually, she hopes to be able to host events for local sorority and alumni groups, flower bouquet-making classes, and maybe even open a second location in Oxford.
blush & bubbly, 3184 Madison Rd., Oakley, (513) 535-1851, blushbubbly.com
Facebook Comments