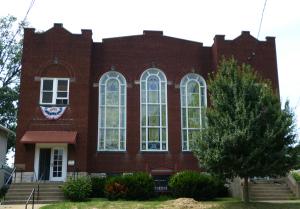 Your body's already a temple; now your home can be, too, if you buy this Oakley property for just $325,000. Formerly the Oakley Christian Community Church, it's now definitively a single-family home thanks to the decade-long efforts of creative owners Gregg and Nora Martini.
"I'd always wanted an industrial property," says Nora, a set designer for film and still photography, who stumbled on the building when she took a wrong turn; two days later the couple made an offer.
Before leaving, the congregants "took some stuff off the walls" but left all of the pews, says Gregg, a drummer for Gee, Your Band Smells Terrific, a copywriter, and partner in PUSH, a "brandvertising" agency. "There was even a huge painting of Jesus" left over the altar, he notes. "We kept that for a while."
The building required a complete overhaul in order to be habitable for the Martinis, who also have two young sons. The couple removed the pews to create what they affectionately refer to as "the big room" on the first floor. They kept the working pipe organ and all of the arched yellow floor-to-ceiling windows, but walled off the choir loft to create a master suite upstairs, and drained the baptismal font in favor of a fenced-in "pen" that has served as everything from a giant sandbox to an open drum studio.
The home's true living space is in the building's basement; there, the couple converted a former cafeteria into a more intimate family room, an ultra-chic kitchen with original stainless steel countertops and an equally original 10-burner cast-iron stove, and a playroom with built-in slide. No domestic touches went unfilled; there's a full bath down there, a laundry room, and a mudroom off the side entrance.
Creature comforts abound in the second floor master suite, too; that bath (formerly a storage room "with crumbling walls, no plumbing, and one electrical outlet," say the Martinis) has marble flooring, a claw-foot tub and a 30-square-foot walk-in-shower. It all shines beneath the colorful glow of three original floor-to-ceiling stained glass windows, which the couple insulated with clear glass storm windows outside.
Outside, the former gravel parking lot is now a lush and shady backyard, complete with a wooden playset. Its most striking feature, though, is undoubtedly the carved red-and-green pagoda-like overhang mounted over the back door; the Martinis bought it from nearby AJ's Chinese Food when the restaurant closed.
Facebook Comments