The oddly specific award, presented at Cincinnati's first major dog show, was buried in a long list of prizes bestowed upon the finest canines in the Queen City:
"The finest and handsomest dog of any kind, and owned and entered by a lady, a gold-mounted collar; awarded Miss Jeanne Bassett; spaniel John Wilson."
Therein lies a tale (or tail).
It was 1877. New York attracted a great deal of national attention with the inaugural Westminster Kennel Club Dog Show. Boston announced it would soon stage a similar event. In Cincinnati, George M. Arnold, an actor, and Robert Miles, proprietor of the Grand Opera House on Vine Street, decided that New York had nothing on our fair city and announced a major dog show to take place on Mt. Adams in late June.
Arnold and Miles procured a large vacant lot next-door to the Highland House at the top of the Mt. Adams Incline. Many years before, the property held a fireworks factory and in the future the Rookwood Pottery would locate there. On this plot, Miles erected an immense circus tent, 150 feet in diameter, sheltering 250 kennels.
Dogs were packed in everywhere. They came in all sizes, from a "Siberian Bloodhound" (a type of mastiff) weighing 192 pounds, to Toodles, a "black and tan," who tipped the scales at just over 24 ounces. Cincinnatians kept different breeds back then. Newfoundlands were popular, as were spaniels, poodles, Irish setters and pointers. Other breeds seem exotic today, such as coach dogs, fox dogs (believed to be fox-dog hybrids—an impossibility), Greenham dogs and Russian shepherds.
The show got off to a wet start. Although Thursday, June 21, started out fine, a storm "of no ordinary importance" blew through and soaked the pavilion, scattering the crowd and soaking the grounds. After retying the tent ropes and hauling in a couple of truckloads of straw, the show went on, attracting so many customers at a quarter apiece that an extra day was tacked on to accommodate demand.
Other cities took envious notice. The Indianapolis Journal opined that Cincinnati staged the canine exposition to direct attention away from accusations by the Temperance newspapers that local brewers were selling adulterated suds. The St. Louis Times observed that Cincinnati was on a roll, with the dog show opening simultaneously with the display of a live beluga whale at Mt. Auburn's Lookout House, a revived professional baseball team and the ribbon cutting for the new Cincinnati-Southern Railroad.
At the conclusion of the show, the newspapers printed lengthy lists of prize winners and a couple of controversies. Dognappers stole some of the prize dogs from their be-ribboned kennels and a few pooches escaped. A lawsuit or two alleged that judges had illegally awarded prizes to undeserving mutts and the owners of a few honored dogs claimed they never received their prizes. Still, the show was declared a roaring success, a feather in Cincinnati's cap, until, that is, the Cincinnati Gazette [26 June 1877] spilled the beans:
"At the dog show held last week, the prize for the 'handsomest and finest dog of any kind, owned and entered by a lady,' a gold-mounted collar, was awarded to the keeper of a house of ill-fame. The dog was named after a circus-rider who, a few days ago, shot a man with the intention of killing him."
All of this was true. The lady in question was Jeanne Bassett, who maintained a brothel at 130 Longworth St., the very heart of Cincinnati's red-light district. Miss Bassett was no stranger to the newspapers. In fact, her recent feud with a neighboring madam, Kate Riley, had gotten so out-of-control that the police "pulled" both houses and fined the landladies and inmates for disturbing the peace.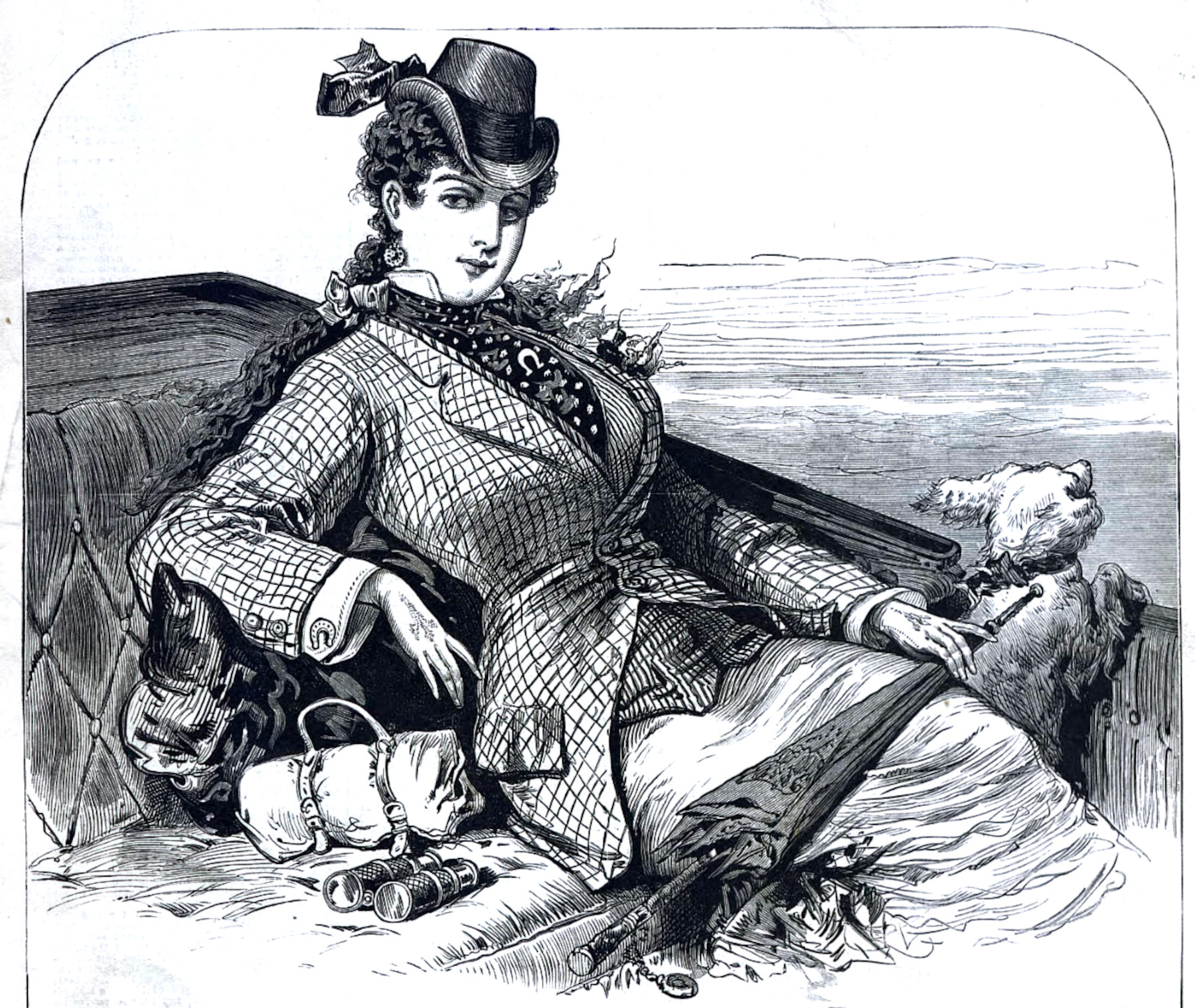 Madam Bassett's award-winning spaniel was named John Wilson and may have been a gift from the gentleman with that name. Mr. Wilson was, as the Gazette intimated, a sometime equestrian for the John Robinson Circus, based in Cincinnati. As his namesake dog was wowing the judges on Mt. Adams, Wilson himself was incarcerated, unable to raise bail after shooting a security guard at Wood's Theater. As is often the case with hot-headed gunplay, alcohol was involved. In the middle of a pub crawl, Wilson and a friend, gambler Bob Cathcart, popped into Wood's Theater at the southeast corner of Sixth and Vine. There, private policeman Charles Thompson told Cathcart to ditch his cigar. Wilson took offense and shot Thompson as they argued. Wilson fled but sent a messenger to Miss Bassett's house. The young courier was intercepted by the police and led officers to Wilson's hideout. Miss Bassett apparently raised money to guarantee Wilson's bond.
All of this was still fresh in the public's mind as the dog show was organized. It would be beyond belief that Bob Miles, the theater impresario, and George Arnold, the actor, were unfamiliar with Jeanne Bassett and her Longworth Street house. They surely would have heard about the shooting at Wood's Theater. How they allowed Miss Bassett to register her spaniel, much less take top honors, is a bit of a mystery.
The scandal of Miss Bassett's success, however, cast a pall over the entire enterprise and it was some years before anyone dared to stage another dog show in Cincinnati.
Facebook Comments