It's a well-known fact that Cincinnati is a fantastic place to raise a family. Our humble little city is home to nationally acclaimed attractions, a vibrant arts scene, and an abundance of incredible museums. And then there's our parks. The Queen City might well be called The Green City, as we have one of the best city parks systems in the country, not to mention numerous county parks and an acclaimed nature center. Add it all up, and you have one big, beautiful playground for Cincinnati families; a world of wonder and possibilities all within reach.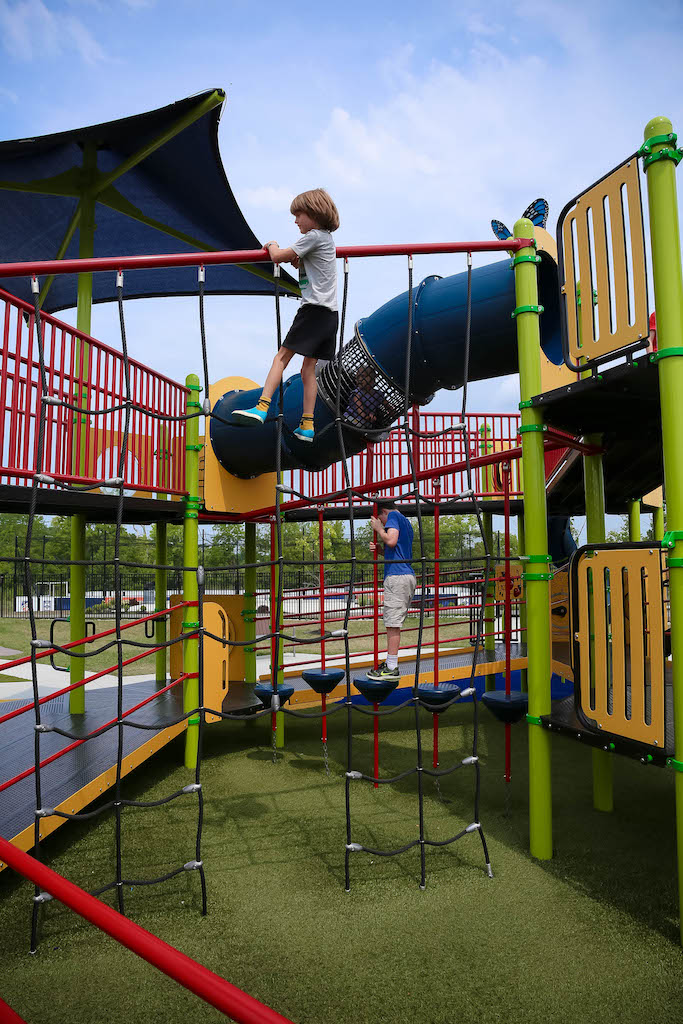 Common Ground Playground
Common Ground Playground at Makino Park in Mason is one of the coolest new spots in Greater Cincinnati. Opened in mid-2021, this newcomer is one of the most accessible playgrounds in the area, with numerous features designed to make it a place for all. Sensory-friendly play structures, interactive elements, and a variety of areas designed for kids from toddlers to elementary age make this a home run for families. And trust us: kids of all ages and stages will be into this playground! Brightly colored butterflies decorate the jungle gyms, and the toddler play area is full of houses and supplies for imaginative play. Kids can fly on zip lines, whirl on roundabouts, and partake in an epic see-saw experience. Best of all, there's an abundance of green space and open areas, which is perfect for kids who just need to get out their energy. Common Ground Playground definitely deserves a spot on your regular playground rotation.
Common Ground Playground at Makino Park, 6100 Kopfler Ct., Mason
Cincinnati Nature Center
The Cincinnati Nature Center (CNC) is a place full of adventures for families, from hiking in Rowe Woods to splashing around in the Nature PlayScape. Within the 1,016 acres of Rowe Woods, you'll find 14 miles of trails traversing a variety of ecosystems. (Including an old growth forest!) The Nature PlayScape, meanwhile, is a puddle-wonderful world of gentle creeks, kid-sized trails, flower gardens, bridges, rocks, and logs. With as plugged in as kids are today, it's more important than ever to introduce kids to the natural world. And the CNC offers families their very own "choose your own adventure" in nature, providing an immersive, inimitable, screen-free experience sure to stoke your kids' sense of awe and wonder at the wide, wonderful world.
Cincinnati Nature Center, 4949 Tealtown Rd., Milford
Cincinnati Art Museum's Rosenthal Education Center
Art museums are magic. Is there anything better than wandering through a gallery, revisiting favorite pieces, and dropping in on new exhibits? (No. No there isn't.) However, while art museums and gallery spaces make for great adult adventures, as a young one, being on your best behavior in a public space filled with priceless works of art can be stressful. Thankfully the Cincinnati Art Museum has always been a welcoming space for families to explore art and creativity. A couple of years ago, the museum introduced its Rosenthal Education Center (REC). Located on the first floor of the museum, the REC is a family-focused studio space where kids of all ages can explore art through hands-on experiences. The REC offers a focused theme that rotates a couple times each year; these themes are a great way to introduce kids to the arts in a tangible, tactile, and totally fun way. The best part? Admission to the REC is free. Talk about a win-win.
Cincinnati Art Museum, 953 Eden Park Dr., Eden Park
Happy Hangout Westside
Every parent knows that the key to keeping kids happy is to keep them busy. But after 18+ months of being the metaphorical ring leaders of our very own three-ring circuses at home, it's time for a change of pace—and scenery. Happy Hangout is exactly as it sounds: a space for kids and parents to come and hang out. This Insta-worthy space opened on Cincinnati's west side in 2021, and it's proven to be a total lifesaver for local families. For kids, it's all brand new: an epic indoor play place complete with a toddler play area, a larger-than-life indoor playground, and lots of areas for imaginative play. For parents, Happy Hangout is a place to kick back and relax (or perhaps get some work done), while their kids run amok—and make a joyful mess—in a giant, kid-proofed play area. And unlike many indoor playgrounds in the area, Happy Hangout lets guests bring their own food and drinks into the lounge area, so parents can finally relax and enjoy a piping hot, not microwaved, cup of coffee.
Happy Hangout Westside, 2041 Anderson Ferry Rd., Covedale
Cincinnati Museum Center
The Cincinnati Museum Center (CMC) is a perennial favorite; it's a space that opens the past and present, underground realms and outer space, local communities and far-off countries, to local kids. And for families, The Children's Museum is the crown jewel of the CMC. Our children's museum is consistently ranked among the top 10 in the country, both for its immersive and accessible exhibits—and, more importantly, because it's just plain fun. Kids can have a treetop adventure in The Woods, be a part of a complex machine in The Energy Zone, or go shopping (at Kroger, no less) in the pint-sized Kids' Town. Always changing and evolving, the Children's Museum has long served as a place for endless exploration and inspiration, delivering the world and all its wonder to Cincinnati families.
The Children's Museum at the Cincinnati Museum Center, 1301 Western Ave., West End
Trammel Fossil Park
Did you know that you can dig for dinosaur bones in Cincinnati? We're guessing you didn't. But at Sharonville's Trammel Fossil Park, that's precisely what you'll get to do. This unique gem is located in a heavily industrial area of the tri-state; and from the road, this 10-acre park doesn't look like anything special. But as we all know, appearances can be deceptive, and beneath its rocky and rugged terrain, you'll discover treasures from the past in the form of fossils up to 450 million years old! For kids, there's nothing better than a day spent digging, and at this hidden gem in Sharonville, kids can go on a real-life prehistoric adventure. What's more, admission to this one-of-a-kind park is free, and it's open year-round, making it a fun and affordable day trip any time of the year.
Trammel Fossil Park, 11935 Tramway Dr., Sharonville
Newport Aquarium
Located just across the river, The Newport Aquarium is an entire world unto itself; you'll explore realms and biomes under the sea that seem unreal and downright otherworldly. There is so much to explore at Newport Aquarium. At Stingray Hideaway, kids can interact with two different species of stingrays, then explore a series of underwater tunnels where the stingrays soar above and all around. Other kid favorites include Penguin Palooza and the noteworthy Surrounded By Sharks adventure, but really, all 70+ exhibits here are stellar. Newport Aquarium's motto is "Discover the Wonder," and as you're wandering through tunnels with sharks swimming overhead, coming face-to-face with a three-hearted Giant Pacific Octopus, and walking over a bayou filled with albino American alligators, you can't help but be awestruck. These exhibits all illustrate what the Aquarium does best: allowing for up-close, hands-on exploration and experiences.
Newport Aquarium, 1 Levee Way, Newport
Facebook Comments