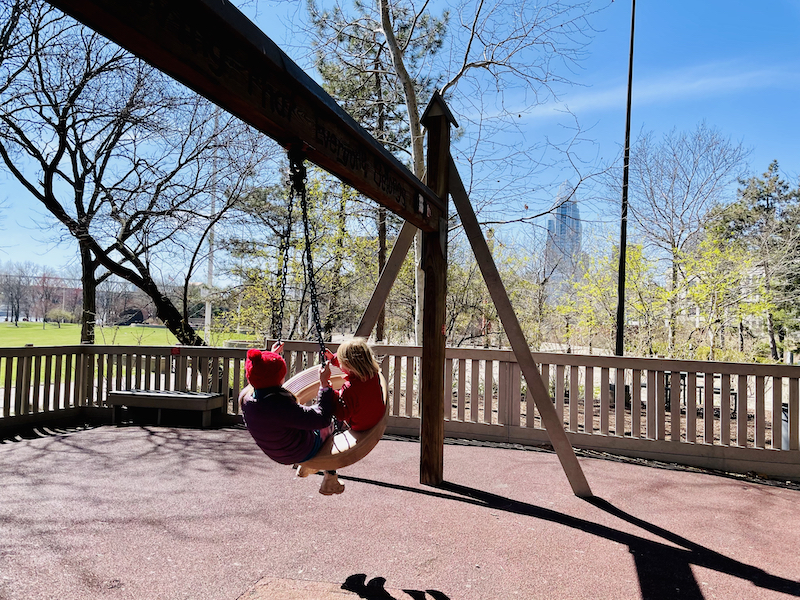 If you grew up in Cincinnati, you likely have memories of taking an end-of-year field trip down to Sawyer Point. The OG of epic city parks, Sawyer Point and its expansive Great Lawn and various attractions have long been a staple of every Cincy kid's childhood.
Today, of course, this area down by the mighty Ohio has expanded to include The Banks, Smale Park, Carol Ann's Carousel, Great American Ball Park, swanky bars and restaurants…the list goes on (and on!). With the riverfront expansion, Sawyer Point has taken a back seat. But it remains as fun as ever, and its 1,000 Hands Playground (more on that in a minute) is still a top-notch attraction for Cincy kids.
Visit, as we did, on a shining spring day, and you'll quickly be reminded why it is a true Cincinnati treasure. After parking (we found a convenient spot right on Pete Rose Way), we explored some of what the Sawyer Point area has to offer, including the rolling green space, water features, and riverfront statues (hey there, Cincinnatus!). It was a bustling place filled with other families, runners, dog walkers, and Segway tours, and it took me back to the carefree bliss of childhood in the '80s.
Even today, in this 2023 world of epic Washington Park splash pads and Smale carousels and flying pigs, the 1,000 Hands Playground remains a child's dream come true. There are lots of places to climb, swing, and slide, and even a few opportunities to get dirty in the sand. There are so many fun things to see and do that even kids who tend to stick to the swings will undoubtedly be compelled to run around and explore.
And the cityscape vistas from the playground? Swoon.
Sawyer Point is a classic, old-school Cincinnati destination that even kids who don't remember life without the glitz and glam of Smale should get to experience. Head down to play before a Reds game or check out one of the many events that take place in the area. I hope my own kids have happy memories of our time together at Sawyer Point—just as I do from my own childhood.
Sawyer Point, 705 E. Pete Rose Way, downtown
Facebook Comments