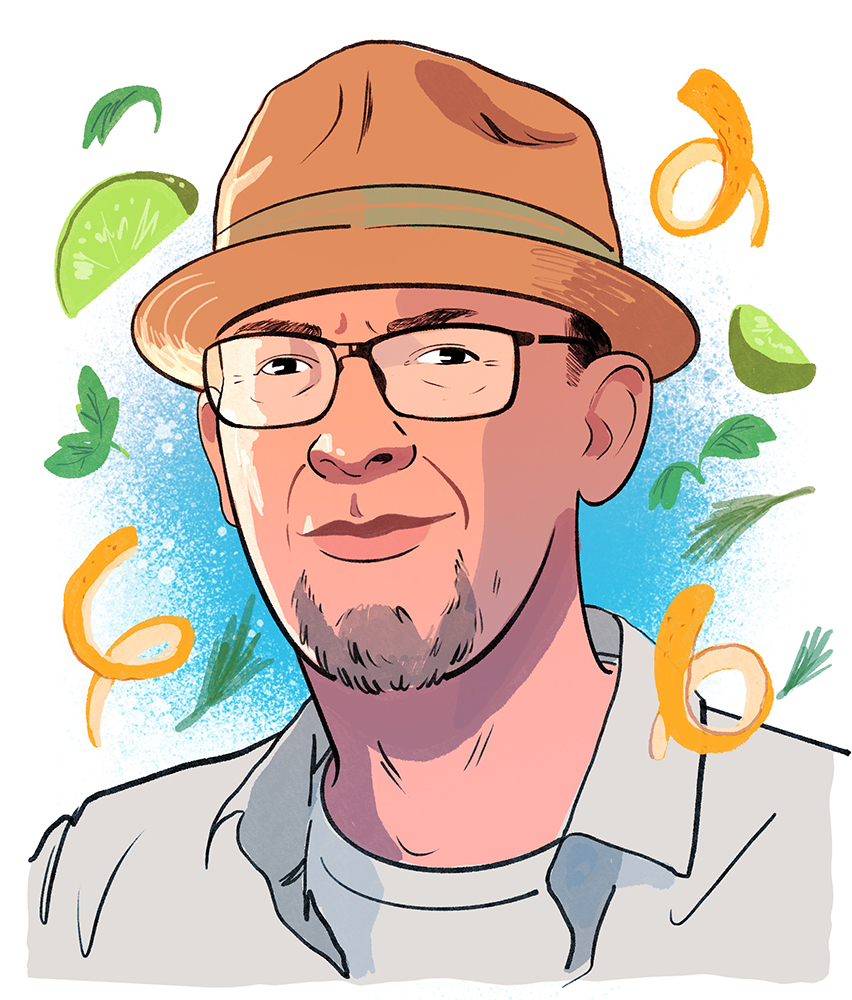 Cincinnati Alchemy Fest, the tri-state's newest cocktail competition, art, and music festival, is back for its third year on May 21, this time at Smoke Justis in Covington. We talked to event founder Jeff Hendrickson about his goals, the drink scene, and why local craft cocktail consumers are the best.
How did you come up with the idea for Alchemy Fest?
I started making cocktail bitters five years before coming to Cincinnati—Tao Bitters is my brand—and had them in a few bars in New York City. I've always been interested in events to build community and have run a few in the past so sitting at Arts on the Ave one day, I pitched the idea to co-owner Byron Thomas Jr. We'd become good friends so it seemed like a natural fit.
Explain the contest structure.
The structure for Cincinnati Alchemy Fest is based on a few core parts: bartenders, distilleries, artists and vendors, the community. We get three distilleries to sponsor a round each, and each round has five bartenders for 15 total competitors. The distillery puts up three of their products and donates whatever the bartenders in their round choose to make their cocktails with.
Everything starts with the batch competition, where attendees get to taste and vote on their favorites. We start with one distillery, then reset by bringing in the next with their bartenders, then the final distillery. The top two vote-getters from each round go to the finals, ensuring that each distillery is represented. The finals are judged by Molly Wellmann, Allie Martin, and Jade Colwell, who won the 2022 competition.
What skills are judges looking for when evaluating a drink for the contest?
When the six finalists make it to the judged round, they're scored on visual presentation, taste, aroma, body. The judges are also asking questions about the cocktail as the bartender explains the ingredients and the idea behind the drink. They look for verbal presentation skills as well, and if they drink has a historical base, they better know it because Molly will be asking!
How did you come up with the name?
Alchemy of old was the transforming of metals into gold. Our modern form of alchemy at the events is the way the bartenders blend different ingredients to create an amazing drink. It's the way the distilleries use ingredients from the earth to craft their products to bring to the world.  It's the way the musicians use notes and the way the artists and crafters use paint and metal and clay to create their products. And it's the way that people bond at the event. It's people seeing someone they haven't in a while or two people who start talking about the drink that a bartender made that knocked their socks off, and the way that two bartenders who didn't know each other plan to do a popup somewhere together. Relationships are formed and new and exciting things are discovered by all.
You're a certified bourbon steward. What does that entail and how does it apply to this event?
Yeah, I got my Stave & Thief pin about six months ago! The certification is an online course. They send you a book to study and then you have to pass a test online. It covers the history of bourbon, the regulations for all types of whiskey, how barrels are made, the Bottled in Bond act, tasting notes, and reviews all the top distilleries in the country.
While we don't limit the competition to bourbon, knowing what I do now certainly plays into it because it's where we start. Meeting with distilleries, learning about their stories and brands, tasting the product, and telling them the story of Alchemy Fest is a huge part of our decision on who to invite. Not only are we looking for great product for our bartenders to work with, we're also looking for legacy and heart.
What do you think Alchemy Fest adds to the local drink scene?
When I first talked to Molly Wellmann about it to see if she would be a judge, she thought it was a great way to strengthen the Cincinnati and Northern Kentucky community. We were just coming out of COVID-19 lockdowns and people needed something to pick them back up again. Our first event in 2021 proved that the idea was sound and that people would come and have a great time. We then sold out for 2022 and realized we needed a bigger venue. It's sad to leave Arts on the Ave where we started, but it's also a strong indicator that we're doing something the community loves and supports.
Bartenders are challenged to come up with winning cocktails and this helps them and their bars with new recognition and increased business. I've been out after a competition and seen people who attended at bars they'd never been to. Talking to many of them during the competition is one of my favorite things too. Getting to know people and building networks is one of my superpowers. Alchemy Fest allows me to do that while helping us all build our brands.
What have you learned about local craft cocktail consumers since you started the event?
The local craft cocktail consumers are awesome people. They enjoy experiencing new drinks in new bars and telling their friends about it. The Cincinnati and Northern Kentucky community is a hugely warm and inviting bunch and coming out to these events to support their favorite bartenders or meet new ones always leaves me with a lump in my throat. The love they show to everyone is contagious and makes me continually proud of what we've been able to build in a short amount of time.
Of course, there's no way to do any of this without my partner bar. They step up in more ways than I can count and work side by side with me to put together the absolute best event possible. Arts on the Ave started that and as a new bar in the West End, we were all amazed at how many people came out to participate. That small start has now put us in the position to work with Smoke Justis, and we're humbled to be there with them this year. I can guarantee that 2023 will be an event to remember.
Facebook Comments