My New Year's resolution for 2023 is simple: to have more fun. We're just a couple of weeks into January, and I might have (ahem) peaked in this department, as a family outing to Perfect North Slopes was a day of high-flying, adrenaline-rushing, laugh-until-your-face-hurts fun.
The last time I was at Perfect North was in 1998, as a carefree teenager donning skis for the first time. I remember falling a lot, but my 14-year-old body could handle it. Two decades and four kids later, I was happy to discover snow tubing at Perfect North Slopes: two hours of as many rides down the park's 25 tubing lanes as we could muster.
Perfect North provides tubes and a slick "Magic Carpet" that's basically like one of those moving sidewalks at the airport, the latter of which let us catch our breath between rides. We all quickly got the hang of stepping on and off with ease; as usual, Pearl surprised us all with her coordination and fearlessness. With so many lanes, we never had to wait more than a couple minutes to get the green light, and the resort is well-staffed with friendly and helpful employees who make sure that safety's first—but fun's a close second.
Two hours later, we were all breathless from toting our tubes to the Magic Carpet and flying down the slopes, with Perfect North's "Super Lanes" allowing us to travel down the hill in one giggling gust of McCoshams. It was a marvelous afternoon that set the tone for what I hope will be an exciting and memorable year ahead.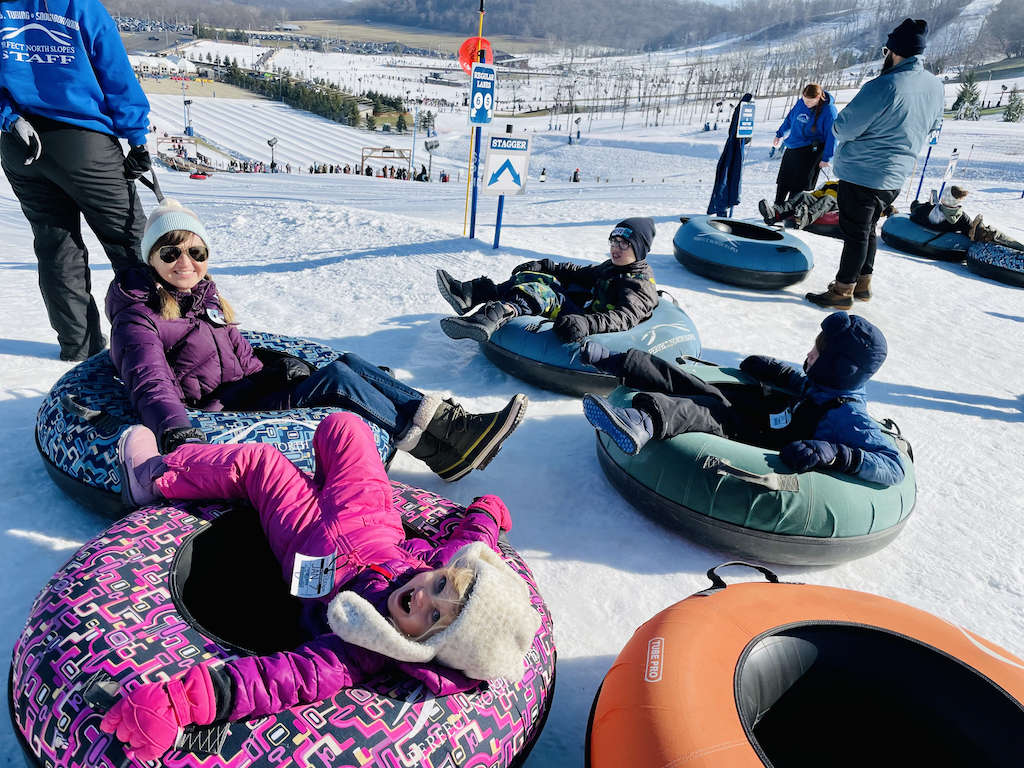 My kids range in age from 4 to 12, and it's rare that we can find a place that's as much fun for the preschooler as my almost-teenager. Happily, Perfect North checked all the boxes—including my own personal New Year's goals of having more fun. I might need to invest in some acetaminophen for this year's endeavors, but it will be worth it.
Perfect North Slopes, 19074 Perfect Lane, Lawrenceburg
Facebook Comments