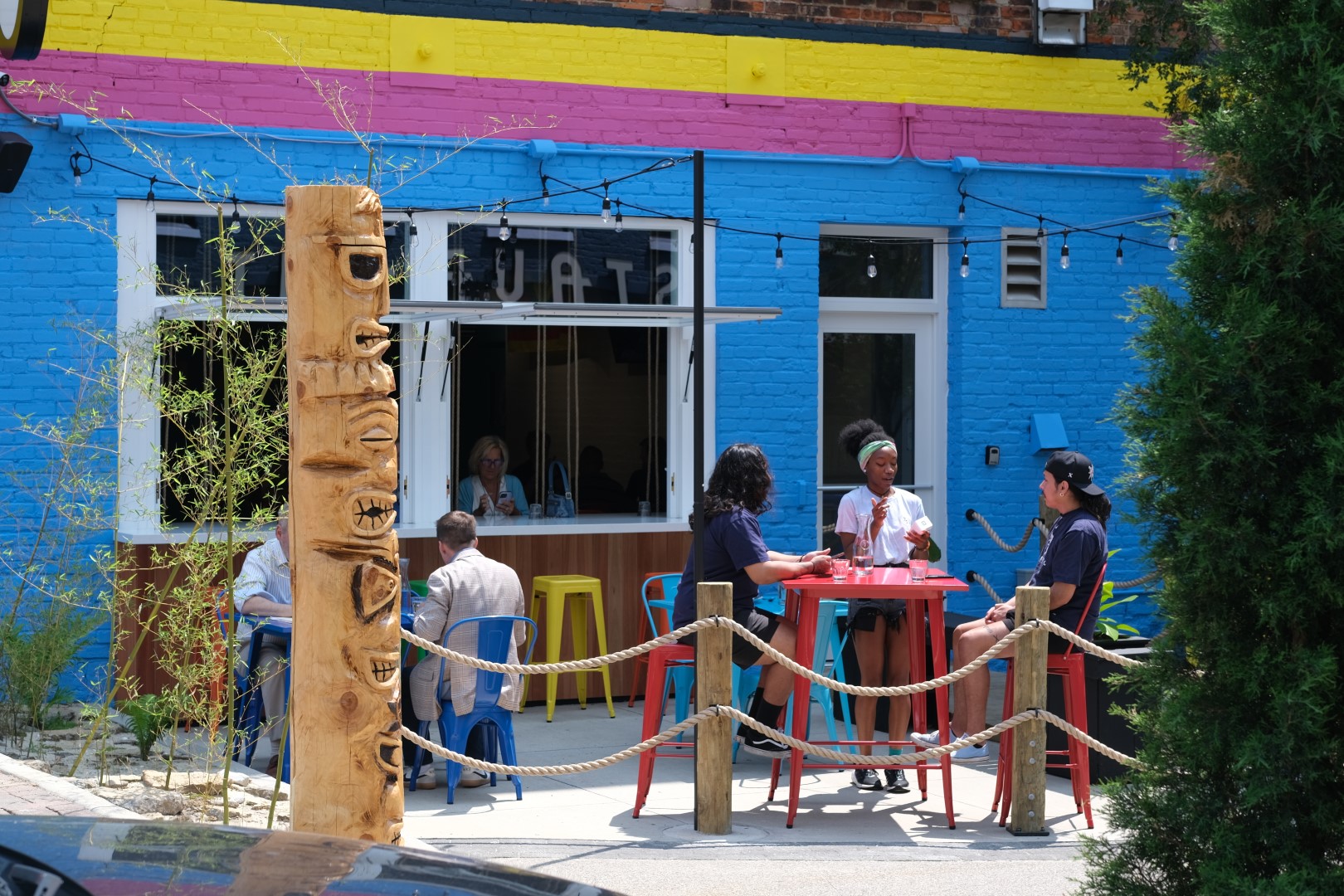 Nearly 4,000 miles from Honolulu, Cincinnati's taste of Hawaiian cuisine is expanding to a fully-fledged, dine-in restaurant experience.
Previously located in an Oakley Kitchen stall, Onolicious Hawaii opened a brick-and-mortar location just off Court Street Plaza on Walnut Street on May 23. Standing out against the brown brick of the plaza, the restaurant's chromatically-striped exterior mirrors the island's ubiquitously bright beachside culture.
Steel tables and chairs painted in vibrant primary and secondary colors dot the floor, the window seating's stools have been replaced with rope swings, and silhouettes of tropical animals and iconography line the walls. There's not a single square inch of the restaurant that's been left untouched.
Sitting down at a vibrantly green table, a QR code indicates the restaurant's online menu and ordering system, which replaces the usual face-to-face ordering. While this system makes placing orders more streamlined and allows for a faster turnaround (if you're grabbing something for your lunch break, you can save the URL and place an order before heading out), you can still place your order at the bar, and the system is not a barrier to the exceedingly friendly service.
What Onolicious calls the "soul food of the Pacific" cultivates a great flavor profile: Warm, comforting, and relaxed—it's definitely an easy spot to stop by for a quick and filling lunch.
Most of the dishes consist of a meat, two scoops of white rice, and a side. The meats have options like pulled pork, marinated chicken, beef, and spam while the sides include mac, potato, and papaya salads along with house-made potato chips. The restaurant's selection is focused heavily on sustainability, says owner Vincente Benedett.
"We buy organic and local whenever possible, recycle, and waste almost no food at all because we use our vegetable scraps to make stocks," Benedett says. "I think the best thing we do is making our own organic mayonnaise, because we make so much mac salad and potato salad with it, and we're cutting down on plastic waste big time."
What we tried seemed fairly simple, but turned out to be packed with flavor. Onolicious has refined classic Hawaiian dishes, creating flavor profiles with everything necessary but nothing extraneous or distracting. From such a maximal restaurant appearance, the minimal presentation worked perfectly: The meats were well-seasoned, the rice was soft, and the chips were crisp and freshly fried—and delicious.
Benedett says opening the location is a great opportunity and that the response from the community has been fantastic just a few days after its grand opening. For Benedett, the restaurant is an extension of his own family history.
"Our family is from Oahu and many of these recipes are generations old," Benedett says. "There are adjustments we have had to make in order to produce gigantic quantities of food, but these adjustments have actually made the recipes better than they already were."
Even though Onolicious just opened the new location, Benedett is already planning the next business moves. He says they have plans to cater weddings and luaus, experiment with multiple new recipes—including coconut French toast and matcha mochi chicken and waffles—and a bottled sauces retail venture in the future. Ultimately, this comes together to emphasize the power of good food.
"The best part about a good Hawaiian restaurant is when you are having a bad day, you will come in and feel the aloha," Benedett says. "We can turn your day around with some great flavors and amazing vibes."
Onolicious Hawaii, 1005 Walnut St., downtown, (513) 386-7404
Facebook Comments