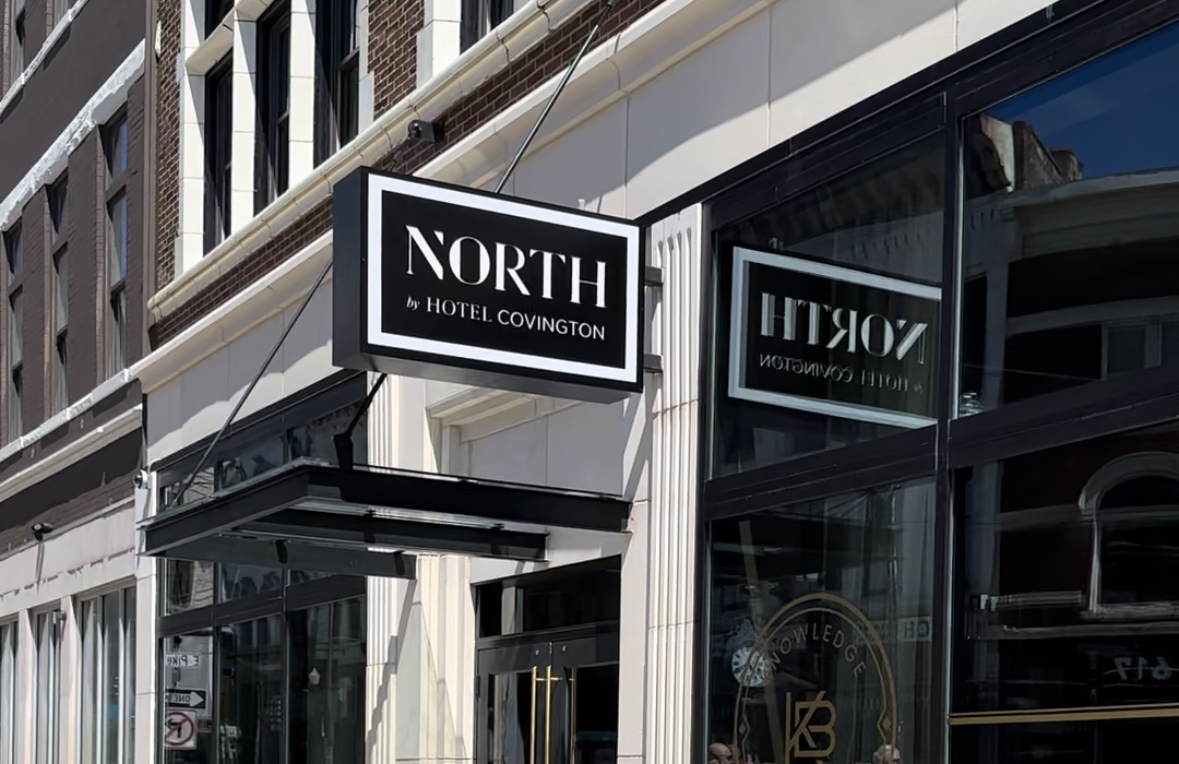 With elegant decor, amenities, and beautiful spaces, a new taste of luxury has arrived in Covington—just look to the North. Covington is celebrating the long-awaited opening weekend of North by Hotel Covington and the Knowledge Bar & Social Room.
The $26.5 million-plus upscale boutique hotel is housed at Pike Street and Madison Avenue, right next to the original Hotel Covington, which opened in 2016. The building was once occupied by the YMCA and Gateway Bookstore, and vR Hospitality pays homage to throughout the luxury hotel—you'll be able to see some of the original murals from the Y's running track on the second floor, pool tiles in event spaces, and original basketball court floorboards.
 

View this post on Instagram

 
Turn right in North's lobby to find the new Knowledge Bar & Social Room, decorated with sleek vintage fixtures and artistic nods to Covington history and Kentucky's horse-racing past. After all, the bar is named for Coppin's Department Store founder John Coppin's winning bet on a racehorse called Knowledge. Guests can pull up a plush velvet barstool or find a cozy booth to sip on expertly-crafted cocktails, an extensive list of wines, and take in the art displays.
The hotel features 53 apartment-style rooms ranging from signature king suites to Presidential 2-bedroom suites, with spa-like bathrooms, a fitness center, and even in-room tablets. North by Hotel Covington's design keeps a variety of stays in mind, whether it be one night, a week, or much longer. And the aforementioned art and unique touches extend into each room, including what's become a Hotel Covington calling card, the Magic 8 Ball—a reference to its inventor's inspiration from a device used by his mother, a Cincinnati clairvoyant.
The new Duveneck meeting space, connected by a pedway to Hotel Covington, pays homage to the famous local painter Frank Duveneck with a digital art display. You'll also note the painting of Duveneck's wife, Elizabeth Blott, hanging in the hotel lobby—she's wearing boxing gloves. The Lightwell space, built atop the old YMCA swimming pool and beneath a twinkling LED display, can host up to 500 guests.
vR Hospitality, The Salyers Group, Covington officials, and the NKY Chamber gathered earlier this week to cut the ribbon on the sleek new hotel that has even more amenities are still to come: Donna Salyers Fabulous-Furs and Fabulous-Bridal showrooms, Revival Vintage Bottle Shop, and office space.
"Covington's been blessed with the vision and creativity of vR Hospitality and the Salyers Group, and their firm belief in Covington's future as a place to invest and do business," says Mayor Joseph Meyer. "The city of Covington is proud to have partnered with them to make it happen."
"When we talk about bringing people here from all around the world we will say to them, 'If you're wondering where you should stay, look to the North, and when you want to come back, the North remembers'," adds Brent Cooper, Northern Kentucky Chamber of Commerce President.
North by Hotel Covington, 638 Madison Ave., Covington, (859) 905-6600 
Facebook Comments