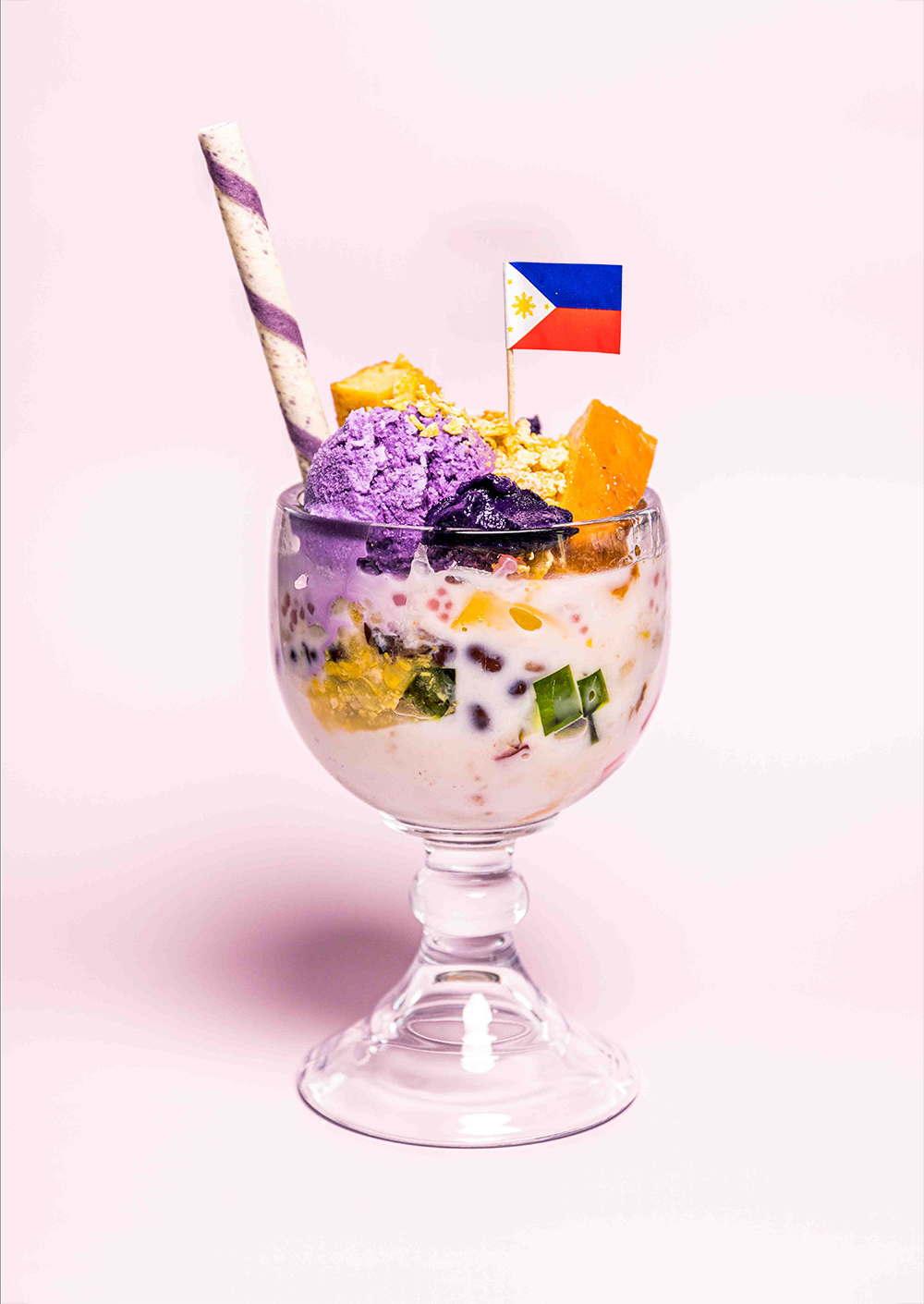 Halo-halo, which means "mixed up" in Tagalog, is the unofficial national dessert of the Philippines. And after giving it a try, we understand why. It's an amalgamation of sweetness with a ridiculous number of ingredients. The next time you're in Western Hills, snag one—in a goblet, no less—at Christine's Casual Dining.
1. Ube Ice Cream
This vanilla-ish flavored purple ice cream (made from ube powder or extract) has become increasingly popular outside of the Philippines in recent years.
2. Wafer Straw
Pretty self explanatory!
3. Cornflakes
A handful of this breakfast cereal tops off this dish with some crunch.
4. Shaved Ice
Layered between ingredients, these ice shavings keep everything cool.
5. Fried Bananas
Imagine the banana from your standard banana split, but ripe and fried.
6. Tapioca Pearls 
Typically found in boba drinks (bubble tea), this squishy topping is packed with sweetness.
7. Black and White Sweet Beans
These beans get their slightly candied taste from being cooked al dente in a sugar-y water mixture.
8. Jackfruit 
This chewy fruit, typically grown throughout Asian, African, and South American countries, adds a pop of the tropics.
9. Shredded Young Coconut
Young coconuts are harvested before they have fully aged, which makes for a more gelatinous textrue.
10. Gelatin
Jell-O has nothing on the red and green cubes, which are buko pandan flavored (coconut and fragrant screwpine leaves).
11. Sweetened Milk
When the ube icea cream, ube halaya, and shaved ice melt, the milk helps turn what's left of the dish into a giant milkshake.
12. Creamed Corn
This may seem out of place, but it works. Besides, who doesn't want vegetables in their dessert?
13. Ube Halaya 
This jam made from purple yam is served frozen and doled out in scoops.
14. Leche Flan 
This Filipino variation of the traditional Mexican dessert takes on a sweet potato pie consistency when added here.
Christine's Casual Dining, 3160 Westbourne Dr., Western Hills, (513) 574-1273
Facebook Comments