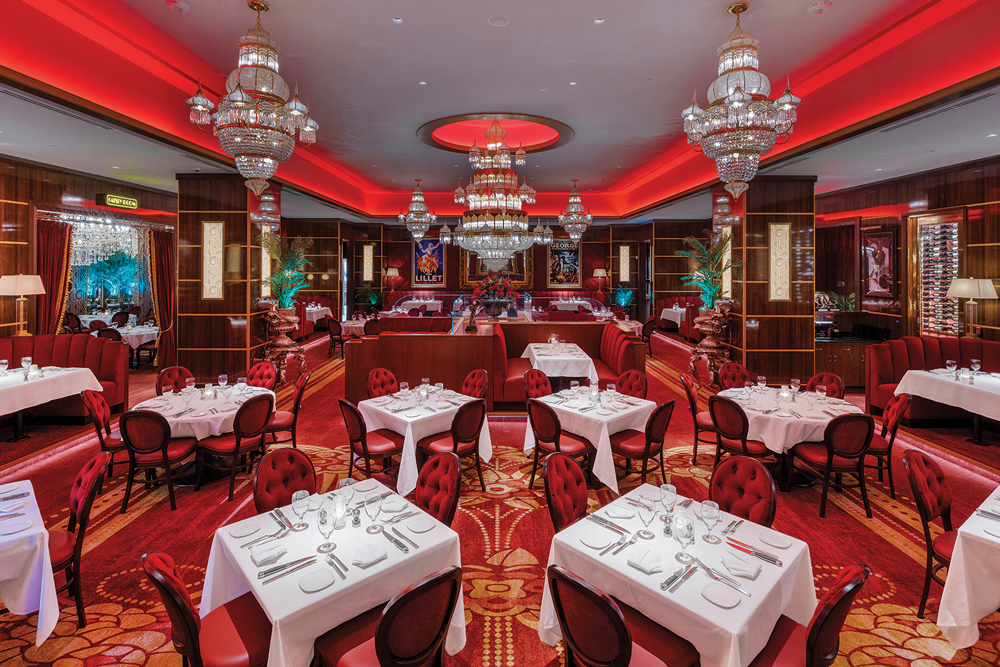 If there's a harder reservation to snag in this town, I've yet to see it. Most of the prime dinner slots at Jeff Ruby's need to be booked out weeks in advance, or at least they did when we dined there in the spring. My dining companions and I had to settle for a 10:30 dinner on a gloomy Friday night. And even at that witching hour, the place was packed. The buzz is no mystery: When Jeff Ruby Culinary Entertainment (now led by Ruby's daughter, Britney Ruby Miller) closed its iconic Walnut Street restaurant to move into the Foundry building on Fountain Square, we all expected the Ruby brand to deliver something grander than it ever has before. And in every sense, it has.
It's hard to figure out what to focus on as you walk in off of Vine Street. There's the prominent raw bar, the massive chandelier, and the sprawling, U-shaped bar with a stage behind it, where a band plays to a packed house. Eventually, out of the corner of your eye, you'll catch the portrait of Ruby himself, smiling, à la Mona Lisa, from behind a wisp of cigar smoke. In any other restaurant, such a portrait would seem ridiculous. Here, in the newly built palace for local restaurant royalty, it's only fitting.
Most impressive of all is the main dining area, decked out in Art Deco style like the dining room of some Jazz Age ocean liner. In keeping with that Roaring Twenties theme, the more private "Gatsby Room"—modeled after Baz Luhrmann's movie—lies just off the main dining room. A hundred years later, I don't know that anyone would describe these Twenties as "roaring," but at Jeff Ruby's, the roar is nearly deafening. Sitting amid it all, in a spacious red booth, I felt transported. Mostly, I felt hungry. I'd never craved a ruby-red steak more in my life.
The menu itself will be familiar to anyone who has eaten at a Jeff Ruby restaurant before. But as our server was quick to point out, there are some additions that are unique to the new downtown location. The expanded Wagyu program features cuts like Japanese Kobe Strip and the Australian Wagyu Ribeye Cap, which weighs in at a whopping 1.2 pounds. While these cuts can be outside of some diners' budgets, I did try the Wagyu Meatball appetizer: a softball-sized meatball served over white cheddar grits and covered in a robust red sauce. It's highly recommended for anyone who wants a little Wagyu tenderness without the triple-digit price tag.
Call me old-fashioned, but I think every steakhouse should have a good Caesar at the ready, and Jeff Ruby's delivers. What really set it off was the crisp of parmesan, which added a delightful textural contrast. I recommend adding the optional anchovies; unlike the lesser varieties that give the fine fish a bad name, these aren't overly salty, which lets the fish's natural oiliness shine through.
Speaking of fish, the new downtown location also features an expanded sushi program under the direction of Sushi Chef Jinho Jung. Sushi has become a fixture on steakhouse menus in recent years, but here, as with so many of the other dishes, the quality stands out. My otoro (fatty, marbled blue fin tuna belly) had the tenderness one seeks from a Jeff Ruby's steak.
Of course, Jeff Ruby's bread and butter has always been that butter-soft steak, and it's still the highlight of Executive Chef Dylan Jones's menu. I opted for the Petit Filet Mignon, an 8-ounce center cut cooked perfectly rare and liberally peppered. The steak was so tender I could nearly cut it with the edge of my fork; my steak knife slid right through it.
My slightly less carnivorous friend ordered the salmon which, while slightly dry, also had a good peppery finish. The accompanying fingerling potatoes, dusted with sea salt, were tasty, though the best potato dish of the night was undoubtedly my side of tater tots. Thick cubes of golden-brown tots (so large that the name almost seems ironic) are served with shaved parmesan, chives, and truffle aioli—for that decadent zing that I never knew tater tots needed. Seriously, it's hard to go back to mere ketchup now. These salty, savory tots are only available at this location, though I would love to see them spread across the Jeff Ruby empire.
To wash all this down, the wines (referred to as "Occasions") are not only broken down by region, but by river bank. You can order Bordeaux from the left or right bank of the Gironde Estuary. My "occasion" of choice was a mellow Oberon cabernet from good old Napa Valley: a fine companion to my petit filet.
Despite the late hour and massive meal, one can't eat at Jeff Ruby's without at least looking at a dessert menu. Pastry Chef Halle Weber's menu, like the space itself, has been glitzified to the hilt. You may have seen some of the more famous concoctions on Instagram: the citrus cake the shape and size of a Louis Vuitton handbag (Ruby Vuitton) or the chocolate cake resembling a certain legendary sneaker (Air Ruby). Alas, my friends and I had nowhere near the appetite to take on an entire Shaq-sized shoe and would have felt bad just nibbling at the laces.
Instead, we opted for the much more humble butter pie à la mode. Rich, warm, and covered in powdered sugar, it was the perfect comedown from our carnivorous high. It was also a comforting reminder that for all the excess, Jeff Ruby's still gets the basics right. No wonder it's so hard to get a table.
Jeff Ruby's, 505 Vine St., downtown, (513) 784-1200
Facebook Comments