Summer entertaining wouldn't be complete without good wine and a bountiful charcuterie board! Dinner parties and BBQs are lovely, and I am always grateful for all the hard work and effort that goes into hosting them. But the truth is, a night of drinks and snacks is really my favorite kind of party and one I opt for when I invite friends and family over.
A charcuterie board is a fun way to feed your friends and they can be quite filling. Having different foods and flavors is a great way to cater to the tastes and diets of everyone you invite! I am proud to have partnered with Biltmore Wine to share tips on how to build the perfect summer charcuterie board and offer a recipe to try at home.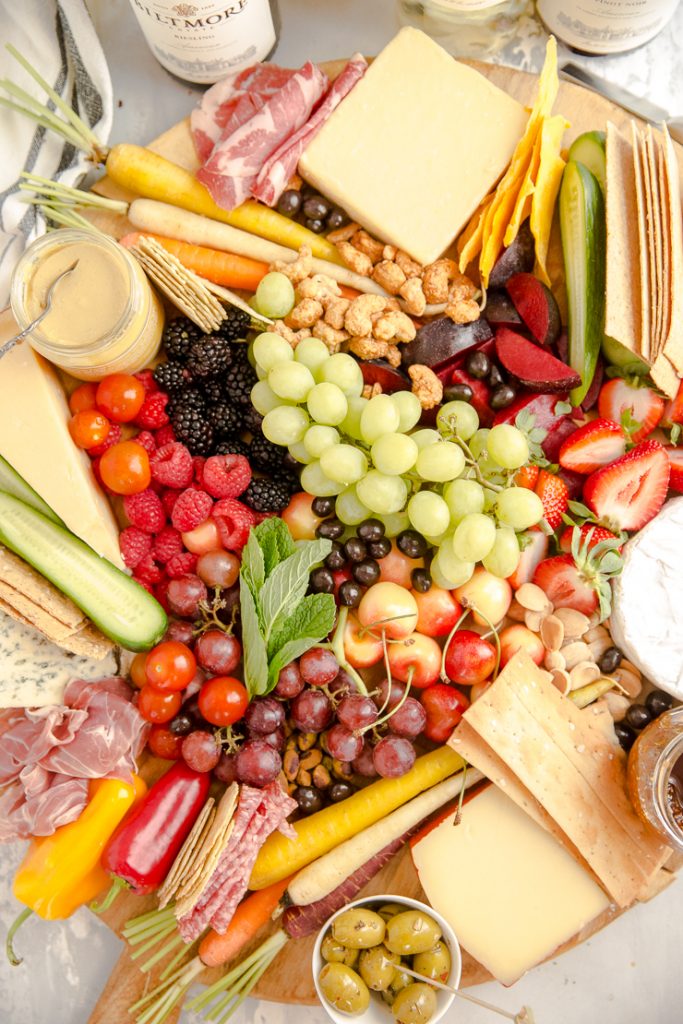 What is a charcuterie board?
Charcuterie is French by origin and is essentially the art of preparing and assembling different types of cheese and cured meats. But, for most of us, the word charcuterie describes an assortment of meats, slices of bread or crackers, nuts, fruit, cheese, and sauce. In other words, a Charcuterie Board is a kicked up cheese board!
What goes on a summer charcuterie board?
When choosing ingredients for your board, think about contrasting flavors and textures as well as colors. Visualize the board before you set to work. Summertime is a great time to showcase garden-fresh veggies and seasonal fruits. The array of colors of the fresh produce alone will be a feast for the eyes.
Once you have your produce, it is a matter of pairing those flavors with complimentary cheeses (again, think texture and flavors). Goat cheese or blue cheese is wonderful with fresh strawberries, and stone fruit is a lovely match for a soft Brie cheese. But also offer a contrast, perhaps by adding a hard cheese like Parmesan or something smooth like Fontina. You can keep it vegetarian and add nuts, crackers, spreads, and olives. Or you can also add cured meats, sausages, or pates.
Can I prepare this charcuterie board ahead of time?
Absolutely, I do this all the time! Prep your cheeses and your boards and arrange them on your board along with any hearty veggies and fruits. I prefer to save my berries until just before serving to avoid them getting smashed or bruised. Then, cover your board completely with plastic wrap and refrigerate until ready to serve!
---
How to make a charcuterie board:
Step One: I prefer to start in the middle and work my way out on cutting boards or large serving trays. Since this is a summer board, choose summer fresh fruits and seasonal veggies currently available to fill your center space.
Play with various colors and textures to make it is visually interesting. Red and green grapes are always available and work well with cheeses and both red and white wines. Plus if kids are present, they are a natural choice for little ones. Dried fruit is always an option, but sometimes those work better in winter months when a variety of fruits aren't available.
For this board, I chose red and green grapes, fresh berries like strawberries, raspberries, and blackberries, Rainier cherries because of their sweetness and lovely orange hue as well as plums for their deep purple color. Don't forget about Georgia peaches and other stone fruit. Fresh vegetables, such as baby zucchini, peeled rainbow baby carrots, and cherry tomatoes add pops of color and a satisfying crunch that works well with the soft, sweet berries.
Step Two: This is my favorite part: choose a variety of cheeses. I personally like to provide cheese with differing levels of softness. Brie is an obvious choice as it tastes perfect with the stone fruit and the berries (which is where I place it on my board). Goat cheese, blue cheese, and chevre are also great soft cheeses to serve with fresh berries and stone fruit.
On the opposite side of the board, I like to place harder cheese like Parmesan, Pecorino, or Asiago. On the remaining "corners" of the board, I like to work with semi-soft or soft cheese such as Gouda, cheddar, fontina, Edam, or Gruyere—those happen to be my personal favorites. You are free to change things up to suit your tastes. Your local cheese shop should be able to assist you in pairing cured meats, cheeses, and wines.
Step Three: Add in something pickled! I personally love marinated olives! I think the herbs and spices blend nicely with most meats and cheeses. They work with almost any beverage as well! However, not everyone loves olives,  pickled onions, Giardiniera or gherkins are perfectly acceptable. Arrange the pickled veggies in small bowls and be sure to include toothpicks to make serving easier.
Step Four: Add the meats! Anything goes here! I personally love thinly sliced salami, like Genoa, Hungarian salami, pepperoni, and soppressata. Be sure to add prosciutto, the saltiness is a nice match for the sweet fruit, bloomy cheeses, and wine. Smoked sausage and pepper salami are nice options. Tuck your meat slices between the veggies and the cheese to make pairing ideas quick and easy. Again, these boards can be 100 percent vegetarian, too!
Step Five: Bread and crackers. Variety is key even when it comes to what you will rest your cheese upon! Toasted bread rounds, thin wafer crackers, and crisps all work here. Play with seasoned crackers like rosemary, garlic, sea salt, and black pepper! Slip the crackers and bread between the meat and cheese pairings for easy assembly; matching the cracker flavors accordingly.
Step Six: Fill in the spaces on the board with some extras! I like to add a sprinkling of nuts (different types of nuts with different seasoning like spicy pistachios, sea salt almonds, and coconut caramel cashews). Scatter something sweet, like chocolates or dark chocolate coffee beans, and garnish your board with fresh herbs and edible flowers. Finally, add the condiments! I love fig jam; it enhances so many cheeses! But include some hot honey, traditional honey, lemon curd, or grainy mustard. The possibilities are endless!
Step Seven: Wine, wine, wine! A charcuterie platter goes hand in hand with bottles of wine! For this epic charcuterie and it's bounty of summer flavors, four wine pairings come to mine:
Biltmore Estates Cabernet Sauvignon: This wine's dark cherry color has hints of cherry, currant, rosemary, and vanilla which is perfect with smoked meats, cheeses, creamy Brie and berries. The taste is nicely balanced, has soft tannins, medium-bodied, and is round and fruity.
Biltmore Estates Pinot Noir: The color is deep red and the taste is well-rounded. It has good structure, is slightly fruity with a hint of oak, vanilla, and spice. The aroma has a hint of vanilla and cherry. Pair this strong flavor with spiced nuts, pepper salami, and creamy cheese like Brie or Boursin cheese.
Biltmore Estates Reisling: Riesling is a refreshing wine that is summer's darling! It is light in color with an aroma filled with lime, citrus, lilac, and spice! This semi-sweet wine has a nice fruity acidity with hints of honey and citrus. This wine tastes wonderful with spicy foods, hard cheeses, and nutty prosciutto.
Biltmore Estates Sauvignon Blanc: This wine has a crisp and clear light golden color with lemongrass, grapefruit, and hints of vanilla in its aroma. The taste is delicate with oak nuances and notes of citrus throughout. This wine is best served with salted meats like prosciutto or salami's as well as tangy goat cheese. Serve with garlic flavored nuts, crackers or olives. Creamy Gruyere and Gouda cheese will be very happy alongside this light wine.
Visit Bilmoreshop.com to learn more about their wines or search for a retailer near you!
---
Try this charcuterie recipe at home!
Ingredients:
1 bunch green grapes
1 bunch red grapes
1 bunch Ranier cherries
Plums
1 package raspberries
1 package blackberries
1 package strawberries
Mini bell peppers
Sliced zucchini
Cherry tomatoes
Mini carrots
Prosciutto
Soppressata salami
Hard salami
Brie round
Parmesan cheese
White cheddar
Fontina
Gruyere
Blue Cheese
Spicy mustard
Fig Jam
Marinated Olives
Chili spiced pistachios
Coconut caramel cashews
Chocolate covered espresso beans
Wafer crackers
Cracker thins
Fresh mint
Dried mango slices
Instructions:
Starting in the middle and working your way out on cutting boards or large serving trays, arrange red and green grapes in the center of your trays. Place fresh berries like strawberries, raspberries, and blackberries around your grapes along with the Rainier cherries and sliced plums.
Arrange fresh vegetables around the outside of the fruit.
Arrange the cheeses around the fruits and veggies working to pair the cheese to the produce. I used Brie, white cheddar, Parmesan, Fontina, Blue Cheese, and Gruyere.
Place marinated olives in a bowl and place the bowl on or near the board adding toothpicks for easy access.
Tuck the salami and meat slices between the cheeses and the veggies. If adding a salami log, cut a few slices in advance.
Add crackers to your board, slipping the crackers between the meat and cheese pairings for easy assembly; matching the cracker flavors accordingly.
Fill in the spaces on the board with a sprinkling of nuts and scatter dark chocolate coffee beans, mango slices, and fresh herbs.
 Finally, add condiments like fig jam and mustard.
Notes: The quantities have been left out as this is more of a suggestion or a guide than a recipe. Quantities can be adjusted as necessary depending on taste and the number of people you need to serve. All the ingredients can be easily found in your local grocery store. Any items listed here can be swapped out to suit your preference.
---
Tanya Schroeder is the Cincinnati-based cook, baker, cocktail shaker, and picture taker behind Lemons for Lulu. As a self taught cook with an intense love of food, her hope is that Lemons for Lulu demonstrates that the recipes you grew up with can be remade simply and boldly with no-fuss ingredients and basic techniques that never compromise flavor.
Facebook Comments