About a month ago, FC Cincinnati flipped a switch and dazzled the downtown skyline with its "fin lighting," transforming the West End Stadium facade into an LED lightshow. I was both impressed and amused. I know a bit about LED lighting through my day job, so I was authentically intrigued by the display and the technology behind it. On the other hand, the lightshow gave off a "pay no attention to that man behind the curtain" vibe, given that FCC has resided in Major League Soccer's basement since joining the league in 2019.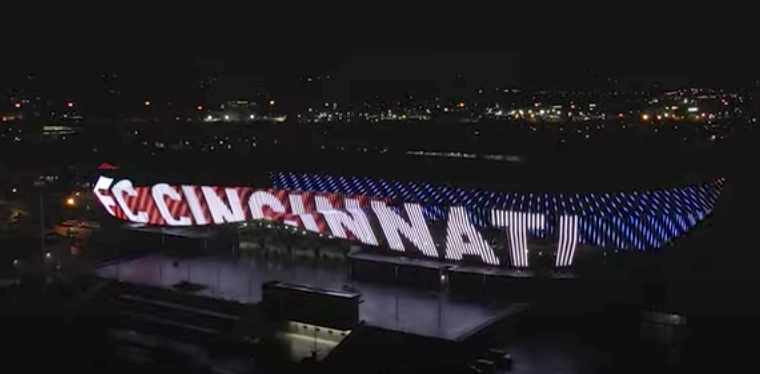 In any case, the curtain will be raised on FC Cincinnati's third MLS campaign Saturday night in Nashville. And come May 16 vs. Inter Miami, the franchise will open the West End Stadium, a $250 million wonder that's both a soccer-specific work of art (the joint will be a thunderdome if the team becomes even consistently average) and a steel monstrosity deposited in a struggling neighborhood that's never really recovered from the damage inflicted by I-75 construction.
For now, here's a rundown of what you might have missed over the offseason as FC Cincinnati went to great lengths to improve its on-field product, encountering a few stumbles along the way.
Cometh the men, cometh the goals (seriously this time, I think).
If FC Cincinnati finish at the bottom of the MLS table again in 2021, at least General Manager Gerard Nijkamp can say that he went for it in a "Fuck it, we'll do it live" manner befitting a man in charge of a franchise opening a new stadium and knowing full well he may not survive another downtrodden season.
Two years ago in its first MLS season, FC Cincinnati finished dead last in the league in scoring. So, the next offseason, Nijkmap went out and made two splash signings, inking former English Premier league forward/winger Jurgen Locadia and Japanese forward/winger Yuya Kubo to Designated Player deals. The two responded by providing four goals in a combined 2,684 minutes last season. Why didn't Locadia and Kubo score more? Well, for one the start-stop-start-stop-sprint 2020 season was a circus because of COVID-19. Two, the players straight-up underperformed. And three, the team was without a proper No. 10, or a creative, attacking midfielder to feed its new signings properly.
Luciano "Lucho" Acosta could be the answer to Question No. 10. (This, after FC Cincinnati was reportedly rebuffed by Pity Martinez, the former South American Player of the Year and Atlanta United star.) At his best, the 26-year-old Acosta is one of the most dangerous players in MLS, and he was untouchable in 2018 alongside legend Wayne Rooney at D.C. United. The Argentine had 10 goals and 17 assists in 33 games and was named to MLS's Best XI at year's end. According to mlssoccer.com, in 2018 Acosta was fifth in the league in chances created from open play. Last season, FC Cincinnati were fourth-worst in chances created. A match made in soccer heaven, right?
Acquiring Acosta, who signed a three-year contract, is not without sizable risk, however. He arrived at D.C. United in 2016 from Argentine club Boca Juniors, and a massive chunk of his career MLS production (24 goals and 35 assists in 126 games) occurred next to Rooney. Following the 2019 season, Acosta moved to Mexican club Atlas and delivered a paltry three goals and two assists over 34 appearances.
In comments to Cincinnati media, he mentioned that he really valued the overt effort FCC made to bring him here. Perhaps feeling the love and the very public knowledge that he is the one (and only) key to unlocking a historically inept offense will inspire the gifted dribbler and playmaker to return to his 2018 form.
Adding punch to FC Cincinnati's offense won't be tied down to Acosta and rebound seasons from Locadia and Kubo. Money-wise, the FCC's biggest signing was securing 21-year-old Brazilian forward Brenner Souza da Silva (or simply Brenner) for a fee of $13 million, reportedly the third-largest in MLS history. In 2020-21, he scored 21 goals in 39 competitions for São Paulo FC, one of the most decorated clubs in South America. Per Forbes, Brenner compares favorably to the top five scorers in MLS from a season ago, leading the group in pass completion rate (87.3%) and ranking second in goals per 90 minutes (0.59).
The young striker isn't especially tall or heavy—he's listed at 5-foot-9, 154 pounds—but Brenner is known for his hold-up play and for being a so-called "fox in the box," which in soccer terms means having a nose for goals in and around the penalty box. Highlight videos of his playing days in Brazil are short on golazos and heavy on, for the lack of a better term, dirty work goals. Brenner isn't afraid to insert his head, foot, toe, etc. in the middle of crowded areas in search of a goal, and so far in his very young career the approach has worked.
Barring a impactful move at center back, the defense will be worse.
FC Cincinnati allowed 1.6 goals per game last season, an improvement from 2019 (2.2 goals per game), when the team established a new MLS record for total goals surrendered in a single season. We'll keep the positive train going, though. Veteran left back Ronald Matarrita, acquired from New York City FC in December, made the playoffs in each of his five seasons with NYCFC and is an upgrade over the departed Andrew Gutman. Matarrita, a regular for the Costa Rican national team, has had trouble staying healthy over the years but did appear in 21 of NYCFC's 23 league matches in 2020.
The problem point with FC Cincinnati's defense lies with the rest of its backline. Kendall Waston is gone, which isn't necessarily a bad thing, but the back four still lacks an athletic and experienced center back, a crucial missing piece if head coach Jaap Stam insists on hoarding possession and playing out of the back. With Maikel van der Werff's status in doubt for the season opener, the starting center back pairing looks to be Tom Pettersson and Nick Hagglund, which provides FCC with an advantage in the air but disadvantages in press-breaking passes and most importantly, enough pace to head off counterattacks.
New right back Joe Gyau played plenty in 2020, but chiefly along the right wing. If Stam plays with 4-3-3 formation as expected, the attack-minded Gyau is going to need to reprogram himself and provide cover for FCC's tall-but-slow-footed center backs.
Frankie Amaya gets his wish.
The No. 1 pick in the 2019 SuperDraft looked destined to be a part of FC Cincinnati's future for years to come, particularly given his progression in 2020. Turns out, the midfielder had other plans. After requesting a trade sometime in late January or early February, the 20-year-old got his wish last week when Nijkamp shipped him to the New York Red Bulls, although the deal is reportedly contingent on Amaya agreeing to a new contract.
In financial terms, FCC will miss out on the potential windfall should Amaya blossom and go off to Europe some day, and it's hard to blame him growing sick of the club's dysfunction. He picked a curious time to go, however, given the significant investment ownership has made into improving the team, at least offensively.
With Amaya gone, his starting duties as the club's No. 8 (a two-way midfield position) are vacated, with Acosta entrenched as the central attacking midfielder and Kamohelo Mokotjo presumably starting at the No. 6 (defensive midfield) spot. One would think Allan Cruz, who endured a lost 2020 after being the club's best player in 2019, would be ready to step into the No. 8 role, but Kubo may have a leg up, with Stam forecasting the winger/attacking midfielder's move into the center of the park with some recent complimentary words.
A stab at a starting XI.
Presuming Jurgen Locadia is recovered from a thigh injury, I think FC Cincinnati's starting XI in Nashville will be the following: Przemysław Tytoń between the sticks, with Matarrita, Pettersson, Hagglund, and Gyau manning the back line in front of the Polish goalkeeper; Mokotjo, Kubo, and Acosta in the midfield; and Locadia and Alvaro Barreal on left and right wing, respectively, with Brenner as the striker.
If van der Werff gets healthy, he'll at minimum rotate in with the center backs, while Cruz and veteran Haris Medunjanin will see ample time in midfield. FC Cincinnati's more under-the-radar acquisitions were 21-year-old center back Gustavo Vallecilla and 20-year-old winger Isaac Atanga, with the latter more ready for immediate playing time. Veteran defender Edgar Castillo provides depth at fullback after winning a roster spot in the preseason. Calvin Harris, the 20-year-old No. 2 overall pick in the 2021 SuperDraft, will likely battle Brandon Vazquez (two goals, two assists in 19 appearances last year) for playing time at striker/attacking winger.
Will FC Cincinnati make the postseason?
MLS is reverting back to its 14-team postseason structure this season, with seven teams from each conference making the playoffs. Ten teams from the Eastern Conference qualified for the postseason in 2020 under a modified format. Given its current roster, I don't foresee FC Cincinnati possessing a strong enough defense to complement what I believe will be an improved but inconsistent offense. But I don't believe FCC will be the worst team in the league either, and there will be enough tangible improvement for the decision-makers to keep their jobs and for the fanbase to be excited about the team beyond its shiny new playground.
FC Cincinnati needs to take a step toward stability and away from the league basement in 2021. I believe that's possible without reaching the playoffs. Follow me every week of the season on these digital pages and we'll see how it plays out.
Grant Freking writes FC Cincinnati coverage for Cincinnati Magazine. Off the pitch, he is the managing editor for Signs of the Times magazine. You can follow him on Twitter at @GrantFreking.
Facebook Comments