Now that was a proper soccer derby. A last-minute equalizer. A highly contentious offsides decision. A rare, massive miss by a star striker. Fiery, F-bomb-laden post-match remarks by both head coaches. Fans tossing projectiles, including beer, onto the TQL Stadium turf. A Columbus player face-chugging a projectiled beer.
Saturday's result was FC Cincinnati 2, Columbus Crew 2. It was the most "holy shit!" chapter of this Hell Is Real rivalry yet.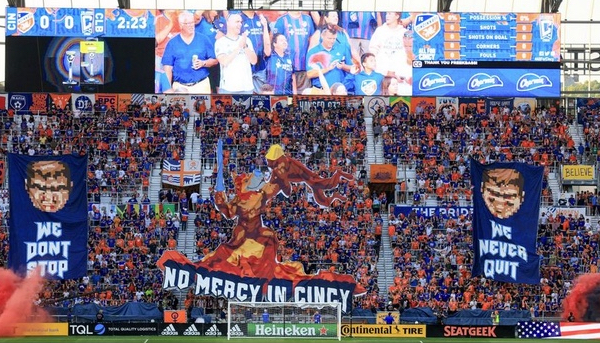 FC Cincinnati failed to close out another match. Is missing out on 14 potential points over the past 13 matches indicative of a formerly wretched squad coping with growing pains as it "learns how to win?" Or is the club's propensity to concede during Fergie Time just bad luck? Maybe a clear answer will present itself at season's end.
"I think you saw a hungry team tonight that wants to be a playoff team," FC Cincinnati head coach Pat Noonan said. "But closing games out is the difference right now. We still have enough games to find ourselves in the playoffs, and so it's in our hands."
The first weird moment Saturday was when Brandon Vazquez muffed Matt Miazga's inch-perfect cross across the six-yard box into The Bailey in the 34th minute. It was a shocking whiff, the first time I can remember FCC's star striker missing a sitter all season. Vazquez made amends two minutes later, burying a well-weighted through ball by Lucho Acosta. The goal was his 16th of the season, while Acosta notched his league-best 15th dime.
Columbus controversially equalized through former FCC player Derrick Etienne in the 74th minute. (More on that in a second.) Two minutes later, Miazga's shot from just inside the penalty area was deflected into the back of the net. FC Cincinnati looked sure to see the game out before Steven Moreira shockingly volleyed in the equalizer in the waning seconds of stoppage time.
Incredibly, the postgame was just as bonkers as the match itself. First, a handful of idiot patrons hurled projectiles at Crew players celebrating on the TQL turf. The lone sunny spot out of that sequence of stupidity was Columbus striker Cucho Hernandez catching a beer—with one hand!—and then chugging it. Stone Cold Steve Austin would have been proud.
Crew head coach Caleb Porter was quite rightly none too pleased with FC Cincinnati faithful, calling the episode "classless" and "completely embarrassing." Porter wasn't finished, though, as he bizarrely called out his own fans, saying "if the supporters aren't proud of the fight of these guys today, I don't know what they're proud of, honestly. I'm watching games in MLS, 4-0 losses. We're in every fucking game, every game, every game we're fighting. I think the fans should believe in us because I think we're going to do big things this year."
As for Columbus' first goal that looked offside, it was offside—but only by two inches, not some grand margin. Noonan's postgame ire was as much about the video review process as the decision itself. Video Assistant Review strangely did not recommend that the match official check the call on the pitchside monitor.
"And the reasons you get for the offside goal, the checkpoint's different than what they see in Atlanta [at the Video Review Center]. How can the checkpoint be different?" said Noonan, who called the offside decision "fucking clear." How do you not have that view? How can you not just look at that and say, 'I should check this. This is something that doesn't look right.' But again, that's the norm. So right now I'm the excuse guy and that stinks, but I want to protect our players because they put too much into it to be robbed like that."
FC Cincinnati has seemingly fought a season-long battle against match officials, with both Noonan and Acosta publicly chastising MLS officiating. Noonan also accused an assistant referee of disrespectful behavior after FCC's 4-4 draw with New York City FC on June 29.
It's now up to Noonan, who has worked wonders in more ways than one during his first season as skipper, to refocus his side. FC Cincinnati (35 points) is a point out of the East's final playoff spot with seven league contests remaining. Another home match is on deck Saturday night against Charlotte. The expansion side is in a complete free fall, having lost six of eight. Time to channel that referee rage into goals and disciplined defending.
Grant Freking writes FC Cincinnati coverage for Cincinnati Magazine. You can follow him on Twitter at @GrantFreking.
Facebook Comments
---