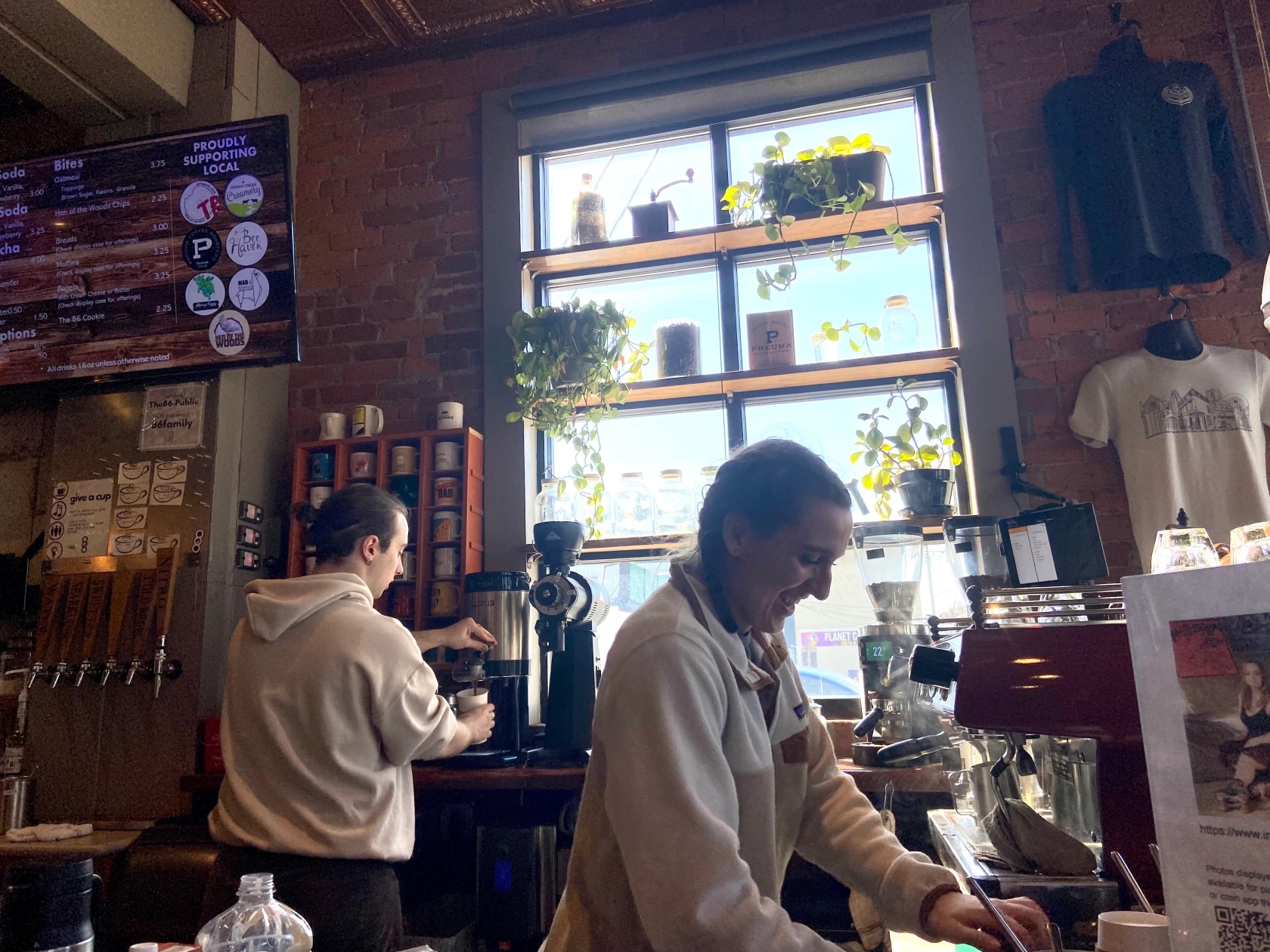 Let's play a word association game. Coffee shop. What comes to mind? Maybe words such as productivity, hustle, or fast-paced. The drive-thru, large-scale coffee shop chains have become the status quo coffee shop, with a Starbucks or Dunkin' Donuts nearly everywhere you look.
If you look a little bit harder, you'll also find local coffee shops serving up coffee on a smaller scale. Supporting small businesses has become more of a movement by citizens since the COVID-19 pandemic shuttered many beloved locations. According to a study conducted after the first year of pandemic shutdowns, roughly 30 percent of Ohio small businesses had closed.
Those that survived the pandemic proved their strength in more ways than one. Local coffee shops such as BlaCk Coffee Lounge, one of the few Black-owned coffee shops in Cincinnati; The Fringe Coffee House, a shop that provides support to those on the fringes of society; and The 86 Coffee Bar, operating as a safe place for all and creative outlet for local artists and creatives, not only continue to provide a cup of joe—they are all furthering a mission that goes beyond their coffee.
BlaCk Coffee Lounge
"On the first day that we opened, I was working on bar and an older lady walked in. She just stood there at the front door, so I asked her if she was okay," says Means Cameron, owner of BlaCk Coffee Lounge. "She took a deep breath and she told me she'd been waiting her whole life for this place. I almost cried."
Means Cameron was fascinated with coffee long before he opened BlaCk Coffee Lounge, one of the only Black-owned coffee shops in the region. The fascination started while he was a student attending Miami University of Ohio, an institution he found to be lacking in culture.
After graduating from Miami, Cameron moved to New Orleans for two years, where he spent much of his time working in observing coffee shops. He quickly noticed the diversity in those spaces, whether it was race, economic status, or background. Cameron again thought about the lack of culture he had witnessed back in Cincinnati.
"It made me think, why don't we have these kinds of spaces in Cincinnati?" Cameron says. "I never thought about why those spaces didn't speak to me in any way other than the coffee." It was then that Cameron decided to move back to Cincinnati to create a space similar to what he saw in New Orleans. Cameron knew he loved the beverage, but beyond that, didn't know much about the coffee industry. He spent two years studying, training, and learning everything he could about coffee before opening BlaCk Coffee Lounge. "It went from loving coffee, to loving where it happens, to wanting to be a part of it," Cameron says.
Since it opened downtown in 2019, BlaCk Coffee Lounge has been intentional in hiring underrepresented baristas, supporting Black artists, and starting programs and initiatives to support the community.
According to the Federal Reserve Bank of New York, Black business ownership dropped 41 percent nationwide during the pandemic. Black-owned—keyword owned—is a simple way to put their mission when it comes to the lounge's programming. They hope to build a foundation for Black business owners in Cincinnati.
Monthly mental health programs focused on issues facing the Black community, like PTSD, housing, and job shortages, build the foundation. Their housing program works to put individuals in better living situations. Events surrounding the topics of financial stability, home ownership and real estate educate attendees on how they can take hold of their lives and invest. BlaCk Coffee Lounge's partnership with Girls Health Period helps to provide women and girls with period products and education.
As a creative himself—his other business is fashion and garment design at BlaCk OWned Outerwear—Cameron quickly saw a need for a space for the Black creatives of Cincinnati to come together and build community.
"When we would ask people or people would ask us, when it comes to Cincinnati, where do all the Black creatives go? We couldn't point them to anywhere," Cameron says.  "That validated my feeling that we needed this kind of space."
BlaCk Coffee Lounge serves as a "museum for Black artists to hang their work" in Cameron's words. They also provide opportunities for individuals in the music and writing industries to have a creative outlet through open mic, spoken word and poetry nights. "If you have something that you want to share, but you don't feel like there's a place in your community to share it or to build with other people, we [provide that]," Cameron says.
At the end of the day, Cameron hopes he can show his community that the coffee business is a viable and attainable industry for them. He feels he has found his God-given purpose through running his business, and he wants others to find that same ownership and passion.
"I didn't like how I grew up. I get up every day reminded of it and the history of my family and what we haven't been able to accomplish," Cameron says. The history of his own life and the future of his children keep him invested in this work.
The future of BlaCk Coffee Lounge is bright, too. Cameron and his team have extensive plans to grow their mission and further their reach. During 2023, they plan to start bringing in and roasting their own beans and hope to enter the wholesale market to sell their coffee on a larger scale. This way, Cameron hopes he will be able to provide more opportunities for the Black community to enter the coffee industry.
The lounge will also be unveiling a new menu this month with food items made in house, and they want to expand and diversify their merchandise—using Cameron's garment design experience with BlaCk OWned.
Along with new business initiatives, the mission will continue to grow, too. They hope to return to their pre-pandemic schedule of weekly events and start to work on opening new locations.
"We want people to think about BlaCk Coffee as a resource for their life, not just their favorite coffee shop," Cameron says.
---
The Fringe Coffee House
"It's not just a felon coffee shop," Patrick Davis, co-owner of The Fringe Coffee House, says. The Fringe Coffee House's services go far beyond serving up coffee. The Fringe, located in the city of Hamilton, works to empower individuals on the fringes of society to live fulfilling and whole lives.
Co-owners and husband and wife Patrick Davis and Sarah know what it's like to be on the fringes because they were both once there themselves. Both found themselves incarcerated in the past and struggling to re-enter society, and today they use their experiences to help others.
"When people come home, they feel like a fish out of water," Davis says. "One of the things they need more than anything is a community space to get reintroduced to society." The Fringe was born out of that need. Davis felt a coffee shop would serve as the perfect place for people to transition from confinement to interaction with the outside world, and a coffee shop would be a unique way to do their work.
Bold, loud artwork adorns every wall in the space—a contrast to the usual earth-toned and neutral color palate many coffee shops adhere to. "Punk rock, hip-hop, street vibes" was what Davis was going for. The Davis couple wanted The Fringe to reflect who they were serving and appeal to people of all backgrounds.
Ex-felons, inmates, those experiencing homelessness or drug addiction, and others are all welcome and to use The Fringe's services. Among many things, they provide a customized re-entry plan, G.E.D. tutoring, addiction and recovery meetings, mental health support, and job training and employment. They supply some not-so-obvious support too, like mechanics who can fix employees' cars while they work.
Upon release from prison, individuals can apply to work at The Fringe through their one-year paid job training program. They have also recently begun job training starting within prison, too, and will be opening a trade school in Dayton Correctional Women's Prison where inmates can have barista training. This is in addition to their 10-week musical therapy program, Scars and Bars, which happens every Tuesday at Lebanon and Dayton Correctional.
Talking about the programs is great, but, to Davis, seeing their work in action and truly make an impact is what gets him out of bed every day. He softens when he thinks about what motivates him to keep coming back. "There is nothing more life-giving for me than seeing the light come back on in somebody's eyes," Davis says. "[They see that] this doesn't have to be an endless cycle."
The cycle is broken by The Fringe as they help people get jobs, get their children back or get their driver's license back. Mandy, one of the shop's managers, recently got her license back after 12 years without it.
Davis recalls first meeting Mandy after she was released. He later would marry her to her husband in The Fringe Church. "To see her not only get out, but to participate in her family aspect and see her get her life back, was amazing," Davis says.
The Fringe provided a sense of community and support that helped Mandy get her life to where it is today. "It's like a little family. We all come from the same spot," Mandy says. "Been there, done that. It's good to have people like that."
Another hire that impacted Davis deeply needed that family to save her life. This hire, Janet, had been struggling to find a job after her release, and as she walked into her interview at The Fringe, she knew in her mind this was her last try. If she didn't get this job, she may have to turn back to old ways.
"I could tell she was really trying," Davis says. "I remember the first time we gave her the keys to the building she was almost in tears because it was the first time in her life someone trusted her." That trust was all Janet needed to come full circle. Today, she runs a recovery house where she helps people battling what she once went through.
The Greater Cincinnati community beyond The Fringe has been supportive of their cause, too. At first, Davis was apprehensive about the reaction their establishment would get, acknowledging there is a stigma surrounding what they do. "Some people don't get it," Davis says. "My argument back to them is they've done their time. Why are we continuing to punish them? At some point as a society, we have to welcome them back in."
Welcoming them back in is likely the solution to the wider incarceration problem—Ohio's offender recidivism rate sits at 29 percent, according to the state's Department of Rehabilitation & Correction. Oftentimes, not having access to employment, a support system or transportation is what causes people to re-offend. The Fringe Coffee House's work prevents individuals from reoffending.
The hope is to expand its reach beyond Hamilton to welcome people all over the state. The Fringe wants to open a location in every major city in Ohio, starting with their next one in Over-the-Rhine. Davis hopes to see that location open up within the year.
The coffee at these locations, of course, is not forgotten in all of this. They serve up quality cups, using local coffee roaster Yield, and want their customer experience to be enjoyable. Their Hamilton location was recently renovated, and a drive-thru was added for convenience. After all, it's much more than just a felon coffee shop.
---
The 86 Coffee Bar
Fixed on the corner of Jefferson and East University, The 86 Coffee Bar is a popular destination among the students and faculty of the University of Cincinnati. Around the shop, you can find references to what they call the "Four C's": coffee, concerts, creativity, community.
The 86 was founded on that fourth "C": "It was just us wanting to give college students a home away from home, and a safe place they could go," Monica Human, community engagement director at The 86, says. "I feel like most of us at some point in our lives feel like we're outcasts, so it was trying to establish a place that was for everybody."
That mindset is reminiscent even in the name The 86, a nod to the food service term to cancel, reject, or discard. Human emphasizes that no one is rejected at The 86.
It wasn't always about that first "C": coffee. At first, The 86 Concert Venue could be found one block away on Short Vine Street. Through the relationships the venue made with local vendors, it evolved into the coffee shop which still has a fully-equipped stage on the second floor.
Human says it's been a challenge to get concerts up and running after the hiatus during the COVID-19 pandemic, but she is working with a group of students to assess the interest in bringing them back in 2023. "Relationships are hugely what we're a part of. Whether that's our relationship with our volunteers, our local suppliers, or across the world," she says.
Despite the pause in concerts, The 86 is still active in its mission to foster community. The third "C", creativity, comes to fruition through their efforts to support local artists. Gabrielle Larkin, manager at The 86 and Human's daughter, works with artists to give them a space to launch their very first art display. "A lot of galleries will charge a lot for people to hang their work, and have a lot of requirements that prevent artists from being able to hang [their work]," Larkin says. "I try to create an accessible space; we don't charge any fees and we have as few barriers as possible."
Larkin hopes this accessibility also provides up-and-coming artists with a way to gain experience that many art galleries require. She helps to educate and provide the tools to set them up for success after their art moves on from The 86. "Making coffee and art accessible to people and exposing people to different types and styles of art not only serves us well but is a learning experience for the guests that come in," Larkin says. "People will find types of art or artists that they never knew about."
The art can be seen filling the walls of the coffee house for a month before it moves on to hang in their sister coffee shop, Rohs Street Cafe, for a second month. Part of the allure of The 86 is being surprised by new artwork often.
Larkin also builds relationships with local businesses and helps them host pop-up shops outside of the coffee house in the warmer months. On April 22, local business Hey August will host a pop-up, and on April 29, a current UC student's mother Kim Krafth from Thailand will be selling her goods.
Notably, The 86 is also a non-profit run almost entirely by volunteers. Human works with students who need to fill service hour requirements, and often that requirement turns into something much more. "Oftentimes, students come to us because they need their service hours, and then, three years later, they are still serving with us," Human says. "I love that they share stories about how this is now their home away from home; their community. It's cool to know that we've helped create a space where they feel they have a connection."
The 86's connection to the community reaches beyond UC students. They get their goods, from milk to honey to bakery items, from local businesses. "By [people] choosing to support a local shop, they're also supporting many other local businesses," Human says. "There's a domino effect."
That domino effect starts much farther away than the Cincinnati area. The 86 gets their coffee through direct trade rather than fair trade, meaning they buy directly from the farmers growing the beans. On any given day, patrons can read about the farmer that grew their coffee while waiting for their latte at the bar.
"The farmers have cool testimonies about how their kids are going to school or college when they used to be farming with them," Human says. "So that's the impact we make."
The future of the coffee shop
While The Fringe, The 86 Coffee Bar, and BlaCk Coffee Lounge are prominent, mission-driven coffee shops, they're far from the only ones doing good in the Cincinnati area. Purrfect Day Cat Cafe helps adoptable cats find homes, Drip Coffee Lounge partners with non-profits and hosts local artwork and Deeper Roots strives for ethical coffee, just to name a few.
Regardless of the success of large-scale coffee operations, the determined owners of these local, mission-driven coffee shops won't be going away any time soon. After surviving the pandemic and setting their sights on new horizons, Cincinnati's coffee fans can only expect to see more charitable caffeine.
Facebook Comments