Michael A. Washington Sr. knew early on what he wanted to be when he grew up. As a kid, he hung around the fire station near his grandma's house every chance he got. "These guys were there night or day," he recalls of the firefighters who worked at "The Fives" (firefighter lingo for the Cincinnati Fire Department's Engine 5 station at Over-the-Rhine's McMicken and Vine). "Didn't matter what time."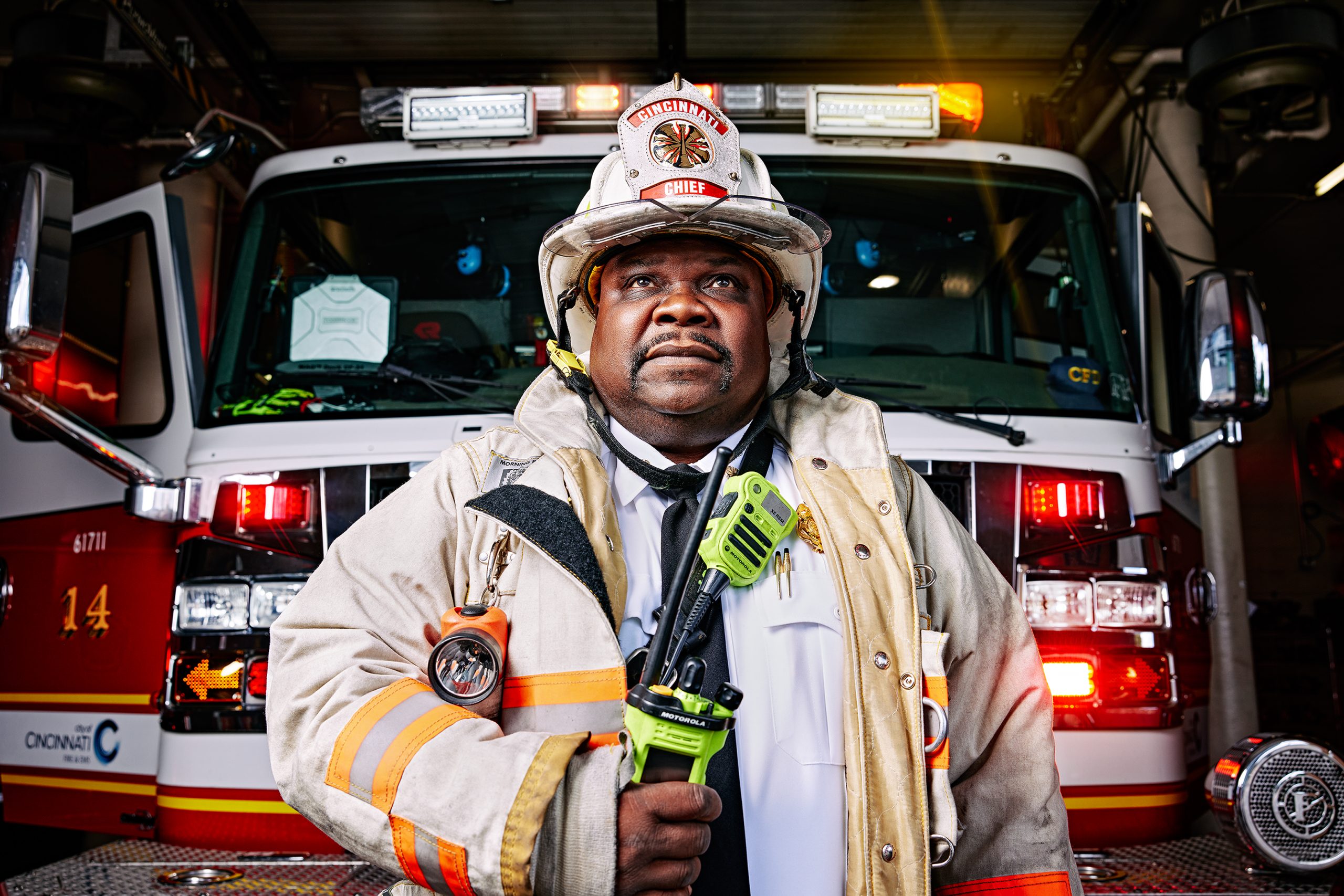 But Washington's real date with destiny came circa age 7, when he found himself standing on the sidewalk in front of a public box alarm (a hand-crank fire alarm that directly alerted the firehouse) after someone else had triggered it—a false alarm.
Washington still remembers the fire truck roaring down the street and slamming to a halt in front of him. The eyes of every neighbor in the area, peering out from behind curtains. One of the firefighters on the truck smoking a "big stogie."
The men of Engine Five assumed he'd pulled the trigger until they realized Washington wasn't even tall enough to reach it. That's when one of the firefighters—Gene Lilly, who "looked [more] like a mobster," says Washington—recognized him. "This kid's OK," Washington recalls him saying. Before they left, Lilly said, "Come visit us again in three days."
An ecstatic Washington practically watched the clock for 36 hours straight. "I remember the smell of chili," he says of that magical first time inside the firehouse. Then, he recalls, "they said, 'Kid, you gonna eat with us?' "
From that moment on, when he wasn't in school, Washington was at the firehouse. First, he swept floors and peeled potatoes for dinner. By age 8, he had his first firehouse key. By age 12, he was riding on the "apparatus" (fire truck), and by age 15 he was sleeping at the firehouse after work.
Fast forward nearly four decades and Washington has held "every rank and position as a Cincinnati Fire Fighter," says his official bio, including "fire apparatus operator, fire lieutenant, fire captain, district fire chief," and assistant fire chief. In May 2021, he earned the top job and was appointed the Cincinnati Fire Department's 18th fire chief.
Working as a firefighter is not unlike riding a roller coaster at Kings Island, 51-year-old Washington muses from his Central Parkway office today. "You get in the seat, put the seatbelt on and you think, Is this a good idea? But it's too late. Now you hear click, click, click, and you are cresting the hill. You feel that rush of adrenaline. That is this job every day."
Heading up the Cincinnati Fire Department (CFD) carries with it a certain amount of prestige. That's because, in 1853, Cincinnati was the first city in the nation to have a paid, professional fire department. Today, it's a 905-person, $145.5 million operation, says Washington. "We pride ourselves on being the oldest and best."
Still, though the CFD has technically been integrated since Herbie Baines was appointed in 1955, Washington says he had never seen a Black firefighter until he saw Teddy Ray Smith, one of his dad's Taft High School classmates, driving "a big red deuce and a quarter" down a city street in 1975. In 1981, he met the city's first African American fire lieutenant, Robert Wright, who went on to become fire chief, at "The Nines" (Engine Company 9). Both men were big inspirations.
In 1993, at age 22—after graduating from Hughes High School and working part-time firefighter/EMT gigs at Colerain and Green Townships—Washington was officially appointed to the Cincinnati Fire Department by then-Chief Thomas Steidel. Washington went on to work at multiple districts across the city as his life unfolded and he became the proud father of three now-adult children. He says he would have been content to stay working in the field, but he was asked to begin taking administrative roles instead. In 2002, he began studying for his bachelor's degree at the University of Cincinnati.
He also worked as a district chief for eight years before being promoted to assistant fire chief in January 2020. Not long after, then-Chief Roy Winston called him into his office and asked, "What's your next move?" Washington recalls saying, "This is my next move. I'd like to be No. 2." Winston had other plans.
Washington had already attended the Los Angeles City Fire Department's Leadership Academy in 2015; in 2021 he earned a master's degree in public administration from Anna Maria College (the latter at Winston's urging). But when Winston announced his retirement, Washington said he didn't feel ready to take charge. "You're ready," Washington remembers Winston saying. "I've been watching you."
Even though he's been an administrator for years, "I still got the bird dog in me," he says. In 2018, he suited up to help fight the Coffee Exchange/Molly Malone's fire in Pleasant Ridge. This spring, he made his way back to The Fives and made a few runs on their trucks, too.
The adrenaline rush firefighters get from going out on a call and not knowing what lies ahead is definitely part of the appeal, says Washington. "I like to be where the action's at, in the thick of things." But there's also something more, he adds. "I'm old school. You don't forget where you came from."
Washington says his favorite part about being a firefighter is that "it's one of the few jobs where you get to go down the street, make noise, and flash your lights. Every camera is on you."
His feelings about the job are best captured, he adds, by a Bruce Hornsby song from the movie Backdraft, called "The Show Goes On." He cues it up on YouTube. Scenes from the film show firefighters enduring grueling training, battling ferocious blazes, and risking their own lives to save others. Washington watches, too, and says the song's lyrics as Hornsby sings them. "People watching as the curtain falls down.… Everyone watching all along…. Some rush into things, some stand and wait their turn.… Still without you, the show goes on."
Sometimes it's harder than others to keep on keeping on. The toughest part of the job, he notes, is the fear of losing any of his people, especially the 193 firefighters, EMTs, and paramedics actively working throughout the city. "My job as fire chief is to make sure you go home tomorrow."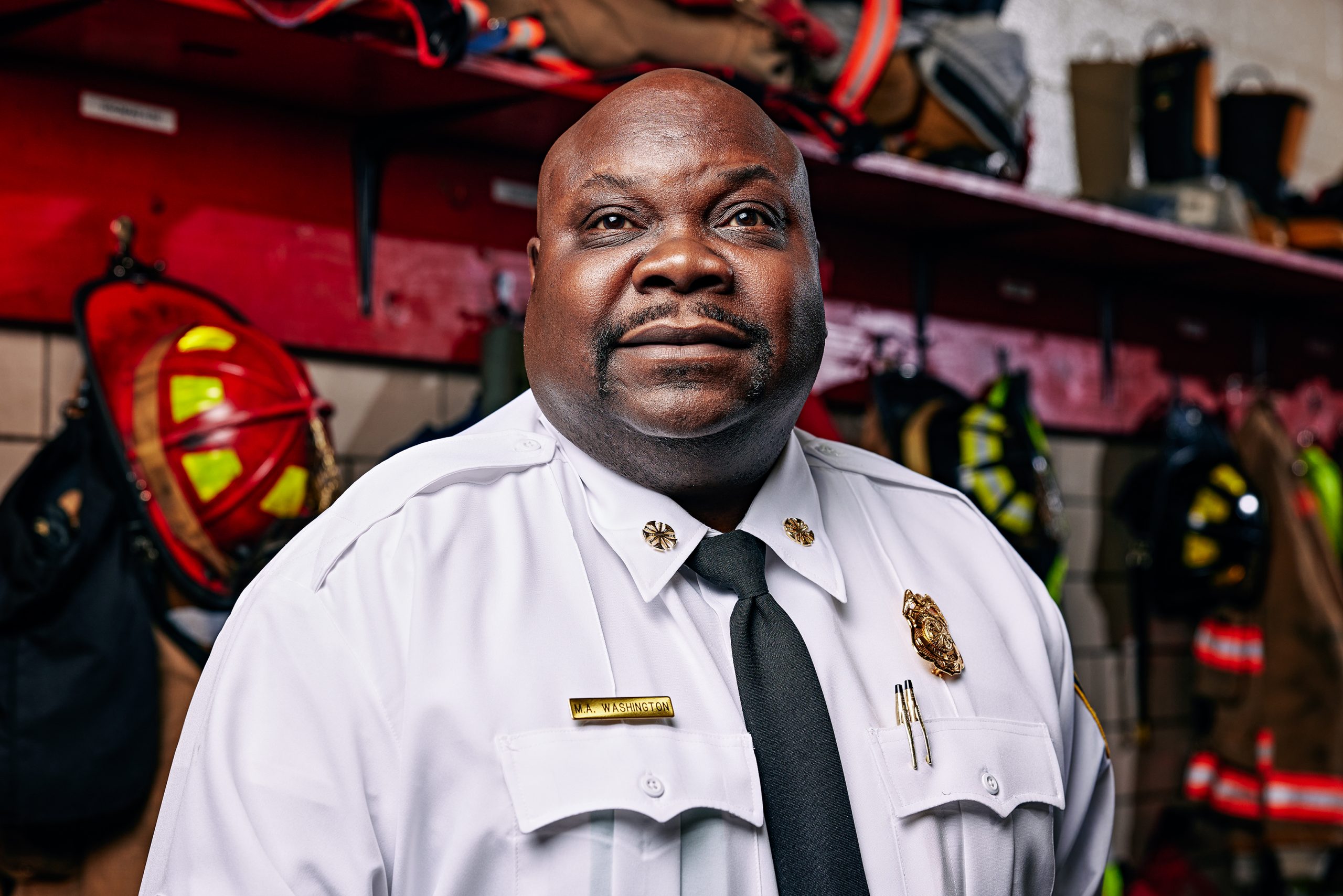 He knows by heart the details of the day (March 26, 2015) veteran firefighter Daryl Gordon did not go home. Gordon died trying to rescue someone from the fifth floor of a burning apartment building in Madisonville. "It's a rarity, but it does happen," says a somber Washington. And when it does, "this follows you the rest of your life. It's always a calculation in your equation."
Moments later, he's pulled from his thoughts by a call on his two-way radio. A car's just flipped west of I-75 and someone's trapped inside. He springs into action, and asks if I want to ride along.
We rush out the door and down the stairs into the garage, where the fire chief's car waits, unlocked, in front of an open bay door. When he realizes he's forgotten the keys, he runs out to the sidewalk and yells up to his assistant to throw them out the window. By the time he makes it into the car again, a special operations heavy rescue truck is making its way back toward downtown. False alarm.
On the way back upstairs, we pass a corkboard dotted with children's crayon thank-yous and drawings of fire trucks. Inside Washington's office, degrees, honors, and photos decorate the walls, including one of that original group of firefighters at The Fives who invited him back to the firehouse after thinking he pulled the alarm. Behind his desk, six of his old fire helmets hang, in varied shades of char.
Washington is proud of the work he's accomplished during 28 years with the CFD—developing a strong reciprocal relationship with the Covington fire department, teaching at both UC and Cincinnati State, serving as a consultant to NASA, and—this past summer—being selected to join the United States Fire Administration's instructors. Still, he's already set to retire in 2027 (or sooner, he says) to make way for the next chief in line. Maybe someday that will be his son, who was appointed to the Cincinnati Fire Department in 2015.
Someone once called Washington a true firefighter's firefighter, he tells me, the kind of guy who'd rather be in the trenches working alongside everyone else. But really, it's simpler than that. At the end of the day, says Washington, "I'm just that kid, still chasing fire trucks."
Facebook Comments