Jeremy Faeth spent a decade working in corporate restaurants before opening MainStrasse Village's newest breakfast, brunch, and lunch spot, Cedar, earlier this year. And that experience shows, as Faeth invests in every detail to make Cedar shine in all of its brunch-y glory.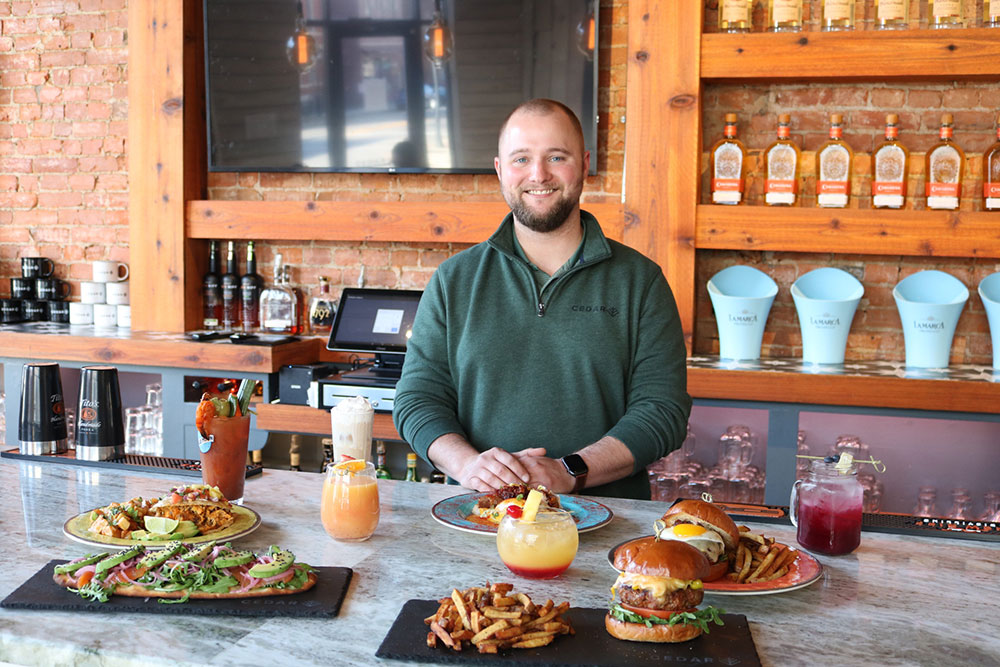 The food? All scratch-made in house without a freezer or microwave in sight. The atmosphere? A completely rehabbed (over the course of an entire year) bright and open space with a huge back patio with heaters and live music on the weekends. Plus there are the free roses (through a partnership with the local Scarlet Begonia Flower Truck) passed out to lady brunchers on Sundays, and exclusively freshly made drink ingredients all week long.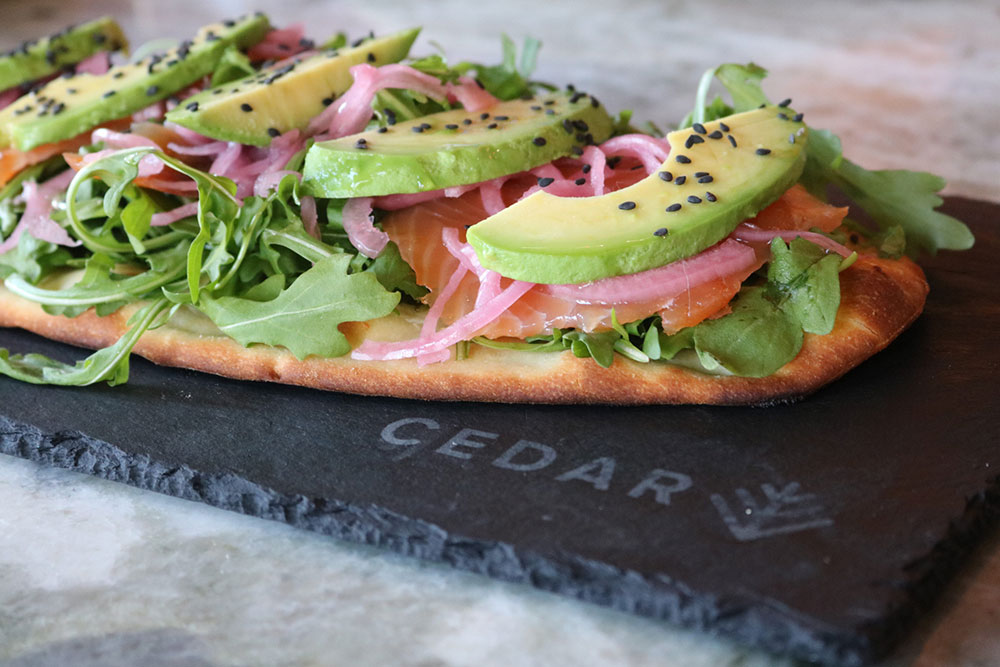 Cedar leads first and foremost, Faeth says, with the desire to transport diners to a one-hour vacation as soon as they walk in the door. "Not to try to copy anyone, but we wanted to be the Jeff Ruby's of breakfast," he says. "We modeled ourselves after that—the way they handle all of the little details."
That meticulousness is best illustrated through the food. Cedar's menu features an array of perfectly executed comfort-focused breakfast and brunch staples. Our favorite is the Fat Zachary, with chicken, chorizo, and scrambled egg tucked into a corn gordita with a colorful combination of avocado, pineapple pico, and sweet and spicy potatoes.
Other highlights include the Biscuit Bowl, featuring scratch-made buttermilk biscuits with a unique chorizo and lamb sausage gravy topped with an egg, and the Crabby Ben, a jumbo lump blue crab piled on to 16 Bricks sourdough topped with hollandaise.
"We take a lot of pride in our food," Faeth says. "Everything is up for rotation: It's either perfect, needs help, or needs to go. We're always trying to think of new dishes to add to the rotation to keep things fresh and exciting for our guests."
Expect all of the classic breakfast and brunch libations, including wine, beer, coffee, juice, and cocktails. Opt for the housemade Bloody Mary crafted with their own unique mix (which Cedar is currently working on getting bottled and canned for retail sale), or the Kentucky Cold Brew, cold brew coffee mixed with bourbon cream and topped with whipped cream. All sour mixes and purees are also made from scratch.
Cedar opened in July and is just one of the many food and beverage concepts to pop up across Covington this year despite the ongoing pandemic. Business was a bit slow at first, but quickly gained traction. "We were still breaking our previous weekly record, week over week," Faeth says, referring to the time before the most recent Kentucky restaurant shutdown.
Cedar's patio has largely remained opened with socially distanced tables and heaters and fire pits for the colder, winter weather, and the restaurant has continued to offer carryout. Now, Cedar's indoor dining rooms are back open to 50 percent capacity.
Faeth decided to open Cedar after a missed position change in his former corporate career and a desire for a better quality of life. Born in Cincinnati and raised in Northern Kentucky, Faeth knew he loved working with his team in the kitchen, and after finding the perfect Covington property, the plan for Cedar came together.
The experience has also been a family affair, as his father and stepmother, the building's owners, have taken active roles at the restaurant on the weekends.
As for the future, Faeth expects business to pick back up after the holidays and as the pandemic (hopefully) improves. He also says Cedar is already looking to add another location. "We're finalizing some details," Faeth says. "Look for Cedar or a similar concept by us in your neighborhood soon."
Cedar, 701 Main Street, Covington, (859) 360-1187
Facebook Comments