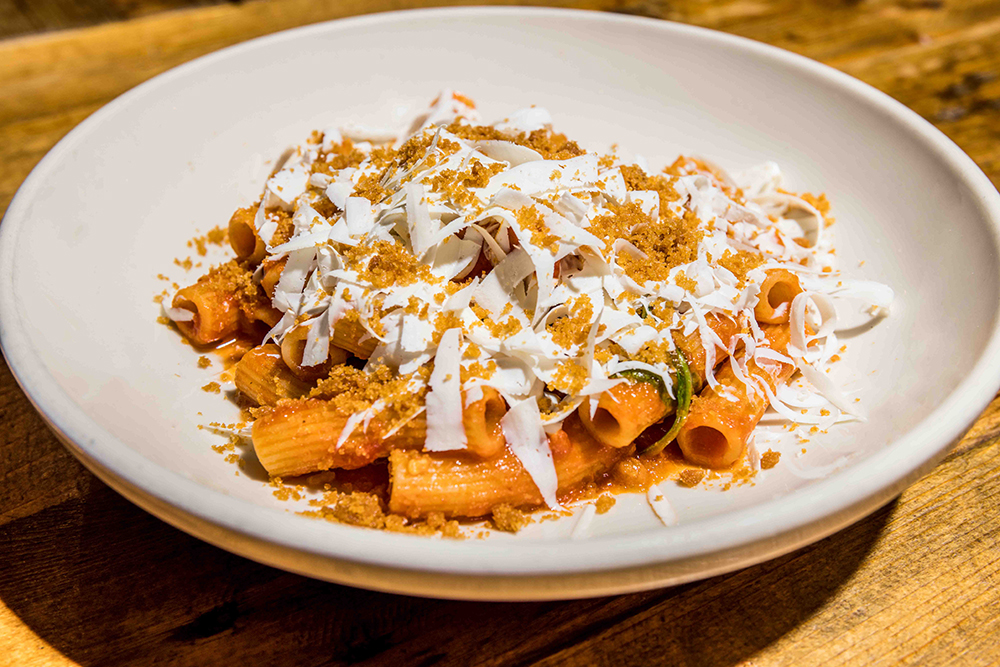 Sotto, as owner David Falk is quick to point out, is not a "riff" on Italian food. Nor is it a "reimagining" or a "contemporary take" on the cuisine. It's something much more ambitious than any of that. It's an attempt to transmit the soul of Italian cooking. And what a successful attempt it is.
This is classic and painstakingly precise Italian cooking as seen at Italy's finest restaurants. And Falk should know; he and members of his team frequently take trips to Italy for research. Chef de Cuisine Jacob "Woody" Wood (recently promoted from sous chef) will embark on his first official research trip to the motherland this month.
Sotto's tight, seasonal menu prizes freshness and simplicity. This is why the smoky, crispy wood-grilled branzino arrives with few embellishments aside from the beautiful color striations and latticework of grill marks. It's also why a hearty breaded pork loin only needs capers and a squeeze of lemon. At Sotto, adornments underscore flavors, but never conceal them.
Of course, to come anywhere close to capturing the soul of Italian cuisine, you have to nail the pasta. Falk and team go to great lengths to source ultra-refined double zero flour for their pasta. But even more important than the ingredients are the talent and experience. Sotto's longtime pasta maker Ismael "Ish" Tamayo knows when the pasta needs more moisture or needs stretched a touch thinner.
Perhaps that's why the short rib cappellacci—arguably the city's most famous pasta dish without chili on top—melts as soon as it hits the tongue. Sotto recently had a social media contest to see if anyone could guess how many of those delicate pasta pillows Tamayo has hand-rolled during his tenure at the restaurant. The answer was a little over 1 million. That, it turns out, is the secret to a good cappellacci.
118 E. Sixth St., downtown, (513) 977-6886, sottocincinnati.com
See the full 2023 Best Restaurants list here.
Facebook Comments