While these great restaurants missed the cutoff for our top 10 list, they still provide an exceptional dining experience. Here are the dishes that set them apart.
Rich's Proper Food And Drink's Hot Honey Chicken Sandwich
A piece of fried chicken glazed with hot honey and served on a brioche bun, this sandwich's housemade pickles and tangy "Proper Sauce" balance out the sweet heat of the honey.
701 Madison Ave., Covington, (859) 415- 0069, richsproper.com
---
The Arepa Place's Chorizo And Cheese Arepa
Arepas, grilled corn flour patties stuffed with savory fillings, are the specialty at this South American restaurant. My favorite version comes stuffed to the brim with Colombian chorizo (sliced smoky links) and shredded mozzarella. It goes well with any of their four scratch-made salsas.
1517 Springfield Pke., Wyoming, (513) 948- 9500; 131 W. Elder St., Over-the-Rhine, (513) 744-9500, arepaplace.com 
---
Saigon Noodle Bar's Vietnamese Beef Curry
The curried broth is latte-brown with fiery red pepper flecks, and the tender chunks of beef—along with the optional side of toasted French bread—do a great job of soaking up all that flavor. Love at first slurp.
9220 Allen Rd., West Chester, (513) 874-5888
---
Greenwich Pita And Grill's Masala Beef Cheeseburger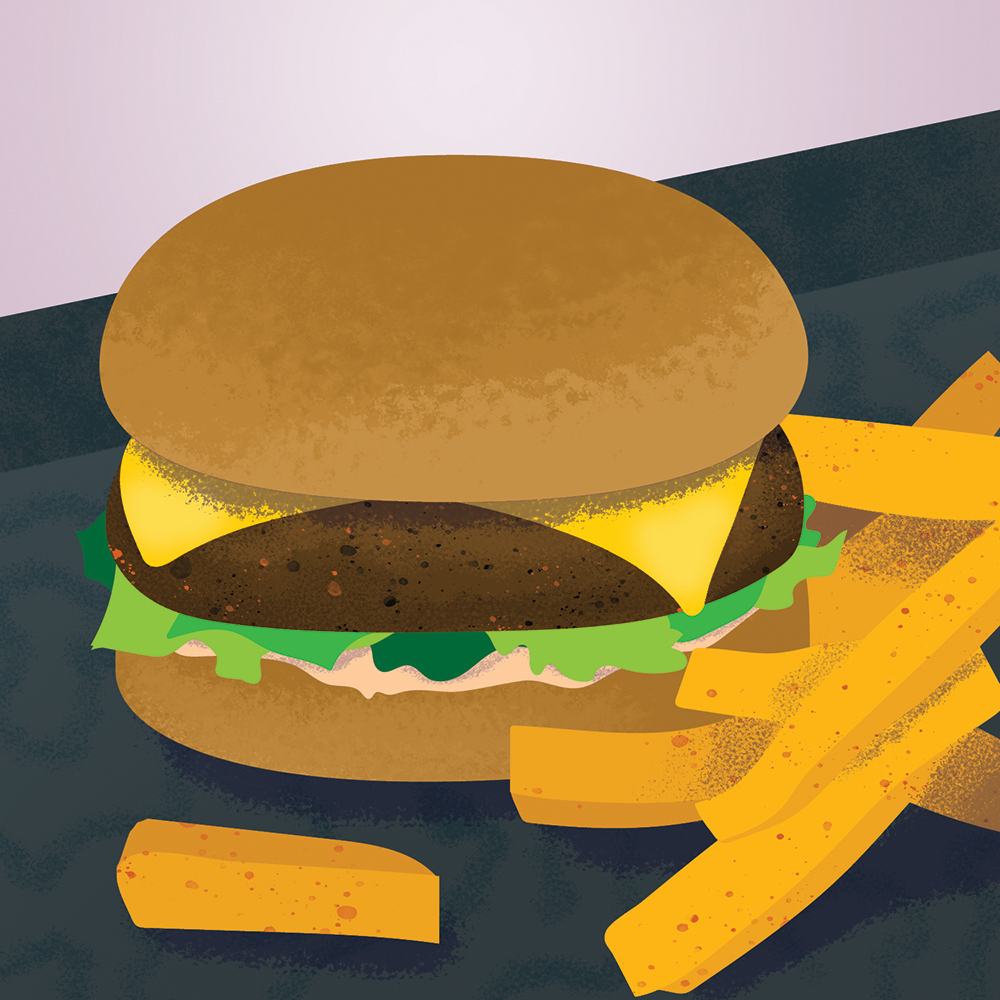 The novelty of a juicy cheeseburger seasoned with garam masala (a South Asian spice blend containing cinnamon and coriander, among others) is enough to make this dish memorable. That the spice blend and beef patty (flavored with mint, cilantro, dill, and parsley) are made from scratch truly sets it apart.
5220 Kings Mills Rd., Mason, (513) 466-8209, greenwichpitaandgrill.com
---
Mirage Mediterranean Restaurant's Beef Lula Kebabs
This strip-mall restaurant near Kings Automall is many things (part restaurant, part nightclub, part Middle Eastern, part Russian) but lula kebab is an Armenian minced meat specialty. Perfectly chargrilled, these are the juiciest, most flavorful kebabs you'll ever have.
9980 Kings Automall Dr., Mason, (513) 469-0089, miragecincinnati.com 
---
Taft's Brewporium's The Roebling
New Haven–style pizza (also known as "apizza,")—with its thin, slightly charred crust and bright red sauce—is my ideal pie. And the coal-fired oven at Taft's Brewporium does the style justice. The Roebling, though heartily topped with meatballs, pepperoni, and ricotta, somehow retains its firm, crispy crust.
4831 Spring Grove Ave. #1, Spring Grove Village, (513) 853-5021, taftsbeer.com/location/tafts-brewpourium-cincinnati
---
Sacred Beast Diner's Salmon With Brown Butter
This contemporary diner adds inventive twists to classic comfort food. Here, rich brown butter almost pushes this medium-rare salmon into dessert territory, which is OK by me. Lemon and capers add contrasting zest and saltiness, while garden-fresh green beans serve as a reminder that this is, in fact, dinner.
1437 Vine St., Over-the-Rhine, (513) 213-2864, sacredbeastdiner.com
Facebook Comments