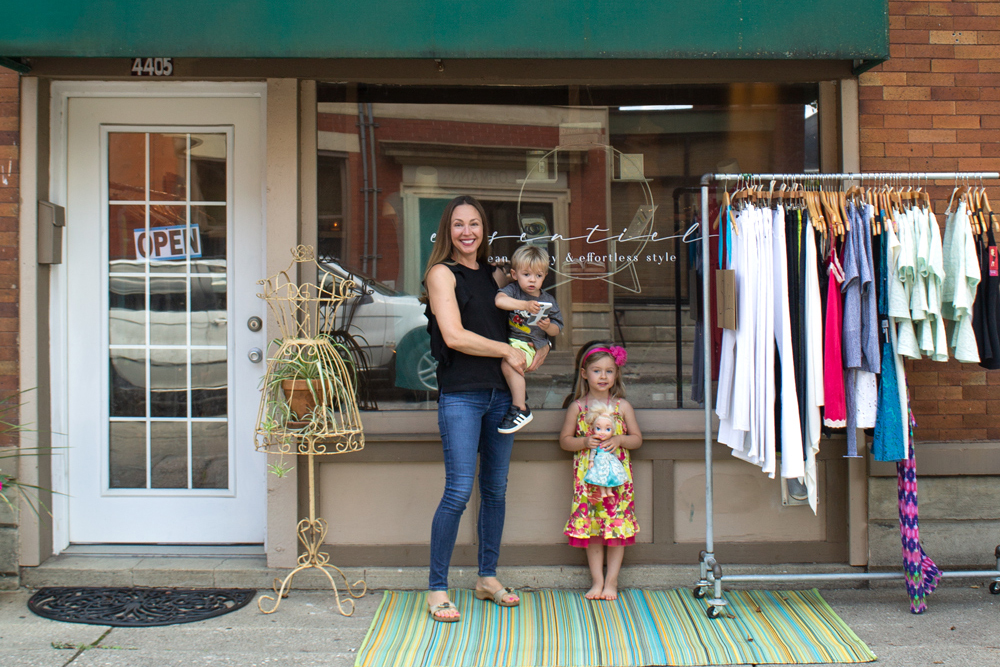 When Stephanie Bamonte, a Walnut Hills High School alumna, closed her boutique Turquoise Hen in Batesville, Indiana, two and a half years ago, she longed to open a new space. "It was in the back of my mind the whole time," Bamonte says. Although she still lives in Batesville, she now makes the daily 45-minute trek to Oakley to prepare for the grand opening of her new boutique, Essentiel, which carries clean beauty and style products.
After signing a lease at 4405 Brazee Street in January, the COVID-19 pandemic delayed her original mid-March opening date. The extra time allowed Bamonte to perfect her inventory, and now she's gearing up for her grand opening next week.
Bamonte stocks items that you can't find locally, like floss and face cream from California and nail polish from New York. Her goal is to bring the best goods to the Queen City. Need the perfect shade lipstick? What about a pair of jeans by Citizens of Humanity denim that will last you 10 years? You can find both at Essentiel. The shop also carries woven hammocks from Ecuador, which hang above the main entrance, as well as plant-based dish soap, counter cleaner, laundry detergent, and floor cleaner made by Murchison-Hume.
While she also offers home decor and clothes for "effortless style," Bamonte specializes in clean beauty products, only stocking sustainable and organic brands. Love Organics, for example, is handcrafted in small batches in Georgia. Most of the brands she sells in store Bamonte says she's found during her travels and visiting small boutiques in place like Montreal, Maine, and Savannah, Georgia.
Her target customers are women 30 years and older who are modern, sophisticated, and looking for something for their home or a gift for one of their girlfriends. "I filled this store with everything I like and wear," Bamonte says. "It's not trendy, per say, but it's here for seasons, if not years."
Eventually, Bamonte wants to expand her Oakley location and open a second location, hopefully in Hilton Head, South Carolina, where her parents live.
Facebook Comments