While its gallery space sat empty, contemporary arts fulfillment center Wave Pool found a way to keep local artists connected while addressing an uptick in COVID-19-related food insecurity. For 12 weeks, the group delivered boxes of produce and canned goods to Camp Washington doorsteps and into the hands of artists and other creatives who found themselves out of work during the pandemic. Along with fresh veggies and pantry staples, each box featured an original piece from a local artist, including an Anissa Lewis print, which appeared in week 11's "Camp Delivery" boxes.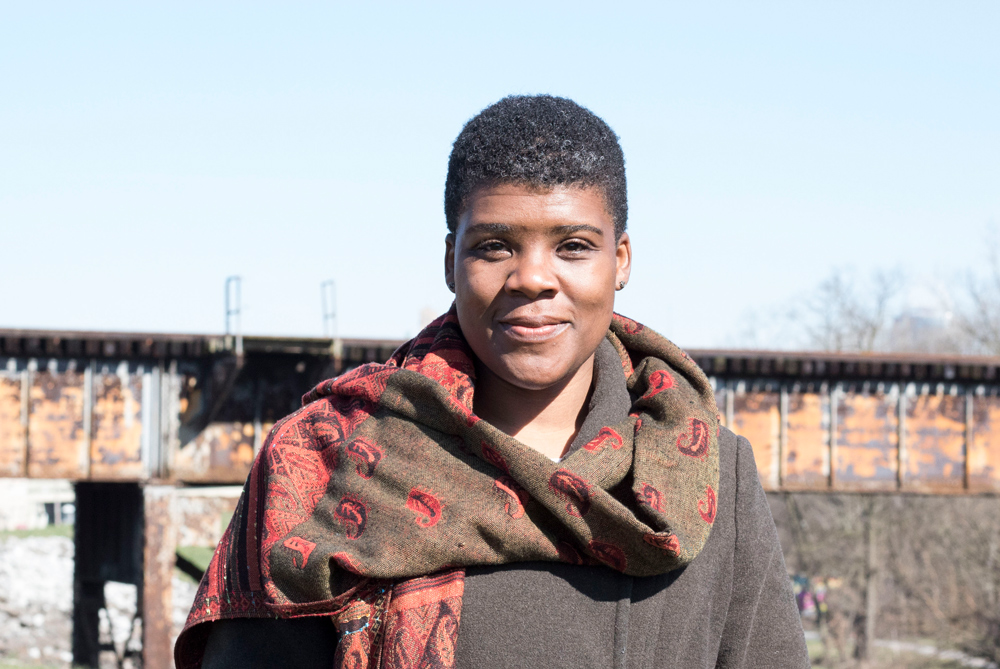 At the core of much of Lewis's work is empowerment—not just of people, but of spaces. Projects like her "Love Letter Yard Signs" have sought to inject messages of hope into neighborhood spaces that have been routinely ignored, and to examine the changing social fabric of the place she calls home. We caught up with Lewis to talk community during COVID-19 and the meaning behind her scripture-inspired piece for Wave Pool.
What inspired you to get involved with Wave Pool's Camp Delivery project? 
I've had the honor to work with Cal [Cullen] and Wave Pool for the past few years. I am very excited about the work Wave Pool does. So when Cal reaches out, I am more than happy to participate. At Wave Pool, I know the programming is going to be relevant, timely and impactful. I admire how they consistently make things happen.
For your print, you chose a Biblical quote: "There is no fear in love. But perfect love drives out fear. The one who fears is made perfect in love." What was your motivation to use that particular verse?
Many of us, myself included, live, think, and operate from a place of fear. When we do so, we live small and believe that life is about scarcity. We let other people—a situation we "think" is real—take the lead. And, therefore, we follow. We accept what is front of us and do not question. The problem is when we do this, we give away our power—freely give it away. We think that what is presented to us is the way it is. I must remind myself, actively and repeatedly, it is a lie. Instead, with each day I live, with each situation, I must begin with, "What do I want from this? Who do I want to be?" Then, decide. When I do this, regardless of what happens, I know that I acted from a place of power, and my own agency. I am calling on my higher self. That is a place of love. There resides my power and abundance.
Your art deals very heavily with themes of community and identity. What have these past few months taught you about the community you call home? 
That is a difficult question to answer, because with everything that is happening, I am still processing it all. When I think about my community, I see vulnerability. And not the Brené Brown kind, right? This pandemic has shown those who, for whatever reason, couldn't see or refused to see what every freedom fighter has given their life to—the right to justice on all fronts and nothing less. Or, maybe it should be the Brené Brown kind. Then we'd actually see progress from those who unwittingly—or wittingly—stand in the way. I already know that I come from a community of beauty, family, and resilience. That will continue. I am just tired of seeing all the ways in which injustice pervades our society. And my community always has to find new ways to survive—myself included.
What was it that drew you to working with photo-based prints as an artistic medium? 
Memory. It's slippery, ephemeral. I think that is a good thing. Our past is always readjusting in relation to our present state of life. Holding on to everything that has ever happened to you or been said to you is crippling. I do not think one can be resilient if everything about one is static. Using photos in my prints allowed me to layer my experiences—the stories I told myself as a child about those experiences and my now thoughts then—and fix them to a place for understanding, for reconciliation, and to provide others from my community with the opportunity to do the same.
Tell me a bit about your experience with creating art during quarantines and stay-at-home orders. Have you found that you have more time, for instance, to create? Or have you found it more difficult to find inspiration? 
At first, I thought, staycation! Residency in my home! Then, an amazing realization that we were given a chance to reimagine. We were presented with a do-over. I soon realized that, maybe, not many held this view. A willful fight erupted to maintain the status quo. As a result, my time, my means of survival has been about managing the fears of others, and, subsequently, my own. Ergo, the Bible verses. That is why I agreed to make a print for Wave Pool—I saw it as a call to myself to make. I have ideas for work. There is another iteration of the Pleasant Street series on the way. Unfortunately, this summer, other decisions were made. I had a different priority. I do look forward to the fall, where I will make a different decision
Facebook Comments