With most of our time being spent indoors during pandemic stay-at-home orders, and with restaurants open for carryout only (at press time), lots of folks are honing their kitchen skills and sharing the resulting home-cooked meals with family. When Arnold's Bar and Grill closed (except for Friday evening carryout) in mid-March, Kayla Robison took the opportunity to share her expertise on social media. The Arnold's executive chef shows off recipes (check out her garlic truffle Brie gnocchi recipe, below) and techniques in weekly Facebook Live cooking classes.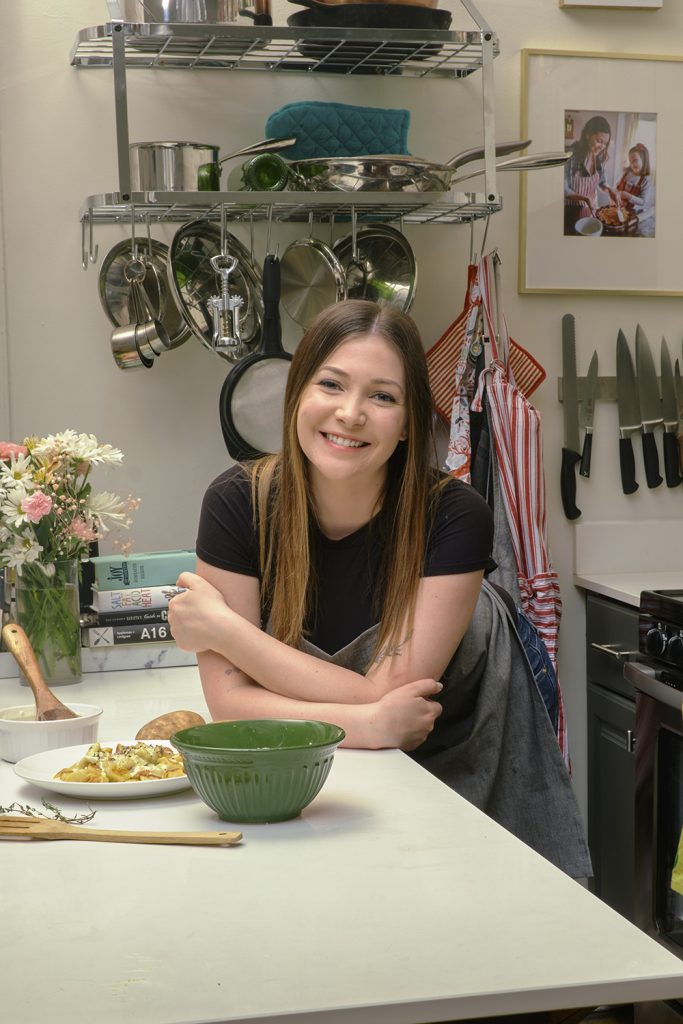 "[It] keeps my own sanity going," Robison says. It's also something she and her 10-yearold daughter can do together.
A few weeks into her web tutorials, she decided to make it even easier for viewers to follow along, and to bring in some needed revenue for Arnold's, by selling meal kits—sourcing as many local suppliers for the premeasured ingredients as possible— at quarantinecookingwithkayla.com. Her first meal kit dish? The creamy pistachio pesto chicken penne that earned her a win on Food Network's Guy's Grocery Games. The tutorial for the "budget-friendly, quick dish" garnered more than 8,000 views within a few days on Facebook.
Her thought process for selecting dishes to put in the food kits is simple, she says: It's all about being kid-approved and at an accessible skill level. "I knew I wanted to do family-friendly meals, since it's something my daughter and I do together," says Robison. "I also wanted it to be at a basic skill level, but [viewers] can learn a lot."
While she says she never thought she would be hosting a cooking show, she has had a ton of fun doing it. "It has sparked a new creative side for me, a new outlet," says Robison. She says creating the tutorials has expanded her passion for food. She's even thinking about continuing them after the stay-at-home orders are lifted.
Her biggest takeaway from the experience is that this is time to spend together as a family, or with whomever you may be hunkering down. "Cooking is that one thing we will always have in life," says Robison. "[It's] very therapeutic."
---
Try making Chef Kayla Robison's Garlic Truffle Brie Gnocchi at home! You can follow along with her video tutorial on Facebook. Courtesy of Chef Robison, the recipe below yields two servings.
Ingredients
Gnocchi
2 large russet potatoes
2 c. flour, divided
1 egg
4 Tbsp butter
Garlic Truffle Brie Sauce
3 oz. Brie
1 c. heavy cream
2 cloves garlic, minced
2 oz. parmesan cheese
1 oz. truffle oil
sprig of thyme
Equipment needed: two large pots, two skillets (large and small), cheese grater, large bowl, colander, bench scraper (a knife will work as well)
Directions
In a large pot of salted water, add potatoes and cook until tender but still firm. Drain, cool, peel, and grate with a cheese grater.
Combine grated potato, 1 cup of flour, and egg in a large bowl.
Knead until dough forms a ball. Add more flour if needed. Cut ball into fourths. Shape one portion of the dough into long "snakes." On a floured surface, cut snakes into half-inch pieces. Repeat with the rest of the portions.
Bring a large pot of salted water to a boil. Drop in gnocchi and cook for 3 to 5 minutes, or until gnocchi have risen to the top; drain and add to a hot skillet with butter and brown both sides. Season with salt and pepper.
In a small skillet, start sauce by bringing Brie, heavy cream, and garlic to a simmer and cook until slightly reduced. Add parmesan and half of the truffle oil and bring to a light boil until sauce thickens but is still runny. Season with salt and pepper.
Add gnocchi to a plate, pour truffle Brie sauce on top. Finish with a drizzle of remaining truffle oil, salt, pepper, and thyme.
Facebook Comments