What do Hamilton, CATS, and Dirty Dancing all have in common? St. Xavier High School grad Andy Blankenbuehler. The Pleasant Ridge native won a Tony in 2008 for In the Heights, and he is all but assured at least a nod for his work on the smash Broadway hit Hamilton when the 2016 Tony Award nominations are announced on May 3. [Editor's note: Blankenbuehler won the 2016 Tony for Best Choreography for Hamilton, and repeated the feat the following year for his work on Bandstand.] Blankenbuehler caught the dance bug during a Theater X production of Godspell his sophomore year and has never looked back. As a choreographer, he's put his own spin (literally) on such shows as 9 to 5: The Musical and the 2012 revival of Annie. I called Blankenbuehler at his Harlem studio, where he's currently at work on ABC's remake of Dirty Dancing, as well as a revival of the mother of all musicals: CATS. Five, six, seven, eight…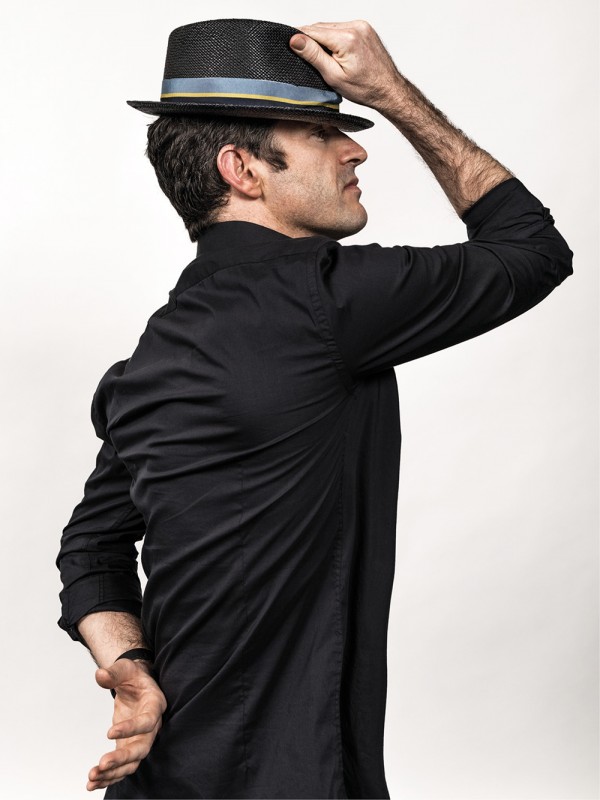 ---
Hamilton is such an unexpected pairing: Historical figures meet rap and hip-hop. How did you approach the choreography of this show?
I work really slowly. I take days just listening to the music on the treadmill, on the subway, in my office. And then I slowly find my way, usually into a storyboard of ideas first, and then a vocabulary. When I get to the vocabulary stage I turn on my computer and improvise by myself for hours. I create an outline for each musical moment. I'll make notes, like This section should feel underwater and This section feels like a march. I might leave it like that for a month or two before I'm ready to choreograph it.
With Hamilton, there's so much music—47 songs—and the narrative is thick, [with more than] 27,000 lyrics. When I started to spend time with the music, I would just play it for hours at a time to figure out how one battle differed from the other, how the Americans moved versus how the Brits moved.
What part of that process was the most challenging?
The guns were complicated to me, the idea of guns.
Why?
Because the music is not literal, it's contemporary, but the show is historical. It's about epic ideas, countries fighting each other and tens of thousands of people dying, and you can't really show that onstage using 12 dancers with guns fighting each other. I spent a long time figuring out how to introduce weapons into the show—how the American forces move, what momentum feels like for them, and what their fighting vocabulary looks like. Ultimately their fighting vocabulary became hip-hop, because it was sort of talking to the strengths of American culture and American voice and American youth.
You won a Tony for your choreography on Lin-Manuel Miranda's show In the Heights, and you worked together on Bring It On: The Musical. Clearly you two have great creative chemistry.
There have been very few times, in all of our shows, when [Lin] has said to me, "That section doesn't look like I thought it was going to look." What comes out of Lin's mind works for me organically. What comes out of my mind, to his music, works for him. It's like we're saying the same thing. One thing we've struggled with is the ending of numbers. We will give a back and forth, but almost all the time it's complete inspiration. A perfect example: Two days before we finished rehearsals, Lin rewrote the last number of Hamilton to a completely new idea—spoken word, no music. I had total writer's block, and didn't choreograph a move all night. The next day on the subway platform, going to work at 8:30 in the morning, I got the idea that unlocked everything. I choreographed the entire routine between my subway stop and the dance studio.
---
You've found inspiration outside of the studio before. Some of the dancing in 9 to 5 was based on people you saw jostling each other outside a Starbucks.
For six days I couldn't choreograph that show. I crossed the street from my office to Starbucks, and I saw the way the miserable people were pushing past each other on the street. That I can choreograph, that's people on commute. I saw people pushing past each other sideways—like same arm, same leg, to fit through a small gap between people—and that became the choreography for the opening number.
So what's it like going from that happy mind-meld to working on CATS with Andrew Lloyd Webber?
It's a completely different experience. Andrew is a visionary. You almost take for granted how good his music is. When I came on board, I felt very strongly that I didn't want to change the DNA of the show. Too many millions of people love [it]. In many ways it's much scarier than doing a new musical like Hamilton. There was no expectation with Hamilton, whereas with CATS, there's this thing hanging over your head. So it's about digging deeper into what they've already done, and asking the question: How is the audience different now than 30 years ago?
How do you answer that question?
We multitask so much more seriously. We have the ability to do five things at once and it's an expectation in our lives. For young people especially. My son is 9 and he's crazy with the iPad. So the way we tell a story, onstage, needs to cater to that. Hamilton is a perfect example. I do like three things at once: The scene will be happening over here, it will be slow motion over there, guns will be lifting and lowering over there. The framing devices inform the focal point. That's a fairly new idea. I credit that a little bit to where film has gone.
You also have a World War II era musical, Bandstand, coming to Broadway later this year. Was that your own conception?
No, I was brought on to that. It's a Cincinnati team though, which is cool. It's Richard Oberacker [UC College-Conservatory of Music '93], his writing partner Robert Taylor, and David Kreppel [CCM '92]. David and I grew up together, all the way through high school. Three years ago, David, as music director, and Richard called me and said "We're working on this swing musical." So they brought me on board and I helmed it from there, but it's their idea. It's a time and subject that I'm passionate about. I love World War II issues and the '40s.
Is it the issues of the time, or the music and dance of that time that attracts you?
Swing music is not dissimilar from hip-hop: It's based on an African beat and a social movement where there was a lot of unrest and unanswered questions. The music was an outlet. Swing is a form of dance that theatricalizes itself very easily, as opposed to disco. I can't do a disco show because I don't believe that movement or music can be theatricalized.
Now that you've said that out loud, someone is going to come to you with a stage adaptation of Saturday Night Fever.
I've never done a Sondheim show because Sondheim shows don't dance. I get approached for projects where I have to be very open and say I don't believe your music dances.
How did you get introduced to dance?
I grew up in a neighborhood dance studio where my sisters took dance. I started when I was 3 and never really questioned it. I didn't love it because I was always the only boy, and I felt a little bit like a social outcast. Boys dancing wasn't like it is now with Dancing with the Stars and So You Think You Can Dance and hip-hop. Hip-hop is tremendous for that. In high school, I did Godspell when I was a sophomore and I fell in love with it. It captivated me. Then I did Joseph and the Amazing Technicolor Dreamcoat my junior year and there was no going back. I am indebted to what I went through there. I would have been something else, disgruntled now at 46, but I got the theater bug there.
Do you remember your first Broadway audition?
It was for a huge traveling tour of Chorus Line right after it closed on Broadway. I almost got the gig. [Then] the day I moved to New York City, I saw Jerome Robbins' Broadway. Three days later, I auditioned for that show, on that stage. I had never been on a Broadway stage before, and it was frightening beyond belief. I didn't get the job, but I remember those days clearly. Now that I am working on CATS, I worked really hard in the audition process to make everybody feel relaxed, because I remember what it was like to be in the trenches and have 10 seconds to prove I can do this job.
If the audition scenes in the movie All That Jazz are at all accurate, it looks brutal.
I had 650 female dancers show up on the first day of open call. I actually said that day, "I feel like I'm in the opening number of All That Jazz."
I guess that's why they're called cattle calls. How do you begin to winnow the herd?
The difficulty is that what you mostly see is mediocrity. You lose your mind a little. The really bad people are easy to see and the really good people are easy to see, but I feel a responsibility to explore the people in the middle, believing that A) there's a diamond in the rough, and B) there's someone who is only on the beginning of their path, and I want to find them at the beginning.
Dancing, especially at the Broadway level, is as physically demanding as any professional sport, except dancers are supposed to make it look easy.
It's not just that you have to make it look easy—you have to make it look like something else. There are many times I'm auditioning a person who can do the dance step, but you have to do the dance step and become a character. It's not just about making the move, but making the move accomplish an idea.
Ballerinas have notoriously mangled feet. What are some of the tolls dance has taken on you?
At the end of the night I have an ice pack and I have my Styrofoam roller on the floor. I lay flat on the floor to watch TV because I put my back out on the couch. I've had knee surgery. I don't have the foot problems, because I always wore shoes. I choreograph shoes first. For each show, I have to figure out what shoes make the character. I'm choreographing Dirty Dancing in a pair of Converse, basically, because that's like a gym shoe from the '60s.
Lightning round: Name your dance heroes. Go.
Baryshnikov. When I was a teenager it was all about Baryshnikov, Michael Jackson, Gregory Hines, and Gene Kelly. I try to emulate all of them. I can't dance like Baryshnikov, but when he said to me, "Your choreography [for In the Heights] is amazing," I lost my shit. Baryshnikov just said my choreography is amazing.
Facebook Comments