Editor's Note: Rebel Mettle Brewery closed its downtown taproom in late June 2022.
After spending 12 years in The United States Air Force and getting "medically retired" in 2014, Mike Brown says he was "disenfranchised" with his career options. "I went out into corporate America, and I just didn't feel like it was what I wanted to do for the rest of my life," he says. So he launched Rebel Mettle Brewery. The unique name is inspired by Brown's personal experiences: a conversation with a friend and fellow veteran about "testing his metal" on a mission together in Iraq, and a handwritten letter from his mother on his 36th birthday about his rebellious spirit.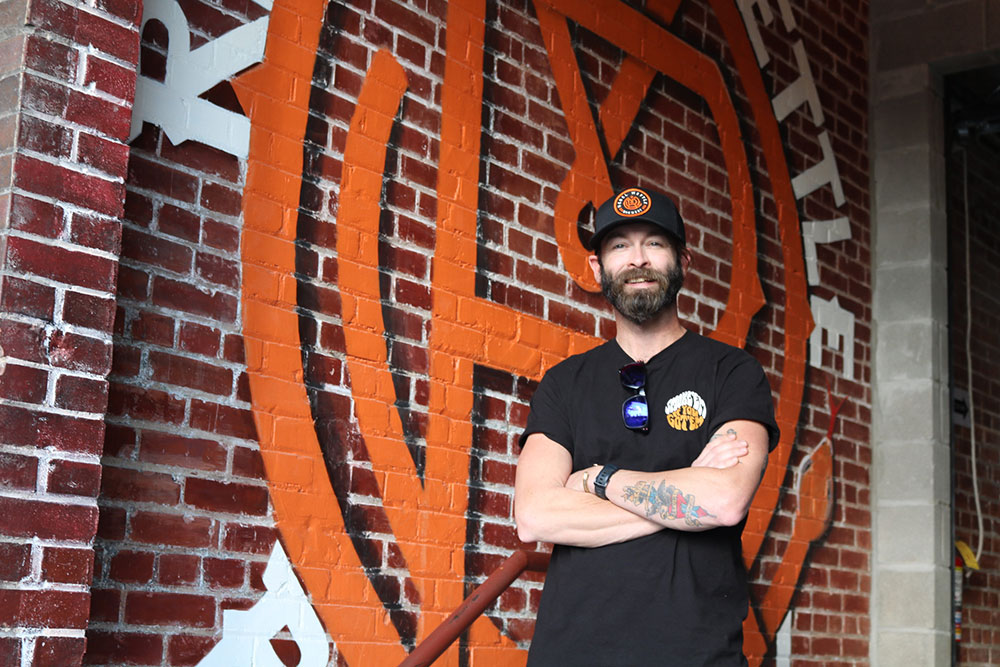 "Having the ability to own our own business allows us to have some artistic ability in not only our product but in our overall look and feel," Brown says. When deciding that he wanted to open a brewery, he looked at "the big dogs" in Cincinnati's brewing industry and thought, If they can do this, why can't we?
Brown says the downtown location "felt like an incredibly good fit" for the brewery because of its diversity, women-owned businesses, community, and people. So, what makes Rebel Mettle Brewery different from its competitors? Brown says he wants his brewery to be "a trendsetter in American craft lagers." The menu is focused heavily on lager production, which he says is a "large differentiation" from other local breweries that typically concentrate on Ale production.
There are 11 different brews on tap, including three flagship beers: the Mettle Mayhem, an India pale lager; the Volume, a Juniper Schwarzbier; and the Stubentiger, a light lager. Patrons can try these options and more for $1 off during happy hour every Tuesday through Friday from 4 to 7 p.m., and Saturdays from 11 a.m. to 4 p.m.
Food is also available via QR code at your table, courtesy of Rusconi's Pizza, with a menu designed specifically for Rebel Mettle Brewery. Brown also encourages customers to order takeout from neighboring eateries, and delivery drivers can bring food directly to the brewery.
It's a kid-friendly environment, too. "The kids absolutely go bonkers," Brown says, over the brewery's selection of vintage pinball machines, including an original Ms. Pac-man game, as well as ski ball and ping-pong.
To keep people safe during COVID-19, Rebel Mettle Brewery is closed on Mondays for a dedicated sterilization day. They also sanitize tables after each party, sanitize games after each use, require masks, and enforce social distancing between tables and the bar. "We want everybody to come to our establishment and celebrate our similarities rather than our differences," Brown says.
Rebel Mettle Brewery, 412 Central Ave., downtown
Facebook Comments