Mixologist Molly Wellmann's decades-long quest to create a gin that is "so Cincinnati" comes to fruition on April 28, when Northern Row Brewery and Distillery releases the first bottles of Cincinnati Gin. Created using ingredients that can all be found inside the iconic Krohn Conservatory, Wellmann describes the spirit as "a love letter to Cincinnati."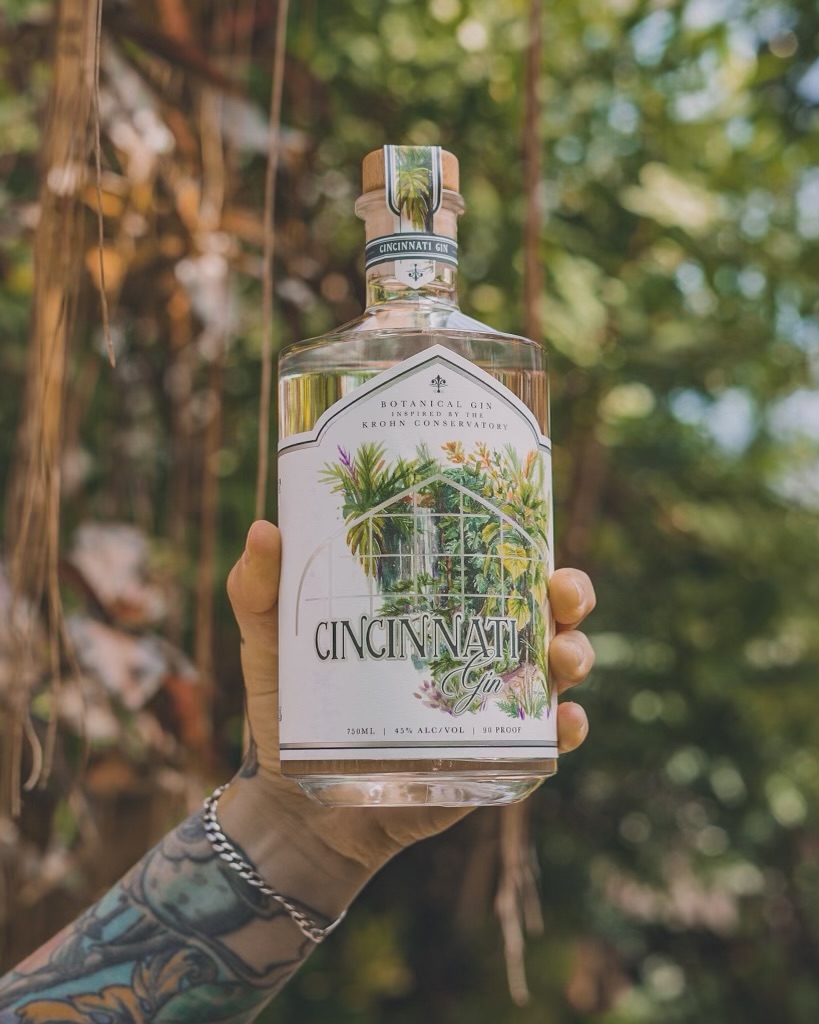 This journey started when Wellmann learned that Cincinnati has always had a history of making gin, all the way back to the 1800s. Back then, wholesalers and rectifiers—basically, a middleman who would rectify gin to give it the flavor they wanted—from all over would buy direct from Cincinnati distilleries to take it back to their shops. There were plenty of big flavor companies around, too, created specifically to make flavorings for rectifiers. The first American Dry Gin was created in Cincinnati in the 1870s by the Fleischmanns (of yeast fame) and is still made today, though the brand is now owned by Sazerac.
Wellmann kept the idea of a conservatory-inspired gin in the back of her mind while managing her various bars—including Japp's, for which she was named "Bartender-Owner of the Year" during the Nightclub & Bar Awards, a nationwide awards program that recognizes industry trailblazers, in 2019. (She sold the bar in 2022.)
For many years, she was unable to find a suitable partner from local distilleries. "Nothing was clicking for a long time," she recalls. "I try craft gins all the time, and it's just too overpowering or the distiller just doesn't get how to blend everything right."
Around a year and a half ago, she had the opportunity to try Northern Row's selection of gins. "I was blown away. The botanical gin, especially, was just beautiful. I loved it," Wellmann says. "And I said, 'OK, these are the people.' "
She was overjoyed to discover Northern Row is as passionate about Cincinnati's history as she is—the building housing the distillery was originally constructed in the 1800s as part of Christian Moerlein's brewing operations, and most of the features inside were preserved—and asked to partner up.
"When she came to us, we were giddy," says Josh Quattlebaum, head distiller at Northern Row. "She's just amazing, always has a smile on her face, always full of great ideas. The whole process was just seamless."
Wellmann and Quattlebaum got in touch with Mark House, assistant manager of Krohn Conservatory, and shared a vision of a gin crafted using only ingredients that could be found inside Cincinnati's most famous greenhouse. He took the two on a "magical" tour of the place, where it felt like "it was the first time we'd ever been to Krohn Conservatory," Wellmann says, because of how much information about every plant House gave them.
Of course, the first ingredient they searched for in the conservatory was juniper, gin's main ingredient. But the second main ingredient was a bit of a surprise. House took the two to a tropical ginger plant, and pointed out not the root, but the leaves.
"He picked off a leaf and said, 'Just kinda take that in your hand and crumble it up a bit.' And no joke, I couldn't stop smelling my hands for the rest of the day. It was that pungent and that refreshing," Quattlebaum says. "Right there, I knew ginger was going to be a big part, for sure."
After that, inspiration struck in various other parts of the conservatory—like the Mandarin oranges, lime plants, and bay laurel leaves found in the citrus collection, or the cinnamon, Tahitian vanilla bean and Ghanaian cocoa nibs grown in the orchid room.
Quattlebaum gathered the ingredients, returned to a micro still inside Northern Row and, initially, ran each ingredient through the still on its own. Once the individual distillates were created, a batch of all ingredients was pieced together over and over with different amounts and combinations. (It took about two hours for each attempted batch.) The final product is a sweet, citrusy spirit "that kind of brightens your tongue," Quattlebaum says. "It's like when you bite into a lemon, but before it turns sour. Like the kind of refreshing that makes you go 'whoa!' "
Cincinnati Gin is a gin for everyone, Wellman says, even people who don't like gin, without the taste of "a Christmas tree" like so many other gins tend to be. This past Easter, she served it to some of her family.
"Everyone loved it," she adds. "Even my cousin who hates gin, like despises it, which is so weird—she always goes 'blegh!' every time I have her drink my martini. I gave her some and asked 'What do you think?' and she told me 'It's tolerable.' I'll take that. That means she likes it."
Even the art on the bottle is a Cincinnati reference. Artist Robin Carnes—Wellmann calls her "the Caroline Williams of today"—created a graphic that looks like the glass housing the plants inside the conservatory. The flowers in the foliage on the graphic are a nod to Wellmann's full-body flower tattoos. "I always say I'm a walking garden," she said, laughing.
So what does a world-class mixologist make with her own gin? Well, she hasn't decided yet. But she'll have a full list by the time the gin launches. For now, she's been serving it in a French 75, her recipe:
1 ½ oz of Cincinnati gin ("you could use two, if it's been a particularly long day")

½ oz of freshly squeezed lemon juice

½ oz of simple syrup

Shake all of the above with ice

Screen it into a champagne glass

Top with dry champagne or sparkling wine
Seeing her own name on a bottle is "like, the coolest thing ever," Wellman says. "I do a lot of research on spirits from the 1800s. I see all these bottles from back in that day and I think it must feel exactly how those guys felt. I hope one day 100 years from now that somebody finds an empty bottle of gin with my name on it. You always have to make history, you know?"
The release party for Cincinnati Gin starts at 5 p.m. Friday, April 28 at Northern Row Brewery and Distillery, 111 W. McMicken Ave., Over-the-Rhine. In an effort to reach all corners of Cincinnati, the introductory run of Cincinnati Gin will be sold at Northern Row, both Jungle Jim's locations, Arrow Wine & Spirits in Mason, and the Kroger locations in Oakley and Dent.
Facebook Comments